A Complete SEO Checklist for Dentists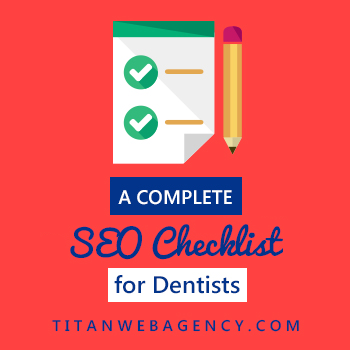 What would you say is the best way for your dental practice to get more new patients?
Patient referrals?
Direct Mail?
Internet Marketing?
If you said 'internet marketing', then you'll want to read this post, and download the Complete SEO Checklist for Dentists, which is included in this post.
First off though, let's make sure we are on the same page.
Search engine optimization (SEO), what is it? It is a myriad of strategies used to improve where your website shows up in the search engines (we'll focus on Google since it dominates with 85.82% of all searches online, compared to Yahoo and Bing, who pace far behind with only 6% each).
SEO activities that can improve your position on Google can be divided into two categories, on-page and off-page SEO.
On-page SEO includes factors such as page title, page description, and page URL. You know, stuff that is done on your website.
Off-page factors include link building, social media, and online reviews. Stuff that is done when you are not on your website. On other websites.
There are so many facets to SEO for dentists that it can seem unmanageable, so we're giving you an easy breakdown of key SEO success factors, and a complete, printable dental SEO checklist.
This checklist will help you ensure that your online marketing strategy or that of your dental marketing agency is achieving the best possible search results for your practice while also helping you learn SEO for dentists.
1. Is Your Website Up to Par?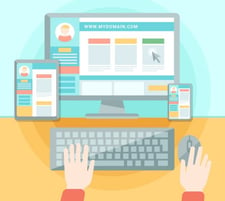 In addition to being optimized for search, dental websites need to be aesthetically pleasing, high converting, and user-friendly.
They should turn visitors into patients by delivering the information and offers that consumers are looking for in a straightforward, hassle-free manner.
There are many important elements to an effective dental website, but a few of the more important ones are listed below:
Pages are optimized
Easy to navigate
Simplistic design
Aesthetic images
Mobile friendly
Pages load quickly
Has a blog
Describes your services
Presents your unique selling proposition
Contact information is prominently displayed
Has photos and bios of the dentists at your practice
Has reviews/testimonials
Clear call-to-action
Content is updated frequently
If your website is cluttered, outdated, difficult to navigate, or simply isn't converting the way it should, then it's time to look at a re-design or a complete overhaul.
A website represents your business and works 24/7 to attract new patients and serve current patients so it needs to function well and have a clean and organized design.
Much like consumer electronics technology is always improving and redefining current standards, website design and SEO have changed significantly in the past 10 years.
If your website is more than 5 years old, it is definitely time to consider an update or a new website to keep up with today's website design and SEO best practices.
If you are investing a portion of your marketing budget into online marketing, then your website needs to help accomplish your business goals.
2. On-Page SEO
Proper on-page optimization is critical for Google to rank your web pages at the top of search results (at least in a competitive market/industry).
On-page SEO is defined as "the practice of optimizing individual web pages in order to rank higher and earn more relevant traffic in search engines."
This refers to both the content and HTML source code of a page.
You have the most control over your on-page SEO strategy, which includes these factors:
Keyword/keyword phrases researched and selected
Page URL (short, descriptive, includes keywords)
Page title (short, descriptive, starts with primary keyword) – this is THE most important on-page dental SEO factor
Page description (brief summary of page, uses keywords, and provides a call to action)
Page headings (breaks up the information on the page and includes keywords
Content length (500-1500 words depending on type of web page)
Easy to read content
Keywords used in content
1-2 relevant images (or 1 video) per page
Images and video have alt-tags (image file names contain keywords)
Content is engaging (video, calculators, etc.)
Internal links point to other relevant pages on your site
External links to authoritative sites
Page speed – ensure page content and images load quickly
Mobile-friendly (responsive design)
Use social sharing buttons
On-page SEO has changed over the years, so it's important to keep up with the latest practices. Have you reviewed your on-page dental SEO marketing strategy in the past 6 months? If not, it is time for a review.
3. User Experience
User experience (UX) is the overall experience that a person has when they visit your website, especially in terms of how easy or pleasant it is to use. And UX definitely has an impact on SEO for dental websites.
If your site navigation creates difficulties for visitors to find the information they're looking for, or your content is lacking or doesn't match their search intent, they'll undoubtedly leave.
Mobile-friendly websites are vital to UX because nearly 60% of search queries are made on mobile devices now.
Page speed is another important factor in UX. In fact, even a 2-second delay in page loading can cause up to 87% of visitors to abandon a site.
Great UX has benefits to every part of your dental website and its marketing, so its contribution to dental SEO is just one aspect.
It's possible to optimize your website for both your customers and Google, and search engines do pay attention to your website's user experience.
Pages with little content (aka thin content) are routinely ranked poorly, and if there are enough of them, it may result in lower rankings for the entire site.
Getting a user to your website is just one part of the SEO equation. You must be equally invested in UX by making sure that your content answers common dental questions and offers solutions.
4. Content Creation and Blogging
Content is one of the most important factors for dental SEO marketing because Google favors sites with high-quality, optimized content and rewards businesses that publish content consistently.
Content comes in many forms:
Direct mail, or postcard mailers sent to a targeted group of prospects, is a surefire way to get more patients. According to a HubSpot study, direct mail has an estimated response rate of 24% and an average return of $16.39 per name mailed.
Tyler Brown, Marketing Specialist at DentalMarketing.net, says he typically targets neighborhoods near a dental practice's locations and sends out professional-looking postcards with an incentive/promotion to get people to call. Brown says that of every 5,000 postcards he sends, he gets an average of 35 calls, resulting in about seven new patients.
Web page content
Blog posts
Video
Infographics
Case studies
Podcasts
Newsletters
Out of these, page content is very important, but it's not likely you will change that more than every few months. Blogging is one of the best ways for dentists to publish content on a consistent basis and boost your Google results.
Blogging allows you to use your targeted keywords frequently, and have users comment on and share your content. You can also incorporate video, infographics, case studies, podcasts and newsletters into regular blog posts.
Your blog content shouldn't overtly promote your practice. Instead, it should focus on addressing common concerns of dental patients and provide value to them.
It's important to know your audience and what they want and expect from your content. If you aren't providing valuable content that is relevant to them, your blog won't have many readers or comments.
Instead of asking the question "what do I want my patients to know?", ask "what do my patients want to know?"
Brainstorm blog content and topic ideas to compose content that will:
Educate
Spark interest
Give perks such as discounts or special offers
Feature consumer-generated content such as reviews and experiences
Blogging is consistently a major commitment and time investment, so implementing a content calendar to plan out what topics you will be publishing when is a big help.
Do you have a content marketing strategy currently? If a dental marketing agency is managing that for your business, what are the results that you are getting from content marketing?
5. Off-Page SEO
Simply put, off-page SEO tells Google what others think about your site. For example, if you've got a lot of valuable links pointing to your pages, search engines will assume that you've got great content – the type that provides value for users.
There are many off-page activities that can improve your rankings with Google. Here are a few of the most common ones for dental practices:
Link building
Expanding local listings
Positive online reviews for your business
Social media marketing
When it comes to importance of off-page SEO for dental websites, most SEO experts agree that the number and quality of links coming into your site is near the top of the list.
But how do you get more links to your website? Here are a few ideas:
Business partners and vendors
Online yellow pages directories
Your own site's blog and other relevant blogs
Local/regional web listings:
Local newspaper sites
Local charities
Local TV stations
Local radio
Your county/city council
Local chamber of commerce
Local visitors center
Local BNI group
Local meet up groups
Putting together a link-building strategy and making sure you are listed in all of the possible local directories takes time. So tackle it as a long-term off-page SEO strategy.
Now, we'll dive into the other off-page activities in more detail.
6. Online Reviews
Reviews in Yelp, Google, Facebook, and other sites help boost your local SEO because they tell search engines what local customers think about your dental practice, not to mention they are usually keyword rich.
In addition, many prospective patients will search first for reviews on local dentists before they choose which one to call.
You're no doubt already aware of the importance of online reviews and managing your dental online reputation, but did you know they can also contribute to helping improve your SEO results?
They can create inbound links, and review sites are especially helpful to dentists because they contribute greatly to local SEO.
To manage your online reviews and how they contribute to your SEO:
Know what people are saying about you on the leading review sites
Appoint a staff member responsible for responding diplomatically to any negative reviews and linking to relevant information on your site
Have a program in place to encourage customers who have had a positive experience to review your practice online
One way to get more patients to review you online is to handout a reminder card with step-by-step instructions on how to leave you a review on Google (which, at this point, seems to carries a little more weight in search than Yelp). Be sure to let them know it will only take a few minutes.
7. Social Media Marketing
Many times, a company's social media pages will show up in the search results ahead of the website.
If you're not making the most of popular social media platforms, you're missing out on an effective way to be found by potential clients and another way to boost your SEO.
Here are some ways social media can impact your organic visibility:
Amplify your content distribution and reach a wider audience
Likes and shares lead to longer content life
Links to your content from social media speed up your content indexation with search engines
Drives more traffic to your website
Improves your brand recognition
Understand which types of content your audience engages with and adjust your content strategy
Social profiles are likely to appear at the top of search engine results pages for branded keywords
As you can see, SEO and social media strengthen each other and are most powerful when united. Keep optimization in mind when creating content for social media posts, and be sure to include keywords in all of your messages.
With so many social sites out there, it can be overwhelming, so focus on the ones that work the best for your practice.
Here are the major social media sites that we recommend to have a presence:
Has roughly 1.86 billion active users, which is far more than the rest of the world's social networks.
Sponsored ads on Facebook allow you to reach a targeted demographic in your city/region and is less expensive than PPC advertising for now.
Facebook is a great way to reach your targeted consumer audience, whether through paid advertising or your company page reach.
There are still businesses using Twitter effectively to engage with their audience.
There are also many businesses that are taking the approach of "set it and forget it."
If you carve out some time each day to spend with your following, you can realize some significant engagement results.
A great tool for professionals, especially dentists. There are more than 100 million active users on LinkedIn.
Since everything on the site stays totally professional, your profile can be strictly business-oriented. By making your website prominent on your profile, it can drive more traffic.
The best part about LinkedIn is that you have 100% control over what goes on your business profile, from dental practice USPs to what type of recommendations are left on your page.
As a dentist, your main focus should be to set up your Google Business Profile page. Don't worry about a personal Google+ profile since Google has shut the service down.
Google Business Profile gets you in front of your customers. Your business listing will appear on Google Maps and it boosts your SEO for search on Google.
Many people want to learn about dental treatments by watching videos, and YouTube videos help your dental website SEO.
YouTube also helps you build a following and expand your online marketing reach. You can do how-to videos for any type of dental-related topic, even something really basic like brushing or flossing.
You can also create videos to answer the most popular questions and concerns from patients. You can even ask patients to send you video testimonials, where they talk about a procedure they had done at your practice or why they like you as a dentist.
This type of content is also great to share on other social media networks and can be posted to your website as well.
People everywhere are looking for real connections to the businesses they support, the same way they look for real connections with friends, family members, and coworkers.
There are three trends in Instagram marketing for dentists:
Sharing Behind the Scenes: You'll be surprised by how many patients are interested in this perspective.
Involving Your Patients: Post photos of patients on Instagram with honest compliments. Be sure to get permission from them first and tag them.
Run a Photo Sharing Contest: For example, show us your child's smile on Instagram. Pick a hashtag that is unique and ask your patients to share photos with that hashtag. Then pick a random photo as the winner and reward them for participating.
While there are far more social media sites out there, don't spread yourself too thin trying to be everywhere. However, stay on top of the trends in social media so you don't miss the next big opportunity with emerging platforms.
People are using social media not only to interact and communicate, but also to find information and businesses. Essentially, some social media sites (especially Facebook) are turning into mini search engines.
Social media and SEO continue to become more interlinked. Are you using social media to reach a wider audience by posting great content consistently?
8. Pay-Per-Click (PPC) Advertising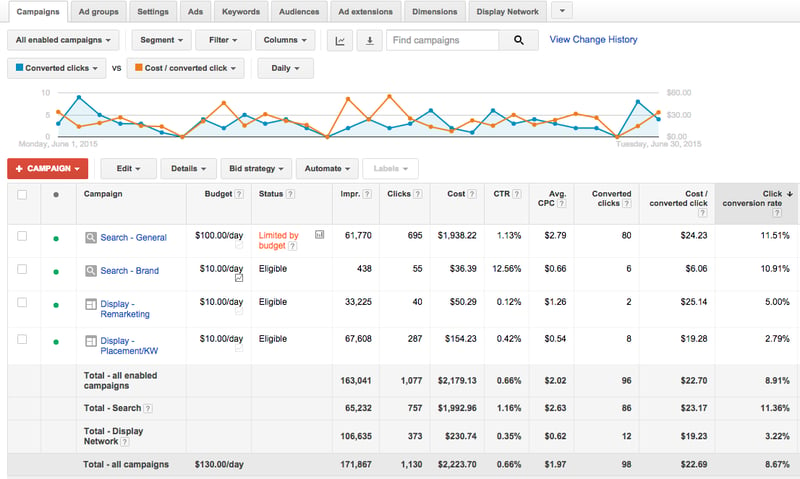 If you're not getting the ranking results you want through organic SEO tactics, you can take control of where your practice appears in certain searches through PPC.
As you probably know, the Google Ads results show up above the organic or local results, so while it doesn't directly help your SEO performance, it can get you leads right away, and it can give you more data you can use for your SEO campaign.
Research shows that clicks on paid search listings beat out organic clicks by more than a 2:1 margin for keywords with high commercial intent in the US.
In other words, 64.6% of people click on Google Ads when they are looking to find a dentist online.
Here are the main reasons why PPC advertising is valuable:
You only pay when someone clicks through
You have full-control over your budget and costs
You can reach your exact new patient prospects at the right time with the right ad
PPC can show results in a matter of minutes
PPC data can inform your other marketing channels
To learn about geo-targeting and optimizing your PPC campaigns, read this post about how to maximize the effectiveness of dental paid search campaigns.
Are you currently running successful PPC campaigns? If so, do you know what your ROI is?
Summary
We've covered the major on-page and off-page SEO activities that can improve your position in search results in detail.
Be sure to download and print our Complete SEO Checklist for Dentists to assess where you can make improvements.
Keeping up with all these activities to improve dental website SEO can be overwhelming.
If you feel that you are falling short in any of these areas and need help from a professional dental SEO company that understands how to achieve the best results for your dental practice, reach out today.
About the Author
Tyson Downs is the founder of Titan Web Agency, a company specializing in marketing for dental professionals. With an impressive track record of working with over 100 dental practices, Tyson has a deep understanding of the unique marketing needs within the dental industry. His expertise has helped numerous dental practices flourish by meeting and surpassing their revenue goals and established him as a thought leader in healthcare marketing. His insights and strategies have been featured in esteemed dental publications, including the American Dental Association and the American Academy of Implant Dentistry. Before dedicating his career to helping dental professionals thrive through effective marketing, Tyson honed his skills in SEO and web design as a freelancer, while also gaining valuable experience in the corporate sector. As an alumnus of Brigham Young University, he brings a strong educational background to his entrepreneurial endeavors. Outside of his professional life, Tyson is a devoted father of five, who cherishes time spent with his family, especially when they're all enjoying America's pastime on the baseball field.