31 Dental Marketing Ideas & Strategies Guaranteed to Work in 2023
This post was originally published on September 19th, 2016, and most recently updated on May 4, 2022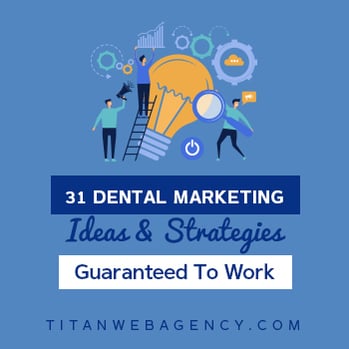 Marketing Ideas for Dental Offices & Clinics
As a dentist, you probably haven't devoted enough time to marketing. Don't feel bad – you're not the only professional to find yourself in this pickle. Between handling patients, managing staff, making sure you are following all new regulations, and more, you have your hands full.
You can't get around the fact that you need an online presence to compete. But with a real-world business to manage, you might not have much time to spend on moving into the online and mobile arenas.
Luckily, there are hundreds of ways to expand your reach. Since increasing your online presence is an essential part of expanding your business in the real world, here are some dental marketing idea pointers to help you get the ball rolling.
Of course, you may not feel like implementing these dental marketing ideas yourself, which is fine. Although, doing nothing isn't an option if you want to increase new patients and revenue. So, if you need some help, be sure to hire a dental SEO company you can trust.
Advertising your newly started dental practice successfully requires a rock-solid online dental marketing strategy. If you want to attract new patients, simply having a functional dental website design and placing a few ads here and there just won't cut it. Even if you're a great dentist, you will fall behind your competitors who know how to play the game.
With a targeted, focused, diverse dental marketing campaign, you could pull in upwards of 50 new patients per month (granted, this is quite optimistic, but doable). Fortunately, the digital advertising strategies that make up a successful dental marketing campaign are simple and easy to deploy once you understand them. With just a little time and dedication, these can't-lose online dental marketing ideas will propel your practice to the next level.
What is Dental Marketing?
Dental marketing is any strategy that a dentist or dental office uses to attract new patients, stay engaged with current patients, or turn a new visitor to your practice into a loyal, long-time patient.

Some of the strategies involved in dental marketing include the following:
Pay-per-click advertising
Blogging
Social media marketing
Email
In-person marketing
Print marketing
Most practices use several digital dental marketing strategies to reach prospective patients. Ultimately, dental marketing is effective when it earns you a larger return on your investment (ROI) than what you spent.
How to Create a Dental Office Marketing Plan
Before you get started with these dental marketing tips, you'll need to create a dental office marketing plan following these steps.
Analyze your market. You'll need to know who your competitors are, what dental patients in your area want and need, and what sets you apart from your competitors. For that last part, you'll need a Unique Selling Proposition. For example, you might offer emergency appointments or do a new procedure that nobody else in your area provides.
Set your goals & objectives. Before you start marketing, you must know what it is you want to accomplish. Your goals should be SMART (Specific, Measurable, Achievable, Realistic, and Time-Bound). An example of a SMART goal would be to grow your social media following by 10% in a month.
Set your dental marketing budget. While some dental marketing strategies can be implemented without spending money, most will require some investment to be worthwhile.
Choose your dental marketing strategies. After you set a budget and review your goals, you'll need to decide which strategies are affordable and most likely to help you achieve your objectives.
Create your dental marketing plan. Using the strategies you've chosen, map out your plan. Your map should include information about specific marketing campaigns, including your budget and objectives.
Track & tweak your strategies as needed. As you launch each campaign, it's essential to track the results and tweak your strategies accordingly.
You should view your dental marketing strategy as something that is revised and refined on an ongoing basis. Once you have your strategy in place, you can try some of the following ideas.
Creative Dental Marketing Campaign Ideas & Strategies
Here are some of our favorite dental marketing campaign ideas and strategies for you to try.
Listen to this blog post:
1. Upgrade Your Website Design
The first order of business if you want your marketing efforts to succeed is to upgrade your website design. A good dental website should be optimized for local search, particularly voice search. It should also have a user-friendly design that encourages visitors to learn about your services and make an appointment.
2. Optimize Your Google Business Profile
Having an up-to-date, optimized Google Business Profile is a must for any local business. Optimizing your Google Business Profile listing is a great way to attract new patients online. It's important to remain visible in the Map search results. If you rank well, your Google Business Profile listing will be displayed at the top of local searches in the 3 Pack. Searchers are more likely to click on the top 3 dental practices listed in the 3 Pack.
3. Create Relevant, Engaging & Informative Content
Contrary to popular belief, internet marketing for dentists isn't just about search engine optimization.
You also need to draw in your audience by providing them with the helpful, quality content they're looking for and building their trust in the process.
A blog is a great way to build trust and a relationship with your visitors, though not the only way. We'll review some of the options in individual items below, but keep in mind that your content shouldn't focus on overtly promoting your practice. That's what paid advertising is for. Instead, it should concentrate on addressing common concerns of potential patients, such as:
The best diet for healthy teeth.
What could bad breath mean for your dental health?
What is the best option to replace missing teeth?
You could expand on any one of these items to create a memorable piece of content.
4. Offer a Dental Membership Program
Should your practice offer a dental membership program? A membership program is an effective tool for building patient loyalty by offering membership rewards.
5. Ask Your Patients for Reviews
Google reviews are changing the way patients choose dentists. If you're not being proactive in your approach to getting online patient reviews for your dental practice, your online reputation will suffer.
Providing good service is the best way to garner positive reviews for your practice, but it is not enough by itself. You need to make it easy for patients to leave you reviews.
One way to do this is to give patients a handout or business card with step-by-step instructions on how to leave your business a review on Google (which carries a little more weight in search compared to Yelp reviews). Be sure to let them know it will only take a few minutes.
Make it easy for patients to review you on Google by providing a link and instructions on your website. Google allows businesses to ask for reviews. The only restriction is that you may not incentivize reviews or specifically ask people to leave you positive reviews.
We should note that Yelp has strict guidelines and explicitly prohibits businesses from asking for reviews in any way.

6. Host a Dental Contest Giveaway
Hosting a giveaway on your blog or social media profiles is a great way to attract traffic to your site and create buzz about your business. Give away something related to your business, such as a free tooth whitening or a free cleaning.
Make sure the prizes for your contest are worthwhile enough to incentivize people to submit their email addresses to enter. Contests are an effective list-building tool.
7. Start a Dental Podcast
Titan Web Agency has over 100 podcast episodes of The 10 Minute Healthcare Marketing Podcast and the good news is that podcasts are easy and affordable to produce.
There are thousands of potential topics you could address on a dental podcast. Imagine if you became the go-to expert on veneers or dental implants because of your podcast. How do you think that could impact your bottom line?
8. Support Local Charitable Organizations
Dentistry is a local service, so it makes sense for dental practices to get involved in their communities. One way to do it is to get involved with local charities.
Your involvement may be financial, or it may take another form. You could volunteer, provide pro bono services for people in need, or participate in charitable events. Regardless of how you approach it, your support will be noted and can help you earn a spot in the hearts of prospective patients.
9. Offer Discounts & Specials for New Patients
Getting people to visit your website is important. However, traffic isn't everything — you need to make an attractive offer to get potential patients to choose you as their dentist.
You can use an offer to get someone to become a paying patient or even just to collect useful information. For example, you can use an offer to:
Get people from social media to visit your website
Get website visitors to make an appointment
Collect valuable contact information from people on your email list
… or just about anything else!
What should your offer be? Here are some compelling offer ideas for dentists:
Free X-Rays/teeth-whitening/etc. for first-time patients
Free $50 Visa gift card for new patients
iPad giveaway drawing (in exchange for entering an email address)
Coupon for 10% off any dental service for the first 100 people to follow your new Twitter account
Visit our website to get a free download (visitors will be asked to fill out a form to get the download)
Start by focusing on a single, time-sensitive offer for new patients. If that one doesn't do well, try testing out a more valuable offer or a lower-risk offer — for example, where visitors to your website get something free in return for their email address.
10. Optimize Your Website for Local Search
We've already mentioned how important it is to have an appealing and user-friendly dental website. Your website is the first place most prospective patients will go to learn about your practice. What we want to talk about in more detail is the importance of optimizing your website for local search.
Local search terms should include keywords such as dentist, dental practice, orthodontist, dental services, and so on, in combination with important local search terms.
The name of your city
The name of your neighborhood
The name of your region or county
We work with dental practices every day to help them improve their local SEO and receive a high rank on Google.
11. Guest Posting
Guest posting is a great way to increase inbound links and participate in the larger blogging community associated with your industry. As a bonus, getting in good with other bloggers could lead to increased opportunities for partnerships, cross-promotion, link sharing, and of course, reaching a broader audience.
Here's a post I made at Dentistry IQ, and another I made at Dental Town.
12. Run Facebook Ads
Facebook is still the number one social media site for B2C advertising. You can target your audience using demographics and psychographics.
Facebook ads can help you promote your most engaging content, or they can be used to attract new visitors directly to your site with an offer or promotion.
13. Set Up a Google Ads Campaign
If you want to expand your online presence, eventually you'll have to engage in digital dental marketing.
It can be difficult to get your business page on the first page of Google search results, but one solution to this is investing in PPC search advertising.
A lot of dental practices use pay-per-click or other online ads without seeing much in the way of returns, but that's because they're not being smart about their paid ads. For online ads to work, you need to be targeted with your efforts. When done correctly, PPC ads are an excellent way to get your online ads seen by the right people — your target audience.
14. Email Marketing
Maintain a connection with current patients by taking advantage of your in-house email database. Your patient intake forms should collect patient emails. You can use them to stay in touch with patients in between appointments and you don't need to email more than once a month.
Email marketing can also be a tool to remind patients of an upcoming appointment and confirm that appointment. A simple email reminder can minimize the number of cancellations and no-shows at your practice, saving you money in the long run.
Email dental marketing can be in the form of newsletters or brief information blurbs about what's happening in your practice or industry.
Although this is a great digital marketing tool, be sure to get written consent from the patient before making any contact via email. No matter what the marketing campaign may be, always make sure that you and your staff
consistently maintain HIPAA compliance
.

15. Send a Press Release to Local Media
Distribute press releases to local news agencies to get more reach for your dental brand. There are also many online press release distribution services you can use.
Don't focus on creating press releases about your dental office and services. Press releases like that are a dime a dozen, and not attractive for news reporters to cover. Instead, look for ways to tap into current events, such as:
Offer expert commentary on how recent FDA rule changes impact dentistry
Announce a new procedure that you're offering
Discuss a local charity event that you're sponsoring.
The key is to find something newsworthy and then, write about it in a way that makes it sound as compelling as possible.
16. Create Educational Videos
Creating videos about dentistry and oral health is an effective way to get more reach for your business. Instead of promoting your services, make them educational, entertaining, and informative.
Upload your videos to YouTube, Facebook, and your website. Creating video content can improve social media engagement, influence purchase decisions, and more.
17. EDDM (Every Door Direct Mail)
Despite what you may think, direct mail isn't dead. Direct mail, or postcard mailers sent to a targeted group of prospects, has an estimated response rate of 24% and an average return of $16.39 per name mailed, according to a HubSpot study.
Direct marketing isn't an online strategy, but it coordinates nicely with digital dental marketing strategies. According to digital marketing expert Richard Rushing, as quoted by Direct Marketing News, companies with a compelling direct mail offer or message that they link with their online ads can expect "a 10 to 30 percent uplift in conversion…when combining the two channels."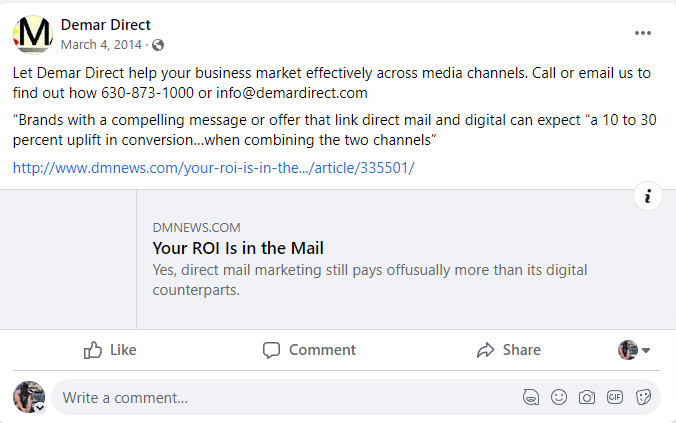 One way to combine digital marketing with direct mail is simply to follow up with an email to the people you send mailers to.
So, how can you get started with direct mail? Easy — buy a list of new homeowners in your area and send them offers using direct mail—postcards are best. Learn more about dental postcard marketing.
18. Incorporate QR Codes in Your Dental Marketing
A QR code is a special barcode you can put on your fliers and physical advertising material. People use their phones to scan the code, and it will direct them back to your website, or another digital domain of your choice.
You can easily create one with a QR Code Generator, making it simple for people who see your marketing materials to find you online.
19. Host or Attend Meetup Events
Social media is a great way to plan and promote in-person gatherings. Just look at the success of efforts like geocaching and flash mobs.
Use social media to promote an in-person gathering, such as an educational oral health presentation for kids in the park. Meetups may also be virtual – something we saw many dental practices do when the COVID-19 pandemic shut down social events.
20. Advertise on Yelp
Yelp is the go-to site for many people when they require local services. If you include Yelp advertising in your budget, you'll have a better chance of appearing at the top of any local Yelp search.
Yelp ads can help you leapfrog over your local competitors and grab the top spot when prospective patients in your service area are looking for a new dentist.
21. Become a Zocdoc Verified Dentist in Your Area
Zocdoc is a website where prospective patients can go to look for providers in their area. As Zocdoc only allows verified providers on their site, they have become a trustworthy source.
The verification process is simple. We recommend taking the steps necessary to get verified. Zocdoc is a particularly good site for getting last-minute appointments.
22. Leverage Social Media Channels
It's not enough to create a proliferation of social media profiles – you also need to support them if you want to gain the benefits they offer in terms of increasing your online presence. You should use your Facebook and Instagram and may also want to think about Pinterest or Twitter. Here are some suggestions on how to use your dental social media to attract more patients:
Link to your website
Post links to blog articles
Send notifications
Introduce new products and services
As a bonus, some social media profiles may appear in Google search, giving you another way to attract new patients.
23. Start a Patient Referral Program
Some of the most successful dental practices we know rely on patient referrals to attract new patients and increase their profits. You can do it, too by creating a patient referral program.
Offer your existing patients rewards, such as discounts or free products, if they refer someone to your practice who goes on to book an appointment. Keep in mind that many of the most popular dental practice management software solutions include tools to help you track patient referrals.
24. Sponsor a Community Event
We already mentioned that getting involved in local charities can help you to increase the visibility of your dental practice. The same is true of sponsoring a community event.
Here are some examples:
Sponsor a local sports team.
Pay for a booth at a local street fair or community gathering.
Partner with a local school to do a fundraiser.
Any sponsorship of this type will help people learn about your practice and see you as a contributing member of the community. You'll get even more attention if you can find a way to tie your sponsorship into your work as a dentist.
25. Print and Distribute Business Cards
Business cards may be old school but they're still effective. The relatively small amount you'll pay to print the cards will pay off in increased visibility.
One potential use for business cards is to hand them out to your existing patients to use if they want to refer you to their friends and family members.
26. Do Joint Marketing with Non-Competing Businesses
Create relationships with other businesses in your vicinity or related industry to promote each other's services. For example, an orthodontist would be a great business to get referrals from.
Joint dental marketing with other businesses in your business complex is also a great idea. People like one-stop shopping, which can set your dental office apart.
27. Try Before and After Dental Marketing
It's easy for people to choose you as their dentist when they can see the results of what you do. How? With before and after marketing!
You've probably seen pictures featuring before and after images for businesses such as gyms or home improvement providers. You can take advantage of the same benefits by getting permission from your patients to snap before and after photos. Once you've got the photos, you can use them in paid advertising, on social media, or your website.
As a reminder, you should never take a photo of a patient without their consent and the same is true of posting that picture anywhere online.
28. Retarget Your Previous Visitors
Retargeting is a method of delivering ads based on prior engagement, effectively following your audience all over the web. Some of the most common retargeting types include:
Site-based retargeting – Serving ads to people who have previously visited your website
Email retargeting – Serving ads to people who open your emails
Search retargeting – Serving ads to people who search for one of your keywords.
As for PPC, my blog post 8 Ways for Dentists to Maximize the Effectiveness of Their Paid Search Campaigns outlines the main things you need to do when designing a pay-per-click campaign. Geotargeting, paying attention to what your competitors are doing, and carefully selecting and testing your keywords are the main ways you can get smarter with your dental PPC campaigns.
Bid on the right keywords, and your advertisements will appear above organic search results.
The great news is you're targeting an audience that's already searching for dental services, so they're much easier to convert.
Internal Dental Marketing Ideas
We have a few more ideas that relate to how you interact with your patients when you see them in person.
29. Maintain a Positive Attitude and Appearance in the Clinic
You and your clinic staff need to reflect your clinic or brand values when interacting with patients within your medical office. It's a direct reflection of your brand's image as your patient's perception of you and your practice is formed during an appointment.
It's crucial to consistently maintain a clean and modern working environment with employees who treat patients with respect. Train your staff to be courteous, greet patients when they come in, and display a good attitude during every interaction.
A new patient's first contact will be with your reception staff, so all staff members must be on the same page. It's a good idea to create a warm and welcoming reception area and waiting room. Further, have some toys for kids to play with and free Wi-Fi for patients to use while they're waiting.
Retaining patients requires a commitment to an excellent patient experience. If your patients consistently have an awesome time when they come for a visit, your online reviews will be good, and you will be the first person they refer a friend to.

30. Take Advantage of Dental Marketing Collateral in your Waiting Room
A lot of practices are engaging in various dental marketing activities (email, social, blogs, etc.) and having some success. But that doesn't mean offline marketing is dead. In fact, offline marketing is very much alive.
Take advantage of your waiting room and stock it with some professionally designed dental brochures that patients can read while they wait. These brochures can highlight the benefits of using the services that you offer and should highlight your most profitable services.
Further, you can also promote wellness initiatives and provide opportunities for current patients and prospective patients to provide or update their personal details by including a form at the end of the brochure. This is also an effective way to build your email list.
It will also help to have your offices' business cards easily available around your clinic. These brochures and business cards should highlight your clinic's logo and contact details.
Other benefits that can be emphasized include:
Brief history and profile of all the doctors practicing at the clinic
Information about the state-of-the-art equipment used within the practice
Information about common oral diseases
Oral disease prevention
New medical innovations that patients might want to know about
The only online aspect of this exercise will be your email and website addresses listed on the collateral and your call to action to visit the clinic's social media pages.
Displaying brochures facilitates opportunities for patient-doctor dialogue and can prompt patients to book appointments for additional services.
31. Build Referral Partnerships
If you're running a specialty practice, you're going to depend heavily on other doctors referring patients to you. Between annual check-ups, you may have a lot of downtime if your patient base is small.
How do you go about attracting more referrals?
The short answer is to build relationships with doctors who have the potential to refer patients to you. But how does one go about doing this?
The first step is to identify which doctors in your area can refer new patients to you. Then you'll have to develop a dental marketing strategy to communicate with these medical professionals.
You'll need to sell any potential referral partner on the idea of referring patients to you. One option is to send a letter, including your brochure and a personal appeal. It's a good way to make an introduction and make the first contact.
Other ways to connect and build a relationship include:
Have face-to-face meetings
Network with colleagues at professional meetings and conferences
Personalized holiday cards and gifts
If you already have a relationship, send them some lunch to show that you appreciate the referrals
You can also attract referrals by becoming an authority in your specialized area. You can do this by consistently getting published on authority websites or making yourself available to local reporters when they need an expert opinion.
Quantify Your Marketing Efforts
An important step that many beginning marketers forget about is finding a way to measure their success. There are two essential components of doing this well: one you should adopt before you start your dental marketing plan and one you'll start using after you begin.
Before you launch a concerted marketing campaign, you need to have a clear, quantifiable understanding of what you hope to achieve with it.
Improving your bottom line is a goal, but there are a lot of component tasks that you can work towards to make that happen, such as:
Increasing customer referrals
Decreasing acquisition costs
Improving customer retention
Building brand awareness
Whatever objectives you have, you should make them specific and measurable. For example, you could plan to:
Increase customer referrals by 10% this year
Decrease acquisition costs by 3% this quarter
Increase web traffic by 30% this month
Gain 40 new blog subscribers this quarter
Set goals that are achievable for your practice size and know you can always adjust them down the road. Here are five ways to quantify your marketing efforts.
Track the ROI of Your Dental Marketing Plan
The main components to figuring out your ROI are to keep track of new patients, new leads (prospective patients), and revenue.

If potential patients don't convert, it doesn't necessarily mean that your marketing strategy failed, but it can be a good indicator that something's not working.
For example, a prospective patient may have seen your ad on Facebook and made initial contact with your office. However, one of your front desk staff members may have been under-performing (perhaps didn't have a phone script to go off of, or didn't follow the phone script) and as a result, a potential patient didn't convert.
This makes it vital to keep an eye on new leads that don't convert and find out why they didn't – and then, fix the problem. Resolving these issues can enhance patient experience and retention.
You must gather as much information as you can about why a lead didn't convert. Was it because:
The attitude/skills/knowledge of the person answering the phone?
A mismatch between your ad message and your offer?
A question of price?
Availability?
Whatever it is, the team that answers your phone needs to be tracking these leads and why they didn't convert.
Once you have your goals and are beginning to implement your marketing plan, you need to have the dental marketing tools in place to see how well your efforts are paying off.
Google Analytics is a must-use tool for any business hoping to market online.
Get your website set up with it, and start getting detailed insights into your marketing efforts, such as your website's:
Bounce rate
Click through rate
Overall traffic
Time on page
And a lot more
How Do You Calculate Your Internet Dental Marketing Return on Investment?
The standard formula to calculate ROI is as follows:
Net Profit – Campaign Costs = Campaign ROI
Campaign Costs
To avoid human error and time-wasting, it's best to automate as much as you can. It's quite difficult to accurately enter data and manage it on a spreadsheet, so investing in a good CRM system can help your practice.
A good CRM system will provide consistent ROI methodology and revenue attribution. The factors also can be configured based on service line characteristics. You can keep information like email threads, social media threads, and patient data all on a single platform. What's even better is that you can figure out direct and indirect revenue without investing a lot of time in the process.
With the right CRM software for your practice, patient relations and marketing activities can be significantly enhanced.
What should you consider when setting up a CRM system?
First, you have to consider it as an investment and focus more on the long-term benefits than just the cost. You must consider the cost of training your staff to use the system efficiently. You might also need to consider how well it's going to integrate with systems you are already using at your dental practice.
There are all sorts of options these days from CRM Software-as-a-Service (SaaS) to software that integrates into your phone system and social media platforms.
A good way to decide is to take an in-depth look at your practice and ask your employees what they need and compare that to your bottom line. This should help you develop a good idea about what kind of CRM system will suit your dental office.
It's also good to note that CRM software isn't automatically all-encompassing. You'll have to do your homework to ensure that your staff isn't wasting time manually entering information from one platform to another. It must be set up in a way that automatically captures the data from your interactions with patients regardless of the platform (email, telephone, or social media).
According to PCMag, the best CRM solutions are as follows:
Zoho CRM
HubSpot CRM
Freshsales CRM
Zendesk Sell
Salesforce Sales Cloud Lightning Professional
Less Annoying CRM
Sales Creatio
Apptivo CRM
Insightly CRM
Pipedrive CRM
Tracking the ROI of Your Social Media Campaigns
Marketing ideas for dental offices are usually focused on a digital platform these days, so strategies involving tools like pay-per-click (PPC) and social media come up often. When engaging in promoting your dental practice on a social media platform, your strategy needs to have two main components:
Stay connected to existing patients.
What patients experience at your practice needs to match the culture of your social media posts.
Without engaging with your patients, there is no real way to calculate the costs and benefits of your dental social media campaign. You can use social media to gather data about patient retention, dental review management, and referrals.
The best way to get the most out of your social media campaign is to post content regularly and ensure that your employees are aware of the rules when it comes to HIPAA compliance.
To get the maximum ROI, dentists need to be engaging and consistent, while remembering to focus on providing value. Some tips to keep your social media platform active are as follows:
Staff check-in
Sharing of (relevant) dental health related information
Testimonials
Dental hygiene tips
Patient Check In (Yelp, Facebook)
Calls to action
Further, consider if your posts are something that your patients would want to share. Getting Shares and Likes helps you get noticed by more people, which means better brand exposure, and more potential patients.
You can also dig deep into the effectiveness of your social media efforts with analytics tools. Social media automation platforms like Buffer, for example, will micro-analyze your every tweet or post engagement, shares, etc., in addition to scheduling posts to go out at optimum times.
To have a successful dental marketing plan, you'll need to establish operations for a lot of unique strategies and follow marketing best practices.
Still, marketing a dental office can be an overwhelming undertaking. Though, when you do it right, it is extremely rewarding!
What is the ROI on SEO for Dental Practices?
Search Engine Optimization or SEO is important to make your site visible in local searches. With an effective SEO strategy, you can help your practice show up on the first search page and improve your search ranking. Good off-site SEO can improve your visibility on review sites, too.
To achieve the online visibility you want, you will need the following components in your SEO campaign:
Become an online authority (build influence online by getting featured on authoritative sites)
Create Content
Optimize your website in a way that makes it easy for search engines to understand
Claim your local profiles
There's always going to be competition and new dentists entering the marketplace, so you must have an ongoing campaign to stake your claim on your share of digital real estate, including a plan to claim your profiles and eliminate duplicate listings.
You can also encourage your patients to leave reviews on these sites and manage your reviews regularly. Keep in mind the rules we mentioned above regarding Yelp reviews and Google reviews.
What is the ROI on Pay Per Click for Dental Practices?
A holistic dental marketing strategy must include pay-per-click (PPC) campaigns. PPC is a paid search advertisement that appears when someone searches on a platform such as Google, Yelp, or Facebook.
It can significantly enhance your search visibility and get new patients in the door. As a result, if your goal is to increase patient leads, a PPC campaign can be one of the best ways for you to achieve it.
The benefits and costs can be calculated as follows:
Approximate value of new patient – Cost of acquisition = ROI
Overhead expenses
To get the most out of your PPC campaign, you must track every lead, whether it comes in by phone or via an online form.
One thing to note when engaging in PPC is that time defines the success of your campaign. Each time a prospective patient clicks your ad, it should be simple for them to call your office or schedule an appointment. They're likely to abandon the process if there are too many roadblocks.
PPC alone isn't enough to get the maximum ROI. You will need to use other internet marketing strategies we've discussed in this post.
For example, when a prospective patient contacts your office after seeing your advertisement, you need a well-trained individual at the other end of the phone with a knack for closing the deal and confirming an appointment.
Your ad copy should be enticing to make the prospective patient click it. Further, the ad should use keywords and location targeting accurately (or you'll be wasting a lot of money).
You might also want to consider device-specific landing pages to ensure that you don't miss out on the mobile audience, or better yet, use call only ads with Google Ads.
Further, make it easier for them to call you directly after visiting your website with a call to action.
Call recording and tracking can also help you learn which keywords are driving calls and when most calls are coming in. However, if you decide to record the calls for quality assurance, please make sure that your patients and prospective patients are made aware that the conversation is being recorded.
Here's what call tracking for dentists can look like: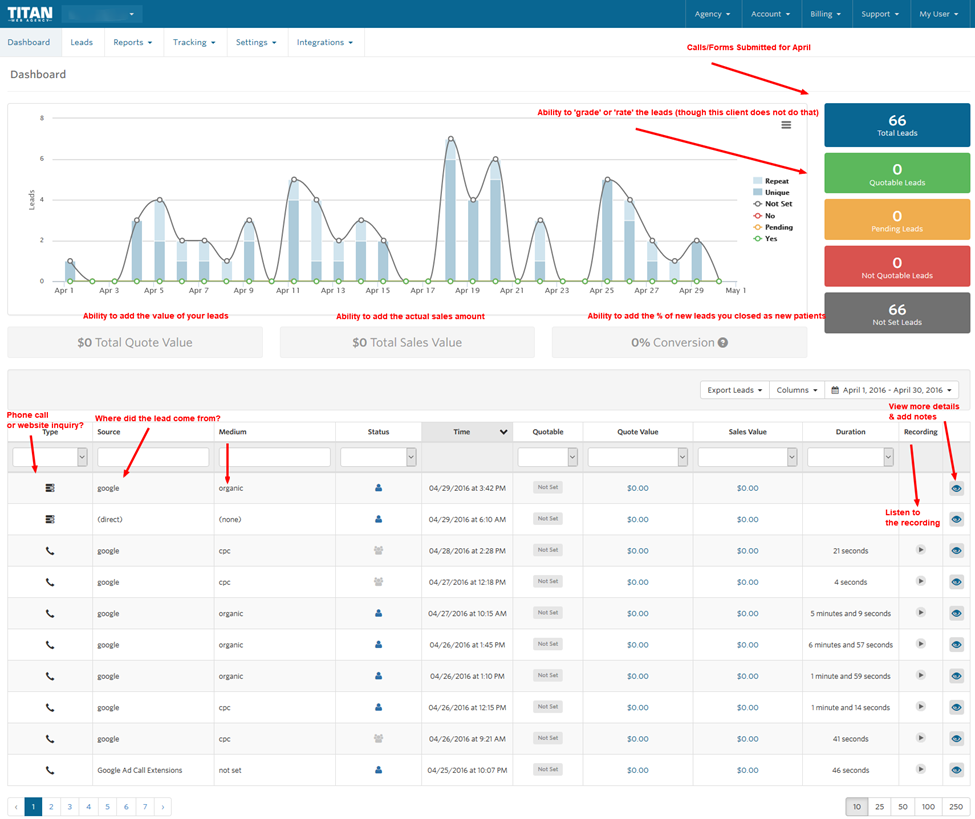 When it comes to digital marketing for dental offices, the touchpoints need to tell a convincing story. By consistently engaging, monitoring, and if appropriate, tweaking your dental marketing strategies and tracking your results you have the potential to reap the highest benefit for your end goal of getting more patients to choose your practice.
How much should you spend on marketing? There is no set amount, however, if you are trying to attract new patients, we recommend spending between 20% and 30% of your gross revenue on marketing. Check out this article and listen to the podcast below for more information.
Grow Your Practice with These Dental Marketing Ideas & Strategies
If you want to be easily found when a potential patient searches online, you need to have a dental digital marketing strategy as part of your marketing plan.
Your website and social media profiles must clearly communicate your clinic's brand image and remain consistent throughout every interaction. Further, these media avenues need to list all the services that you offer at your practice, staff bios, payment policies, and insurance plans that are accepted at the clinic.

Your website should make it easy for all visitors to schedule an appointment. Your hours of operation should be communicated clearly. Your website represents an opportunity to make a good first impression, so invest in a professional and user-friendly design.
Start with one or two strategies from our list. Once you've attracted a few new patients, you can add new strategies.
We understand that you may not have the time to manage multiple marketing campaigns. Your best bet is to work with a marketing firm that specializes in helping dental practices to attract new patients and increase their profits.
About the Author
Tyson Downs is the founder of Titan Web Agency, a company specializing in marketing for dental professionals. With an impressive track record of working with over 100 dental practices, Tyson has a deep understanding of the unique marketing needs within the dental industry. His expertise has helped numerous dental practices flourish by meeting and surpassing their revenue goals and established him as a thought leader in healthcare marketing. His insights and strategies have been featured in esteemed dental publications, including the American Dental Association and the American Academy of Implant Dentistry. Before dedicating his career to helping dental professionals thrive through effective marketing, Tyson honed his skills in SEO and web design as a freelancer, while also gaining valuable experience in the corporate sector. As an alumnus of Brigham Young University, he brings a strong educational background to his entrepreneurial endeavors. Outside of his professional life, Tyson is a devoted father of five, who cherishes time spent with his family, especially when they're all enjoying America's pastime on the baseball field.