How Dentists Can Get The Most Out Of Their Email Newsletters
As we discussed previously in Introduction to Email Marketing for Dentists, email newsletters, or "eNewsletters," are a great form of email marketing for dentists. By emailing patients and other people on your mailing list a regular newsletter, you build brand awareness, keep your practice fresh in patients' minds, get more traffic to your website, and book more appointments.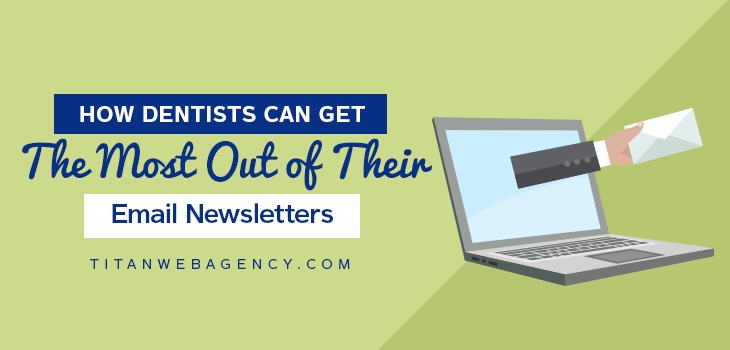 ---
Patient newsletters do take some skill to perfect. Read on to learn how dentists (all doctors and healthcare professionals for that matter) can leverage this form of email marketing to make sure their email newsletters make a big impact. Also check out the dental newsletter examples throughout this blog post with circled areas indicating newsletter essentials you want to be sure to include.

1. Select the right email marketing software
Rather than designing your newsletters yourself in a program that's not meant for email marketing, it's better to use a software program or service that was created especially for email marketing. These programs provide time-saving templates that ensure your newsletter the layout will look good on mobile devices, and that it includes certain essentials, such as an unsubscribe button, images, etc. (I'll talk more on email newsletter essentials in just a minute).
Aweber, MailChimp, and Constant Contact are all good email marketing programs dentists might consider using for sending email newsletters.
Understand though, that these email services are very basic.
If you are going to use email marketing for your practice, I highly recommend considering a marketing automation software that will allow you to send out those newsletters, but do a whole lot more as well.
Your dental practice management software may have an email newsletter component to it, so be sure to check their before going out and purchasing another service.
2. Include a variety of content
Newsletters are a great way to include a variety of content that will appeal to your patient-base. You don't want 100-percent promotional content or 100-percent educational content. Fortunately, dentists have a lot of different content types to choose from for their email newsletters:

Visual content such as photos and videos of your practice
Blog posts you've written (can include snippet and a link back to your website to read the full article)
Specials or coupons with a call to action
Dental tips
News
Fun facts
Dental humor
If you need some funny dental photo's, be sure to follow my Pinterest board, just click follow, below.
Follow Titan Web Agency's board Dental Funny Stuff on Pinterest.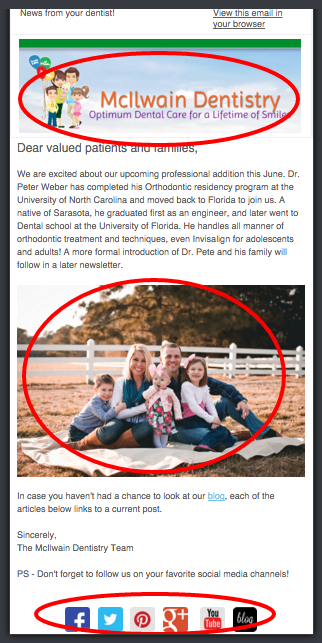 Practice logo, personal family photo of the dentist, social sharing buttons. (Image source: Smile Savvy)
Because it includes multiple content types, a dental email newsletter serves multiple purposes. For example, including your blog posts will get clicks back to your website; including a video on a cosmetic dentistry procedure you provide will pique people's interest in this service. Variety also keeps things from getting boring — for both you and the reader!
3. Set up an automated dental email campaign
When you set up email automation for your dental patient newsletters, you save time and make sure newsletters are sent out on a regular schedule (for example, once a month).
In addition to your publishing schedule, your can also automate other aspects of your email newsletters. For example, you can set up auto-responders so that users who reply to your emails will receive an automated response. Additionally, you can set up segmentation and filters so that certain demographical segments of your patient-base will receive a particular newsletter.
As with your dental email newsletter template, newsletter automation is something you can set up in your email marketing software/service. This DentistryIQ article discusses auto-scheduling and other dentist email newsletter tips.
4. Include dental email marketing conversion essentials
Dental email marketing newsletters should be designed with certain goals in mind. Specifically, you want to use these patient newsletters to get more online engagement, more appointments, and more new patients.
Here are some essentials every dental patient newsletter should include to help you achieve these conversion goals:
Link(s) to your website
Social share buttons
Prominent contact information for your practice (including phone number)
A photo of the dentist and brief message from the dentist
"Unsubscribe" and "Privacy Policy" links
Call to action, e.g., to enter a contest, call to make a cleaning appointment, visit your blog, etc.
Eye-pleasing, dental website design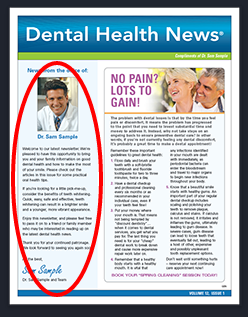 A personal message from the dentist. (Image source: Market Connections)
Including all of these newsletter essentials will grow your dental practice website traffic, increase patient engagement on social media, instill trust, and ultimately, fill up your appointment book.
---
Conclusion — Dental Email Marketing Takes Dedication
Choose somebody in your office to be over the email marketing portion of it. Work with them to have them write the content, or hire a professional to write it.
Set up the email, and test it out a few months. A good place to get started and try it out is your practice management software, they may have a solution.
If you enjoy it and people are reading your emails and seeing value, you may want to take the next step and begin exploring marketing automation for your dental practice.

About the Author
Tyson Downs, the owner of Titan Web Agency, has years of experience working with small businesses and helping them meet their revenue goals. Prior to starting Titan Web Agency, he freelanced in SEO and Web Design while working in the corporate world. Tyson is a graduate of Brigham Young University, the father of 5, and enjoys spending time with his family. Particularly on the baseball field.