14 Proven Dental Referral Program Ideas
*Originally published August 20, 2019, Updated July 1, 2020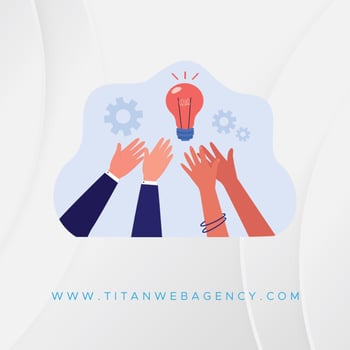 Dentists who own practices are required to wear many hats, including handling dental marketing. And with patient care a priority, it can be tough to find time to attract new patients to your practice.
At Titan Web Agency, we understand because we work closely with dental practices on their marketing strategies. One of the questions we get most often is this:
What are some things I can do to get more patient referrals for my dental practice?
Dental referrals are worth their weight in gold. One happy patient has the potential to attract dozens of new patients to your practices.
Here are some tips to help you fine-tune your referral marketing and get more dental patient referrals.
What is a Dental Referral Program for Patients?
A dental referral program for patients is a bit like a loyalty program. It's a form of word of mouth dental marketing that encourages your current patients to refer their friends, family members, and acquaintances to your practice, often with an incentive provided.
Here are some statistics to consider:
Word of mouth marketing accounts for between 20% and 50% of all sales.

People are up to 4 times more likely to choose a business when referred by a friend.

Referred patients tend to be more loyal than other patients.

91% of Americans would share an exclusive offer with their friends and family.
Listen to this blog post:
Strategy #1: Ask your Patients for Referrals
The first step is an obvious one but it's one that a lot of dental practices skip because it feels uncomfortable. You need to ask your patients for referrals.
Word of mouth works. Research shows that 82% of consumers ask the people they know for recommendations before they try a new business. However, many of them won't recommend your practice.
Why?
One explanation is they haven't been specifically asked to do so. Very few of us walk around making unsolicited recommendations.
There's a qualitative difference between having a friend ask you for your recommendation for a good dentist and offering that recommendation without being asked.
The truth is you never know who might be in the market for a new dentist or who might be dissatisfied with their current dental treatments. Asking patients to recommend your practice is an essential step.
You should get your employees involved by creating a standard script to ask for referrals. That way, everyone will know what to say and when to say it.

BONUS: Get More Reviews Than You Ever Thought Possible (+ a copy and paste review request email you can send out to patients to start building your reviews today!) GET ACCESS NOW
Strategy #2: Have a Dedicated Referral System
The only way to know if your dental referral system is bearing fruit is to track your results. We've found that one of the most effective ways to do that is to put somebody in charge of your referral program. That person should be responsible for:
Deciding when and how to ask patients for referrals
Developing methods and scripts to request referrals
Tracking referrals on an ongoing basis
Acknowledging the patients who provide referrals
It's important to have someone running your program. If you don't, you won't know if your ideas for attracting new dental patients are working. Patient referrals can fluctuate and the best way to get a handle on them is to track them meticulously. Armed with data, you'll be able to account for referrals as part of your overall dental marketing strategy.
Strategy #3: Acknowledge and Thank Your Patients for Dental Referrals
88% of consumers say they want to be thanked for giving a referral. Here are some suggestions to let your patients know that you appreciate their efforts to refer new patients.
Put up a board in your waiting area where you list the patients who have provided referrals and thank them for supporting your practice.
Whenever a referral makes an appointment, send a thank you card to the patient who referred them. Have everyone on your staff sign it.
Call or text patients who refer their friends and family members to your practice. This method provides immediate gratification and can make your patients feel good about referring people to you.
The methods you use to acknowledge patient referrals don't need to cost much. The key is to let your patients know that you appreciate their recommendations and that you value them.
Strategy #4: Ask for Referrals on Social Media
Social media marketing is a must for every dental practice. Since many of the people who follow you on Facebook or Instagram are likely to be existing patients, these sites can be the perfect place to announce your referral program and attract new dental patients.
Here are some social media ideas for dentist to get more referrals:
Run a contest where you enter anybody who refers a friend (by tagging them in a comment, for example) into a drawing to a win a free cleaning or whitening treatment.
Encourage patients to share a post and mention their favorite thing about your practice. (You can even suggest a few options such as friendly service, innovative treatments, or weekend and evening hours.)
Do a series of before and after photos and ask your followers to share them with friends and recommend your services in return for a small gift (say a free tube of toothpaste or a new toothbrush.)
You can even boost one of your posts to friends of your followers or create a lookalike audience in your target area to get your post in front of more people.
Strategy #5: Incentivize Your Patients to Refer Their Friends
We've already touched on this strategy, but it's often a good idea to give your dental patients a concrete reason to refer their friends.
An incentive program gives people a tangible reward in return for a referral. For example, you might offer:
A free cleaning or whitening procedure for a referral (make sure to specify the rules – for example, is the freebie good if they recommend your practice to a friend or only if that friend makes an appointment?
A branded freebie such as an oral hygiene kit with sample toothpaste, mouthwash, dental floss, a toothbrush, and a tongue scraper.
Branded items such as backpacks, travel mugs, or hats.
An invitation to a special event for your most loyal patient, such as a thank you party or lunch.
You get the idea. The key is to let your patients know that you appreciate their referrals and that you're willing to reward them for helping you grow your newly started dental practice.
Strategy #6: Run a New Patient Special
The flip side of incentivizing your current patients to refer their friends to you is sweetening the pot for their friends. By that, we mean running a new patient special that will:
Make your existing patients feel that they're offering their friends something of value when they recommend your dental practice; and
Make it easy for new patients to give you a chance because they'll get something in return.
We've seen a lot of dental practices offer a free cleaning, a free whitening procedure, and/or a free consultation to new patients. Sometimes, people just need a bit of pushing to change to a new dentist and giving them a freebie can be all the incentive they need.
Strategy #7: Create Referral Materials for Your Current Patients to Use
Some of your current patients might be natural extroverts who'll have no difficulty mentioning your practice to everyone they know. But, some might be introverts who are uncomfortable with the idea of recommending your practice – even if they love you and your staff.
The solution is to remove any obstacles that might prevent them from referring their friends to you. One of our favorite ways to do that is to create some low-key referral materials to give to your patients when you tell them about the referral program.
The easiest option – and one that probably won't cost you anything – is to give patients a supply of your business cards and ask them to hand them out to their friends. You can even put your direct number on the back!
If you're willing to spend a bit of money, you might have some brochures or cards printed with information about your new patient specials and ask your patients to pass those out to people they know.
Give your patients free pens with your practice name on them and a few extra to give to their friends.
The key is to ask the patient if they'd be willing to take extra business cards or brochures. It's important not to make it feel like an obligation. Many will say yes, and if even a small percentage of those distribute your cards, your practice will grow.
Strategy #8: Ask Your Current Patients for Online Reviews or Testimonials
While the main point of your referral program is to get your existing patients to make personal recommendations to the people in their lives, indirect referrals are still effective and a great way to grow your practice.
Case in point: online reviews. Research shows that 97% of consumers say that online reviews influence their buying decisions. And, customer reviews can increase conversions by up to 270%.
Here are some pointers to get your existing patients to leave reviews:
Train your staff to ask patients to leave Yelp or Facebook reviews when they arrive at your practice.
Ask your patients if they've reviewed your practice, and if they haven't, ask if they'd be willing to leave a review.
If a patient has left a review or has mentioned a particularly positive experience, ask if they'd be willing to write (or record) a testimonial for your practice.
Link to your Yelp, Google Business Profile, and Facebook pages from the home page of your website.
Feature your reviews and testimonials on a special page of your dental website.
Share your testimonials on Facebook, Twitter, and Instagram.
Your patients can influence their friends and family with personal referrals, but they can also help influence outsiders by leaving reviews. Make sure that you monitor your review pages and respond to all reviews, positive and negative.
If you need help getting started, we have created a guide to help:
Strategy #9: Go Above and Beyond to Provide a Great Experience for Your Patients
Now, it's time to talk about the single most important thing you can do to drive dental referrals.
It's all about service. What do your patients experience when they come to your practice? If everybody who walks through your doors feels valued, cared for, and appreciated, they'll be eager to recommend their friends to you.
If it's been a while since you looked at the way you treat patients, then it's time to optimize your patient experience. Do what you can to improve service and minimize wait times. Provide the best care possible and ensure that every patient feels special. Combining top-notch patient care with a well-thought-out referral program will help your practice grow.
Strategy #10: Set Concrete Referral Goals
If you want to get more dental patients, you need to be specific. You should:
Decide how many referrals you want to get
Set a time frame to track referrals
Keep track of referral sources
For example, you might decide that you want to get one referral from 50% of your patients in the next six months. To monitor your progress, you'll need to meticulously track each of your referrals.
The benefit of setting goals is that they'll encourage your staff to help you reach those benchmarks. If your goal is vague, it'll be impossible to measure and easy for your staff to forget about.
Remember that your goals should be measurable, specific, and achievable. You're not going to get referrals from 100% of your patients. Set a realistic goal, communicate it to your staff, and watch as the referrals roll in!
Strategy #11: Talk about Your Services
When a patient is in your office, make sure that they know about all your services and treatments, even those that don't apply to them at that time. You don't have to talk their ears off, but you can mention treatments that are most likely to appeal to new patients.
Do you offer a revolutionary tooth-whitening treatment or provide free oral cancer screenings? Letting existing patients know about those things might inspire them to mention your practice. Everyone from the receptionist to the dental hygienist to the billing coordinator should be talking about your services to existing patients.
The key here is not to overdo it. You shouldn't bombard patients with information. However, looking for opportunities to mention things that might inspire them to make a referral is good business practice.
Strategy #12: Use Your Website to Turn Referrals into Leads
The first thing a prospective new patient is likely to do is visit your website. Whether they receive a verbal recommendation from a friend, see a social media post, or take a business card, they still need to be convinced.
Your website is a key part of your dental marketing strategy. It should be doing everything possible to turn prospects into leads and leads into paying patients.
Here are some things you can do to make sure that your website is up to snuff:
Have a professional-looking site that loads quickly and is easy to navigate.
Put an opt-in form on every page of your site, so it's easy for people to subscribe to your list or schedule an appointment.
Consider offering a free eBook or another incentive to get people to opt-in.
Your website should do everything possible to reinforce the positive impression a referral has of you. If it's not, then it's time for an update.
Strategy #13: Be Active in the Local Business Community
While your current patients are certainly a rich source of referrals, they're not the only one. Being an integral and active part of your local business community can help you build a referral network to improve your dental marketing.
Join the Chamber of Commerce and get involved in local events. You may also want to offer your services to local charities. For example, offering free cleanings to people at a shelter - or to veterans - can help you raise your profile and do something good for the community at the same time.
Another option is to connect with other businesses and set up a mutual referral program. A local doctor's office, for example, might be willing to put your brochures in their reception area. Likewise, a salon might be willing to refer clients to you for whitening and other cosmetic services.
Strategy #14: Host a Social Gathering at Work
Many dentists have offices in medical buildings, sharing space with other medical practitioners. If you're in a building full of dentists, this idea won't work. However, if you share space with doctors and other healthcare providers, it's a good way to build camaraderie and attract new referral sources.
The event you host doesn't need to be elaborate. However, having a small reception where you serve drinks and appetizers is a good way to get to know your neighbors. As you chat, you can propose an arrangement where you refer patients to one another.
If you have new patient incentives such as a free cleaning or oral cancer screening, make sure to mention them. Even better, print brochures or cards that mention the service you want to promote and ask the providers you talk to if they'll display them at the reception desk.
Conclusion
Attracting new patients with a dental referral program isn't something that costs a lot of money or even a lot of time. The strategies we've outlined here can help you create a robust referral program that'll help you grow your practice steadily.
About the Author
Tyson Downs, the owner of Titan Web Agency, has years of experience working with small businesses and helping them meet their revenue goals. Prior to starting Titan Web Agency, he freelanced in SEO and Web Design while working in the corporate world. Tyson is a graduate of Brigham Young University, the father of 5, and enjoys spending time with his family. Particularly on the baseball field.