Patient Retention: 13 Strategies to Improve Your Practice Retention Rate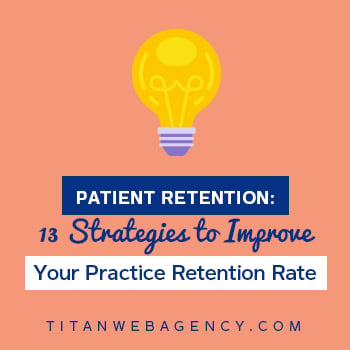 *This post was originally published April 6th, 2017, and extensively updated August 8th, 2022.
Are you struggling with your dental patient retention? As a healthcare professional with your own practice, it can be disheartening to see patients leave and go to a competitor. Attracting new patients is far more costly than retaining existing ones, so focusing on patient retention is essential for practice growth.
At Titan Web Agency, we work with dentists and other medical professionals every day, helping them to fine-tune their marketing and improve their practice retention rate. With that in mind, here's what you need to know about patient retention, plus 13 strategies to increase your practice retention rate.
What is Patient Retention
Patient retention is a practice's ability to turn new patients into loyal patients. Patient retention is measured as a percentage, which you can calculate by dividing the number of returning patients by the total number of patients for your practice minus the number of new patients. We'll go into more detail about the formula later.
The higher your retention rate is, the better it is for your practice. That's because patient retention and practice profitability are linked.


The Cost of Patient Retention vs. Patient Acquisition
One reason patient retention matters is that it is far less expensive to retain an existing patient than it is to attract a new one. According to a 2022 article in Forbes, it may cost up to five times as much to acquire a new patient as it does to hold on to a patient who has already come to your practice.
Acquisition costs more because you'll be starting from scratch, trying to identify prospective patients in your service area, familiarize them with your practice, and convince them to choose you over your local competitors.
Improving retention rates is about connecting with patients who previously trusted you with their health and building on a relationship that's already there. You know who your audience is, and the relationship can be nurtured with low-cost and effective techniques.

Patient Retention Statistics
Now, let's review some important patient retention statistics to help you understand why we believe that patient retention should be a priority for every dental and medical practice.
What you can see from these statistics is that losing patients is costly and can be detrimental to your annual profits and your practice as a whole. Every time a patient chooses one of your competitors instead of returning to your practice, you lose money—and lose ground against your competitors.
Why Patient Retention Strategies Are Important
We've talked about the statistics, but now it's time to reveal why patient retention strategies are important.
Let's start with dentists. The American Dental Association projects the supply of dentists in the US will increase through 2035, making it more important than ever to treat your patients well and earn their loyalty.
The supply of doctors in the United States is not growing at the same rate as dentists, but it's still important to prioritize patient retention.
The most important reason to prioritize patient retention is that when you lose patients, you lose revenue. Your office staff may not have enough to do if too many patients leave.
Empty chairs and examination rooms translate to a decrease in profits, but that's not the only way a high patient churn rate can hurt you. As is the case with any business, today's consumers read online reviews and consider a provider's reputation before scheduling an appointment.
In other words, a high patient churn rate can hurt your bottom line and your practice's reputation, both of which can make it difficult to attract new patients.
Patient Retention Strategies to Build Loyalty and Increase Profits
As promised, here are 13 proven patient retention ideas or strategies to help you reduce patient churn and increase your profits.
1. Make a Great First Impression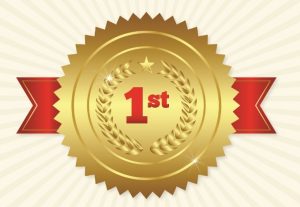 This may seem like a no-brainer, but when it comes to distinguishing between a good provider and an exceptional provider, the details matter.
A patient's first impression will happen in one of two ways. Either they will make a phone call to your office or visit your website. Either way, you want the patient to see that your practice is helpful, professional, and compassionate.
Let's start with some tips on best practices to manage patient phone calls.
When a patient calls to schedule an appointment, make sure that one of your team members answers the phone with a friendly tone and a smile. Try to avoid having any calls go to voicemail during your regular business hours.
If you have a higher call volume than your staff can manage, it may be necessary to hire an answering service as a backup. An answering service is preferable to a voice mailbox because the patient interacts with a live person. Hiring an answering service can improve patient loyalty and patient retention. You may also want to consider using an answering service during the hours when your practice is closed.
When a new patient calls for an appointment, have your staff introduce you or another provider in your practice and share information about the practice itself. I covered this in a post on how your office staff can use patient calls to introduce your practice brand identity.
You may want to keep a one-page reference sheet by the phone with information on which insurance the practice accepts, and general information about the doctor(s) and services.
The goal of the call should be to address the callers' questions and get them on the schedule without taking too much time. If you need to confirm insurance information, schedule the patient first and then call to verify their insurance later—or provide them with a link to your portal to complete intake paperwork at home.
If a potential patient visits your website first, the website must be professional, easy to navigate, and aesthetically pleasing.
On average, a person decides within 8 seconds of looking at a provider's website if they will call that provider or not.
Your website can make or break your business, so be sure yours has a professional design, relevant information, and a call to action.
Be sure you're giving your best first impression by training your employees on how to answer phone calls and ensuring your website looks sharp and has all the essential information patients need to choose you as their provider.
2. Improve the Patient In-Office Experience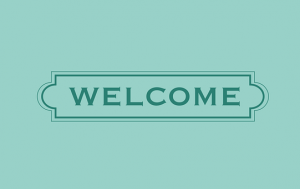 Every interaction a patient has with you and your employees make a difference in patient retention. It's for that reason that you must create a pleasant experience for your patients every time they visit your practice.
You want your patients to feel welcome and like they are part of your family. If they feel like they could get the same experience anywhere else, they may be inclined to leave.
Your office staff must have a great attitude and be warm and friendly with patients so your practice stands out from other practices in your area.
Here are a few things your staff can do to help every patient feel comfortable and welcome:
Greet patients (by name if a repeat visit) as soon as possible when they enter.
Smile and make eye contact with patients when they see them in the office.
Offer a bottle of water while they wait.
Let them know the estimated wait time for their appointment.
Point out where the restroom is or where they can find reading materials.
How your patients are treated and their feelings during their time in your office are what they will remember as they decide whether to return.
A patient who feels undervalued or disregarded is unlikely to return to your practice even if you provide exceptional treatment.
Remember, it doesn't matter what YOU think the experience is, what matters is the patient's perception of their experience in your practice.
3. Spruce Up Your Waiting Area
While it's important to minimize the time patients wait to be seen, you still want the time they spend in your waiting area to be enjoyable. This means you'll need to give some thought to design and decoration as well as which amenities to provide.
Let's start with design choices. The ideal waiting room should feel warm and welcoming, not cold or clinical. You can achieve a comfortable atmosphere by focusing your design on the following things.
Comfortable seating
Warm lighting
Artwork or photographs. For a family practice, consider family photos to create a family-friendly atmosphere.
Plants. It's always nice to have something green in a waiting room.
You should choose colors that are soothing and in line with your brand image. Many practices use the same colors in their waiting rooms that they use in the logo and website.
In terms of amenities, think about your patients and what they would want in a waiting area. Here are some things to consider:
Reading material. You should provide an array of magazines, newspapers, informational material about your practice, and potentially children's books if you treat young patients.
Toys and games. If you have a family practice, then we suggest creating a designated play area if you have space. If you don't, adding a chest of toys, games, and kids' books will be enough to help parents keep their children occupied while they wait to see you.
Beverages. Many practices have a water cooler and cups for a coffee and tea station in their waiting area.
Tablets. If you have a patient portal, you may consider having tablet stations where new patients can complete their intake forms.
Television. You don't need to have a television, but if you do, keep it tuned to something neutral (HGTV, not the news), turn on subtitles, and keep the sound off. That way, patients who want to watch can do so without disturbing others.
Patients of all ages will appreciate that you have taken the time and effort to create a welcoming environment. They'll be more likely to return to your practice the next time they need to see a doctor or dentist.
4. Stay on Schedule
When your patients experience long wait times, it sends a message of indifference. For that reason, keep your appointments running on time because it tells your patients that you value their time.
According to a study performed by the American Journal of Managed Care, long wait times not only affect overall patient satisfaction, they negatively affect the perception of providers and the quality of care.
Be sure your employees know how to book sufficient time for patient visits based on what procedures need to be done and try not to overbook patients.
You'll also need to do what you can to ensure that patients show up on time for their appointments since one late appointment can throw off your schedule for the day. We suggest a system of automatic reminders, including an initial reminder where patients can confirm their appointment and regular reminders up to the day before the appointment. Reminders help reduce no-shows and cancellations and let patients know you respect their time.
One dental practice examines its weekly schedule daily to review cancellations, walk-ins, and last-minute emergencies. This helps them stay on schedule even if they need to accommodate an unexpected patient visit or emergency.
Regularly scheduled reviews will help you avoid delays. You should view openings in the schedule as an opportunity to see patients who are waiting for an appointment or who might opt for additional same-day services. It's an effective way to maximize the number of patients your practice can see per day while staying on schedule.
5. Guide the Patient Through the Visit
Guiding each patient through the entire process from check-in to check-out is essential to continue making a good impression and help make the patient feel at ease and comfortable.
A team member should guide the patient to the exam room with a smile and friendly conversation. When the next team member arrives, the first team member should make an introduction if one is needed.
As a provider, it's important to talk to patients about what to expect. For example, "Anna will come in next and take your digital x-rays, then our dental hygienist Sarah will perform your cleaning."
If you give your patients information about what is going to happen during their visit, they will feel more in control and less anxious.
In many cases, the fear of dentists and doctors stems from the lack of control that patients experience in the dentist's chair or on the examination table.
Pay attention to patient needs, big or small, and hear them when they share their concerns with you.
6. Get to Know Your Patients and Don't Rush
While it takes a team to care for a patient, many people see their time with the dentist or doctor as a major factor in whether or not they are satisfied with the visit.
If it is the first time you are seeing a patient, be sure to introduce yourself and shake their hand.
Let them know you appreciate them choosing you and your practice and ask them if they have been well taken care of before you begin the exam to show you care about them and want to ensure the highest level of service.
Get to know new patients better by asking them questions about their families, what they do for a living, or if they have lived in the area long.
If it is a patient you have seen before, greet them by name and try to ask them about something you remember from their last visit.
Have your team members leave personal notes about each patient in their file and use them as jumping-off points for conversation at future appointments.
When you develop more personal relationships with your patients, it increases their loyalty to you.
Be sure to address all their needs and concerns, and make use of images, videos, etc. to help patients understand their treatments.
You want your patients to see you as a friend and if you are asking them to trust you with their health and well-being, be sure to cover everything with them including:
Procedure details
Benefits of treatment
Length of treatment (how many appointments will be needed and how long each will last)
Cost of treatment
Payment and financing options
Be warm and friendly, and take the time to have a discussion. Don't give patients the impression that you're rushing to get to the next patient.
To keep building on the relationship you have with patients after their visit, consider writing a blog on a bi-weekly or monthly basis.
Patients can relate to and bond with you and your practice when they get to know you better and see more of your personality, thoughts, and emotions.
Blogging also allows you to give your current and prospective patients more information about your areas of expertise, thus building their trust in you.
Another area where it's important not to rush is during patient checkout. Checkout is the last interaction in a visit, so you want to make sure patients leave your office feeling well-served and positive.
If you proposed a treatment plan, print out the procedure details and cost breakdown for them to review once they get home.
If they need to discuss finance options or a payment plan, be sure to have a private area for that.
The last employee they interact with should escort them to the checkout area and say something like,
"Thank you for coming in today. We enjoyed seeing you. Alyssa will set up your next appointment and then you're all set. We'll see you next time! Take care."
7. Make Appointment Scheduling and Billing a Breeze
When it's difficult or frustrating for patients to schedule an appointment or pay a bill, they're likely to go in search of a provider who makes these things easy.
Both processes can be simplified by using an online patient portal. In a well-designed portal, patients can do all these things:
View available appointment times and schedule an appointment.
Cancel and reschedule an existing appointment.
Enter and verify insurance information.
View an existing bill.
Pay their bill.
If you don't already have a patient portal, you may consider switching to practice management software with a patient portal feature.
Whether you have an existing portal or add a new one, it's important to educate patients about the benefits of using it and get as many patients as possible to sign up for it.
That said, older patients may resist the idea of scheduling appointments online. For that reason, it's essential to answer phone calls promptly and make it easy for anybody who calls your office to schedule an appointment to see you, get a balance on their bill, or make a payment.
8. Use Marketing Strategies That Target Your Patients' Interests
Healthcare marketing comes with some special challenges. You'll need to keep best practices and HIPAA requirements in mind at all times.
Many of your existing patients may already read your blog or follow you on social media. You can increase your following and build trust with your patients by focusing on marketing strategies that target their interests and concerns.
For example, a dentist might share content related to good oral hygiene or popular treatments such as teeth whitening or dental implants. A doctor might curate news items related to health topics that are relevant to their patients and share them with commentary.
If your practice specializes in certain treatments or conditions, then your dental marketing should highlight those things to make it clear what you do and remind current patients that you are the expert.
9. Motivate Patients with a Loyalty Or Membership Program
Creating a practice loyalty program is one way to motivate patients to stay with you instead of leaving for one of your competitors. You can enter patients into a drawing each time they come in, and if they come in twice in a year, they perhaps get entered into a larger, yaer end drawing. There's many ways to do a loyalty program, but the main thing is that the patients feel they get value out of it.
Then there's dental membership programs.
They are best suited for practices where patients visit regularly, such as dental practices where patients typically come in at least twice a year for a cleaning and an exam.
Loyalty programs work by charging patients a monthly fee for membership. Their payments entitle them to a list of treatments that should be specified in the literature about the program and clarified to the patient when they enroll. For example, a dental patient loyalty program might offer patients the following:
Two annual cleanings
Two annual dental exams
Bitewing X-rays
Dental imaging software has revolutionized the way dental professionals capture and analyze images of patients' teeth, gums, and surrounding tissues. With so many options available, it can be difficult to decide which one is right for your practice. Our comprehensive review and rating of the top nine dental imaging software will help you make an informed decision.
Ideally, the annual cost should be a little less than what these treatments would cost individually. Some dentists sweeten the pot (and charge a bit more) by throwing in a free teeth whitening procedure.
These programs are effective because patients buy into the idea of staying with your practice in the long term. As they pay monthly, they're less likely to leave you for another practice.
10. Capitalize on Social Proof
Social proof can go a long way toward improving patient retention rates for any practice. Patients want to feel good about the providers they choose. That means you'll need to build trust, establish authority, and remind patients that you care about them.
Social proof can take many forms. Here are some examples to consider:
Patient testimonials on your website or social media
Positive patient reviews on medical review sites
Business credentials such as board certifications and awards
Media mentions
Patient referrals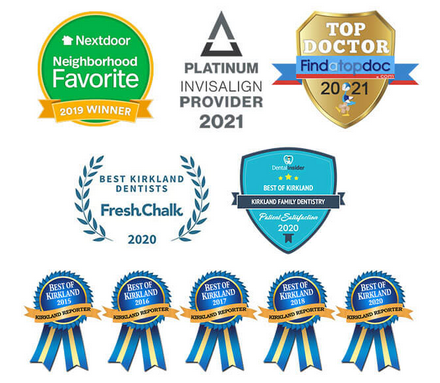 Here's an example of social proof from Kirkland Family Dentistry
Be sure that any patient testimonials you share on your website or social media are shared with permission and follow HIPAA regulations.
Patient referrals may include a program to get your existing patients to refer their family and friends to you. You can build loyalty with a referral program by offering your existing patients an incentive to make referrals. For example, a free tooth whitening treatment would be ideal for a dental referral program.
11. Solicit Patient Feedback and Act on It
Patients want to feel valued and cared about. One way to let them know is to solicit their feedback about your practice and treatment of them—and to use what you learn to improve your services.
There are several ways you can obtain patient feedback. One way is by emailing patients a patient satisfaction survey after an appointment. The survey should be anonymous and respectful of patients' time. In other words, keep it short.
Another way to get patient feedback is to ask patients to review your practice. You can do so with a follow-up email or text after they see you and provide a link to your Google business listing. Google reviews are the most beneficial because they appear on the search engine results page when people search for a provider in your area.

Survey data can be aggregated and used to identify areas for improvement. For example, if you get multiple responses about long wait times, then you know that you need to figure out your scheduling process to prioritize patients' time.
Review management should include a process for reading and responding to reviews within 24-48 hours after they are posted. Every review deserves a response because responding shows patients you care what they think. Negative experiences represent an opportunity to connect with a patient and prevent them from leaving your practice.
As a note, responses to negative reviews may be best handled offline. Keep the tone of your response warm and compassionate and if you manage the situation properly, the patient may revise their review accordingly.
12. Engage in Social Responsibility
Today's patients, particularly young people, prefer to do business with companies and providers who engage in social responsibility. Simply stated, it can help you retain patients if you take an interest in the community and world beyond your practice.
Some options include partnering with a local charity to hold a fundraiser or donating a portion of your profits to a relevant charity. For example, a dental practice might do pro bono work for kids in the foster system or donate money to a charity such as Smile Train, which provides cleft palate correction surgery for kids.
Whatever social responsibility work you do, make sure to highlight it on your website and social media pages. You may also want to put printed materials in your waiting room.
13. Get Your Team on Board
Any healthcare practice is only as good as the team that runs it. While providers' names may be on the door, every staff member plays a role in patient retention.
As a provider, you should have a clear patient retention policy in place. Every staff member should know what they are expected to do. Your policy may include scripts for phone calls and patient interactions, a policy for handling negative reviews, information about referrals, and more.
Newly-hired staff members should be trained in patient retention before they interact with patients. You should ask your patients about how they were treated when you see them and take any complaints seriously.
When your whole team is on board with patient retention, it's easy to reduce your churn rate and increase your practice profits.
How to Measure Patient Retention
Any practice that wants to use the strategies we've covered to improve patient retention must first calculate their patient retention rate. The only way to know if the strategies you use are working is to measure their effectiveness, and for that reason, you must know what your patient retention is now.
You'll start by choosing a period to measure. For example, you might review the first quarter of a year or an entire year. The formula to calculate patient retention is simple:
[(E-N)/S] x 100 = PRR
E stands for the number of existing patients at the end of the period you're measuring.
N stands for the number of new patients gained during that period.
S stands for the number of patients at the beginning of that period.
PRR is the patient retention rate.
So, let's look at a sample calculation. A dental practice wants to measure PRR for an entire year. They had 300 patients at the end of the year, 170 of whom were new. They started the year with 275 patients. Here's what the calculation would look like.


[(300-170)/275] X 100 = 47.27%
This practice has retained 47.27% of its patients in a year. Said another way, they have lost 52.73% of their patients, so there is absolutely room for improvement.
We suggest calculating your patient retention for the previous year and going forward, for each quarter of the year. That way, you'll get a handle on how many patients you're keeping and losing, and you can strategize ways to improve your patient retention numbers.
Patient Retention Mistakes That You Should Avoid
To start on the right foot with improving patient retention in your practice, here are some common patient retention mistakes to avoid and some suggestions on how to address them.
The patient experience is lackluster. Patients expect more than a greeting and a safe place to wait for their appointments. Providing a pleasant environment and getting your staff on board with treating patients like family can go a long way toward improving patient retention.
Not rebooking patients before they leave your office. The best time to schedule a follow-up appointment or a routine checkup is before a patient leaves your office. You can facilitate rebooking by having the staff member who escorts a patient to the front desk remind the front desk staff that the patient requires a new appointment.
Not following up with patients after they see you. Making a quick follow-up call with patients to see how they're feeling or whether the medication you prescribed is working ensures that patients feel valued and know that you care. In other words, it's time to get serious about building patient relationships.
Not maintaining an active social media presence. If your social media pages are rarely or never updated, then it's easy for your existing patients to lose sight of what you provide. You can address this issue by sharing relevant news, blog posts, and other information that your patients are likely to find useful and informative.
Keeping patients waiting. Scheduling is as much an art as it is a science. As a provider, it's your job to make sure your staff knows how much time to schedule for each patient and that you provide patients with the care they need while also respecting their time.
Not responding to negative reviews. As we mentioned above, negative reviews represent an opportunity. One unpleasant experience can turn a patient away from your practice, but if you address that experience quickly and professionally, you can still retain your patient. Make sure to check reviews regularly and respond promptly.
Not having a strategy to retain patients. Patient retention doesn't improve without a strategy. You can use the 13 strategies we've listed here to understand why patients are leaving your practice and what you can do to keep them, then create a concrete plan for you and your staff to follow.
Avoiding these mistakes or taking steps to correct them if you have been making them can help you improve your patient retention while still growing your practice by attracting new patients.
Retaining Patients Offers Great Return on Investment
Improving your practice's patient retention rate is an effective use of your marketing budget because it comes with a higher return on investment (ROI) and lower costs than attracting new patients. Remember, it can cost up to five times as much (or more) to attract a new patient than it does to retain an existing one.
Do you need help increasing your patient retention rate? Titan Web Agency is here to provide the solutions you need! Click here to schedule a free consultation today.
About the Author
Tyson Downs, the owner of Titan Web Agency, has years of experience working with small businesses and helping them meet their revenue goals. Prior to starting Titan Web Agency, he freelanced in SEO and Web Design while working in the corporate world. Tyson is a graduate of Brigham Young University, the father of 5, and enjoys spending time with his family. Particularly on the baseball field.