A Blog for Dentists & Other Healthcare Professionals
13 Ways Dentists Can Attract Patients Who Pay, Stay, And Refer
*This post was originally published September 17, 2015 and extensively updated April 27, 2020.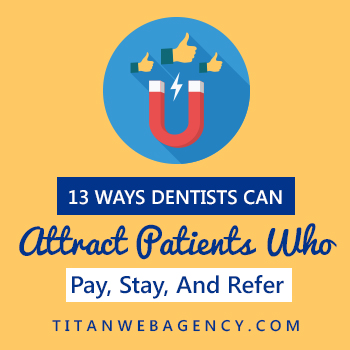 If you just launched a new dental office and you're wondering how to get more new patients to your dental practice, then you're in luck. We are going to discuss how to grow a dental practice using 13 different marketing strategies.
More new dental practices are coming on the scene every year, while patients are actually going to the dentist less and less.
More competition for less patients can seem pretty bleak, unless you know some proven dental marketing tips to attract new patients. Here are 13 dental marketing ideas that you can use to increase patient volume in your dental practice by increasing patients to your dental practice.
So, let's get right to it, and go over how to increase patient volume in a dental office.
Before we get started, this list will definitely help you understand how to attract new patients to your dental practice.
But- it requires action on your part. If you read the post and don't take action, then these dental marketing strategies won't help you attract new dental patients.
1. Create an Engaging Website
First impressions are everything.
Your website can't simply be a generic website that a large dental marketing company created by copying the site from thousands of others. Websites are meant to be engaging and interactive, but this is often overlooked by the medical world. When someone visits your website, you need to be sure that you have all things in place so you can convert that visitor into a new patient.
In other words, your websites' primary purpose should be to drive new patients. Think of it as a full time salesman that is working 24x7 for your practice.
Good websites cost money. Yes, you can put up a homemade website for a few hundred dollars but it will likely not draw as much attention and convert as well as a professionally-built site.
Consider the benefits of having a professional dental website, designed by an agency that understands design concepts, user experience, the dental industry and SEO. Properly done, a dental website will be an excellent marketing tool for you, provided the website has:
Uncluttered, mobile-friendly web design
Simple navigation
Onsite blog
Pictures of dentist and offices
Prominent contact info
Reviews and testimonials
On-page SEO
Though there is often a somewhat significant cost for a website, remember that website is your 24x7 sales person. You should be able to recoup the cost as long as you are marketing your website effectively.
Consider developing a website that funnels patients towards setting an appointment. Be sure that your contact information is readily accessible and give your patients & potential patients multiple contact options.
Ask some of your long-term patients to write you a testimonial that you can use for your website. Even better is a video testimonial! Hopefully, your marketing strategy includes a way for you to get online reviews, because reviews are truly the new 'word of mouth'. If you have reviews online already, such as on your Google listing, then go ahead and use those reviews for your website. If you don't have a strategy in place to get more reviews from your existing patients, then check out the resource below, it'll help you get started.

Highlight patient testimonials on your website and social media accounts to help build trust with future patients.
Remember, your website isn't 'for you'. It is for your potential patients and existing patients. Try and put yourself in their shoes. Doing so will help you have a website that converts as opposed to one that is simply 'there'.
2. Stand Out From the Crowd
Knowing how to attract patients to a new practice can be difficult if you don't stand out from the crowd. Depending on where you're located, there could be several dental practices in your neighborhood to choose from.
And the problem is that most people already have a dentist they see regularly or irregularly. They know the doctor and their insurance is on file. So why switch?
Do this by developing a unique selling proposition (USP) for your brand. A lot of practices go for the "luxury dentistry" USP to help them stand out. But you can also dig into your specialties, such as:
That's the question your practice has to answer.
Oral sleep appliances
Invisalign
Veneers
Implants
Dentures
It's a great idea to focus on your unique services; or things that differentiate you, such as "after hours" dentistry. Make it prominent in your dental marketing materials, including social media, as well as your website.
Keeping your office technologies current also helps attract new patients and keeps existing patients sticking around. In addition to using all the current dental technologies, be sure to let people know you're using these state-of-the-art technologies on your dental website. People like to go to a dentist that keeps up to date on technology because, let's face it, the technology is meant to make the patient experience better.
Some dentists offer a spa like experience at their practice.
Others are continually adding dental amenities so that when prospective patients are looking for a new dentist, they really stand out from the crowd. Heck, if you have patients that are on the fence about returning, offering the right amenities can be the difference between losing a family of existing patients and keeping them.
In addition to providing marketing materials in your office, make sure it is comfortable and provides amenities like drinking water, comfortable chairs, current magazines, and other niceties.
3. Sponsor Local Events
One of the most effective methods to attract patients to a new practice than to get involved in the community!
Sponsoring local events is a great strategy for your dental marketing plan. Become a sponsor for a charity event or community organization.
Especially if you're just starting out, having your name or logo at a local event will help build brand awareness. If there's a concert or race involved, send one of your employees down to hand out fliers and coupons to attract new patients.
You can also host your own event in the community, and it doesn't even have to be related to dentistry.
Just take some inspiration from Collins Dentistry For Children in New Hampshire. At one point, they have hosted and sponsored all sorts of events for children as part of their dental office promotions, including their Annual Child Safety Fair, the Promote Good Oral Hygiene event, and more.
4. Search Engine Optimization (SEO)
SEO is no longer the simple "stuff it with keywords" strategy. It isn't even a 'the most backlinks wins' strategy anymore.
SEO has evolved to where you likely need the help of a professional.
The truth is, unless you are in a small town, or very noncompetitive area you likely won't rank well in the search results unless you have an effective, and well thought out SEO strategy, and don't give up on it.
What question you'll want to ask any person or company you are considering to hire for SEO, is what is an appropriate and realistic goal concerning SEO? Ultimately, the goal should be to drive revenue growth through an increased online presence. How does that happen? By getting more new patients.
Of course, that is the ultimate goal. Initially, there will likely be others such as improved rankings in the search results, more website visitors, more calls coming in, etc.
A true SEO professional will understand conversion rate optimization as well. This means they will understand how to optimize your website so that you are able to convert as many visitors to your site who are looking for a new dentist as possible, so you can get more new patient appointments from your website.
Once you rank well, and you are getting a good amount of traffic to your site, be sure to spend time/money on the optimization of your site.
There are different SEO strategies – local, organic, and international. Each has a different impact on your conversion rate. Talk to an expert about the strategy that will work best for you before you get started, and remember that it's not just about basic keywords.
Typically, dental local SEO is what will be most important for a dentist, because they are targeting people in a specific area, and want to show up here, in the Google local pack: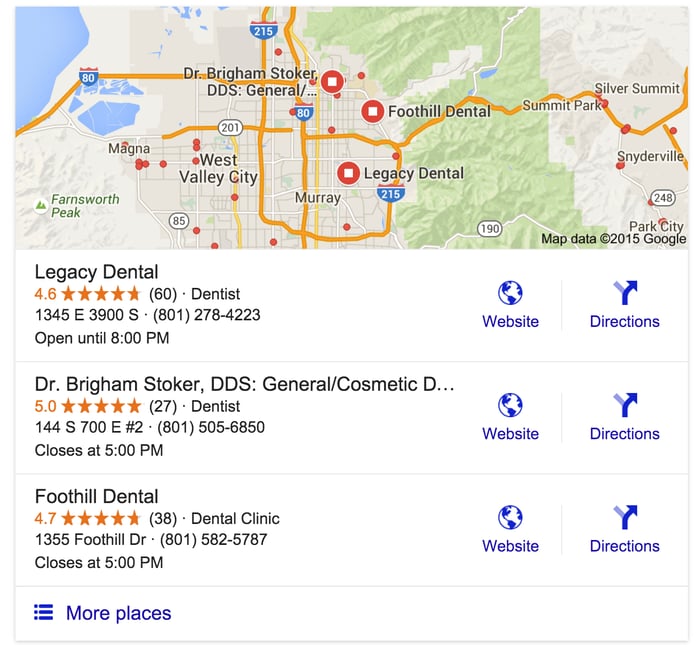 Google now not only shows local listings, it prioritizes them on mobile searches. This is to make it easier for people on-the-go to find the business they are looking for.
According to Google, "50% of consumers who conducted a local search on their smartphone visited a store within a day, and 34% who searched on computer/tablet did the same."
You'll want to optimize for location-specific keywords so that people searching for dental offices near you will find your website. Here are some examples of location-specific keywords:
[Your city] dentist
[Your neighborhood] dentist
[Your zip code] dental office
You should also optimize for keywords related to your specialty (e.g. Portland dental implants).
One way you can minimize competition is by targeting long-tail keywords. Patients are looking for solutions when they search online, and oftentimes these solutions have many words, we call them long-tail keyword. Examples would be:
dentist in Salt Lake City that does teen Invisalign
zoom teeth whitening dentist in SLC
So focus on long-tail keywords revolving around solving the dental problems that people have.
Search engine optimization is an ever-changing art, so you should probably enlist the help of a marketing professional (preferably a 'dental marketing professional') to decide what keywords to target and how.
Implementing the proper keyword research and long-tail keywords, will no doubt put you in a good spot when it comes to your online presence and Google search results.
5. Focus On Getting Positive Reviews
If you want to get new dental patients choosing your practice in online searches, positive reviews are a must. At this point in your business, you probably have no reviews. Unfortunately, the truth of it is this:
Nobody is going to choose a dentist with no reviews over a dentist with dozens of positive reviews. Your online reputation is something so critical, so paramount when it comes to your digital presence, that it could take you from average production volume to completely full (or, as full as you want to be).
The truth is, reviews are the number one factor people consider when making a purchase decision. So if you've landed a few patients through your employees or friends, ask them very nicely to write a review.

Yelp, Facebook, and Google Reviews are the biggest ones to pay attention to for local businesses. If someone uses Google search to find your dental practice, or even Google Maps, they will easily be able to see your Google reviews right along with your address.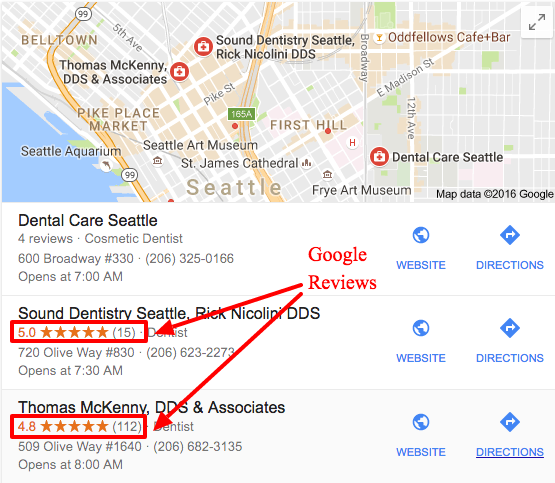 So do your best to get those first crucial reviews, then encourage all your future patients to continue by adding to your reviews.
Don't pay people for positive reviews, as that is against Google's terms of service. But, a gentle nudge to patients after an appointment or a reminder via email after they've left the office should be enough to get them to review you.
While on the topic of reviews, remember to deal with negative reviews quickly. Ignoring them will only compound the issue. Respond to all of your reviews, both positive and negative, and take the time to clarify your position when you get a negative review. Sometimes having an explanation from the business is enough to convince people that the issue was a one-time occurrence.
As we mentioned earlier, be sure to read our guide to review management to learn how to get more reviews and how to appropriately respond to reviews and manage your reputation online.
Consider a review system to help you get more reviews. These review systems can automate and simplify your review efforts.
6. Directory Listings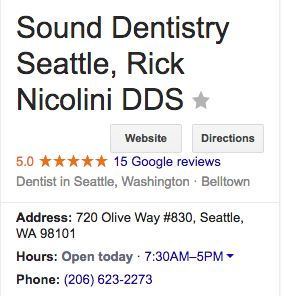 To get new dental patients to schedule treatment, directory listings are low hanging fruit. People searching for dental offices in an online directory are just the kind of patient you want to target. They either don't have a dentist or are looking to switch.
So make sure you have listings on Yelp, Better Business Bureau, HealthGrades, Vitals, Angie's List, and any other directory you can think of.
But more importantly, make sure your listings on these sites are completely consistent.
Why?
Again, it's all about Google. They pay attention to your business listings around the web to determine how to rank your website in local search. If your name, address, and phone number (NAP) aren't consistent, your site will rank lower.
One mistake I often see is people listing their business name on one directory (e.g. Redmond Dental Center) and their own name on another (e.g. Jane Doe, DDS: Redmond). Go back through and change it so you are using the same naming convention everywhere.
7. Distribute Press Releases
If you want to attract patients to a new practice, press releases are a great place to start. I'm not talking about "Hey, we're in business!" notifications. Send press releases about subjects that actually interest people.
Whenever something dentistry-related reaches the national news, add your two cents on a local level. Here are some great example headlines from The Institute of Dental CPAs:
"Dentist Says Needle and Drill Nearly Obsolete"
"Cosmetic Dentistry Demand Running High"
"Sioux City Dentist Goes High-Tech with Newly Approved Laser"
Take advantage of the news when the FDA approves the use of new technologies in dentistry, for example. The possibilities are endless.
8. Pay-Per-Click Advertising (PPC)
PPC is one of the most common marketing ideas for dentists you hear about. Google Ads is the largest pay-per-click (PPC) platform. With Google, PPC ads appear above organic search results.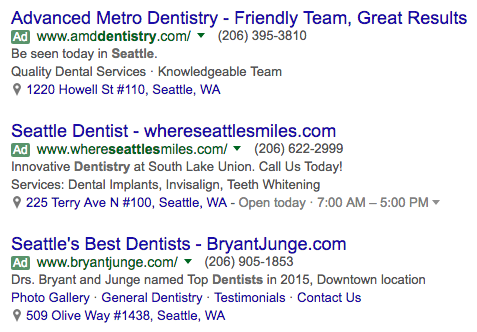 They work really well because you target specific keywords, like with SEO. This ensures the ads are relevant to whatever people are searching for.
The good news is, you don't have to pay to display the ads, you only pay when people actually click on them. Every time someone clicks this ad, you pay Google a small amount. While this amount varies depending on how competitive your industry and the local market is, a good agency can get you a lower rate compounded with higher conversions.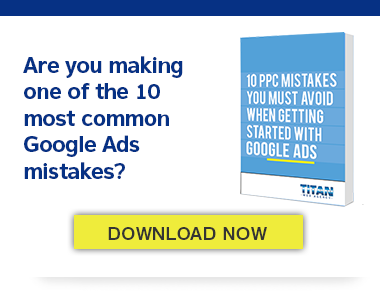 That said, the cost-per-click for dental ads can be expensive ($2-$15). To avoid paying out a large amount of money in exchange for no new business, remember to optimize the right keywords. Don't immediately, and unknowingly just choose keywords that have the most competition, as you'll eat into your budget quickly. Also, consider the day of the week your PPC ads are shown. Some days have a higher click-through rate than others. Finally, narrow down the audience to be specific to your area and the demographics you serve.
If you work with a dental marketing company that knows what they're doing, you can use PPC and SEO together to get the best return on investment.
We wrote a post recently about using a local PPC management company for your paid advertising. Check it out.
9. Seek Patient referrals With A Patient Referral Program
First let's agree that if a current patient refers someone to you, you're very likely to get that business. Someone testifying to your excellence as a dental practitioner, such as a satisfied patient, will convert someone into a new patient for you in much less time than it would take for you to convince them yourself.
Patient referrals are a great way to get more patients into your practice, even if you're just starting out. Those first few patients you get will serve as an essential voice in attracting more patients during your first year.
There are a lot of dental referral program ideas you can try. Encourage them by offering a referral bonus program, such as a free cleaning or special discount whenever they refer a friend. All you have to do is hand out a simple referral card at the end of their appointment that explains the deal.
You might also consider a referral program where if a patient refers a friend, and that friend books an appointment (and actually shows up), you reward the referring patient with free movie tickets or another valuable freebie.
Even if you don't have a single patient yet, you can always use the strategy with your employees. They probably have plenty of friends and family in town, so encourage them to refer to your practice.
It may seem old-fashioned to focus on word-of-mouth marketing, but in the Internet age, even word-of-mouth marketing isn't what it seems. It may seem simple. Be a great dentist and patients will refer new patients to you. But, with the power of the Internet, you can take it a few steps further.
10. Social Media Marketing (SMM)
If you want to attract dental patients to your new office, social media is something you'll want to try. Having a presence on social websites like Facebook, Twitter, Google+ and more helps give your brand a human element.
Social media is an extremely powerful tool for online marketing. However, many businesses are approaching social media marketing in the wrong manner.
Don't be one of those businesses that sets automatic posts without engaging with the readers of those posts. In fact, the more posts you publish every day, the less engagement you will see from your followers. Brands that post to social media twice a day only receive 57% of the likes and 78% of the comments per post according to Track Social.
You're not just there to advertise your practice, but engage with your audience and show what life is really like at your dental practice. Use hashtags related to your industry to start participating in wider conversations:
#dentist
#dentistry
#NoMoreDentures
#FunDentistry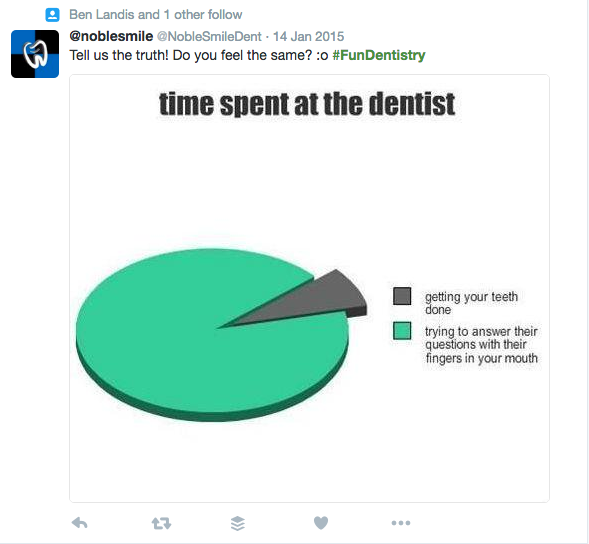 You can also use social media to cross-promote your other tactics to get new patients. If you're sponsoring a local event, use the event hashtags.
Make sure someone is monitoring your social media accounts for mentions of your dental practice. Have them reach out to potential patients in the area that may be looking for a dental practice. This is a simple practice that can bring you patients that are in a hurry to get to a dental practice but don't have the local knowledge to choose one.

Social media is also an important platform for customer service. If you have any disgruntled patients, they may air their complaints on your Twitter profile or Facebook page. Take this as an opportunity to publicly address any problems they may have. This will give your business a positive image to others.
Here are a couple statistics from SmileSaavy that demonstrate the importance of including social media in your online marketing strategy:
40% of consumers say they use information they find on social media to make health decisions
71% of consumers who receive a quick response from a business to a complaint on social media would recommend that business to others.
11. Use New Patient Specials
According to research by the Healthy Policy Institute, 22.9% of adults say they are unsure or definitely don't plan to visit a dentist in the next 12 months. The top reason? Cost.
If you want to increase patients in your office, new patient specials are the solution. People turn themselves away from treatment because of cost, but if you offer a special discount, they're much more likely to respond.
Use a new patient special to get people to book that first appointment, then you can nurture them as recurring patients for years to come. Here are some examples of simple incentives you can give:
Free teeth whitening
Money off Invisalign treatment
Discount service bundles (e.g. oral exam, cleaning and X ray)
Whatever new patient special you decide to offer, just make sure it beats your competitors and it communicates your USP. When you're first starting out, it's not going to be very helpful to offer the same deal as 4 other dental practices in your area.
12. Ad Retargeting
SEO and PPC are great marketing ideas for dentists, but ad retargeting is a new development that can really help you capture patients.
The idea behind ad retargeting is this:
Someone visits your website, but they don't book an appointment, sign up for your mailing list, or anything else. Cookies from your site are placed on their browser, so when they leave your site, they see advertisements for your business other places on the web.
There are two main platforms you can use for ad retargeting right now:
Facebook
Google Display Network
Facebook will display advertisements for your business right in people's newsfeeds or in the sidebar on desktop.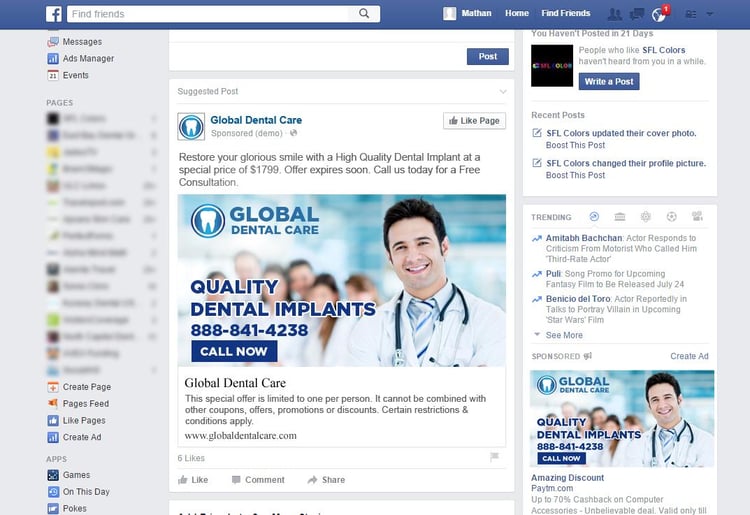 Google has a network of websites around the web where it displays advertisements. You can even target specific kinds of websites for your retargeting ad to appear on.
Like Google Ads PPC, retargeting works well because the ads are relevant. You're targeting someone who's probably already browsing around for a new dentist, and you want to make sure your business stays fresh in their mind.
It is possible they don't need a dentist right now, but they're looking for one for a later time. Having your advertisement show up every now and then is a great way to make sure your dental practice stays at the top of their mind.
Retargeting works best if you segment your potential patients and show them different ads based on their interests. For example, you can segment them by the pages they visit on your website in order to show them ads for services they are interested in.
13. Seek Business Referrals
Business referrals are another great way to get more patients into your practice. Develop a relationship with other businesses in town, and you can work together to refer each other customers.
Working with a person/business related to yours, such as an oral surgeon or orthodontist, will get you the most relevant and valuable referrals. But you can also partner with unrelated businesses and display fliers of each other's' services in your offices.
If your office is located in a complex with other businesses, offer your dental services to your neighbors. Convenience is very important for people working 9-5 jobs. If you have extended hours, it's a perfect solution to their dental needs. Have one of your staff members hand-deliver a letter of invitation to other businesses around you.
Use a service like Redi Comps to get a list of new homeowners in your area, and then have a mailer designed somewhere like VistaPrint or Click2Mail. Some essentials to include in your postcard mailer include:
A visually striking design
An attractive offer
A call to action with prominent contact information
Conclusion
Some of these marketing ideas for dental offices are simple and easy to implement, while others are a lot to take on. Use these strategies to attract patients to your new or existing practice, then you can shift some focus to retaining them, and building raving fans, and getting their help to grow your business even further.
About the Author
Tyson Downs, the owner of Titan Web Agency, has years of experience working with small businesses and helping them meet their revenue goals. Prior to starting Titan Web Agency, he freelanced in SEO and Web Design while working in the corporate world. Tyson is a graduate of Brigham Young University, the father of 5, and enjoys spending time with his family. Particularly on the baseball field.