A Blog for Dentists & Other Healthcare Professionals
11 Dental Practice Management Software Systems Reviewed
*This post was originally published May 4, 2015 and extensively updated November 7, 2019.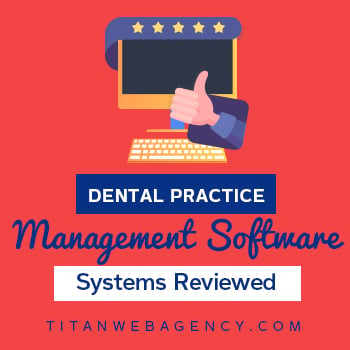 When it comes to choosing dental practice management software, you have dozens of options available to you. It can be difficult to make accurate evaluations and the best decision without some guidance. After all, you probably don't have time to cruise from site to site trying to accumulate and compare prices and features.
That's why we've done the work for you. We've put together this exhaustive, unbiased list of 11 of the best and most popular dental practice management suites available. We've only included those we think are worth your money. We've even reached out directly to the software providers to get additional details when we needed them. In other words, we've done the work, so you don't have to.
How We Chose the Dental Management Software Systems to Compare
You'll notice that we said that there are dozens of dental management software systems, but we're featuring only 11 in this post. That's because we did the work ahead of time to eliminate any options that we wouldn't wholeheartedly recommend to our clients.
This isn't a comprehensive list, but we decided to feature the software solutions that met the following criteria:
HIPAA Compliance. Every dental practice must adhere to HIPAA regulations and choosing dental management software that doesn't make compliance easy is a waste of your time and money. It puts your patients' information at risk and that's not something we would ever recommend.
Value. Any dental management software suite worth having is going to require a financial investment, but some investments are bigger than others. We focused on the options that offer dental practices the most value for their money.
Customer Support. Finally, we chose dental practice management software that provides top-notch customer support to its users. We recognize that you may need help using the features of any software solution you choose – and we prioritized companies that provide it.
We can't tell you what features are most important to you, but these three main criteria are things we feel are essential to every practice.
A note about dental practice management software features
Not every feature of each piece of software will be important or necessary for your practice. While we give a thorough list of features for each product, you should do your own research to ensure the software you choose meets your needs.
Most dental PM software will have features such as billing, scheduling, charting, and electronic dental health records. Others may offer built-in digital imaging or integration with dental imaging programs.
Another important thing to pay attention to is whether the software is cloud-based (accessed via the internet) or proprietary (installed on your own on-premises server). With cloud software services, there is usually less of a commitment or investment required, as they are typically billed on a month-to-month subscription basis. The current trend is toward more cloud-based dental practice management software and mobile systems that will let you access the software via iPads and other internet-connected devices.
We strongly suggest choosing a software provider that offers a free demo so you can try your software before buy it.
Now, without further ado, here are the 11 dental practice management software suits we feel are the best.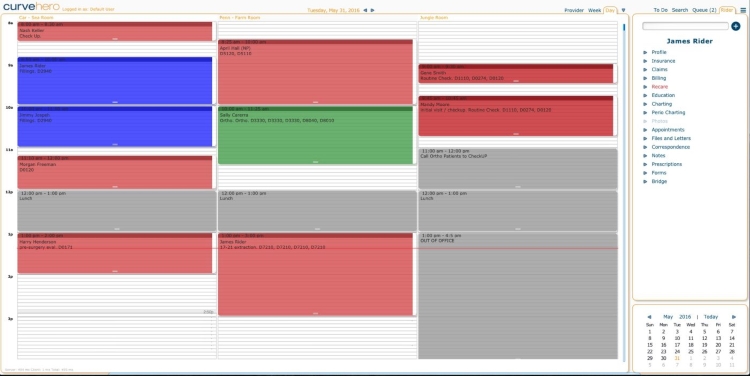 Overview: Curve Dental is a fully web-based dental practice management software system, with all the essential features you'd want in a PM software package, from scheduling and reporting to charting and imaging. Reviewers of the software service praise the responsive customer service and intuitive interface, as well as the ability to use the service on any operating system or browser.
Service model: Cloud-based
Hardware/operating system requirements:
Any web browser (OS agnostic) with WebGL compatibility (includes most stable versions of popular browsers); works best on updated version Google Chrome. Minimum speed for connectivity is 5 Mbps download and 1 Mbps upload. Not recommended for use with dial up or satellite services.
Price: Subscription-based pricing is customized for each practice. Evaluate the four different packages Curve offers and request a quote. (Unfortunately, they don't offer the pricing on the website, you need to discuss it with a consultant.)
Free demo: Yes
HIPAA compliant: Yes
Support: Free 24/7 technical support. Customer service is touted as friendly and responsive and is provided via email, phone, and integrated messaging.
Training: Provided over the internet and the phone (no in-person training), also via online demos and webinars.
Key features:
Billing capabilities
Scheduling
Reporting
Credit card processing
Insurance management
Mobile computing
Online patient portal
Smart Forms

Dental charting
Digital imaging
Patient communication
Perio charting
Clinical notes
EPrescribe
Data backup
The Takeaway
Note that there are several different types of packages offered; different features are offered under different packages.
Curve Dental is an excellent cloud-based dental practice management software solution with a variety of easy-to-use features, responsive customer support, an informative website, and a sense of humor to boot. They are very upfront about what you get and allow you to pay as you go. In addition to all the traditional dental PM features, you get cloud-based data backup and mobile access as well. One of the only possible downsides we could find is the lack of in-person training they don't provide the pricing on their website.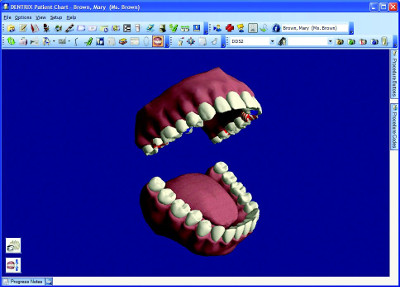 Overview:
Dentrix prides itself on being the most popular dental PM software company in North America. Certainly, Dentrix is a trusted name in dental practice management technology. Dentrix was founded in 1985, and while Henry Schein acquired them in 1997, many of the original founders are still with the company.
Although Dentrix is among the more expensive solutions on our list, it has one of the largest feature sets. As a result, there is a steep learning curve. Dentrix is an on-premises solution that will be built specifically for your dental practice.
Service model: Proprietary (installed on-premises) with an integrated mobile option
Hardware/OS requirements: Windows-only. Dentrix runs exclusively on Windows 10. See system requirements. (You will need a dedicated server to run Dentrix.)
Price: Customized per practice (see How to Purchase)
Free demo: Yes
HIPAA compliant: Yes
Support: Phone, email, and online chat support. However, if you don't pay for their Customer Service Plan, you'll be charged per support incident.
Key features:
Appointment management
Calendar management
Claims validation
3D clinical charting
Patient communications manager sends texts, emails, and postcards

Billing and collections with integrated EMV-compliant payment processing
Payment plan management
Digital imaging with Dentrix Smart Image
Patient engagement tools (for an additional charge) such as website management and patient kiosks
Financial planning tools for your practice
The Takeaway
Dentrix is the most popular dental practice management software. If you want a traditional dental PM software and do not require the flexibility of cloud-based dental practice management software, Dentrix is a solid, fully-fledged PM option that has withstood the test of time — they've been around for 30 years. It will be a major investment in terms of both money and the time required to learn it, but you know you will receive a trusted, quality product for your money.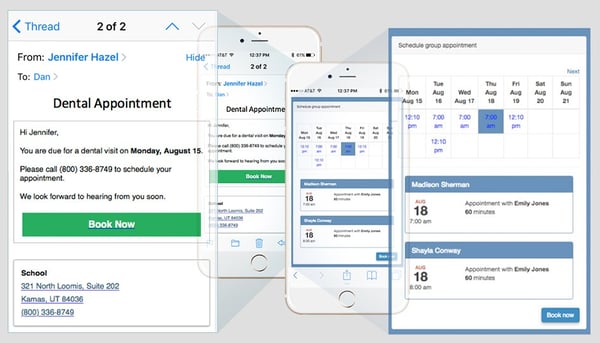 Overview:
A newer dental PM service introduced in 2013, Dentrix Ascend is a fully cloud-based Dentrix offering. However, Ascend is more than just "Dentrix on the web," as it has an entirely new workflow and interface. Note that it is a separate product and is not compatible with traditional Dentrix.
Service model: Cloud-based
Hardware/OS requirements: Windows 7 or higher, Apple MacOS 10.10 or higher, or iOS 11 or higher for iPads. 8 GB of RAM and a download speed of 50 Mbps and upload speed of 10 Mbps. (This estimate assumes 10 users in one location.)
Price: Customized (request a quote). Dentrix is available as a scalable, pay-as-you-go subscription, making it a viable option for both small practices and large, multi-location practices.
Free demo: Yes
HIPAA compliant: Yes
Training: Dentrix Ascend provides a variety of training materials on their website, including an introductory overview video, how-to videos, and step-by-step workflows for common tasks. There is no in-person training at this time.
Support: Dentrix Ascend has a support email address and phone number. We emailed them to ask for more information about the support that's included with a subscription and here is what Wayne Jackson in their support department told us:
Answers to emails can come at varied times. As we are an inbound call center, typically our goal is to respond to emails within the hour of them coming into our inbox, but we also will not respond to emails outside of our support hours.
Key features:
Scheduling, including online booking
Streamlined patient check-in and check-out
Patient routing
Patient profiles
Dental charting
Perio charting
DEXIS digital imaging
Drag-and-drop treatment planner

Ledger
eClaims and insurance tracking
Document manager
Kiosk
"Natural User Interface" (NUI)
Multi-location support
Insurance management
The Takeaway
Dentrix Ascend is a cloud-based alternative to regular Dentrix. Being cloud-based, it is more scalable and cost-effective than traditional Dentrix. It includes all the essential features you need for dental practice management, with the addition of a new streamlined workflow and a simplified user interface. As a result, you have a product that's easier to learn; and with no expensive servers to maintain, it's easier on the wallet as well. However, while you also get the trusted reputation that comes with the Dentrix name, a large company like this can feel less personal (and in our case, less responsive) compared to a smaller provider like Curve Dental.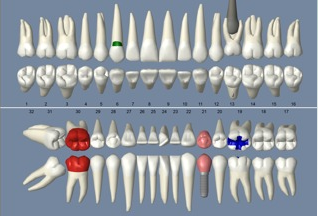 Overview:
Open Dental is open source, server-based dental management software that's become increasingly popular with dentists. While Open Dental will work if you're not online, they do offer a variety of web-based services. It can be scaled for large and small practices and includes many features to streamline practice management.
Service model: Server-based
Hardware/OS requirements: Windows XP, Mac OS, Linux, Windows 8, Windows 10; Open Dental recommends using a dedicated server; web-based services support Chrome, Internet Explorer, Edge, Firefox, and Safari. Mobile apps are supported on both iOS and Android.
Price: $169 per month/location; $135/month to add web services; $30 per month for mobile. Details and add-on fees for additional providers and services can be found here.
Free demo: Yes
HIPAA compliant: Yes
Training: Open Dental offers live training both in person and online. Their website includes multiple webinars and online documentation that are available at any time. Customized training is available for $50 per hour.
Support: Phone and chat included in monthly price.
Key features:
Appointment management
Appointment reminders
Hands-free charting
Orthodontic charting
Patient records management
Imaging and X-rays

Medical billing
Claims management
Treatment planning
Hands-free charting
Patient portal
EServices include integrated texting, electronic prescriptions, and more
The Takeaway
Open Dental offers a full array of practice management and treatment tools for dental practices of all sizes. Their experienced team of conversion specialists will assist you as you convert from your existing PMS to Open Dental. You can check out their free trial here.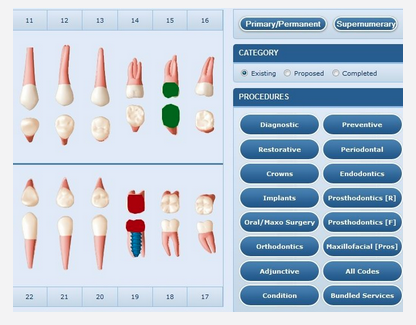 Overview:
Total Dental is an all-in-one practice management and electronic health records (EHR) solution. While not a "big name" in dental PM software, Total Dental is a quality, fully cloud-based dental practice management software solution that provides all the essential practice management features, and then some! They market themselves as being the best solution for Dental Service Organizations and large practices.
Service model: Cloud-based
Hardware/OS requirements: OS agnostic; access from any secure internet connection.
Price: Pricing is based on the needs of your DSO or practice; standard EHR package starts at $199 per month for one dentist, plus $99/month for each additional dentist; comes with two free support user licenses.
Free demo: Yes
HIPAA compliant: Yes
Training: There is no information on Total Dental's website about training. We reached out to them for a response but did not get anything in reply. We will update this post if new information becomes available.
Support: The only information we could find about support was the "Contact Us" tab on Total Dental's website. It contains a contact form but no phone number. We emailed them to request additional information and will update this post if it becomes available.
Key features:
Electronic dental health records
State-of-the-art dental and perio charting
Built-in CDX codes
ONC-ACB compliant
Billing
Meaningful Use monitoring

Real-time backups
ePrescribing (at no additional cost)
Accounting integration
Accounts receivable
Appointment management
Calendar management

Claims management
Clinical charting
DEXIS digital imaging integration
Patient payment history
Reminders
Treatment planning
The Takeaway
You get a lot for your dollar with this web-based dental PM and EHR software system, and the impressive backgrounds of the company executives let you know there is significant industry expertise backing this product. You can learn more about Total Dental in this video and contact the company for a live demo if you want to learn more.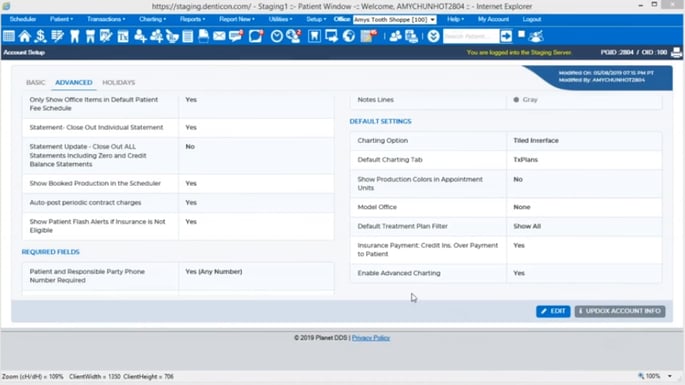 Overview:
Denticon was first to the cloud 16 years ago and built from the ground up as a multi-location, enterprise practice management software solution. While the software is very robust and in use at a broad variety of dental groups, it is intuitive enough for solo practices too. Planet DDS offers its Denticon software on a monthly subscription basis, with very little up-front cost, unlike traditional desktop software.
Service model: Cloud-based
Hardware/OS requirements: Access from any secure internet browser (Chrome, Internet Explorer, etc.). Denticon recommends: Intel 15 or higher; 8 GB RAM; 250 GB hard drive; 6 Mbps upload speed and 2 Mbps download speed.
Price: Denticon no longer publicly lists pricing information on their website and instead offers custom quotes.
Here's what Denticon told us about pricing when we reached out to them in 2017: Add-on modules allow clients to scale efficiently and select only the tools they need. For pricing, contact sales@planetdds.com. We reached out to them for an update in 2019 and, while we received a quick initial response asking us where the information would be published, they did not get back to us with updated pricing information.
Free demo: Yes
HIPAA compliant: Yes
Training: Included with new client onboarding. The Denticon team will train office staff and can also train super-users in more advanced administrative functions. After you go live, they provide follow-up support to answer questions and ensure you're using Denticon's full capabilities.
Support: Unlimited Denticon support is included with the software subscription via web form, email, and phone. Planet DDS also has a huge knowledge base that includes step-by-step videos, a glossary, and a troubleshooting tool.
Key features:
Advanced patient communications
Advanced analytics, including customizable dashboards and reports
Charting, including specialty
Appointment management
Credit/debit card processing
Insurance management and electronic claims

Online patient-facing features including appointment scheduling, health forms, and patient portal (allows for online bill payment)
Cloud imaging
Customizable clinical notes, progress notes, and editable macros
Continuous data backup and disaster recovery in the cloud

Time clock
Document scanning
Patient health records (EHR-certified)
Billing management, including ortho payment plans
Multi-location support
Electronic prescriptions
Nightly data download available
The Takeaway
Denticon is a comprehensive online dental PM solution with lots of useful features. However, it would be nice to see a little more pricing transparency on their website, but in recent years they seem to have gone the way of higher-end dental PM software like Dentrix and are now vague on this topic.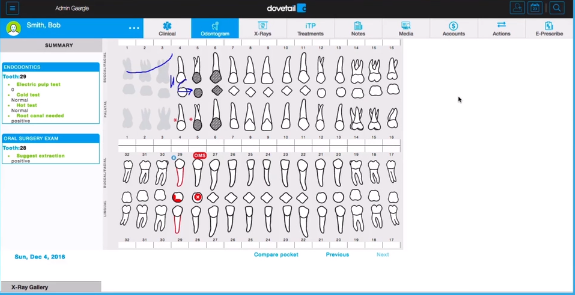 Overview:
Dovetail is a complete, web-based dental practice management and dental health record solution designed primarily for mobile use (though it works on any device). The software is sleek and simple and allows your single- or multi-location dental practice to go completely paperless. You can even use it to process payments from a tablet or another mobile device. Reviewers confirm that the software is very easy to use.
Service model: Cloud-based
Hardware/OS requirements: Accessible via any browser/device.
Price: The service costs 399/month per practice. It includes unlimited users, regardless of the number of doctors or devices you wish to use. They do not have contracts and guarantee no hidden fees in their monthly package.
Free demo: Yes
HIPAA compliant: Yes
Training: Training is included in the price. Dovetail assigns you a dedicated success coach to provide 1 on 1 training. This information isn't on their site, but a representative confirmed that the same coach will stay with you and your team throughout your time with Dovetail, so you won't have to be "reintroduced" or deal with someone new if you need any support. They also have a resource library available on their website that includes video tutorials and case studies.
Support: If your dedicated success coach is not available, they have a support team available to answer product questions via e-mail, telephone, remote desktop and live chat. However, some reviewers say support can be slow to respond. We were able to reach the company at support@dovetail.co
Key features:
Patient dental records
Medical history
Treatment plans
Progress notes
Intelligent scheduling
Billing features

Meaningful Use functionalities
Team management tools
e-Insurance claims
Advanced file-sharing capabilities via Dovetail Connect
Mobile payments (available at Practice and Enterprise levels)
The Takeaway
Dovetail would be a good choice for a smaller, high-tech dental practice that want to go completely paperless — or even completely mobile. Essentially, it allows you to run your entire practice from your iPad. They also take online security very seriously. Ideally, we would like to see the company offer better support channels, particularly when mobile payments are involved. It is also too bad that no longer offer more affordable packages for single-dentist practices. You can request a free demo here.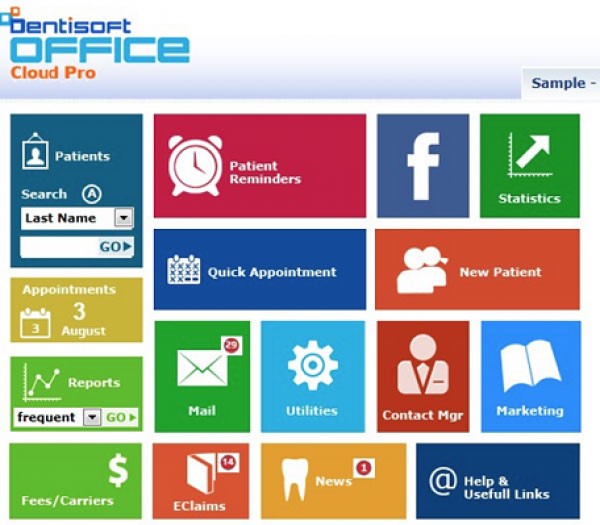 Overview:
Dentisoft is cloud-based dental office management software with an intuitive web-based interface that works on any device. Following the SaaS trend for dental management software, web-based Dentisoft is offered via a monthly subscription, which is less costly than PC-based systems. Additionally, unlike many systems that charge for each user, with Dentisoft you get unlimited access for one flat price. They also offer a free starter plan.
Service model: Cloud-based
Hardware/OS requirements: Accessible via any browser/device.
Price: In addition to the free Cloud Starter package, Dentisoft has a Cloud Pro package for $249/month and a $50/month option for new practices.
Free demo: Yes
HIPAA compliant: Yes
Training: Subscriptions come with 5 hours of web-based training in the form of a live, online meeting. Additional training may be purchased at $75/hour. The Dentisoft website has a complete manual for new users as well as hundreds of articles and FAQs that users can reference.
Support: With the Cloud Pro package, unlimited support is available via email, telephone or live chat. They also have a comprehensive online support portal. When we emailed them with a question, they responded promptly (in less than an hour).
Key Features:
Find a full list of features offered in each package here.
Patient marketing tools
Appointment book
Online patient forms
Facebook integration and DentistDirectory integration
Mobile suite access
Secure messaging & reminders

Mobile suite access
Secure messaging & reminders
Clinical e-Records
Treatment planning and handouts
Unlimited image/PDF storage
Radiography integration to most sensors

Integration with TigerView Cloud
Mailing list generation
e-Birthday messages/recalls/appointment reminders
Postcards for recalls and appointments

Insurance/payer management
Paper or e-Billing statements
Claim forms
Recall management
Over 250 reports
Data export to Excel/Word/PDF
From Dentisoft's website: "Dentisoft offers additional, optional services (eClaims, Real-time Eligibility Verification, Credit Card Terminals, integrated collections agency, Constant contact, paper statement mailings, Patient education movies, and Advanced Periodontal charting). Contact Dentisoft for more details and pricing."
The Takeaway
With unlimited users and loads of handy features, Dentisoft is a cost-effective and comprehensive web-based dental PM software solution for multi-user dental practices. They also offer multiple support channels and cool added features like Facebook integration and some marketing features. If the $249/month price tag is doable for you, this dental PM software should be on your list of practice management software systems to consider.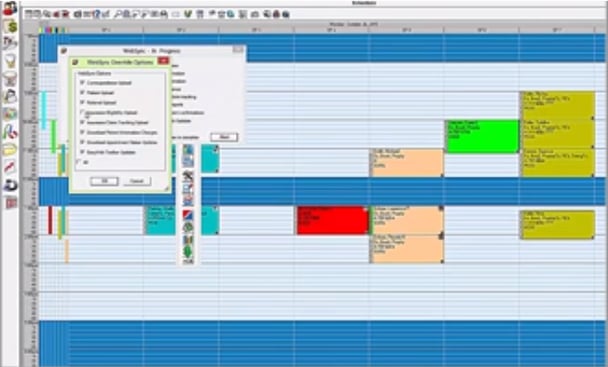 Overview:
Easy Dental is a straightforward, proprietary dental PM software product. While you will need to host this on-premises software on your own equipment, it includes some web features, like online payments and online data backups. Easy Dental also features credit card processing services. It is one of the more commonly used dental PM software suites — according to their website, more than 20,000 practices use it.
Service-model: Proprietary
Hardware/OS requirements: Windows-only; a dedicated server is recommended.
Price: Customized (Contact Easy Dental to request a quote here). According to a third-party source, pricing starts at $3,500.
Free demo: Yes. They also have video tutorials showing the various aspects of their service in action.
HIPAA compliant: Yes
Training: Training modules include in-office training, training workshops, documentation, live webinars, and an online resource center, which will be included in your total price.
Support: Although they have multiple accessible support channels, you'll have to pay extra for premium support. You can view their service bundles here.
Key Features:
Perio charts
Clinical charting
Patient records
Patient billing
Scheduling
Treatment plans
Reports

Recall appointments
Electronic insurance claims and attachments
QuickBill statements
Online data backup
Integrated PowerPay LE credit and debit card processing
Care Credit patient financing
The Takeaway
Like most Henry Schein software, Easy Dental is a quality proprietary program that will represent a significant investment of time and money. It also has the limitations of traditional on-premises software and it must be run on Windows, etc. However, Easy Dental also has some useful online features like online data backup. The software appears like Dentrix in many ways, but it is advertised as being "easy to use," so presumably the learning curve is not quite as steep as that for Dentrix.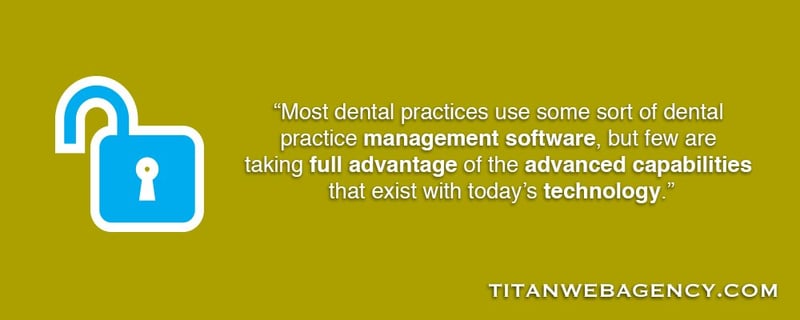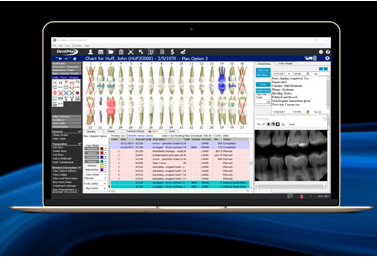 Overview:
Dentimax is a flexible solution suitable for dental practices of all sizes. It can be installed on any device or, if you prefer, you can access it from the cloud. It is set up to integrate with most imaging devices and includes some nice office management tools, such as employee time tracking.
Service model: Hybrid
Hardware/OS Requirements: Intel 13 or higher for installed software; Windows 7/Mac OS/Mac OS 10.7+; recommended minimum 2 GB of RAM.
Price: Dentimax offers four pricing tiers. The first three carry a one-time $199 set-up fee and are then priced at $59/month for the starter plan, $119/month for the standard plan, and $239/month for the complete plan. The max plan, which is suitable for large multi-office practices, carries a one-time set-up fee of $449 and a subscription cost of $289/month. Find a full description of their plans here.
Free Demo: Yes
HIPAA Compliant: Yes
Training: All of Dentimax's plans come with online training: one hour for the starter plan, three hours for the standard plan, five hours for the complete plan, and eight hours for the max plan. Additional training is available for $99 per hour. They also offer a comprehensive 5-step training program for $1,999.
Support: All Dentimax subscription plans come with unlimited tech support, including weekly new client calls and tech support chat. Their website has a detailed FAQ and a library of videos and blog posts to provide additional information and support.
Key Features:
Patient management
Insurance claims management
Seamless medical billing
Integrated credit card payments
Payment plans

Xray and image integration
Medicaid reports
Perio and SRP charting
Referral source management and tracking
ICD9/10 diagnosis code management
Add-on features include Dentimax texting, cloud imaging, and a web kiosk for new patient registration.
The Takeaway
Dentimax is one of the most comprehensive practice management software solutions available. We particularly like its extensive charting and imaging options and the way it fully integrates payment management – including billing, claim tracking, credit card payments, and payment plans for patients who need them. Click here to request additional information.
Overview:
Datacon is another hybrid dental PM solution that combines an on-premises server with online data storage and mobile connectivity. Datacon offers a complete suite of features and works with both Macs and PCs — even both at the same time. Datacon has some useful paperless office features and will also integrate with just about any dental software program.
Service model: Hybrid
Hardware/OS requirements: Installs on a Mac server, but can be accessed on Windows PCs or Macs (or a combination of both), as well as mobile devices. Find more info on the system requirements here.
Price: Datacon's website doesn't mention pricing, so we reached out to them to find out a little more. Flo Johnson from Datacon provided us with the following information:
We price our software based on the number of connected workstations. This provides the opportunity for a new dentist or small practice to enjoy all of the features utilized by our larger multi-location practices.
The current pricing structure is as follows:
First three workstations $500.00/each
Workstations 4-6 $425.00/each
Workstations 7-9 $350.00/each
Workstations 10 or more $275.00/each

The software is server based (your own private cloud) and the server software runs on a Macintosh, which can be purchased from Apple for as little as $799 with recommended configurations priced $999 and $1499. There is also a (required) Monthly Software Support subscription of $175.00/month per database.

Premium options include:
HIPAA compliant secure email from the server. (This is not a desktop solution) $20/month
Emailed PDF statements $.25 each
Automated patient communications providing text or email reminders and messaging. $20/month
Electronic Prescriptions including controlled substances. $65/month/participating provider
Free demo: Yes
HIPAA compliant: Yes
Training: Here's what Datacon says about training:
To provide an added value, we are now including 45 minutes of telephone/high-speed Internet training per quarter. This training does not accrue and expires at the end of each quarter. We will post a maximum of one credit for training per quarter for training included with support. Additional training may be purchased as needed.
Support: Telephone support during business hours, plus email support. When we reached out to them via email, they responded quickly (within 24 hours). Find their full support policy here.
Key features:
Paperless charting and other paperless office features
Patient folders
X-ray integration
Seamless integration with all major dental software products (see list of supported integrations here)

Billing features
Patient scheduling
PayConnect integration
Customizable reporting
The Takeaway
Datacon is an advanced, all-in-one dental practice management software that provides the advantages of both on-premise and cloud-based services. Once you learn it, it is easy to use and integrates well with other dental software. Datacon is also a good option for a mixed-computer practice or one that wants some mobile/paperless features. It is also a scalable solution that will work well for both small practices and large practices with multiple locations.
What is the Best Practice Management Software for Dentists?
With this graphic, you can see the essential information about each of these software services.
After reading the blog post, this chart should help you determine the best patient management software.
Operating system / Browser

Windows 10/ MacOS 10 / iOS 11.

Any Browser (optimized for Chrome and Safari)

Windows 10. Any Browser for web-based services

$169/Month per location

$135/Month for additional web services.

$30/Month for mobile

Pricing based on needs, starts at $199/Month

$199 or $449 one time setup fee, between $59-$289/Month depending on plan

Apple (Mac) server, or Windows

$175/Month + $500 minimum (workstation dependent)
Some other solutions to consider
The following dental PM software providers didn't quite make the cut for our Top 10 list, but you might consider one of these specialty solutions if you specifically use Macs, want to try an open-source dental software solution, or just want to see more options.
Free Dentist Software Solutions
A few dental practice management software solutions are advertised as being "free," but this is rarely, if ever, the case. Usually, the so-called "free" software has a free version that is limited in its capabilities or doesn't include customer support in case something goes wrong. (This type of basic free software is called a "freemium" version.)
In addition to Dentisoft, another example of a freemium dental software solution is tab32. This software offers free dental EHR, appointment scheduling, charting, treatment planning, and other features; however, it has no customer support and claims are limited at the free level. Other providers offer a free trial version that has all or most of the features of the paid version but limit you in the number of patients you can add (for example, a maximum of 30 patients).
Setmore is another solution used by dentists; it offers free unlimited appointment scheduling, but no dental PM features.
---
Final thoughts about Dental Software
Most dental practices use some sort of dental practice management software, but few are taking full advantage of the advanced capabilities that exist with today's technology. If you're not fully happy with your dental PM software, check out some of the demos of the software systems on our list to see if they work better for you.
We want to note that all information in this post is accurate to the best of our ability to confirm it. Companies do not always update their websites with new graphics and information as quickly as we'd like, but we will update this post if we receive any information that changes it.
For more advice on issues involved with running a dental practice, be sure to stay tuned to our blog. You can also consult this "Inside Dentistry" article for further guidance on dental practice management comparisons.
About the Author
Tyson Downs, the owner of Titan Web Agency, has years of experience working with small businesses and helping them meet their revenue goals. Prior to starting Titan Web Agency, he freelanced in SEO and Web Design while working in the corporate world. Tyson is a graduate of Brigham Young University, the father of 5, and enjoys spending time with his family. Particularly on the baseball field.