Websites for Dentists: 21 Qualities of the Best Dental Office Websites
(This post was originally published January 9, 2017 and was extensively updated on August 23, 2021)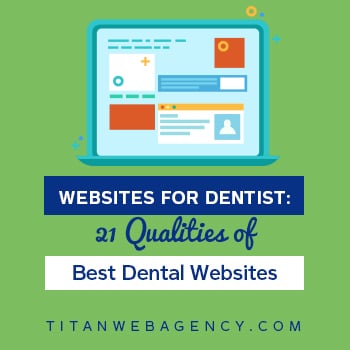 It takes time to craft an effective dental website that speaks to your mission, vision, values, brand, services, and business goals.
Your dental website design elements need to have an informative and engaging presence that your patients and potential patients will enjoy interacting with. Your dental website should cover a wide range of topics and showcase your services to meet the needs of your website visitors. Social media links, blog posts, a great user experience, and the use of professional graphics are vital to the success of your marketing efforts.
Did you know that, on average, a person will decide in less than 15 seconds whether they're going to buy a product or use a service? Getting them to click on a link to your site isn't enough. You need to have a unique dentist site that grabs their attention and holds it.
At Titan Web Agency, we work closely with our dental clients to ensure their websites have the best chance of success. We have put together a robust list of 21 ways you can improve your website and dental marketing today.
Importance of Websites for Dentists
Let's start by talking about why having a great dentist website is essential for your practice. It should not be an afterthought.
Your dental practice website is your home base online. Dentists' websites are often the first place prospective patients visit. If your website doesn't feature an accessibility menu, patient dental reviews and testimonials, clear explanations of the services you provide, and bios of your team, you run the risk of visitors navigating away before they make an appointment.
Dental practices with great websites get more traffic than those with lackluster sites because a great site includes meticulous SEO to help visitors find your website. Most people use Google to find service providers and a well-optimized site can serve as a headline on Google.
Finally, a well-designed and easy-to-use website will help you keep up with your competitors and can even help you stand out if their sites are old and need updating.
How Much Does a Great Dental Website Cost?
The price of designing a great website can vary based on your area and how many pages you want to have. You can design a website yourself for less than $1,000, but unless you have design experience, you may miss out on essential features and functions that will make your site accessible to visitors.
The best dentist websites are designed by professionals. A professional designer will ensure that your site looks beautiful and professional while including accessibility features and incorporating SEO best practices to make your site easy to find on the web.
If you hire a professional dental marketing agency to design your dental website, you might see prices ranging anywhere from $3,000 to $15,000 or more, depending on your needs. At Titan Web Agency, we use WordPress, which enables us to offer a high degree of personilization for prices that range from $3,999 to $5999. That means you can get a customized website that is ideally suited to your practice and your patients at an affordable price.
What Makes a Great Dental Website?
Now it's time to reveal the 21 qualities of great dental websites. The following isn't a fully comprehensive list, but it's a good starting point of things that we like to incorporate into websites we create for dentists, as well as most other industries.
1. Professional & Easy to Use
One factor that determines if your website will be a success or not is the design. It's not the only thing, it may not even be the most important thing, but it impacts the effectiveness of your website.
Choose a dental design that delivers what your patients need. The ideal website for dentist offices is clean and organized. You don't need fancy graphics. The dentist websites we design for our clients are built on WordPress using customized themes.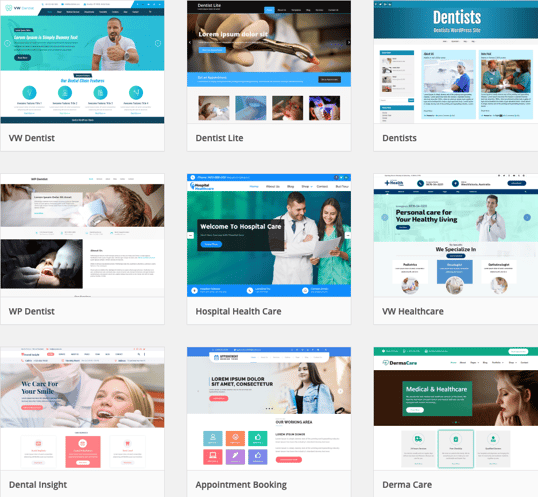 Dental office website design should follow three basic rules:
Clear headings and subheadings. Use <h1>, <h2>, and <h3> tags to make your content readable, highlight important topics, and improve your SEO.
Minimal clutter. Use a limited color palette, easy-to-read fonts, and a clear layout that's easy to understand and use.
User-friendly navigation. Your menu and search function should be easy to find.
Finn Hill Dental in Poulsbo, WA does a great job of nailing these 3.

Note the simple graphics and layout. This site is easy to read and well presented. It may be a bit text heavy, but if you look beyond that, it clearly presents information.
2. The Must-Have Pages on Your Dental Site

The best dental websites always have at a minimum, these six pages or sections:
About (or About Us)
Contact Us
Services
Location pages for multi-location practices
New patient form page
Insurance information
Let's talk about each of these in more detail.
The "About Us"
The "About Us" page is an introduction to your practice. Used properly, it can position you as a leader in your industry and help you build relationships with your patients. It's your opportunity to tell your story and begin building a personal connection with your patients.
Kennewick Dental has professional "About" pages, including biographies for each doctor and team member.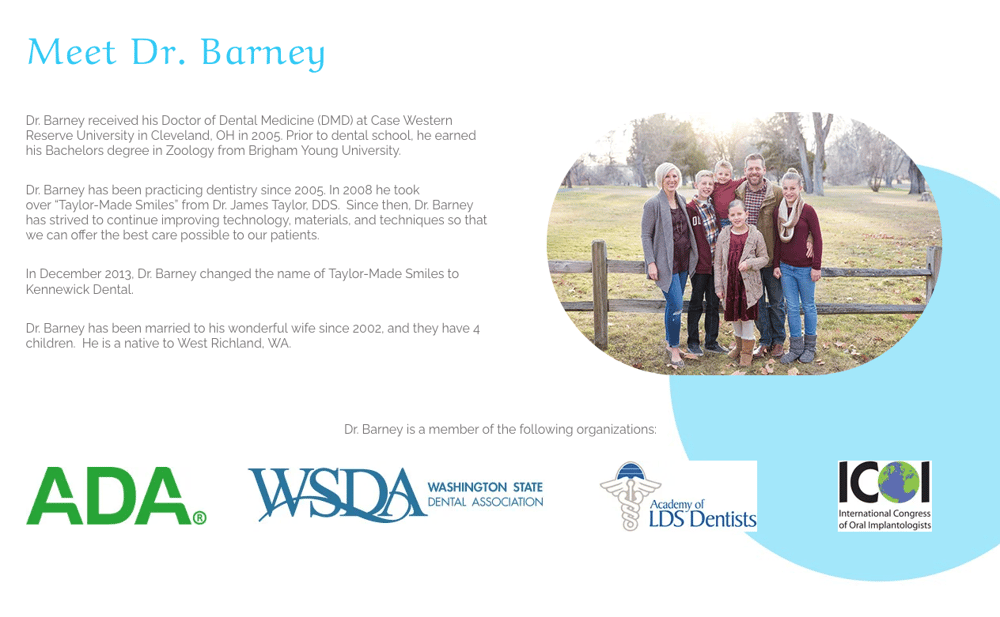 Contact Us
Basic contact information should be in the header and footer of every page, & your Contact Us page should be thorough. At a minimum, it should include:


Your hours
Links to social media
Your phone number and full address
A map and directions to your practice
Your website should also include one-tap calling, so people viewing your site on their smartphones can call you without navigating away from your site and having to physically type in your phone number.
Services
This section of your website should list specific services and link out to separate pages for each service you offer. Target service-related keywords on each page and identify unique selling points or perhaps amenities that you offer that can help persuade people to book an appointment.
Your service pages should answer the questions people ask about your practice and the services you provide. The service page also allows visitors to make informed decisions about their dental care. You should include pictures or an explainer video for each service, particularly if your practice offers cutting-edge treatments that patients may not be familiar with.
Location Pages for Multi-Location Practices
If your practice has multiple locations, you need a separate location page for each office. The page should have the full address, phone number, email, a map, and directions to your practice. You may also want to include other information, such as links to staff bios.
New Patient Form Page
One of the easiest ways to streamline the on-boarding of new patients is to include a new patient form page on your website. That way, patients who are new to you can complete their paperwork online before they arrive in your office.
It's easy to use a plug-in to add your intake forms to your website.
Insurance Information
Collecting insurance information from new patients is a must. Doing so ahead of time will ensure that you have the information you need for billing. It's important to be transparent about what insurance you accept. You may also want to include information about your payment plans and solutions for patients who do not have dental insurance.
Remember that every page on your site is an opportunity to target your marketing and establish your brand.
3. Clear Call to Action

Every page on your site should have a compelling call-to-action asking people to book an appointment or call your practice. Consider including a new patient offer to entice people to call, such as a free cleaning or tooth whitening session for new patients.
You should also have an opt-in form to collect email addresses and build your list. Your calls to action and your opt-in form should be optimized for mobile users as well.
4. Site Personality
Your website should show people you are not like your competitors. To get visitors' attention and differentiate your practice, your dental website must reflect your unique brand and personality.
Some ways to show your personality include:
A unique dental logo
Original (not stock) photos of your practice, patients (with their consent), and team
Oral health articles that reflect your unique perspective on dentistry and provide education and insight for your patients
Depending on your brand, you may want to incorporate humor into your site to make patients feel at ease.
5. User Experience Optimization
When designing unique websites for dentists, we always make User Experience (UX) our focus. If people can't use your site, or if it isn't intuitive, you will lose business. Here are some elements of good UX:
Responsive design: a design that adjusts to fit the device being used to access the site.

Speed: your dental website should take

less than 3 seconds to load

. Use this

free tool

to check your website's speeds.

User-friendly navigation: it should be easy for people to find what they want on your site.
Whether you are launching a new site or redesigning an old one, investing in UX testing is a good idea.
6. Search Engine Optimization

Search Engine Optimization (SEO) is the secret to getting your site to rank on Google, Bing, and other search engines. It is also the key to effective dental marketing. Some of the elements of SEO for dentists' websites are as follows:
Keywords. Choosing the right keywords to target is essential. Local keywords and keywords chosen for voice search are your best options. Building content around local keywords is the best way to improve your site's rank.

Keyword placement. Make sure to use your most important keywords in your headers and subheaders, choosing compelling titles that incorporate your keywords.

URLs. Avoid long strings of numbers or strange spellings in your URLs. They should be descriptive to improve your search engine visibility.

Title Tag. Google uses the Title Tag as the anchor text for the link to your website. It should be under 65 characters.

Meta Tag. The Meta Tag appears under your website link in the search results. It should have fewer than 155 characters and be an accurate representation of your brand.

Alt Attribute. Search engine crawlers don't read images accurately, but you can describe the images through alt Attribute. Use your main keywords in your alt Attribute.

Sitemap. The sitemap tells search engines which pages are on your site and where they are located. You can use

Google Search Console

to ask Google to crawl your website.

SSL encryption. Google now penalizes sites without SSL encryption. To encrypt your site, you need to download and install a security certificate on your website.
These technical aspects of SEO can seem intimidating, but they make a huge difference in the visibility of your website and the ROI of your dental marketing. We are Titan Web Agency, a dentist marketing company, that can help you choose the best keywords to target for local SEO and assist you with the technical aspects of SEO.
7. Photos
Images are compelling to dental website visitors and demonstrate the work you do at your practice. We recommend authentic pictures as opposed to stock photos.
Before-and-after photos are particularly popular because it's easy for patients to imagine themselves with brighter, whiter, and straighter teeth if they can see the work you have successfully completed for others. Here's an example from Kennewick Dental before and after smile gallery: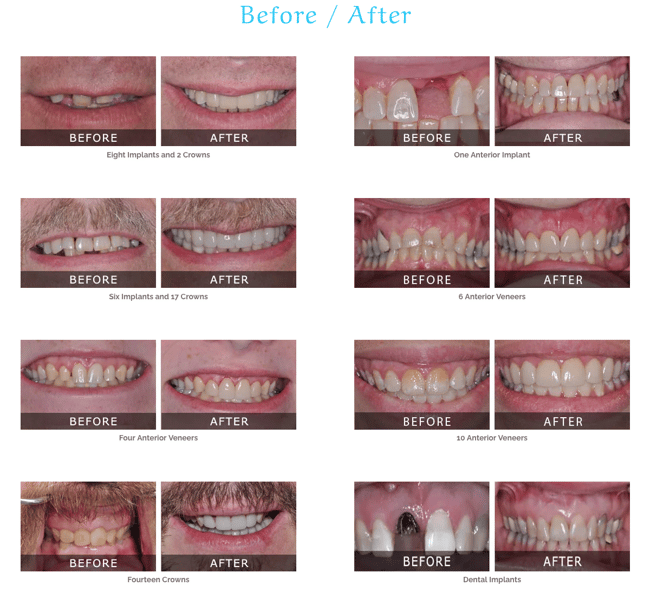 Images also help break up blocks of text, making your visual layout easy to read. In addition to using alt tags, give your photos descriptive titles to help search engines find them. We talk more about this later, but all images should be optimized for mobile users, too.
8. Online Appointments
Most people do their appointment setting online these days. It's convenient and your patients expect to have that option. They also prefer to fill out paperwork before arriving for an appointment, thus cutting their wait time.
Dental management software usually includes online virtual appointments and paperwork as well as text reminders to minimize cancellations and no-shows.
Christiansen Dental got this right by using a simple contact form for patients to book right from their site.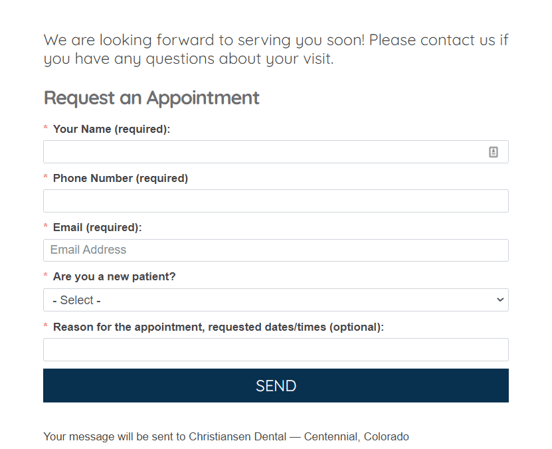 9. A Bill Pay Option
Just like online appointment booking, online bill paying has become the norm. It's convenient, easy, and beneficial to you too. You can accept multiple forms of payment and reduce the amount of in-office paperwork.
With a few keystrokes, you can track payments and correct mistakes. Most online bill-pay options will link directly to your practice management software.
Including a "Pay Online" CTA (call to action) on your homepage makes it easy for patients to choose this option, freeing up valuable time for your staff. You can also use it in your marketing to attract new patients.
10. Video
Video is one of the most popular forms of online content. Informational videos help visitors learn about you, your brand, your team, and the treatments you provide.
Potential patients increasingly expect video on healthcare websites. The good news? Videos don't take long to film, and they don't need to be fancy. You can even film them on your phone!
Merkley Dental includes a series of educational videos as part of its Patient Resources section.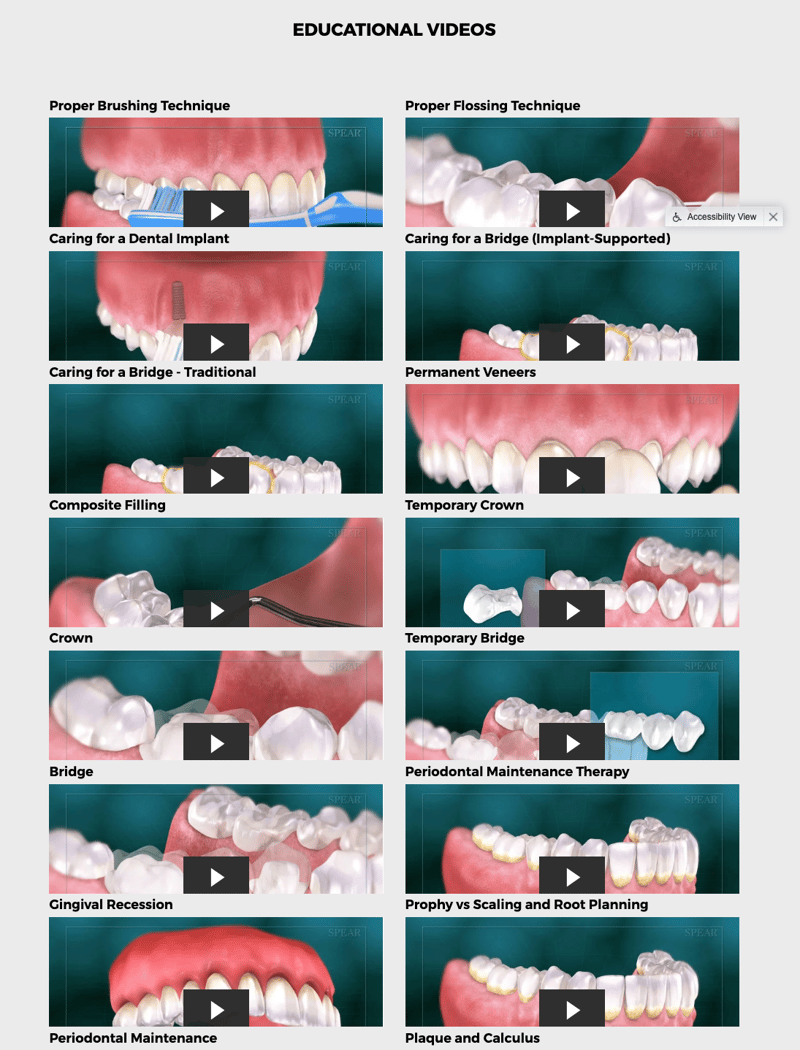 They could do better by linking directly to videos from their home page instead of burying the link in their menu.
11. Live Chat
These days, patients are likely to call your practice only as a last resort, but that doesn't mean they don't want quick answers to their questions. Live chat is a good option to answer queries rapidly and in real-time.
Some dental practice management software programs include a live chat feature. You can either have your team field questions from your website, or you can take advantage of chatbot technology to provide answers to common queries.
If you don't have the resources for live chat, make sure you have a complete FAQ page and links to self-service options where it's appropriate. If you do use a chatbot, make sure its responses are true to your brand and marketing strategy.
12. FAQs
Because people don't want to call your practice, they may abandon your site if they can't find answers to basic questions. Building a robust FAQ page gives prospective patients the information they need to move forward and make an appointment. It will also save time for your team, as they will field fewer inquiries via the phone or live chat.
13. Testimonials
Testimonials from satisfied patients provide proof that you can deliver on your promises of quality dental care. When your patients talk about the wonderful service, gentle and compassionate care, and stellar results your practice offers, outsiders are more likely to trust the information.
Kennewick Dental does a great job of this, taking their testimonials a step further and featuring their RateaBiz patient reviews and Google rating right on their homepage.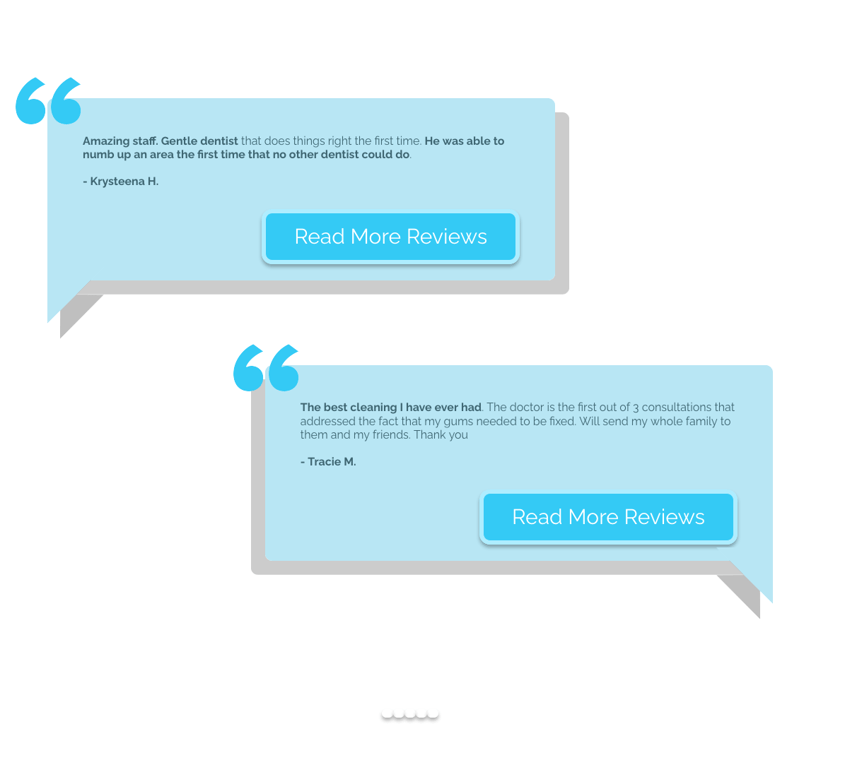 In addition to helping you attract new dental patients who find their site on their own, testimonials and source testimony can also help you get more dental referrals and grow your practices.
14. A Regularly Updated Blog
For years, Google has rewarded sites that regularly publish high-quality SEO optimized content. Blogs impact SEO and search engine ranking while making a dental website more attractive to visitors. A blog is a great way to build authority in your field.
Keep in mind you can use your blog to introduce your team, explain services, and provide useful information about oral hygiene.
15. Social Sharing Buttons
Linking to your dental practice social media accounts can help your website get a higher number of social media signals, which some have argued play a role in how well your website will rank. The more popular your brand is on social media, the more quality backlinks you will have.
ADA New Dentist Blog does great at this. They have social buttons prominently at the top of their site, and social sharing options for each of their blog posts:
16. Security
An average of 30,000 sites are hacked into every day. If your site is compromised or unprotected, Google may penalize you or even blacklist your site, and security breaches can hurt your relationships with your patients.
Your website should be encrypted and protected using an SSL certificate. If you allow patients to log in, make sure you require strong passwords and use two-factor authentication wherever possible. (Likely though, patients will be logging into your practice management software and NOT your website).
On a related note, your website should include rights reserved, your privacy policy, and a copyright statement to protect your content, as well as your dental practices.
17. Accessibility
The unique design of your website won't help you attract new patients if they can't use it. The United States has laws that require federal websites to be accessible. Even if it's not mandated by law, your dental website should keep people with disabilities in mind.
You want to consider how your website works for people with impaired vision, impaired hearing, and impaired motor skills, as well as for those with cognitive disabilities and photosensitive seizures. Here are the qualities your website should have to enable accessibility:
Keyboard friendliness. Some people with disabilities can't use a mouse.
Coded content. Any dynamic or new content must be coded to let assistive devices know that it has changed.
Alt text for all images.
Headers to enable assistive devices to read your dental marketing content.
Contrasting colors.
Accessible forms with labeled fields. We like Fluent Forms.
Resizable text.
Either no tables or use only simple tables that assistive readers can interpret.
There are numerous accessibility plugins that you can use if you have a WordPress website. Please note that we are not endorsing or recommending any accessibility plugin. Do your research and determine the best one for you and your practice.
Taking these steps will ensure that every potential patient who visits your site can read and navigate it with ease.
18. HIPAA Compliance
HIPAA stands for Health Insurance Portability and Accountability Act. Every dental practice must comply with HIPAA regulations. HIPAA protects patient confidentiality and it is the responsibility of dentists and other healthcare professionals to implement security measures to minimize the risk to patients.
Using HIPAA-compliant software to manage your practice will take care of security and encryption for you.
19. Mobile Friendly
There's simply no excuse for dentist websites not to be mobile-friendly. Most searches are done using mobile devices or virtual assistants, and that means that mobile-friendliness is long overdue if it's something you haven't already addressed.
Back in 2016, Google announced that it was beginning a switch from desktop-first to mobile-first indexing. As of March 2021, that switch is complete.
Here are some mobile-friendly features you may want to consider for your dental websites:
One-touch navigation
Easy-to-read CTAs and buttons that are sized for finger taps and not mouse clicks
A design that favors mobile devices -- no horizontal scrolling or zooming required
One-touch calling
Locational awareness
App-like interface
Remember that today's mobile users are accustomed to using apps to do everything from shopping to booking medical appointments. Anything you can do to make your mobile website feel like a mobile app is worthwhile from the patient's perspective.
Your mobile site should be thoroughly tested for UX to ensure that both new and existing patients have a seamless experience when navigating your website on their mobile devices.
20. Fast Loading
We have already talked about the fact that mobile readiness is a must, so it should come as no surprise that having a fast-loading dental website is essential. Even on desktop computers, users get impatient when a site doesn't load quickly. That's even more important on mobile devices. Remember, research shows that 53% of mobile site visitors will leave a mobile website if it takes more than three seconds to load.
There are many things you can do to speed up the loading time of both your desktop and mobile websites. These include:
Enabling image compression
Enabling browser caching
Minifying resources using HTML, JavaScript, and CSS
Minimizing HTTP requests
Optimizing images
Once you have made improvements to your website, you can check the loading time using this free tool from Google. Remember, under three seconds is the target for mobile websites, and under 10 seconds for desktop websites.
20. Conversion Tracking
The last website quality you should know about is not something that impacts site visitors experience directly but it can have a significant impact on your marketing and your ability to attract new patients. We're talking about lead tracking, in particular call tracking.
Call tracking is a service that enables you to assign unique phone numbers to each one of your marketing campaigns. If you are running Google PPC ads, Facebook ads, email campaigns, text campaigns, and print mail campaigns, you may not have a handle on where your leads are originating. That can make it difficult to assess the ROI of each campaign and decide how to allocate the money in your marketing budget.
With call tracking, each campaign gets a unique number. By tracking the calls to each number, you can easily evaluate the efficacy of your campaigns. Then, you can identify the campaigns that are working and the ones that aren't.
You can expect to pay between $50 and $150 per month for most call tracking software. We reviewed 15 call tracking solutions designed for dentists and other healthcare providers.
Where Does Your Dental Website Stand?
Your dental practice website is your home base online. It's where most of your prospective patients will receive their first impression of you and your practice. That first impression is what will guide their decision to make an appointment with you or to navigate away from your website and choose one of your competitors instead.
The good news is that your dental website can be great if you make sure that it has the 21 qualities we have outlined here. Each improvement you make will help your website be attractive to visitors, easy to use, and the perfect representation of your brand and the quality dental services you provide.
Do you need some help elevating your website? Titan Web Agency is here for you. We offer dental website design services based on what you tell us about what makes your practice special. We will help you to create a beautiful, professional, and user-friendly website that your patients will love.
Be sure to download the free report we have put together by clicking the link below. Give us a call if you want to learn more about how we can help you with website design for dentist marketing.
About the Author
Tyson Downs is the founder of Titan Web Agency, a company specializing in marketing for dental professionals. With an impressive track record of working with over 100 dental practices, Tyson has a deep understanding of the unique marketing needs within the dental industry. His expertise has helped numerous dental practices flourish by meeting and surpassing their revenue goals and established him as a thought leader in healthcare marketing. His insights and strategies have been featured in esteemed dental publications, including the American Dental Association and the American Academy of Implant Dentistry. Before dedicating his career to helping dental professionals thrive through effective marketing, Tyson honed his skills in SEO and web design as a freelancer, while also gaining valuable experience in the corporate sector. As an alumnus of Brigham Young University, he brings a strong educational background to his entrepreneurial endeavors. Outside of his professional life, Tyson is a devoted father of five, who cherishes time spent with his family, especially when they're all enjoying America's pastime on the baseball field.