A Blog for Dentists & Other Healthcare Professionals
18 Qualities of Great Dental Websites
*This post was extensively updated from a post on January 9, 2017.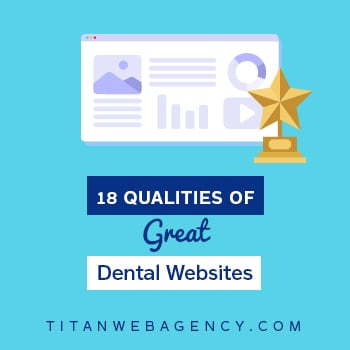 Creating the best dental website for your practice is easier said than done.
It takes time to craft an effective site that speaks to your mission, vision, values, brand, services, and business goals. Your website needs to have an informative, yet engaging presence that your patients and potential patients will enjoy interacting with. Your dental website should cover a wide range of topics and showcase your services to meet the needs of your website visitors. Social media links, blog posts, a great user experience, and the use of professional graphics are vital in the success of your business online.
Did you know that, on average, a person will decide in less than 15 seconds whether they're going to buy a product or use a service? Getting them to click on a link to your site isn't enough. You need to have a unique dentist site that grabs their attention and holds it.
At Titan Web Agency, we work closely with our dental clients to ensure their websites have the best chance of success. We've put together a robust list of 18 ways you can improve your website and dental marketing today.
1. Professional & Easy to Use
One factor that determines if your website will be a success or not is the design. It's not the only thing, it may not even be the most important thing, but it definitely impacts the effectiveness of your website.
Choose a dental design that delivers what your patients need. The ideal website for dentist offices is clean and organized. You don't need fancy graphics. The websites I design for my clients are built on WordPress using customized themes.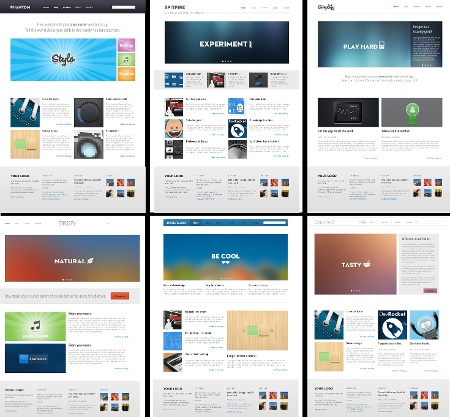 Dental office website design should follow three basic rules:
Clear headings and subheadings. Use <h1>, <h2>, <h3> tags to make your content readable, highlight important topics and improve your SEO.
Minimal clutter. Use a limited color palette, easy-to-read fonts, and a clear layout that's easy to understand and use.
User-friendly navigation. Your menu and search function should be easy to find.
Park56Dental does a great job of nailing these 3.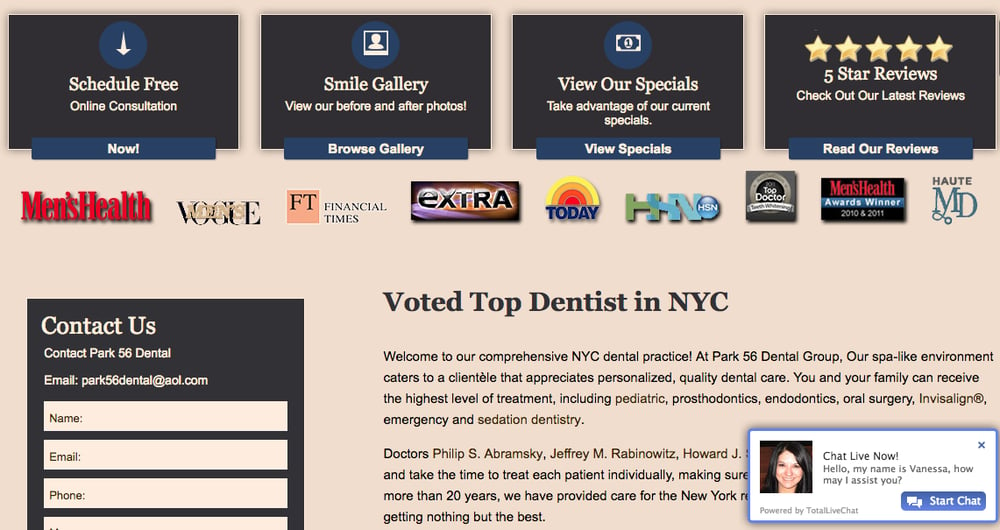 Note the simple graphics and layout. This site is easy to read and well presented. It may be slightly dated at this point, but if you look beyond that, it presents information in a clear, and obvious manner.
2. The Must Have Pages on Your Dental Site
The best dental websites always have at a minimum, these three pages or sections:
About (or About Us)
Contact Us
Services
About Us:
The "About Us" page is an introduction to your practice. Used properly, it can position you as a leader in your industry and help you build relationships with your patients.
Kennewick Dental has professional "About" pages, including biographies for each doctor and team member.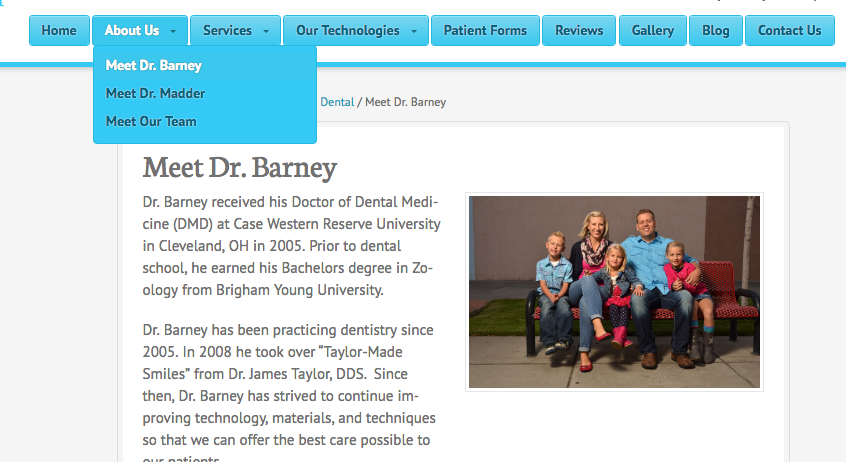 Services:
This section of your dentist website should list specific services and link out to separate pages for each basic service you offer. Target service-related keywords on each page and identify the team members who provide each service.
Your service pages should answer the questions people ask about the service and allow visitors to make informed decisions.
Contact Us:
You should include basic contact information in the header and footer of every page, but your Contact Us page should be thorough. It should include:
Your hours
Links to social media
Your phone number and full address
A map and directions to your practice
Remember that every page on your site is an opportunity to target your marketing and establish your brand.
3. Call to Action
Every page on your site should have a call to action asking people to book an appointment or call your practice. Consider including a new patient offer to entice people to call, such as a free cleaning or tooth whitening session for new patients.
You should also have an opt-in form to collect email addresses and build your list.
4. Site Personality
Your website should show people you're not like your competitors. To get visitors' attention and differentiate your practice, your dental website must reflect your unique brand and personality.
Some ways to show your personality include:
A unique logo
Original (not stock) photos of your practice and employees
Blog posts that reflect your unique perspective on dentistry and provide education and insight for your patients
5. User Experience Optimization
When designing unique websites for dentists, I always make User Experience (UX) my focus. If people can't use your site, or if it isn't intuitive, you'll lose business. Here are some elements of good UX.
Responsive design, meaning a design that adjusts to fit the device being used to access the site.
Speed, meaning that your dental website should take less than 3 seconds to load. Use this free tool to check your website's speeds.
User-friendly navigation, meaning that it's easy for people to find what they want on your site.
Whether you're launching a new site or redesigning an old one, investing in UX testing is a good idea.
6. Search Engine Optimization
SEO is the secret to getting your site to rank on Google, Bing, and other search engines. It's also the key to effective marketing. Let's look at some of the elements of SEO for dentists websites.
Keywords. Choosing the right keywords to target is essential. Local keywords and keywords chosen for voice search are your best options. In fact, building content around local keywords is the best way to improve your site's rank.
Keyword placement. Make sure to use your most important keywords in your headers and sub-headers, choosing compelling titles that incorporate your keywords.
URLs. Avoid long strings of numbers or strange spellings in your URLs. They should be descriptive to improve your search engine visibility.
Title Tag. Google uses the Title Tag as the anchor text for the link to your website. It should be under 65 characters.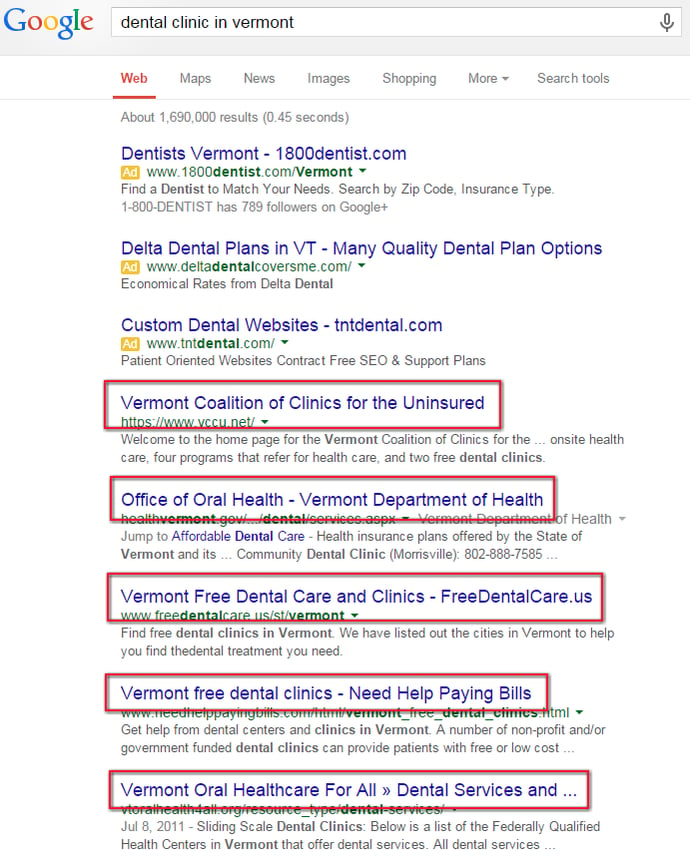 Meta Tag: The Meta Tag appears under your website link in the search results. It should have fewer than 155 characters and be an accurate representation of your brand.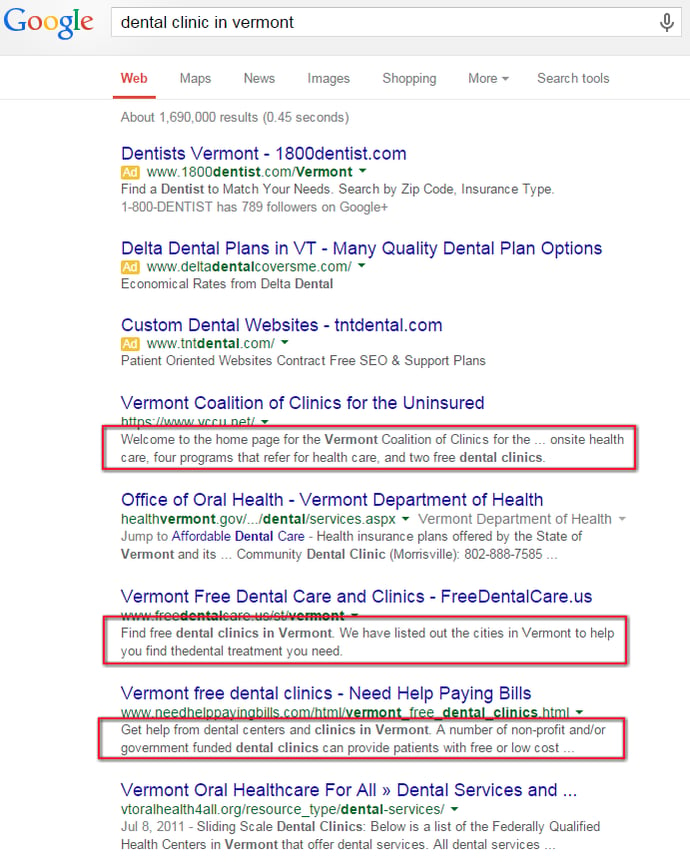 Alt Attribute: Search engines crawlers don't read images accurately, but you can describe the images through Alt attribute. Use the main keywords in your Alt Attribute.
Sitemap. The sitemap tells search engines which pages are on your site and where they're located. You can use Google Webmaster Tools to ask Google to crawl your website.
SSL encryption. Google now penalized sites without SSL encryption. To encrypt your site, you'll need to download and install a security certificate on your website.
These technical aspects of SEO can seem intimidating, but they make a huge difference in the visibility of your website and in the ROI of your marketing.
7. Photos
Images are compelling to dental website visitors and demonstrate the work you do at your practice. I recommend authentic pictures as opposed to stock photos.
Before-and-after photos are particularly popular because it's easy for patients to imagine themselves with brighter, whiter, and straighter teeth if they can see the work you have successfully completed for others. Here's an example from Kennewick Dental: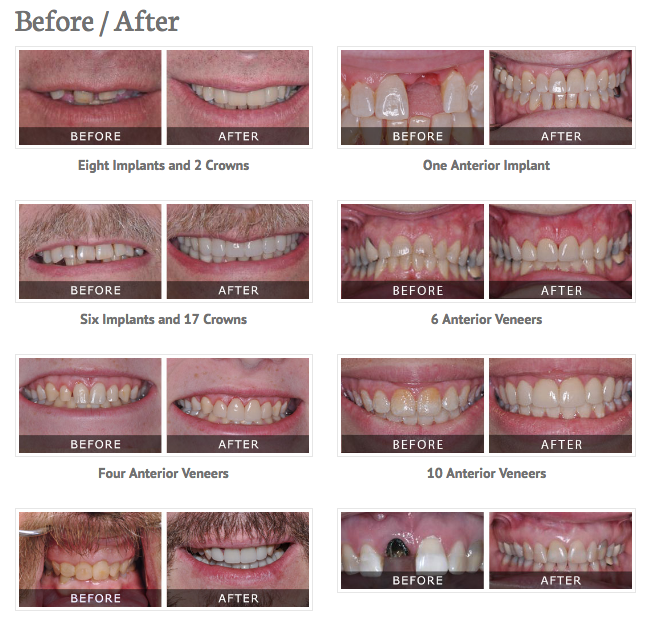 Images also help break up blocks of text, making your visual layout easy to read. In addition to using alt tags, give your photos descriptive titles to help search engines find them.
8. Online Appointments
Most people do their appointment setting online these days. It's convenient and your patients expect to have that option. They also prefer to fill out paperwork before arriving for an appointment, thus cutting their wait time.
Dental management software usually includes online appointments and paperwork as well as text reminders to minimize cancellations and no-shows.
Christiansen Dental got this right by using a simple contact form for patients to book right from their site: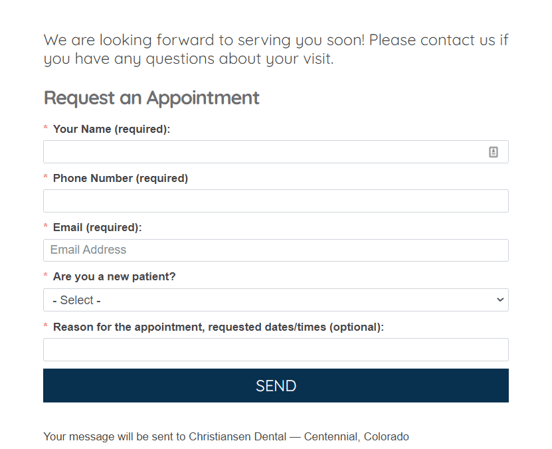 9. A Bill Pay Option
Just like online appointment booking, online bill paying has become the norm. It's convenient and easy and it benefits you too. You can accept multiple forms of payment and cut paperwork in your office.
With a few keystrokes, you can track payments and correct mistakes. Most online bill-pay options will link directly to your accounting software.
Including a "Pay Online" CTA on your homepage makes it easy for patients to choose this option, freeing up valuable time for your staff. You can also use it in your marketing to attract new patients.
10. Video
Video is one of the most popular forms of online content. Informational videos help visitors learn about you, your brand, your team, and the treatments you provide.
Potential patients increasingly expect video on healthcare websites. The good news? Videos don't take long to film, and they don't need to be fancy. You can even film them on your phone!
Vogel Dental includes a series of educational videos as part of their Patient Resources section:

They could do better by linking directly to videos from their home page instead of burying the link in their menu.
11. Live Chat
These days, patients are likely to call your practice only as a last resort, but that doesn't mean they don't want quick answers to their questions. Live chat is a good option to answer queries rapidly and in real time.
Some dental practice management software programs include a live chat feature. You can either have your team field questions from your website, or you can take advantage of chatbot technology to provide answers to common queries.
If you don't have the resources for live chat, make sure you have a complete FAQ page and links to self-service options where it's appropriate. And, if you use a chatbot, make sure its responses are true to your brand and marketing strategy.
12. FAQs
Because people don't want to call your practice, they may abandon your site if they can't find answers to basic questions. Building a robust FAQ page gives prospective patients the information they need to move forward and make an appointment. It will also save time for your team, as they'll field fewer inquiries via the phone or live chat.
13. Testimonials
Testimonials from satisfied patients provide proof that you can deliver on your promises of quality dental care. When your patients talk about the wonderful service, gentle and compassionate care, and stellar results your practice offers, outsiders are more likely to trust the information.
Kennewick Dental does a great job of this, taking their testimonials a step further and featuring their RateaBiz reviews and Google rating right on their homepage: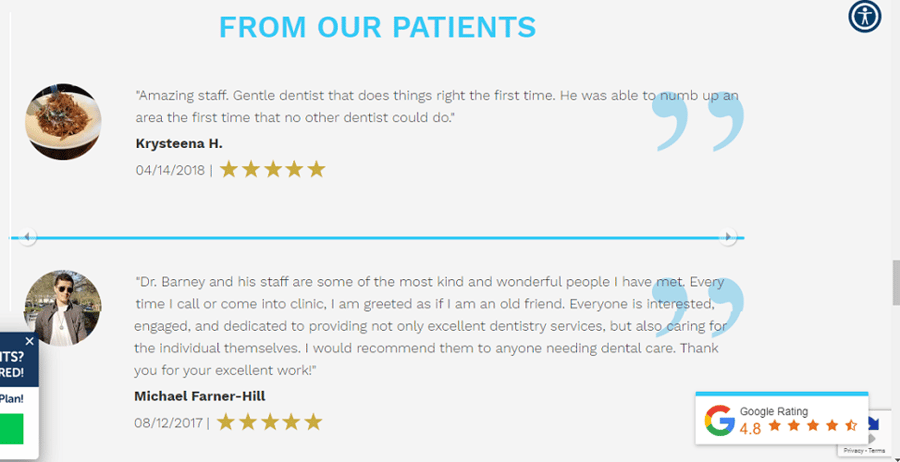 In addition to helping you attract new patients who find their site on your own, testimonials and source testimony can also help you get more referrals and grow your practice.
14. A Regularly Updated Blog
For years, Google has rewarded sites that regularly publish high-quality SEO optimized content. Blogs impact SEO and search engine ranking while making a dental website more attractive to visitors. A blog is a great way to build authority in your field.
Keep in mind you can use your blog to introduce your team, explain services, and provide useful information about oral hygiene.
15. Social Sharing Buttons
Linking to your social media accounts can help your website get a higher number of social media signals, which some have argued play a role in how well your website will rank. The more popular your brand is on social media, the more quality backlinks you will have.
Park 56 Dental does great at this. They have social buttons prominently at the top of their site, and social sharing options for each of their blog posts: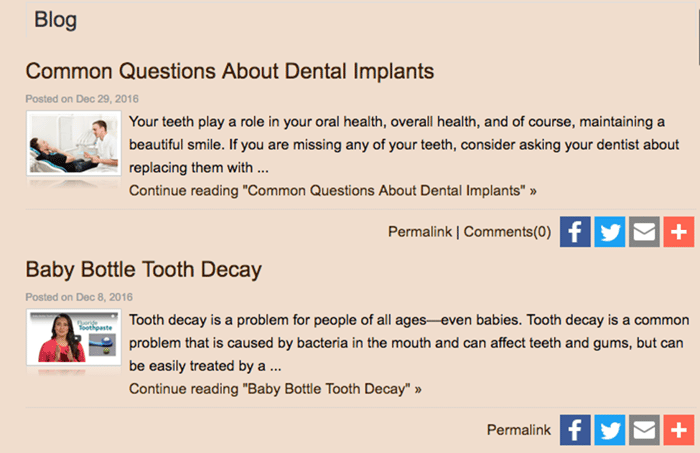 16. Security
An average of 30,000 sites are hacked into every day. If your site is compromised or unprotected, Google may penalize you or even blacklist your site, and security breaches can hurt your relationships with your patients.
Your website should be encrypted and protected using an SSL certificate. If you allow patients to log in, make sure you require strong passwords and use two-factor authentication wherever possible. (Likely though, patients will be logging into your practice management software and NOT your website).
On a related note, your website should include a rights reserved, privacy policy and copyright statement to protect your content, as well as your practice.
17. Accessibility
The unique design of your website won't help you attract new patients if they can't use it. The United States has laws that require federal websites to be accessible. Even if it's not mandated by law, your dental website should keep people with disabilities in mind.
You'll want to consider how your website works for people with impaired vision, impaired hearing, and impaired motor skills, as well as for those with cognitive disabilities and photosensitive seizures. Here are the qualities your website should have to be accessible.
Keyboard friendliness. (Some people with disabilities can't use a mouse.)
Coded content. Any dynamic or new content must be coded to let assistive devices know that it's changed.
Alt text for all images.
Headers to enable assistive devices to read your dental marketing content.
Contrasting colors.
Accessible forms with labeled fields. We like Fluent Forms.
Resizeable text.
No tables, or simple tables that assistive readers can interpret.
There are numerous accessibility plugins that you can use if you have a WordPress website. Please note-we are not endorsing or recommending any particular accessibility plugin. Do your research and determine the best one for you and your practice.
Taking these steps will ensure that every potential patient who visits your site can read and navigate it with ease.
18. HIPAA Compliance
HIPAA stands for Health Insurance Portability and Accountability Act. Every dental practice must comply with HIPAA regulations.
Using HIPAA-compliant software to manage your practice will take care of security and encryption for you.
Conclusion
Need some more help perfecting the craft of an awesome, if not the best dental website for your practice? Be sure to download the free report we've put together by clicking the link below. Give us a call if you want to learn more about how we can help you with website design for dentist marketing.
About the Author
Tyson Downs, the owner of Titan Web Agency, has years of experience working with small businesses and helping them meet their revenue goals. Prior to starting Titan Web Agency, he freelanced in SEO and Web Design while working in the corporate world. Tyson is a graduate of Brigham Young University, the father of 5, and enjoys spending time with his family. Particularly on the baseball field.