A Blog for Dentists & Other Healthcare Professionals
Social Media For Dentists Done Right: 4 Things You Can Do This Week
(This post was originally published June 23rd, 2016 and was extensively updated on July 29, 2019)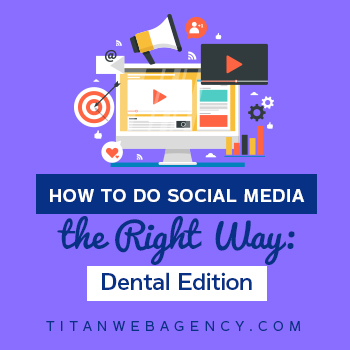 How strong is your dental practice's social media game? Would you give yourself an A – or are you just scraping by with a passing grade?
Regardless of your answer, there's probably room for improvement. Even if you're on top of things, you might be missing opportunities to make the most of your Facebook, Twitter, LinkedIn and Instagram accounts.
It's not enough to set up accounts and write an occasional Facebook update or Tweet. Your patients' perception of you is directly impacted by what you do on social media. That means engaging with your audience regularly and providing them with the kind of useful information they need.
In this guide, we'll talk about why it's important to up your social media game and give you advice about how to do it. Then, we'll share some of our best, most engaging social media ideas for dental practices.
Listen to this blog post:
Which Social Media Sites to Use (and How to Use Them)
Let's start by talking about why social media should be part of your dental marketing ideas and strategy and which sites you should be using.
Social media marketing can do two important things:
It can help you attract new patients; and
It can help you build loyalty among your existing patients.
It costs far more to attract a new patient than it does to keep an existing one. So, it makes sense to focus on marketing strategies that will help you show your patients that you care about them and want to engage with them online.
There are lots of social media sites to choose from, but there are four we recommend you use to grow your dental practice.
Here are four weekly activities to help you grow your social media following and solidify your marketing strategy.
#1: Maintain A Regular Presence
The first step is to designate a point person to manage your social media activity. You'll need to provide guidance about the types of content to post and what you expect in terms of the tone of your posts.
Keep in mind that consumers expect quick responses on social media. According to Sprout Social, 45% of consumers prefer to get customer service on social media over other forms of contact. They expect responses quickly, too. 80% expect a response in less than 24 hours and 50% of consumers say they'd switch brands if they got an unsatisfactory response to a social media inquiry.
You can start by sharing your blog posts. If you don't have a blog, we would highly encourage you to start one.
Regarding the content itself:
Actively engage with your audience. Engage with your audience regularly. You'll want to reply to everyone and like their comments and mentions when appropriate. People will appreciate it if you thank them.
Tweet content that is interesting and relevant to patients. This includes content that may not directly relate to your dental practice but may be related to oral health in general.
Keep your posts on LinkedIn more on the professional side. Remember, LinkedIn is a business/professional site. You will want to post your blog posts here but save the cute memes and videos for Facebook or Instagram.
Create social media content that elicits engagement. Over time, you'll get a knack for what works and what doesn't.
Provide links to your website and/or Facebook page. Cross-marketing between Facebook, Twitter and LinkedIn will help you grow followers in each of these venues.
Post content that is helpful and informative. Check out the profiles of your competitors and other dentists in general. Your followers will appreciate it when you share actionable content.
Post information about staff accomplishments. If one of your dental hygienists achieves a new certification, create a post congratulating them.
Post real life content. Post pictures of your employees or holiday decorations. If one of your staff is getting married, you can post about that as well.
Especially on Facebook and Twitter, make some of your content lively and fun. You want to show your audience that dentists and their employees are real people too.
Monitor your newsfeeds for stories that relate to the field of dentistry. It's good to have a mix of posts about dentistry, including things that are informative, funny or heartwarming.
Establish your unique personality. You want your audience to relate to you. Maintain a consistent voice and don't be afraid to let your personality shine through.
Ultimately, the content you post reflects directly on you and your practice.
#2: Utilize Social Media Advocacy
Social media advocacy means getting your whole team in on the action. It's best to encourage your team to get involved by liking and commenting on your posts and sharing them with their followers. While you may only have 2,000 followers on social media, when you combine that with a staff of 10 you will instantly expand your presence by an order of magnitude.
Here are some pointers for creating staff guidelines for social media advocacy. We got these from IBM's crowd-sourced guidelines.
You are personally responsible for what you publish.
Know the business conduct guidelines.
Don't disclose proprietary information.
Don't cite clients and partners without permission.
Respect your audience.
Respect others' opinions.
Add value.
It's important to have a policy that requires employees to check in with you or your point person before responding to any negative comments or complaints.
#3: Plan Your Posts Ahead of Time
The things you post – meaning, the content you create – should be planned ahead of time. You won't be able to plan everything. You'll need to respond to patient comments or questions as they occur.
We strongly recommend planning your activity with your point person. You can review the content together, evaluate the mix of material, and come up with a schedule that's ideal for helping you reach your marketing goals.
Planning your delivery could involve using a tool such as Hootsuite. This is a tool that lets you create content to be posted on the social media networks at some future time and date. This allows your content manager to pre-load the content and have it show up on schedule, freeing them up during the day from this task (when they may be busy with other duties). Of course, they'll still need to monitor comments and mentions throughout the day.
It's also important to know the best times of day to post content. According to Sprout Social, here are the best times to post:
For Facebook, Wednesday is the best day for posting. The ideal times are between 11 AM and 1 PM in general, and between 9 and 10 for healthcare. On weekdays, you're best off posting between 9 AM and 3 PM. Engagement is lower on the weekends than during the week and worst on Sundays.
Instagram is similar. The best day is Wednesday, and the best times are during business hours. Engagement is lower at night and on the weekends. The best time for healthcare posting is Tuesday mornings at 8 AM.
The best times to Tweet are on Wednesdays and Fridays at 9 AM. Overall, Tuesday and Wednesdays are the best days, with engagement lower on nights and weekends. Monday at 2 PM, Wednesday from 10 AM t0 2 PM, and Friday at 8 AM are particularly good times to post about healthcare.
Finally, for LinkedIn, the best day is Wednesday and the best times are between 9 and 10 AM or at about 12 PM. Sprout Social did not have information about healthcare posting on LinkedIn, but because of its business orientation, it's safe to assume that it's best to post on weekdays.
Engagement rates will be higher during these times. Again, Hootsuite will help you plan and execute posting during the best times.
#4: Keep A Checklist of Weekly Activities
Make a checklist of weekly activities to include in your dental social media campaigns. Here are some ideas:
Check your statistics. Tally up how many likes, comments and shares you have each week. Facebook has excellent built-in tools for this that will show you trends. That will be helpful in evaluating your strategies.
Create and monitor weekly goals. These could be goals for content posting as well as new connections or engagement. You want to have regular content posted without flooding your audience.
Hold a strategy session. You may do this with a few key players or during a weekly staff lunch meeting. Bouncing ideas around with your key players will help you keep a continual flow of fresh content.
Follow those who follow you. Sometimes when you don't follow back, people will unfollow you after a while. Remember, this is "social" media! You will want to further establish the connection when you receive new followers. You can also thank them for the follow or like on Twitter and Facebook.
Actively seek out new connections. Establish weekly goals for this, too. All 4 social media sites will facilitate this activity by searching your email list for your existing contacts.
Progressively follow as many dentistry-related accounts as you can find. That includes other offices, trade associations, bloggers, and dental product manufacturers. You can retweet or share their content and glean ideas from them. (Don't share content from your competitors, though!)
Keywords, site links, and compelling content are the key ingredients of a successful tweet. You only have 280 characters on Twitter. Make them count!
Update your social media ads. This may not be a weekly item, but you will want to do it occasionally. It's another great example of creating fresh content. You should also test each element of your ad to improve your ROI.
Engage with influencers. Actively engage with influencers in your area and profession. For example, if you have a key supplier that is well known, mention them in a Tweet or retweet their content.
Performing these four weekly tasks will help you maintain your social following and attract new followers.

Ideas for Engaging Social Media Content for Dentists
Now, we want to share some ideas to help you create compelling and engaging social media content on the four sites we've discussed: Facebook, Twitter, LinkedIn, and Instagram. We've broken it down by site to make it easy for you to implement what we discuss.
Facebook Posting Ideas for Dentists
Let's start with Facebook. Remember, you can share text, photos, videos, and infographics – or even do a combination. Here are some ideas to try.
Do a live "Ask Me Anything" Q & A where you or one of your dental hygienists responds to questions in real time. Facebook Live videos can later be posted to your page for people who missed them.
Smile-related posts are great for dentists. For example, you could create a "Tag a Friend" post where you ask your followers to tag the friend who has the best smile, or the one who makes them smile the most.
Share reviews and include a link to your Yelp page so people who see your post can write their own reviews.
Find relevant posts on your news feed and share them. If you do this, make sure to include your own commentary instead of just sharing what you found. For example, if you post an article with 10 dental hygiene tips, make sure to mention your favorite one – or add one you think the original article missed.
Post staff profiles. People like to know who'll be working on their teeth. Sharing a photo, a brief bio, and maybe a few fun facts will help people feel comfortable coming to your practice.
Facebook is easily the most versatile social media site. Don't be afraid to take chances!
Twitter Posting Ideas for Dentists
Now, let's talk about Twitter. The recent increase to 280 characters makes Tweeting more versatile than it was before. Here are some ideas for your Twitter posts.
Tweet out an interest fact about dentistry or dental hygiene. This is a great way to get some engagement – people love to respond when they're surprised by something they didn't know.
Take advantage of popular community events like Throwback Thursday (use the hashtag #TBT) and post a picture of yourself graduating from dental school or a picture from the grand opening of your practice.
Create a poll to ask your followers about an issue that's relevant to your practice. It takes seconds for people to respond and you can collect valuable information.
Tweet a link to your latest blog post and include a visual representation of a great pull quote to get people to click the link.
Create a hashtag and ask people to share their best or funniest experience with dentists.
Keep in mind that Twitter engagement is quick and if you miss people, they're unlikely to catch up with your Tweet after the fact. Tracking your posts' performance can help you figure out the best times to be active on Twitter.
LinkedIn Posting Ideas for Dentists
As we said before, LinkedIn is ideal for B2B marketing and can help you get referrals and build local relationships. Here are some ideas for your LinkedIn posts.
Create an in-depth post especially for LinkedIn where you expand on an issue covered in a blog post. For example, you might do a post about your experiences dealing with insurance and how your practice can help patients navigate their coverage with ease.
Join groups and share your content to them. Sharing something about dental industry trends or a new treatment you're offering can help you connect with people.
Create a post about your referral program and ask your LinkedIn connections if they'd like to participate – or if they know anybody who would like to participate.
Film a video explaining a service you provide and showing before and after results.
Promote the content on your website. It's easy to create a LinkedIn post that will drive traffic to your blog or help you build your mailing list.
LinkedIn posts should always have a professional tone and be geared toward adult professionals. Remember, this isn't the place for funny memes and videos. Be consistent to your brand but don't forget what's appropriate for LinkedIn.
Instagram Posting Ideas for Dentists
Finally, let's talk about Instagram. As you know, Instagram is primarily for visual content, including photographs and short videos. Here are some ideas to try:
Create an Instagram Story for your practice. Some ideas are to give a virtual tour of your office, introduce your staff, or explain a procedure you perform. Remember, Instagram Stories disappear in 24 hours. Creating one is a good way to encourage your followers to check out your content quickly.
Use between 3-5 hashtags in every post. It's a good idea to include a locational hashtag with the name of your city or neighborhood. You can also create event-specific hashtags to encourage people to share their photos with you.
Post before and after pictures. These are especially good for highlighting cosmetic procedures like whitening and orthodontia.
Encourage your followers to share photos of their whitened teeth or bright smiles – you could even make it a weekly event, like Smile Saturday.
Create an infographic showing an ideal day of dental hygiene. There are online tools you can use to create infographics, or you can hire a professional designer to help you.
The ideas we've shared here are just the beginning. We encourage you to get creative! Ask for ideas from your staff and patients. Follow your competitors and "steal" their best ideas. The sky's the limit!
For more help with your Dental Instagram marketing, read the blog post: Introduction to Dental Instagram.
Conclusion
Social media posting is a must for dentists. Provided you post regularly and put some effort toward creating engaging and relevant posts for your followers, it can help you attract new followers, build patient loyalty, and grow your practice.
Need help with your social media posting strategy? Click here to get in touch with us.
About the Author
Tyson Downs, the owner of Titan Web Agency, has years of experience working with small businesses and helping them meet their revenue goals. Prior to starting Titan Web Agency, he freelanced in SEO and Web Design while working in the corporate world. Tyson is a graduate of Brigham Young University, the father of 5, and enjoys spending time with his family. Particularly on the baseball field.