Social Media for Dentists: Guide to Dental Social Media Success
(This post was originally published June 23rd, 2016 and was extensively updated on August 16, 2021)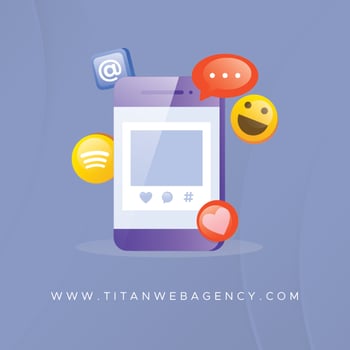 How strong is your dental practice's social media game? Would you give yourself an A – or are you just scraping by with a passing grade?
Regardless of your answer, there's always room for improvement. Even if you're on top of things as a business owner, you might be missing opportunities to make the most of your Facebook, Twitter, LinkedIn, Instagram, and other social profiles.
It's not enough to set up a profile and write an occasional Facebook update or Tweet. Your patients' perception of you is directly impacted by what you do on social media campaigns. That means engaging with your audience regularly and providing them with the useful information they need.
In this guide, we'll talk about why it's important to up your dental social media game and give you advice about how to do it. Then, we'll share some of our best, most engaging social media ideas for dental practices.
Listen to this blog post:
Why Social Media Matters for Dentists
It wasn't that long ago that dental marketing focused on printed brochures and word of mouth. What you need to know about social media marketing is that it is the new word of mouth. Sites like Facebook and Instagram are the resources used when we want to find new healthcare providers – and that includes dentists.
Research indicates that 57% of consumers follow brands, including service providers, on social media. They do so to learn more about the brands in question and 89% will go on to buy from the brands they follow. Read more social media statistics.
Social media marketing is one of the best ways to stay connected with current patients and attract new patients – and you don't need to be a marketing expert to make the most of it!
Benefits of Social Media Marketing for Dentists
Social media marketing can help dentists and dental practices in a variety of ways. Here are some of the most significant benefits of dental social media to keep in mind.
Social media marketing builds brand awareness. The more often people in your area see your practice on social media, the more likely they are to make an appointment with you.
Social media marketing generates referrals. People might not normally think of their dentist between visits, but a good marketing campaign on Facebook or Instagram can inspire people to recommend you to their friends and family members.
Social media marketing is one of the best ways to generate traffic to your website and encourage people to learn more about your practice.
With social media, you can learn more about your patients and find out which services are most important to them, allowing you to grow your practice.
It's possible to attract a huge following on social media. The Bentist is a dentist who has over 7,300 Twitter followers, 3.73 Million YouTube subscribers, and over 12 million followers on TikTok.
Here's a sampling of his posts:
Now that @elonmusk is owner of Twitter I can finally say this and not get banned…. Those teeth whitening lights are a scam and don't do anything

— The Bentist (@the_bentist) April 27, 2022
Social media marketing is an affordable and effective way to attract new patients, engage with existing patients, and grow your dental practice.
Social Media for Dentists: Choosing the Best Platforms
Now more than ever, "Likes," "Favorites," and "Shares" are essential to any marketing campaign. Not only can you get potential customers from social media, but Google and other search engines factor in the size and engagement of your business's social media network. All things being equal, a dentist that is active on social media will rank higher in search results than one that does not engage on social networks.
Some of the most commonly used social media applications include Facebook, Twitter, LinkedIn, Pinterest, Instagram, YouTube, and TikTok. Each of these platforms has a distinct tone, allowing you to reach a broad and diverse audience if you cover all your bases.
Facebook
Everyone knows about Facebook, and just about everyone has an account. Facebook is a useful tool for people trying to stay in touch, but it's also a valuable tool for your dental practice to use for advertising.
You can easily create a corporate Facebook page which you can use to advertise coupons, sales, product promotions, and services, as well as events for product releases or big company celebrations. Furthermore, you can develop customer loyalty via image shares and other compelling content that people like or share from their own Facebook profiles. This way, your existing patients can advertise for you, bringing you both revenue and attention in an indirect way that is more convincing to potential patients than an advertisement that came directly from you.
Creating a Facebook page for your small business
allows you to establish a more open forum for communication with your patients. It provides a casual environment and encourages dialogue and engagement. If a patient "Likes" your page, your posts will show up in their news feed, and the more views, the better. As we work primarily with dentists, we've seen the power of Facebook and its ability to humanize your office and staff.
Twitter
Twitter is different from Facebook in that users don't typically develop highly personal accounts; Twitter is more about sharing information. Users share up to 280-character "tweets" (it used to be 140) that can take the form of opinions, updates, hyperlinks, replies to other users, etc. Dentists can usually get the most from Twitter by sharing pictures of new products or services, linking to coupons or promotional codes, or updating followers on office events and promotions.
Twitter is a useful platform because it's built for extremely frequent updating, which means you can run extensive advertising and marketing campaigns without being obnoxious – a continually updated Twitter feed is something people want to see, so Tweet as much as you like!
Twitter is an excellent way to get information out fast. Although the number of characters that you can tweet is limited to 280, you can craft a Tweet and include a short link that will drive traffic to your website — the more impressions, the better.
Instagram
Instagram is unique in that users share snapshots rather than text. Sharing pictures might not seem to have any business value at first glance, but images of products or services can be an extremely effective way to get patients to visit your office for a checkup or other dental needs.
Visual information appeals to a different segment of the market than purely textual advertisements, so many dentists have started making extensive use of Instagram to appeal to this different area. Millennials, in particular, are active on Instagram — according to Statista, by 2023, it is projected that Instagram will reach nearly 1.2 billion users.
Taking advantage of this increasingly popular social network is a surefire way to get more exposure, which means more business. You can also include one link in your bio, which might be a link to your business website's homepage, or to a promotional landing page for whatever special you currently have on offer. Dentists often share an image representing a product or service, and then indicate in the photo caption that you can purchase the item through the "link in bio."
Pinterest
Like Instagram, Pinterest is also great for both sharing photos of products and linking those photos to your website. While Instagram displays photos in a type of news feed, Pinterest displays posts in a gallery format.
Pinterest can be a great place to showcase your services.
You can also post articles and links in Pinterest's gallery format for your dental office. You can share tips and links to useful information on your website, such as blog posts.
We haven't seen many dentists using Pinterest to attract new patients, but that doesn't mean it isn't happening. That said, we think it's better to focus on Facebook, Twitter, and Instagram before Pinterest.
But test it out to see how it works for you! We believe you should test all options when it comes to marketing.
Set up your business's Pinterest account
here
.
LinkedIn
LinkedIn provides a way for you as a dentist to expand your contact base, gain new customers, and build expertise, brand loyalty, and credibility. For example, you can post articles or start discussions with other experts in your industry.
LinkedIn provides you with another way to start a dialogue and build your reputation as a subject matter expert (SME). LinkedIn has recently started allowing users to blog on their sites. It makes sense as a form of SEO for dentists or any other profession where your reputation is paramount. LinkedIn is also important for branding, marketing, and even hiring.
In addition to setting up a LinkedIn account yourself as an individual professional in your industry, you can also set up a LinkedIn dental office page. Get started with
LinkedIn for small businesses today
.
YouTube
YouTube is more than just a social media platform. It's also the second-largest search engine in the world behind Google! The fact that it's owned by Google means there are significant SEO advantages to creating and sharing YouTube video content.
Video marketing gets more engagement than almost any other format and that makes YouTube videos an important investment for any dental practice. It also offers, in most cases, a higher return on investment than other types of content marketing.
You can sign into YouTube using your Google account and
create a channel
for your practice. From there, you can create and share videos with your followers. Keep in mind you can get more views by sharing your videos on other social media sites such as Facebook and Twitter.
TikTok
TikTok is the newest of the social media channels and it's not an exaggeration to say it's taking the world by storm. The platform has nearly 700,000 active daily users and it's growing every day. TikTokers share short videos that often go viral.
In terms of dental marketing, TikTok provides dentists with an opportunity to meet young audiences where they are. It's important to keep TikTok videos light and informative if you want to engage with users about your practice.
Opening a business TikTok account
is easy and takes just a few minutes.
Note that while all these networks are free to use, you can pay to advertise on them as well, getting even more exposure for your posts. Paid social media advertising might not be economically feasible to do year-round, but you might want to consider a short-term promotional campaign on Instagram, Facebook, etc., to advertise a business location opening, limited-time sale, or other promotion.
Let me diverge for just a minute, yes, all social media collects our data and mines that, and uses it for their benefit. However, non are quite like Tik Tok. Many people call Tik Tok spyware disguised as an app. Just something to be aware of. Another article.
Social Media for Dentist Best Practices
Every marketing strategy has best practices and following them is the best way to get the results you need. Here are 12 social media marketing best practices for dental businesses.
1. Maintain a Regular Presence
There's no point in creating social media accounts for your practice unless you post regularly to keep your followers engaged. Here are some guidelines for posting frequency.
Post 1-2 times a day on Facebook
Post 1-2 times a day on Instagram
Post 3-4 times a day on Twitter
Post 1-2 videos per week on YouTube or TikTok
Post once a week on LinkedIn
Keep in mind you don't need to be active on every social media site, but you're better off deactivating an account than having an inactive page.
2. Utilize Social Media Advocacy
You need social media accounts for your business, but one of the best, cost-free ways to grow your audience is to use social media advocacy. Advocacy is what happens when your employees and existing patients share your content with their followers.
Considering that your employees are likely to have social media connections who live and work in your service area, advocacy is a great way to attract new followers and patients. It's a good idea to couple your advocacy program with a referral program that will reward people if they share your content and someone books an appointment with you as a result.
3. Plan Your Posts Ahead of Time
Maintaining multiple social accounts can be time-consuming. For that reason, we strongly recommend creating a social media marketing plan.
You should sit down with whoever manages your social media once a week or once a month and map out which content you want to share. Some of it may be new content and some may be older content that you update or repurpose. Planning will ensure that you never run out of content to post.
Hubspot has a great social media template calendar you can download and use. We also have 30 days worth of social media posts you can download by clicking the button below.
4. Keep a Checklist of Weekly Activities
Once you've planned your content, it's a good idea to keep a list of what you want to post and create a schedule. Creating a list ensures that you know what's ahead, and scheduling is the best way to turn your social media marketing into a hands-off endeavor.
You can use Facebook tools to schedule posts there. If you prefer an all-in-one solution, you can try a social media management tool such as Social Web Suite or Sprout Social to manage and schedule your posts.
5. Use a Conversational Tone
Business websites are virtual extensions of the real-world businesses they represent. While social media profiles are linked to those pages, they are certainly more casual in tone.
Of course, you want to maintain a professional demeanor at all times to preserve your authority and credibility in your field. You also want to make sure that your social media activities support and enhance your overall brand image.
Although, you should definitely adopt a more conversational tone when using social media. It is a more relaxed forum, and a stiff, sterile, or technical tone won't get the engagement or traction that an informal, personal tone will get.
6. Reach Out
Dental office SEO ensures that all the platforms you use on behalf of your business are more visible to both search bots and consumers. However, when it comes to social media, retention demands that you try to communicate directly with followers.
As a dentist, a good way to do this is to follow up with patients after their visit. You can ask them to rate your practice in the form of a review, participate in surveys, or share their experiences so that you can post them on social media for other followers to see.
7. Get Personal
Your social media accounts are more than just a forum to inform followers about new blog posts or new services your practice is offering. They also provide the opportunity for you to show a more personal side of your business.
Adding a personal face to your professional accounts makes you far more relatable, trustworthy, and frankly, more interesting.
Now you don't have to spill your guts about your life's problems. But DO NOT continually try and pitch for your services. It doesn't work. Nobody likes being pitched to. Instead, show what you do, show what you offer, but throw in some funny, zany, quirky stuff every once in a while. Show that you are a normal person and a normal business owner. Be smart, though, and don't discuss controversial topics such as politics or religion.
8. Provide Value by Giving Solutions
Be creative. Being creative will drum up interest. Some status updates may include ways that your product or service can improve one's everyday life. You shouldn't be too "sales-y" in these posts but be more interesting and engaging. In other words, you need to provide value.
So, what, exactly should you include in status updates? Here are some dental social media post ideas:
Photos of your business
Photos of products/people using products
Photos of your staff and staff highlights (brief bios of your staff, tagging their photo)
Photos of customers or patients (make sure to get the patient's consent before using their image)
Recent blog posts published on your website
Shared posts from other professionals in your network
Answers to customer questions
Videos (business tours, answering questions, funny montages, etc.)
Quote of the day
Recent patient reviews
Weird or interesting facts about your profession
As long as you provide valuable information, insights, or entertainment in your posts, people will find them interesting and engaging.
9. Run Promotions
Free giveaways? Drawings for free stuff? Giving away something for free can help you attract new followers and patients -- but don't do it just for the sake of doing it. You want to get something in return, even just a re-Tweet, or a Facebook "share," or a "check-in" to your location.
Though you will probably spend more on promotions than you receive in return, you should still do them. If you have a high lifetime value for a new patient like most dentists do, then it makes sense to draw people in with a "loss leader." You know that with the amazingly awesome service you provide, people will want to come back.
How do you do this?
Have occasional drawings for cool free stuff, but make people do something to enter, i.e., something that raises awareness of your brand.
Give existing customers additional value by having a loyalty club or dental membership plan program.
Have a 12 Days of Christmas or a Christmas in July event where you give something away every day.
Host limited-time sales or offer online coupons that are valid only for a short time.
Once you have your promotional plan set up, advertise it by sharing the links and information on your Instagram and Facebook (the most popular social networks) for the duration of your contest.
10. Focus on Share-ability
Dental practice SEO and online marketing will only get you so far, especially if your budget for online campaigns is limited. Luckily, social media gives you the chance to encourage others to do most of the heavy lifting for you.
When you post items of interest and make them easy to share via a single-click action, you're likely to extend your reach by a significant margin and gain access to an ever-widening circle of potential followers (and prospective patients).
You offer great services and products, right? So, be excited about it! Be creative! Be enthusiastic!
Focus on creating easy-to-share blurbs, links, graphics, infographics, and even viral videos that could take off like wildfire on social media.
11. Remember Communication is a Two-Way Street
It's not enough for you to post to your profiles and for followers to comment. If you're able to get a foot in the door and inspire action (i.e., commentary), you can't afford to not follow up.
Building and maintaining relationships is an important part of your digital strategy. Your business website can certainly offer interested parties the information they seek, but social media is much better for making connections and forging an emotional investment in your brand thanks to its ability to foster ongoing, personal interactions with an otherwise anonymous online community.
When your fans engage with you by commenting, sharing, liking, reviewing, whatever it may be, thank them! Maybe ask them a question. If appropriate, share their comments or tag them in a reply. This will get you more exposure and encourage others to participate in the discussion.
12. Monitor, Track, and Analyze
Social media requires constant monitoring of your accounts, as well as the tracking and analyzing of associated metrics.
Use tools such as Facebook Page Insights to see how your audience is growing, and to view how many shares and how much engagement you get on your posts. You should also track the number of sales, new customers, and website visitors you get from social media.
We'll be the first to admit that social media often doesn't provide a quantifiable ROI, at least not initially. HOWEVER, it is where your target customers are. Go where they are. Build relationships, add value, and when they are ready to visit your practice, you'll be in a better position.
Social media strategy for dentists comes down to positioning yourself strategically as a leader in your market and industry. Build and engage with your followers so that when people are ready to find a new dentist, they remember you.
Common Dentist Social Media Mistakes to Avoid
Now that you know which social platforms your dental practice needs to have a presence on, it's time to start posting. But wait — you don't want to post just anything! Before getting into the best ways to capitalize on your business's social media accounts, let's first take a look at five social media mistakes you don't want to make.
Mistake # 1: Not Using Social Media
Don't be so intimidated about getting started with social media that you don't use it. That can be an extremely costly mistake. You may not see the benefits immediately, or even within the first year, but eventually, if you use social media properly, you will reap the rewards. We recommend at the least getting a Facebook business account, a LinkedIn company page, and an Instagram business account. By not using social media, you are screaming loud and clear to all your potential patients that technology isn't important to you, and that you are behind the times.
Mistake # 2: Inconsistent Posting
You've set up your profiles and pages, and you might have even added a background cover photo. You posted once or twice, and that was it. Months go by and you don't post. A year goes by, still no posts. Imagine a potential patient coming to your Facebook page that hasn't been updated since November 2019. It's that same message as looking into a storefront window and the lights being off with nobody in the store. So, be consistent! You can use a tool like Hootsuite, which allows you to post to all your social media platforms at once. It even allows you to schedule your posts for the future.
Mistake # 3: Posting Controversial Content
Social media is not the place for a dentist to express political opinions or to post on edgy or controversial topics. You don't want to alienate your customers or potential patients. One wrong Tweet could cause thousands of dollars in lost revenue. Think before you post. It's preferable to remain silent than to offend a significant portion of your target audience by posting something controversial.
Mistake # 4: Unprofessional Attitude
While it is true that social media posting tends to be less formal than the content on your dental website, you still need to be professional. Two primary mistakes fit into this category. The first is being rude or overly familiar with your patients and followers. You should always be professional with anybody who engages with you online. The second mistake relates to the quality of your content. Everything you post should be checked and double-checked for proper spelling and grammar. It's always a good idea to have a third party read things over before you share them. Being unprofessional in any way will reflect poorly on your business.
Mistake # 5: Insufficient Control
Sure, you can have one of your admins manage your social media platforms, but just make sure that you trust this person implicitly, and that you are reviewing what is being posted. You could have a mess on your hands if the employee misuses the account, or if somebody accesses their social media accounts and then gains access to your account.
Hopefully, by now you understand the big mistakes when it comes to social media for dentists. If you need help getting started with social media, contact us; We can help!

Dentist Social Media Post Ideas
Now, we want to share some ideas to help you create compelling and engaging social media posts on the sites we've discussed. We've broken it down by site to make it easy for you to implement what we discussed.
Facebook Posting Ideas for Dentists
Let's start with Facebook. Remember, you can share text, photos, videos, and infographics – or even do a combination. Here are some ideas to try.
Do live video "Ask Me Anything" Q&A sessions where you or one of your dental hygienists responds to questions in real-time. Facebook Live videos can later be posted to your page for people who missed them.
Smile-related posts are great for dentists. For example, you could create a "Tag a Friend" post where you ask your followers to tag the friend who has the best smile, or the one who makes them smile the most.
Share reviews and include a link to your Yelp page so people who see your post can write their own reviews.
Find relevant posts on your news feed and share them. If you do this, make sure to include your commentary instead of just sharing what you found. For example, if you post an article with 10 dental hygiene tips, make sure to mention your favorite one – or add one you think the original article missed.
Post staff profiles. People like to know who will be working on their teeth. Sharing a photo, a brief bio, and maybe a few fun facts will help people feel comfortable coming to your practice.
Facebook is easily the most versatile social media site. Don't be afraid to take chances!
Twitter Posting Ideas for Dentists
Now, let's talk about Twitter. The increase to 280 characters makes Tweeting more versatile than it was before. Here are some ideas for your Twitter posts.
Tweet out an interesting fact about dentistry or dental hygiene. This is a great way to get some engagement – people love to respond when they're surprised by something they didn't know.
Take advantage of popular community events like Throwback Thursday (use the hashtag #TBT) and post a picture of yourself graduating from dental school or a picture from the grand opening of your practice.
Create a poll to ask your followers about an issue that's relevant to your practice. It takes seconds for people to respond, and you can collect valuable information.
Tweet a link to your latest blog post and include a visual representation of a great pull quote to get people to click the link.
Create a hashtag and ask people to share their best or funniest experience with dentists.
Keep in mind that Twitter engagement is quick and if you miss people, they're unlikely to catch up with your Tweet after the fact. Tracking your posts' performance can help you figure out the best times to be active on Twitter.
LinkedIn Posting Ideas for Dentists
As we said before, LinkedIn is ideal for B2B marketing and can help you get referrals and build local relationships. Here are some ideas for your LinkedIn posts.
Create an in-depth post especially for LinkedIn where you expand on an issue covered in a blog post. For example, you might do a post about your experiences dealing with insurance and how your practice can help patients navigate their coverage with ease.
Join groups and share your content with them. Sharing something about dental industry trends or a new treatment you're offering can help you connect with people.
Create a post about your dental referral program and ask your LinkedIn connections if they'd like to participate – or if they know anybody who would like to participate.
Film a video explaining a service you provide and showing before and after results.
Promote the content on your website. It's easy to create a LinkedIn post that will drive traffic to your blog or help you build your mailing list.
LinkedIn posts should always have a professional tone and be geared toward adult professionals. Remember, this isn't the place for funny memes and videos. Be consistent with your brand but don't forget what's appropriate for LinkedIn.
Instagram Posting Ideas for Dentists
Instagram is an increasingly popular social media platform for dentists. As you know, Instagram is primarily for visual content, including photographs and short videos. Here are some ideas to try:
Create an Instagram Story for your practice. Some ideas are to give a virtual tour of your office, introduce your staff, or explain a procedure you perform. Remember, Instagram Stories disappear in 24 hours. Creating a story is a good way to encourage your followers to check out your content quickly.
Use 3-5 hashtags in every post. It's a good idea to include a locational hashtag with the name of your city or neighborhood. You can also create event-specific hashtags to encourage people to share their photos with you.
Post before and after pictures. These are especially good for highlighting cosmetic procedures such as whitening and orthodontia.
Encourage your followers to share photos of their whitened teeth or bright smiles – you could even make it a weekly event, like Smile Saturday.
Create an infographic showing an ideal day of dental hygiene. There are online tools you can use to create infographics, or you can hire a professional designer to help you.
The ideas we've shared here are just the beginning. We encourage you to get creative! Ask for ideas from your staff and patients. Follow your competitors and "steal" their best ideas. The sky's the limit!
For more help with your Dental Instagram marketing, read the blog post: Introduction to Dental Instagram.
YouTube & TikTok Posting Ideas for Dentists
Finally, let's review some ideas that can help you to connect with your followers (and attract new followers) on YouTube and TikTok. We'll start with YouTube.
Create explainer videos to walk new and existing patients through procedures or demonstrate new equipment and technology.
If you can get permission from a patient, film all or part of a procedure to show people how it works and what's involved.
Produce a series of "Meet the Team" videos to help people get to know you and your employees.
Do a "before and after" video for a cosmetic service such as straightening or whitening.
Film patient testimonials and share them.
Do a video tour of your practice.
Do a series of videos demonstrating proper oral hygiene.
These are just a few ideas. Get creative and think of new ways to help your patients learn about you and your practice.
Finally, let's review some creative dental marketing ideas for TikTok.
Create a time-lapse video showing a long procedure or the process for making a dental implant or crown.
Do a series of "Day in the Life" videos for each of your staff members to introduce them to followers.
Recruit patients to participate in "Patient Journey" videos where you film snippets of their dental care and show the finished results.
Create dental and oral hygiene tutorials.
Create a humorous video or song parody and get your staff to participate. (For an example, check out TikToker Dentist Singing, an account with 177,000 followers. You can find them on Twitter, too).
Keep in mind that TikTok videos are short and meant to be entertaining. Make sure to take advantage of editing tools and visual effects to make your videos as engaging as possible.
Final Thoughts on Social Media for Dentists
Social media marketing is one of the best ways to build brand recognition for your dental practice, keep your existing patients engaged, and attract new patients. The best practices and other advice we've included here can help you make the most of your social media accounts.
Do you need help with your social media marketing? Titan Web Agency can help you increase your success with social media marketing services designed specifically for dentists.
About the Author
Tyson Downs is the founder of Titan Web Agency, a company specializing in marketing for dental professionals. With an impressive track record of working with over 100 dental practices, Tyson has a deep understanding of the unique marketing needs within the dental industry. His expertise has helped numerous dental practices flourish by meeting and surpassing their revenue goals and established him as a thought leader in healthcare marketing. His insights and strategies have been featured in esteemed dental publications, including the American Dental Association and the American Academy of Implant Dentistry. Before dedicating his career to helping dental professionals thrive through effective marketing, Tyson honed his skills in SEO and web design as a freelancer, while also gaining valuable experience in the corporate sector. As an alumnus of Brigham Young University, he brings a strong educational background to his entrepreneurial endeavors. Outside of his professional life, Tyson is a devoted father of five, who cherishes time spent with his family, especially when they're all enjoying America's pastime on the baseball field.