5 Reasons Why You Need to Offer Perks in Your Dental Office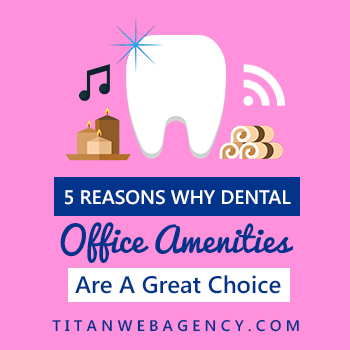 Few dental offices take full advantage of the opportunity to differentiate their practice by offering unique amenities.
You may be thinking:
I'm not running a luxury dental spa. Money spent on extra amenities is money wasted.
But here's the deal: There are actually a lot of amenities that you may not have thought of.
So let's discuss 5 reasons to use amenities to grow your practice and retain patients.
Listen to this blog post:
1. They improve patients retention.
People have a lot of options when it comes to choosing a dentist. Even if a patient has a positive experience and satisfaction with your practice, they might switch to another dentist anyway because it's a half-mile closer to their house.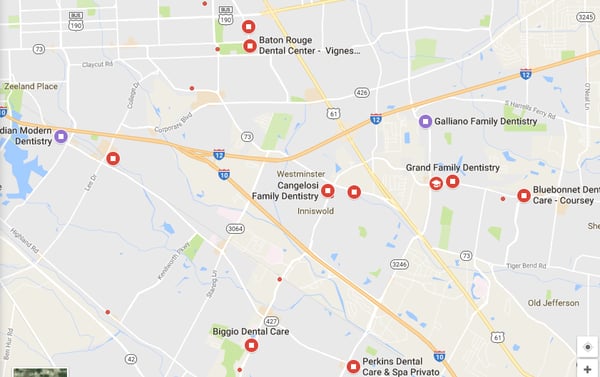 However, if you offer attractive amenities, they may be willing to pass a few more offices to get to yours. If they know your practice is the one with the dental chair back massagers, they won't think twice about driving that extra half mile to go to your practice. Adopting even a few simple amenities as part of your dental office marketing strategy can do wonders to increase your patient retention rate.
2. They offer comfort and entertainment for your patients.
Let's not forget the real purpose of amenities -- to offer comfort, relaxation, and entertainment. Building a personal relationship with your patients can take a long time if you aren't proactive. Using amenities to market dentistry can help your patients feel welcome, and show that you care about their needs as well. And, to be honest, every dental office runs behind on appointments from time to time. Your young patients are much less likely to complain if you offer free WiFi while they wait.
3. They create search marketing opportunities.
Search engine optimization can be a challenge for dental office marketing. For example, when I search for "Seattle dentist," it brings about 735,000 results:

That means a huge number of dental practices are vying for the same three spots in Google's local search pack: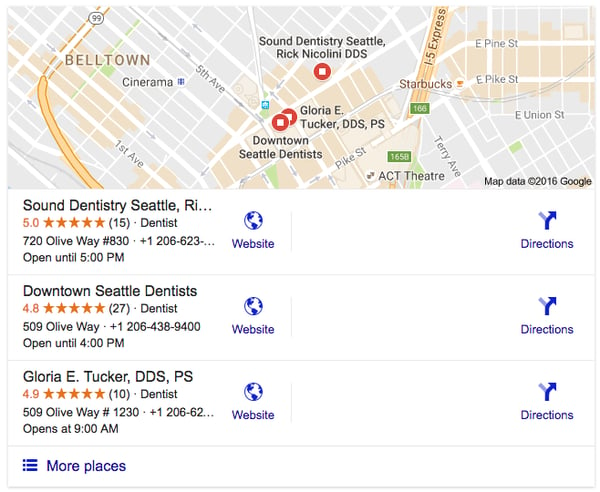 But when I search for "Seattle dentist with massage," it's a different story. Only 398,000 results come up, and 3 different dental offices have the opportunity to show up in the search pack: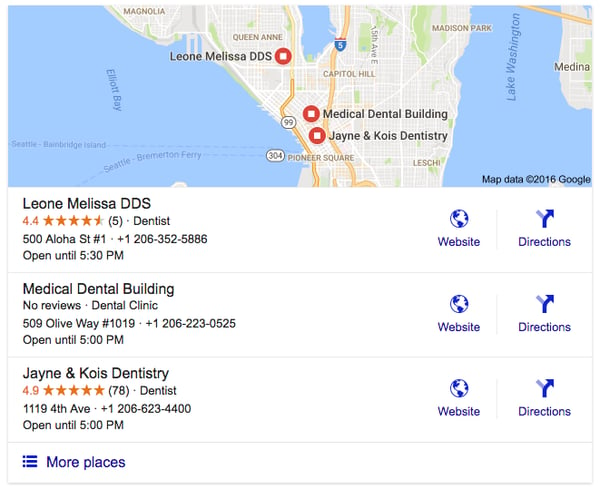 Target keywords related to the dental office amenities you offer and you can seriously cut down on the marketing search competition.
4. They attract patients with money.
Search engines will help people who want specific amenities find your dental practice. And what kind of people will go out of their way to find luxuries? Well, usually people with money. Even if you're not a "luxury dental practice," if you have the special touches they're looking for, people will come.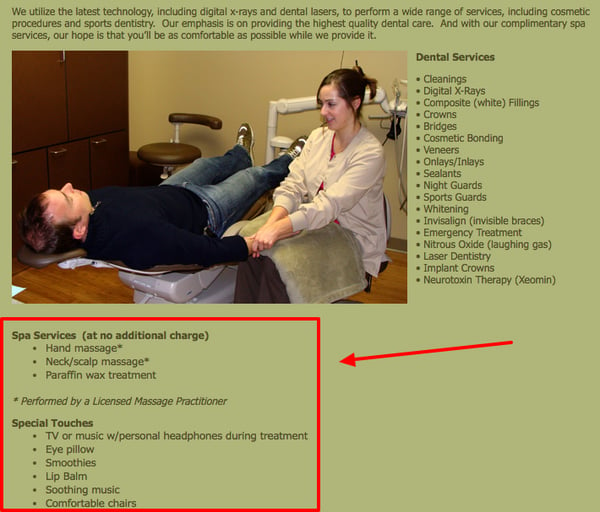 And patients with extra income are always good to market to. They're much more willing to spend money on your cosmetic services, as well as regular dental problems.
5. They help you stand out from the crowd.
When it comes down to it, amenities make all the difference between you and every other dental practice in your town. You are likely using similar marketing strategies to build your base, but many forget that amenities fall under that category as well. Convinced that amenities are more than just a waste of money? Good.
Here's a list of amenities you can add to your practice to stand out from the competition:
The Little Things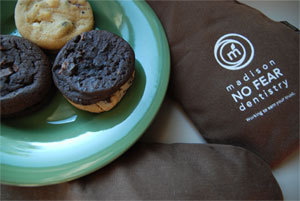 Snacks or baked goods:

Offer snacks every day that patients can eat while they're waiting, or take home after their appointment. For example, Madison Dentistry at one point baked fresh bread for patients to take home. They also help avoid the typical sterile "dental office" smell.
Juice, coffee, tea, and bottled water:

Most patients are coming to you between work, school, and other commitments. Give them a range of beverage options to refuel and enjoy the experience at your office.
Milkshakes or smoothies after treatment:

Dental work can be a painful process. A complimentary milkshake or smoothie for a sore mouth can be just the thing to make the experience positive for patients.
Lip balm during treatment:

It might seem simple, but offering a complimentary, soothing lip balm during treatment can help patients avoid cracked lips and feel comfortable while you work.
Aftercare treatment calls:

Some dental procedures can be pretty major, requiring medication and extra care after treatment. Schedule aftercare calls to check on patients after their appointment to see how they're doing and show you care.
Comfort and Relaxation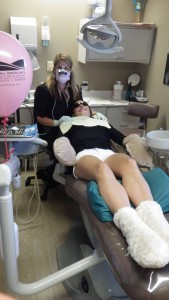 Dental suites with waterfalls:

Dental work can put a lot of people on edge. Improve the ambiance of your dental suites with soothing waterfall sounds to help your patients feel less tense.
Dental chairs equipped with back massagers:

These are great to help patients relax while waiting for the dentist to come in.
Aromatherapy candles:

Aromatherapy candles are an affordable amenity that helps show your patients that comfort is a priority at your office.
Massage for hands, feet, head, or neck:

Offer this service complimentary and your dental office will seem like a luxury service to just about every patient.
P

araffin wax han

d treatments

:

Offer this treatment during lengthy dental procedures to help patients relax.
Leg and neck pillows:

Chiropractic neck pillows and other comforts will make all the difference for older patients undergoing lengthy procedures.
Noise-canceling headphones
Room darkening eye mask:

Sunglasses are a common option, but you may want to offer an eye mask as an alternative for patients who want to check out during their procedure.
Silent drills:

A lot of dental patients don't like to hear the whiny drill in their ears during procedures. Purchase some silent drills to make your patients feel less like they're in a machine shop.
Entertainment
Flat-screen te

levisions:

Equip your waiting room with a plasma TV, streaming the latest shows and movies on Netflix or another service.
TV or music on personal headphones:

Allegra Dental offers Netflix, Amazon Prime, Spotify, or other media selections patients can surf on personal TVs. You can even put them on the ceiling, so patients can watch while you work.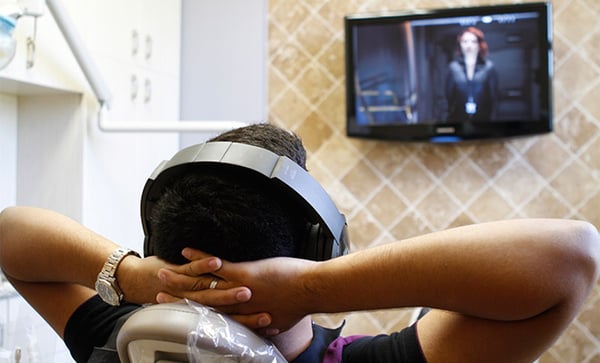 Gaming:

Having an Xbox or Playstation in your waiting room will help keep kids and adults alike entertained while they wait for their appointments.
iPads or an internet bar:

For patients who don't have their own devices, offer an internet bar or complimentary iPads they can use to kill time. That's exactly what Arbor Walk Dental Care does.
Intraoral cameras:

Incorporate intraoral cameras into your practice so patients can see their teeth while you work!
Kids play area:

Incorporate a children's play area into your dental office to keep children entertained before their appointment. Their parents will thank you for the distractions as well. Here's an impressive-looking playroom at Clayburn Dental.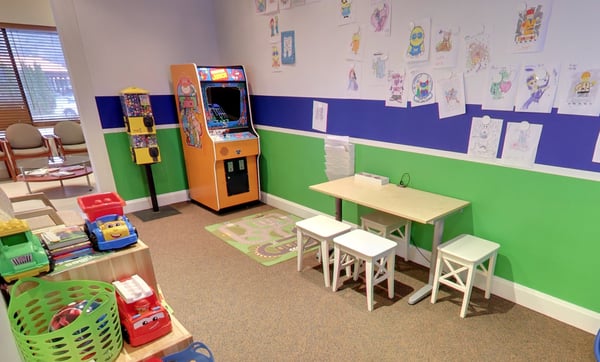 Pain and Anxiety Prevention
Laughing Gas:

Nitrous oxide is one of the best ways to soothe anxiety. Use it for lengthy procedures, or whenever a patient needs.
IV Conscious Sedation:

People (quite rightly) get nervous about sedation dentistry. Incorporate IV Conscious Sedation into your service and patients can stay awake during procedures. They'll just feel relaxed and a little drowsy.
---
Conclusion
Want to stand out from the crowd? Considering these amenities will help you do just that, and doing so will help you grow your practice and retain your best patients.
Does your practice have any amenities we missed? Tell us in the comments!
About the Author
Tyson Downs, the owner of Titan Web Agency, has years of experience working with small businesses and helping them meet their revenue goals. Prior to starting Titan Web Agency, he freelanced in SEO and Web Design while working in the corporate world. Tyson is a graduate of Brigham Young University, the father of 5, and enjoys spending time with his family. Particularly on the baseball field.