14 Ways to Use PPC & SEO to Achieve Higher Dental Marketing ROI
This post was originally published January 18, 2016, and updated January 11, 2021.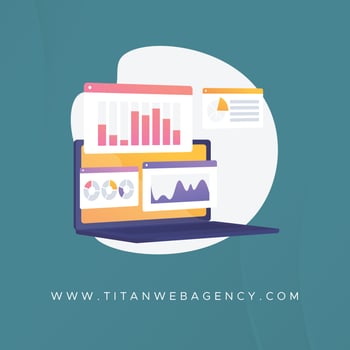 Search engine optimization (SEO) and pay-per-click marketing (PPC) are both major strategies to use in dental practice marketing.

When using PPC, you are purchasing traffic to your site. Typically from Google or Facebook, but it could be from anywhere.

SEO is an unpaid strategy of drawing people to your dental website by using relevant keywords and search terms to appear in search results.

I think you'll agree with me when I say:

PPC & SEO are both integral parts of a highly effective dental marketing strategy that attracts new patients to your dental practice.

As a dental marketing company that has worked with dozens and dozens of dental practices, we've seen that you can use SEO and PPC together to improve both strategies.

But too often, marketers ask the same question:

Is SEO the most effective way to market a dental office?

Is PPC more effective than SEO for dentists?

What should I use for my office?

Listen to this blog post:

Rarely are dentists considering the benefits of their dental practice using both Pay Per Click & Search Engine Optimization.

But how exactly can you or your marketing team leverage this data?

In today's post, I'll discuss 14 different ways you can use pay-per-click data to improve your dental practice's SEO and make the argument for keeping both strategies under one roof.

Let's roll.

SEO vs PPC Statistics
Both SEO & PPC have their advantages. To get an idea of what they can do for your dental practice, let's look at some statistics, starting with SEO.
Search is the top driver of traffic to business websites, beating out social media by 300%.
SEO drives 30% of all traffic and 20% of all revenue online.
Approximately 80% of users ignore paid ads on the SERP (search engine results page) in favor of organic links.
88% of mobile searches for local businesses result in a phone call within 24 hours.
1 in 10 blog posts is compounding, meaning that their organic search traffic increases over time.
Organic search is, by some estimates. 5.66 times as valuable as paid search.
Those are compelling numbers, but they don't mean that you can afford to focus only on SEO. Here are some PPC statistics to consider:
Businesses earn an average of $3 for every $1.60 they spend on PPC, which translates to an ROI of 187.5%.
46% of the clicks for any search query go to the top 3 paid advertising spots on Google. (Note that this is even though 80% of searchers ignore paid ads!)
PPC ads have been shown to increase brand awareness by up to 80%.
615 million devices use an ad blocker, making it potentially difficult to break through with PPC.
75% of people say it's easier to find the information (or business) they need from a paid ad than it is from organic search alone.
63% of people said they would click on a Google ad if it were relevant to their search.
It's important to note here that when Google changes its algorithms, it does not impact PPC. That's not the case with SEO, which can potentially be impacted any time Google tweaks its formula.
SEO
Search Engine Optimization, or SEO, is the process of making your website both more visible and more valuable to search engines such as Google. SEO involves an array of techniques including:
Keyword targeting
Proper use of Schema markup and coding
Proper use of title tags and alt tags
Local SEO targeting local keywords
Building quality backlinks
Managing online listings & reviews
Creating a consistent and recognizable brand away from your website is a key component of SEO. At Titan Web Agency, we help our clients manage both on-site and off-site SEO to help them grow their practices.
PPC
Pay-per-click (PPC) advertising is a form of advertising where companies bid on keywords. If they have a winning bid, their ad will display on Google when people search for that keyword. Since the ads that display at the top of the page get a significant percentage of clicks, it's easy to see why PPC is popular.
With pay-per-click, you'll pay Google only for the searchers who click on your ad. This means you are less likely to pay for unqualified leads and only for those who have a genuine interest in your dental practice.
Using SEO as a Growth Strategy for Your Dental Practice
SEO is essential for marketing, but a lot of dental practices don't think of it as a bona fide growth strategy. This is a mistake because Titan Web Agency has helped practices use SEO to attract new patients and increase their profits.
SEO works for growth in two key ways.
It helps increase your practice's online visibility and improve your brand recognition. When your website (and thus your practice) is easy to find, the likelihood that anyone searching for a new dentist in your service area will choose your practice increases.
It helps drive more traffic to your website. When you rank high on Google, which you can only do with a robust SEO strategy, your traffic will increase.
The right combination of on-site and off-site SEO, targeting local keywords and patients, can help you grow your dental practice quickly.
The Pros & Cons of SEO
We've said that SEO is a must -- and it is -- but that doesn't mean that it's all sunshine and roses. There are some downsides to relying on SEO alone for growth as well as some significant upsides. Let's start with the pros:
A good SEO strategy will increase overall awareness of your brand and make it easier for people to find you online.
SEO work that you do now can bear fruit for a long time.
Most people who search for services do so locally, and local SEO can increase the likelihood that your practice is the one they see when they search.
With SEO, you have control over your strategy, target audience, and every aspect of your online presence.
There are a few potential downsides to consider too:
Even the best SEO strategy can't increase your rank on Google overnight. It takes time.
Likewise, your ROI for SEO won't happen quickly, so you may need to wait to see any return on your investment in it.
Algorithms change and when they do, you may need to update your SEO accordingly.
There is no guarantee that SEO will deliver the results you want.
We feel that SEO is a good and necessary growth strategy for most practices, but on its own, it may not be enough for you to grow your practice.
Using PPC as a Growth Strategy for Your Dental Practice
PPC can be an effective growth strategy, particularly if your SEO is not yet delivering the results you want. PPC can allow you to bypass higher-ranked sites on Google if you bid on the right keywords.
The benefits are clear. You need visibility if you want to grow your practice. PPC provides a cost-effective way to get it -- and you can access it immediately. PPC can help you get in front of more mobile users -- who are likely to be local -- and help you get a leg up on competitors, even if they are long-established and rank higher than you on Google.
The Pros & Cons of PPC
Just like SEO, PPC has its pros and cons. Let's start with the pros:
If you choose the right keywords, you'll get immediate visibility on Google.
It's easy to control your budget since you'll choose the keywords to bid on and pay only for the clicks you get.
Ads are highly targeted and will only appear to people who are searching for your keywords.
It's easy to track your results and determine whether an ad is helping you to attract new patients.
There are a few cons as well:
There's no guarantee you'll win your bidding war for the keywords you want -- and if you don't, your ads won't appear.
Likewise, there's no longevity with PPC ads. If you stop paying for them, you'll stop seeing results.
You pay for every lead you get.
Many consumers ignore Google ads and pay more attention to organic results.
Running ads on Google is a legitimate growth strategy if you do it properly.
SEO vs PPC - Which is Right for My Dental Practice Marketing?
If you're wondering about SEO vs PPC and which is right for your dental practice, the problem may be thinking of the choice as an either/or situation. Each strategy has clear-cut benefits and some potential downsides, but they are complementary strategies.
Marketing to dental patients in your area requires both short-term action and long-term strategy. That is why, at Titan Web Agency, we recommend using both SEO and PPC for dental practice marketing.
SEO and PPC: Using Them in Tandem for Dental Marketing
The ideal way to grow your dental practice is to use SEO and PPC together. With proper implementation and campaigns, each strategy feeds the other to help you attract new patients and increase your profits. With that in mind, here are 14 ways to use SEO and PPC in tandem.
1. Get on Google's First Page of Search Results
Doing PPC and SEO together provides you with more opportunities to get on the first page of Google's SERP (search engine results page). Why is that important? Well, as mentioned above, 80% of users won't scroll past the first page of search engine results -- so your practice must appear on this first page. This is something I cannot stress enough.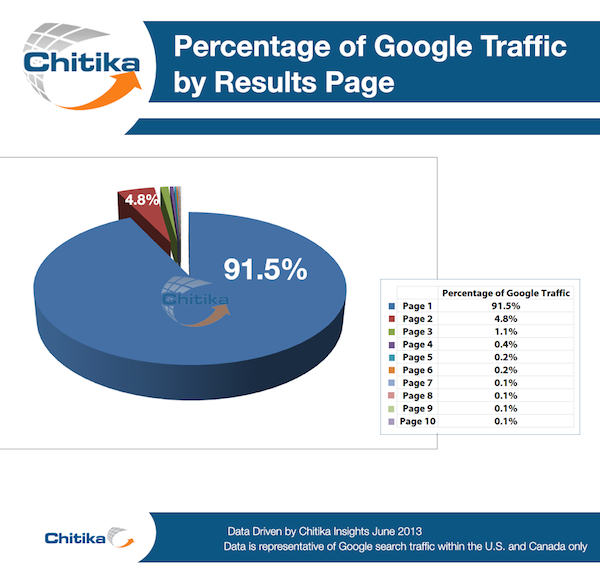 SEO and PPC help dentists get on Google's first page — the only place where 80 percent of people will look to find you. (Image source: Search Engine Watch)
Using PPC in conjunction with SEO allows you to have multiple opportunities to get on Google's first page, making your first-page presence that much more impressive. While it's true that first page PPC ads generally have a lower click-through rate (CTR) than first-page organic search results, many, many people still click on PPC ads. As we noted in our blog post 4 Ways to Increase the ROI of Your Dental PPC Campaign, PPC ads account for almost two-thirds of clicks for searches where someone is looking for a product or service.
2. Take Advantage of PPC Keyword Data for SEO
SEO and PPC can both be extremely useful strategies for dentist marketing, but it's clear PPC has an advantage. Research conducted by MD Connect has demonstrated that for dental practices, PPC drove 79% of visitors and 71% of referrals, while SEO drove 21 and 29% respectively.
The reason?
A while ago, Google removed keyword-level data in its Analytics tool. This was a huge problem for SEO-marketers because they could no longer easily see which keywords were responsible for bringing in traffic or driving conversions.
Luckily, you can use your PPC data to help pick your keywords for organic search.
Here's what you do:
In Google Analytics, click Admin.
Go to the Account column and select the Analytics account you want to link to your Google Ads account.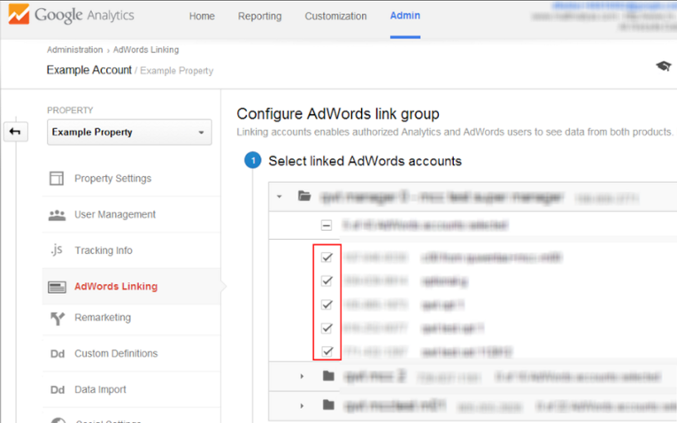 Now you can use the Paid & Organic Dimension report to add your SEO data into Google Ads!
3. Use SEO to Find Long Tail Keywords Your PPC Campaign Ignored
PPC campaigns tend to focus on finding those heavy traffic keywords that suggest the person who entered the keyword is ready to purchase. That's a pretty small set, compared to the wide variety of keywords your website can organically rank for through your web content.
If you figure out which long-tail organic keywords are attracting interest and driving conversions, you can use them as extra ammo for PPC. Expanding your PPC campaign to include keywords not previously thought of gives you an advantage over competitors who aren't using them at all.
The graph below helps to visualize how long-tail keywords work. Thanks to a post on Quora for this answer and graphic.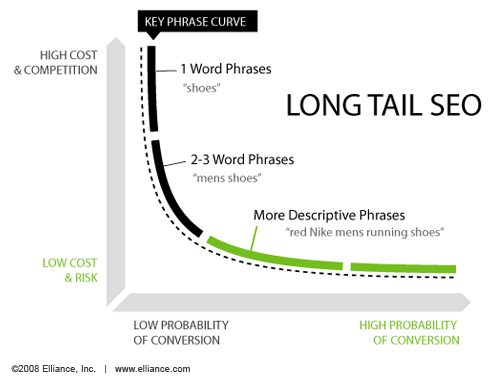 4.Use SEO to Rank for Expensive PPC Keywords
Dentistry is one of those industries where the most relevant keywords are expensive and not always cost-effective to use for PPC. Google's cost per click can reach as high as $50, and 'treatment' is one of the most expensive Google Ads keywords.
If there is a keyword you can't afford to bid on, don't despair. Instead, make that keyword the target of your search engine optimization. You can:
Incorporate the keyword you're targeting in your web content
Write blog posts targeting the keyword in question
Use the keyword in title tags and alt tags
It might take some time, but eventually, you can rank for those keywords and ultimately, be able to afford them for your PPC campaigns.
5. Use Search Query Report to Brainstorm Content
Another great way to get content ideas with the help of PPC is by looking at your search query report.
The search query report in Google Ads allows you to see what kind of treatments people are searching for when they find your ad. This layer of knowledge is invaluable when brainstorming the kind of content that organically brings people to your site.
For example, say your advertising keywords are "San Francisco plastic surgery" and people are finding your ad by searching for "San Francisco liposuction surgery," then it would be valuable to focus on liposuction surgery as a blog topic for your local SEO.

6. Use PPC to Increase Organic CTR by 522%
Google will be the first to tell you that having a PPC campaign will increase your organic SEO, and marketers are backing it up:
Seer did a study of their clients and found that when an ad and organic listing appear in SERPs, organic CTR rose from 6.15% to 38.26%, a 522% increase.
They also saw nearly a 10-fold increase in CTR when organic listings and an ad appeared together in SERPs.

Nielson research also found that when organic and paid ads appear together, those brands received 92% of total clicks (compared to 60% with organic only).
With Google Ads Paid and Organic Dimension Report, you can see how your SEO and SEM efforts work together in SERP.
You can use the data to get a complete idea of your marketing reach. In the report, look at the "Both Shown" or "Combined Stats" metrics. Then you can easily see how certain search terms are faring for ad impressions and organic queries.

If a term has high ad impressions but low organic queries, or vice versa, you can use that information to discover opportunities to improve the keyword's performance in either PPC or SEO.
7. Avoid Cannibalization
Some businesses think of marketing as expensive. This makes them wary of using SEO and PPC together as part of their healthcare marketing strategy because it might reduce their return on investment.
Their reasoning:
Why pay for clicks if I can get them for free with organic rankings?
This is called "PPC cannibalization" by the marketing gurus, and it's a valid point. But there is a solution.
Optimizing paid and organic strategies together with the Paid and Organic Report can help you avoid PPC cannibalization and improve ROI.
For example, if one of your organic listings for a certain query isn't ranking well in SERPs, you might try to improve PPC performance for the same query to make sure it appears at the top of search results as a paid ad. This could help fill gaps lost in organic traffic.
While I mentioned above that there is value in having both paid and organic listings appearing in search together, it might not be the best strategy for ROI. If both channels are ranking high for the same search queries, it could be valuable to reduce your max CPC bid on PPC to reduce PPC cost and encourage more organic conversions.
8. Improve Your PPC Quality Score
Google uses a 'Quality Score' to determine your PPC cost per click (CPC) and ultimately your ad rank, based on the keywords that appear on your landing page.
At the same time, Google has different metrics for how they rank pages in organic search.
This can be problematic if your SEO and PPC teams aren't working together on your digital media campaign. SEOs are charged with optimizing pages for organic search and might ignore ad quality score factors. If the teams collaborate, they can prioritize both the ad quality score and organic search to yield better PPC results.
9. Leverage Site Search
Site Search is an important tool for any SEO team. Knowing what people on your site are searching for can guide the changes you make in SEO and site structure to improve the user experience.
The same data can be incredibly valuable for your PPC campaigns. Site Search tells your PPC strategist exactly the kinds of keywords that describe the information visitors seek. Incorporating them into a PPC ad creates an extra layer of consumer targeting.
You or your PPC team can set up Google Site Search in Google Analytics.
10. Use Top Performing Ads Data to Come up with High-Performance Page Titles
Your SEO team should always be dreaming up messaging that resonates with your target audience. Page titles are a huge part of this, so testing your audience's reactions to different page titles you're considering is extremely valuable.
Here's how PPC can help with that:
Come up with 2 ads with the same copy, except for the two titles you want to test.
Set up Google Ads to show both ads evenly.
Use the Google Ads interface to see which title gets a better CTR.
Rinse and repeat.
Once you figure out which title resonates the most with your audience, you can use it in your SEO title tag as well as in your PPC ads.
11. Use SEO & PPC to Effectively Manage Online Reputation
Online reputation management is essential for every dental practice. Your online reputation impacts how people think of you and whether they think of you at all when they are looking for a dentist.
By using both SEO & PPC in tandem, you can manage and elevate your online reputation. Visibility plays a huge role in reputation, so if your practice isn't currently ranked high on Google, PPC ads can help you get your name in front of prospective patients in your area.
Likewise, SEO -- in the long term -- will help you create a consistent brand online and help your brand become recognized and known. A recent study found that familiarity increased the effectiveness of marketing, in that people exposed to repeated ads from a brand they knew were less likely to experience "brand fatigue" than those who saw repeated ads from an unfamiliar brand.
In short, using both optimization and Google Ads together can help to boost your practice's reputation among people who are deciding which dental practice to choose.
12. Leverage Organic Traffic for Remarketing
Organic traffic is the goal of every SEO campaign. As your SEO delivers results, you can leverage your organic traffic and use it to retarget patients who may be wavering about making an appointment.
Remarketing might target people who:
Visited your website but did not sign up for your list
Clicked the appointment page but did not make an appointment
Whichever group you choose to target, research shows that:
The click-through rate for retargeting ads is 180.6% higher than for regular ads.
Retargeting may increase conversion rates by 150%.
Retargeting costs half as much as regular PPC advertising.
Retargeting ads are the most cost-effective PPC strategy I know.
13. Use SEO & PPC to Monopolize the SERP Coverage
When patients in your area search for a dentist on Google, they'll see two things on the search engine results page:
Paid ads
Organic search results
By using SEO & PPC together, your practice will be able to dominate the SERP coverage. When a patient searches for a dentist in your area, they will see your ad at the top of the SERP. If they ignore that ad -- as many internet users do -- they'll scroll down and see your practice again. The very fact that you are appearing in an ad and organic results will lend legitimacy to your practice and increase the chances that the patient will choose you over your competitors.
14. Stop Competitors from Stealing Your Brand Search Traffic
If you're trying to optimize for branded keywords -- important keywords that are likely to be used by the most highly brand-aware people in your target audience -- then using both search engine optimization and paid advertising can help you prevent your competitors from stealing your brand search traffic.
To take advantage of brand search traffic, your practice must be on the first page of Google. While the goal is to appear both in ads and organic search, using PPC while you work on optimization will ensure that your name is appearing when someone searches a branded keyword.
---
Conclusion
It's clear that SEO and PPC can both work wonders. Hopefully, after reading this post, you have a better understanding of how these search engine strategies work better together for your online marketing.
Now that you've learned how you can leverage PPC & SEO to drive optimal marketing success, what are you going to do differently?
If you have SEO and PPC campaigns running simultaneously, you should make sure they're communicating with each other.
An easy fix is to just make sure all your PPC and SEO work is done under the same roof, ensuring that your teams take advantage of every possibility to improve your medical practice's relevancy in paid and organic search.
Let us help you put your SEO and PPC to work -- together.

About the Author
Tyson Downs is the founder of Titan Web Agency, a company specializing in marketing for dental professionals. With an impressive track record of working with over 100 dental practices, Tyson has a deep understanding of the unique marketing needs within the dental industry. His expertise has helped numerous dental practices flourish by meeting and surpassing their revenue goals and established him as a thought leader in healthcare marketing. His insights and strategies have been featured in esteemed dental publications, including the American Dental Association and the American Academy of Implant Dentistry. Before dedicating his career to helping dental professionals thrive through effective marketing, Tyson honed his skills in SEO and web design as a freelancer, while also gaining valuable experience in the corporate sector. As an alumnus of Brigham Young University, he brings a strong educational background to his entrepreneurial endeavors. Outside of his professional life, Tyson is a devoted father of five, who cherishes time spent with his family, especially when they're all enjoying America's pastime on the baseball field.