The Advantages of PPC Management for your Business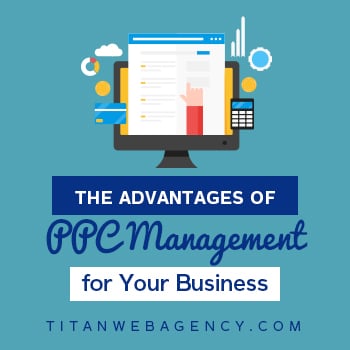 Advertising is a must for nearly every company.
Today we will discuss one of the most effective methods of advertising: Google Ads.
Google Ads are a great advertising investment if you want to grow your business considering Google's dominance in search. With proper use, Google Ads can help your business get onto the front page of a Google search immediately.
The issue for business owners is finding the time (and developing the skill) to optimize their Google Ads. For that reason, we suggest hiring a local PPC management company to help you.
At Titan Web Agency, we take the guesswork out of Google Ads management. Use this article for some tips that will help you in your Google Ads management.
One tip when hiring a local Pay Per Click Management company- you want to make sure they are Google Ads Certified. Just look for the 'clickable' Google Partner badge on their site. You can see ours in the footer of our website, but here's what it looks like:
Using Google Ads Successfully
One of the biggest mistakes we see business owners make with Google Ads is looking at PPC services as a "set it and forget it" advertising option. That's not the case. In fact, there are things you must do to get the most out of your Google Ads.
As a PPC management company, we know the ins and outs of Google Ads. Here are some tips to help you get started off right with Google Ads:
Research your keywords first. We suggest focusing your keyword research on local search and long-tail keywords. Voice search is increasingly popular, and you'll get the best results by working with a local PPC management company that is familiar with your area. For example, most of our PPC management Utah clients are nearby.
Properly set up your ads. This means choosing the right image, text, and call to action to entice people to click on your Google Ad when they see it.
Monitor your PPC ads to see how they perform. Google Analytics will help you to track your results and find out which ads are performing well and which are not.
Test new components of your PPC ads to improve your click-through rate and get more leads.
Adjust your bids as needed.
We realize that sounds like a lot of work – and it is! But it is all for the benefit of your business. Google Ads can be highly effective when you take the time to monitor and test your results. This way, you will get a good return on your investment. Titan Web Agency's PPC services can help you with Google Ads management and leave you free to do other things.
When You Should Hire a PPC Manager
How do you know when it's time to hire a PPC manager? Here are some signs:
You're running Google Ads without testing and refining them. Even if you're getting decent results from your PPC ads, you may be wasting money if you don't have the time or expertise to test your ads and refine them.
You're in a competitive industry or area. Every business has competitors, but if you're in a very competitive space, then you'll need to spend a lot more time testing and adapting your PPC ads to get the best results.
The thought of dealing with Google Ads is overwhelming. Even for a small company with a limited budget for PPC ads, the prospect of managing your own ad strategy may feel daunting. Particularly if it takes away from your time to manage other aspects of your business.
You don't have the money for thorough testing. You might think that not hiring a PPC management company could save you money, but the opposite may be true.
We know how overwhelming it can be to research, conceptualize, create, and test Google Ads. For business owners, there's a steep learning curve that can cost far more in time and energy than they can afford. For that reason, we see hiring a PPC manager as a cost-effective way to grow your business & attract new patients..
What a PPC Management Company Can Do for You
Hiring a local PPC management company can help your business in a variety of ways. Here's how your business can benefit from partnering with a company that provides PPC services:
You'll save hours of valuable time doing keyword research. Since Google Ads rely on keywords to target potential customers, it's essential to employ the best keywords for your business. A PPC management company will do the keyword research on your behalf, putting their expertise to work for you.
You'll stay abreast of current trends in PPC advertising. Like everything else in the world of digital advertising, trends come and go in PPC advertising. Hiring a PPC manager ensures that you'll always have access to the most up-to-date trends and changes. All without needing to spend your valuable time researching them.
You'll save money. It might seem counterintuitive to say that outsourcing a task you could do yourself can save you money… but it's true. There's a steep learning curve to PPC management. Your time is valuable and paying a local PPC management expert will help you save both your time and money.
Your Google Ads will be a priority. We know that as a business owner, you wear multiple hats every day. When you get busy, there's a good chance that your PPC campaigns will take a backseat to other aspects of running your company. Hiring a Utah PPC management firm will keep the focus on your Google Ads even when you're busy.
You'll have properly targeted campaigns. There are many campaign settings to consider with Google Ads, including keywords, audience, and more. These elements can involve a lot of guesswork for business owners. However, an experienced PPC manager will know exactly how to target your ads to get your business the highest possible ROI.
You'll get ongoing PPC ad management. As we mentioned above, managing PPC ads requires constant monitoring, testing, and adjusting. These aspects are time consuming, but a Google Ads management service will take care of them for you.
Conclusion
Google Ads management is a complicated topic and one that's constantly changing and evolving. With that being said, the bottom line is that hiring a PPC management company to help you manage your Google Ads is a smart decision that can save you money and help you achieve your business growth goals.
Need an expert to assist you with PPC management? Titan Web Agency can help, contact us today.

About the Author
Tyson Downs, the owner of Titan Web Agency, has years of experience working with small businesses and helping them meet their revenue goals. Prior to starting Titan Web Agency, he freelanced in SEO and Web Design while working in the corporate world. Tyson is a graduate of Brigham Young University, the father of 5, and enjoys spending time with his family. Particularly on the baseball field.