Creating Your Dental Logo? 13 Tips to The Best Logo Possible
Updated May 18, 2020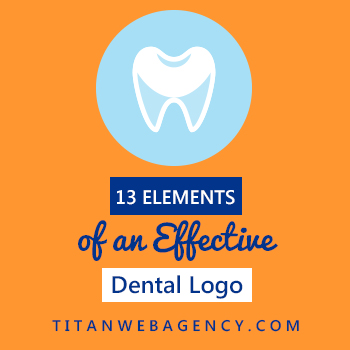 Creating the best dental logo is far from an exact art. There are many different ways to create an impactful logo that's memorable and stands out from the crowd.
In the dental industry, having an awesome logo is essential.
Your logo can be one of the most important tools you will use to attract new patients.
Most dentists will be creating a dental logo because they are buying or starting a dental practice.
Others will be creating a logo because they are rebranding their dental office.
In this blog post, we'll discuss 14 qualities of the best dental logo's. Not only that, but at the end of the post, we'll provide you with 7 different logo examples, as well as editable dental logo templates-meaning that you can download these templates and edit the logo to have your practice name, or alter the colors or the design slightly. Completely free.
1. Effective Dental Logo Design is Strategic
First off, it goes without saying that a professional dental logo is better from creating name and dental practice brand recognition, than simply throwing something together.
Your dental logo should speak to your target audience, which means you need to take the time to identify them before you design your logo.
The best dental logos are able to integrate brand identity using professional graphic design, brought about by discussions with your office, market research, and a clear understanding of the image your practice is trying to or has built.
So how do you identify your target audience? By creating buyer personas as discussed in this recent blog post on how you can effectively market dental implants to the people who are looking for them.
Buyer personas are detailed profiles of the kind of people you want to attract to your dental office. You should be able to answer questions like:
Why does this audience want to go to the dentist (healthy mouth, beautiful smile, oral pain, tooth replacement, etc.)?
What's keeping them from going to the dentist (price, lack of knowledge, inconvenience)?
How can I appeal to this audience's interests?
Once you have detailed buyer personas, you can use them to brainstorm your logo design. How can you integrate their interests, expectations, or even pain point solutions into your logo? Use this information to develop a tagline that really resonates with them.
2. A Good Logo Should Be Accompanied By A Good Name
Previously, I wrote about how you can choose the best name for your dental practice. That advice comes full circle when creating a logo for your dental practice, considering that your name will be a part of it.
Your dental practice name should be meaningful to your target audience, positive, and legally available to you, among other elements. If you haven't honed in on a name for your practice yet, follow the advice I offer on naming your business in this post:
Your practice name and logo are often two pieces of the same puzzle, so they need to work together. Take a look at this logo we designed for Sound Smiles Dental as a dental clinic logo sample. This dental practice is located in Puget Sound, Washington, and named their practice to reflect this.
Then, we were able to integrate the message into the logo design by using sea waves: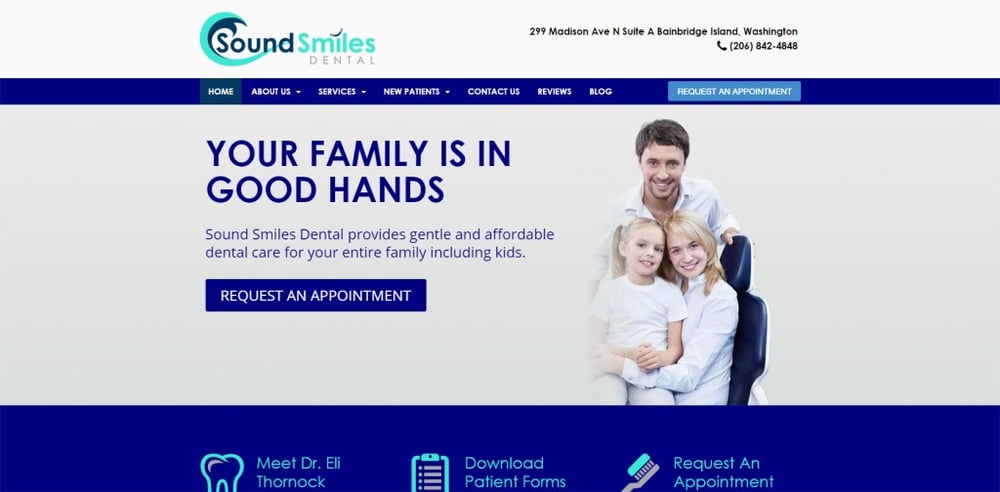 3. It's Simple
A simple logo design is almost always the most effective in speaking to and invoking emotions with your potential patients. A clean and simple design can also have the most impact. The most famous example of a simple logo design is the Nike logo. There's no text, just a symbol that evokes speed and precision, which the Nike brand is all about.
Your dental practice isn't one of the most memorable brands in the world like Nike, so you may not want to go quite that simple. But you can still use the concept to make sure you don't try to pack too many elements of logo design into it.
It's important to remember that your logo will be used in a variety of ways. Have too many elements, and the fine details will get lost.
From an outdoor sign to a dental office brochure, you will use your logo in more ways than you anticipate.
If you've already come up with a rather busy logo concept, try paring it down to the essentials. Eliminate elements of logo design that aren't essential to your core idea. You might find that's enough to convey your brand message.
This NEXTdentistry logo is a great example of a simple logo design: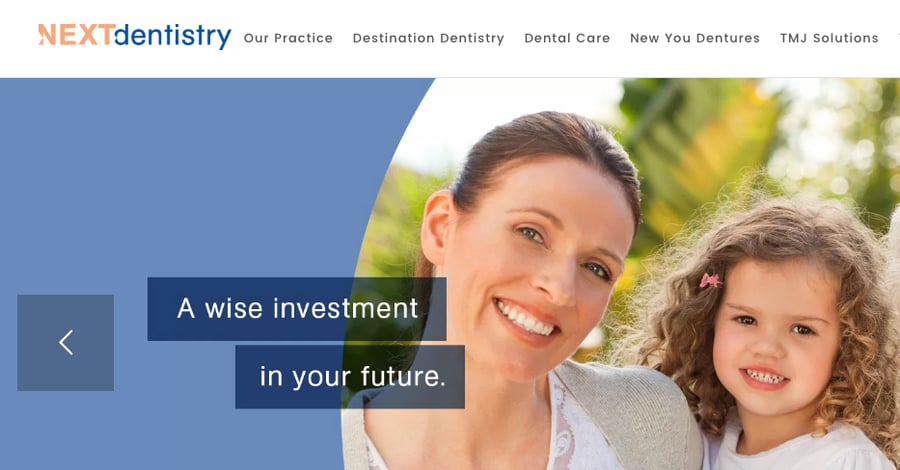 4. It's Memorable
If you want your dental office logo to be effective, people should be able to remember it after a glance. In most cases, that's all the attention your logo will receive from people.
One way to do this, is to use unique artistic elements or styles that are symbolic to your name or specialty. A stylized tooth is the most common example, but try to branch out. If you offer emergency dental services, a red emergency cross may be appropriate. If your unique selling proposition is no-wait dentistry, then you could include a clock.
Test out your logo design with friends and family to see how memorable it really is. Ask people who've never seen it before to glance at it. Can they describe the basic elements afterwards?
Another strategy you could use is putting your logo on a piece of paper with several other logos. Show the paper to someone for at least 15 seconds. After, take the paper away and ask them to recall as much as they can about the logos. Were elements of your logo part of what they described?
Some dental clinic logos are overly complex, making it difficult for viewers to fully grasp the concept of it. Instead of putting more effort into looking at it, many will just dismiss your logo, which you don't want. Yes, you want your logo to stand out from the competition, but that doesn't mean that is has to be complex. Clean and simple is often the best way to approach dental logo designs.

5. It's Integrated
All your logo elements must be relevant to your target audience. But do all these pieces work well together?
An integrated logo will have all the different elements of logo design working together to convey a message. The most common disconnect you see in a logo is between the typeface and graphic. If the graphic is clean and linear, then a curvy, complex typeface would clash.
An integrated logo will also complement whatever materials it appears on, whether it be your website, newsletters, or other media. A good dental clinic logo sample is Murdock & Searle Family Dentistry: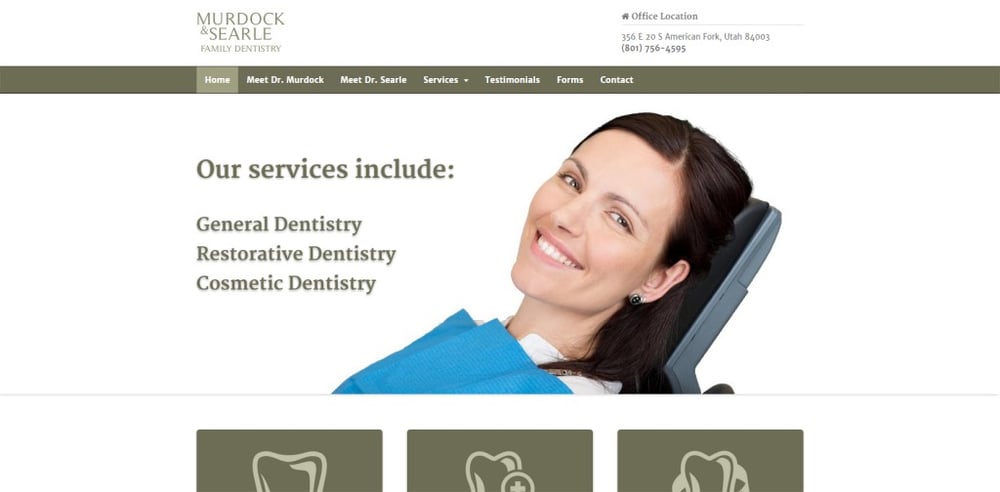 The logo is simple, but integrates well with the color scheme and feel of the overall site.
6. It's Versatile
Your logo may look great on your newsletter, but what about other mediums it might appear? If you work with a professional logo designer, they will likely design it as a vector graphic, so you can use it in any size or format.
To test out the versatility of your logo, print it and view it in:
multi-color
one color
reverse color
black and white
Imagine how it would look on t-shirts, hats, pens, keychains, and other materials. Imagine it was the size of a billboard or a postage stamp. Would it still convey your message?
Color is often the biggest determining factor of versatility. You might start the design process in black and white so you can focus on shape and concept. Then add and change colors later on.
Colors will also affect the cost to print and use your logo. In general, more color means it's more expensive to print. When printing your logo for commercial purposes, using CMYK, RGB, or Pantone systems will all affect cost. So familiarize yourself with the printing process before you settle on a color decision.
7. It's Appropriate
This dental logo design element goes back to speaking to your target audience again. Make sure your design is appropriate for the kind of people you want to attract to your practice.
For example, using a child-like font would make sense if you specialize in child dentistry. If you specialize in dentures or implants, your font or design should speak to an older audience.
Kuhio Pediatric Dental's logo is a great example of an "appropriate" logo. It uses two playful fish for the logo design to reflect the practice's location (Kauai), and their target audience (children).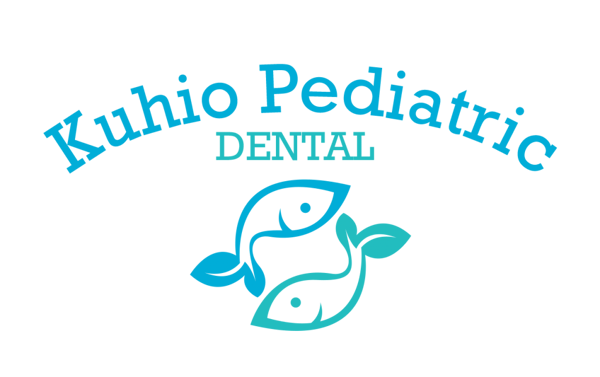 8. It's Timeless
One mistake many businesses make with their logo design is following the latest trends in color or design. This will definitely make your logo look fresh for a while. But here's a lesson from the fashion industry:
After fresh comes trendy, and after trendy comes common. After common, all you have left is tacky.
Unless you have plans to do a logo redesign every few years, leave trends to the fashion industry. Instead try to create something timeless.
Don't get me wrong, your logo should definitely have a modern feel. But being contemporary doesn't necessarily mean including trendy components.
Turn to popular logos that have changed very little over the years for inspiration. Some popular examples include UPS, the London Underground signs, and Starbucks.
9. It's Unique
Just like any industry, dentistry logos often have common elements of logo design. Even if your logo checks off every other point on this elements list, if it's not unique, it won't serve your business purposes.
Before designing your logo, take a look at the logo designs of other dental practices in your town. You'll want to stand out from them.
What are the best colors for a dental logo? Well, far be it from me to say what is 'best' for you, but consider the fact that blue is a calming color, which is why many healthcare and dental practices use it on their logos. But if too many other dental practices in your area had the same idea, then your logo won't stand out.
Using a tooth for a dental logo is one of the biggest cliches in the logo design industry (not dentistry alone), at the same time, it is what most dentists choose to go with.
Remember, your logo needs to remain trustworthy. Don't design something so outlandish that it scares potential patients away.
Chad J. Barney DMD's logo is one we designed that really didn't follow what you'd traditionally expect from a dental logo. But it was still impactful, stood out from others, and served its purpose: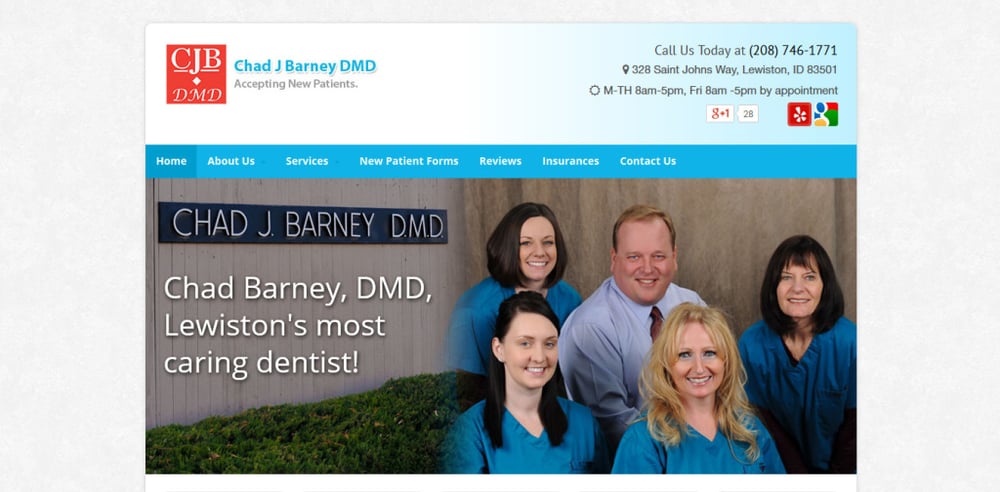 10. It's Proportional
Most people might not know much about symmetry, but subconsciously, it does affect how they take in a logo. A promotional logo uses symmetry to create a balanced and ultimately pleasing aesthetic.
A good example of symmetry in action is the famous Apple logo. It nearly follows the Fibonacci sequence and golden ratio: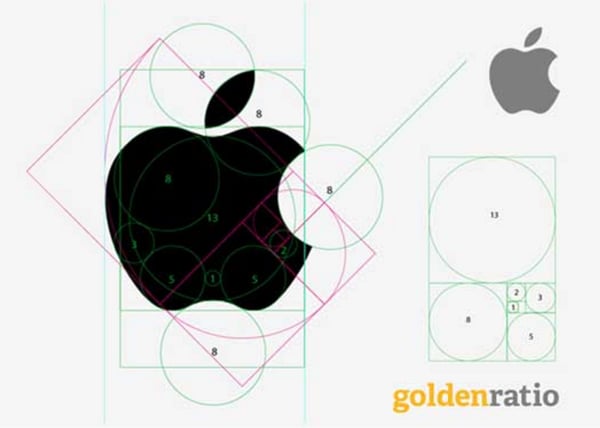 That said, you don't necessarily have to follow a mathematical principle with your logo design. Apple didn't, it just worked out by chance.
But it is advisable to always start out with some kind of design grid. Bing did that in their logo redesign to make sure they used the same angles to be consistent with Microsoft's other product logos:

11. It's Legible
A logo design can look great from a file on your computer screen, but it needs to be legible in every context it's seen, including on your building, newsletter, advertisements, etc. Apply the 3 second rule. People should be able to know in 3 seconds the name of your practice and what sets you apart from your competitors. Imagine how your logo will look on your building to people driving by on the street. Will they be able to read the letters and recognize the art?
You may want to play around with placing the type on the art vs. below. If the design is still recognizable with the business name overlaying, that may be your best option for legibility.
12. It's Consistent
If you want your logo to really speak to your brand and be memorable, then consistency is key. Make sure your logo looks consistently the same when it appears online, on billboards, company vehicles, uniforms, and other mediums.
If you find yourself making changes to your logo design to work on different mediums, make those changes for all mediums. Don't resize the font, move things around, or tweak the colors. Keep the visual presentation consistent.
You always have the option to add elements to your logo's message when using it on different mediums, as long as they match the logo color and theme. Take a look at this Kennewick Dental clinic logo sample: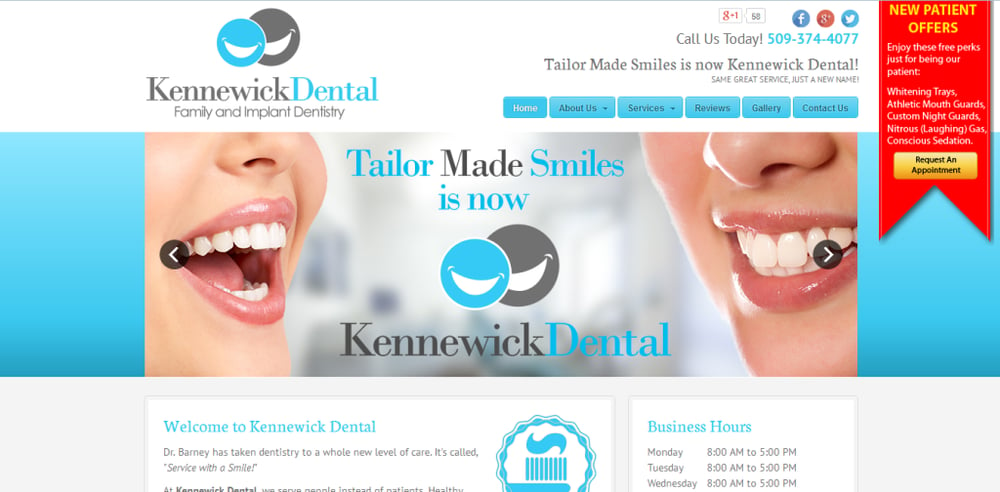 It appears on their homepage in two different places, and the logo is consistently the same. We just added a tagline "Tailor Made Smiles is now" to educate the site visitors of the new practice name.
13. It's Relevant
I've seen so many flashy, impressive logo designs out there that catch attention and definitely are memorable. But they all share the same problem:
They have nothing specific to do with the marketplace they service.
A relevant logo will be relevant to your industry and the vision of your brand. If you're working with a creative team to design a logo for you, this is your job to communicate. Make sure the designer has in-depth background knowledge of your company, mission, and target audience to design the right type of logo.
The more detailed your creative brief, the better. Most designers will be happy to use this information to serve the most relevant logo design possible.
***BONUS*** Dental Logo Samples & Templates
Having the right logo for your dental practice can help put a unique look to your business. A creative logo can go a long ways to leaving a memorable impression on potential customers.
Take a look at some of these sample dental logos that we created specifically for you.
You can download these logos by entering in your information on the slidein that appeared on the right hand side of the screen. Enter in your info and we will send you the templates. These templates all you to edit them yourself. We even include the source files, which will allow them to be edited (change colors, make adjustments to the logo, etc).
Dental Clinic Logo Samples (Digital)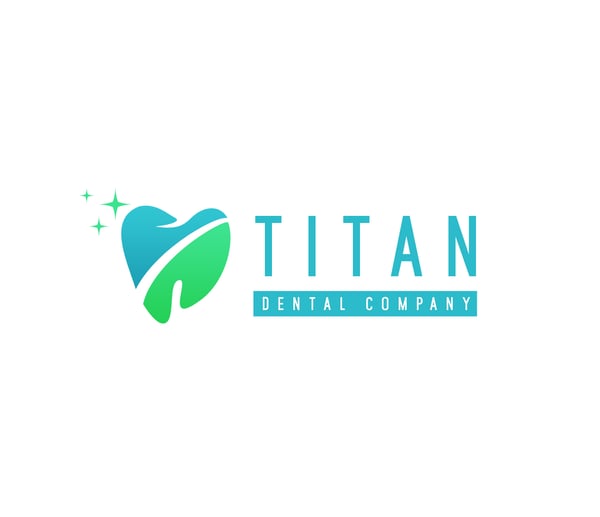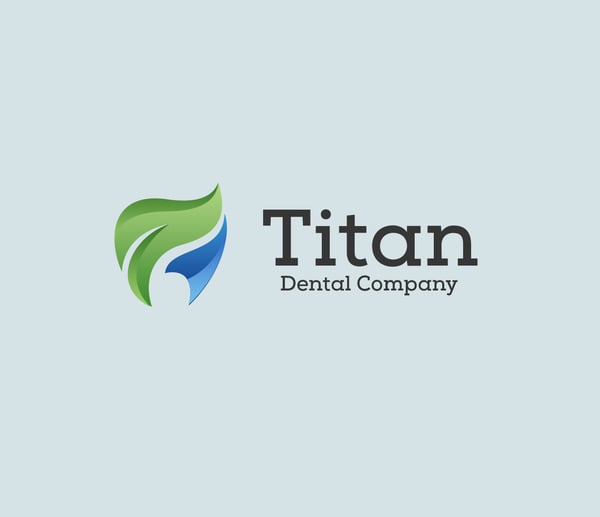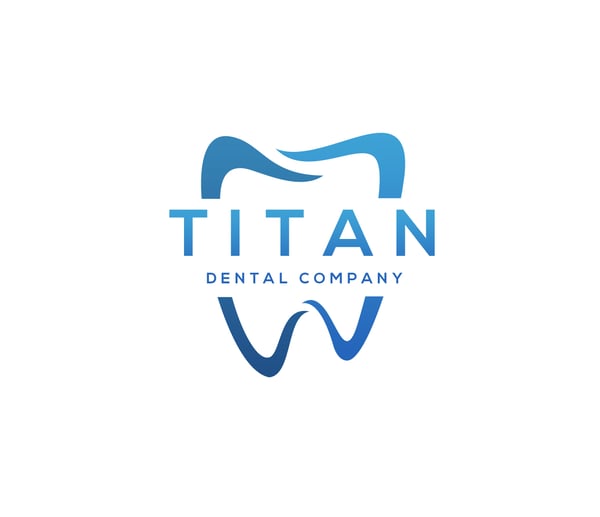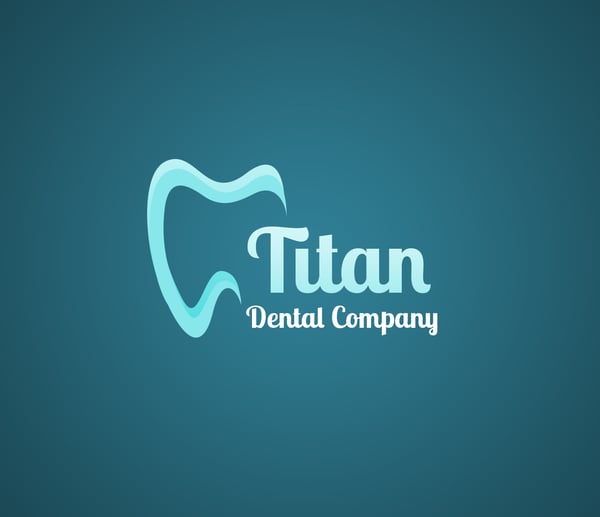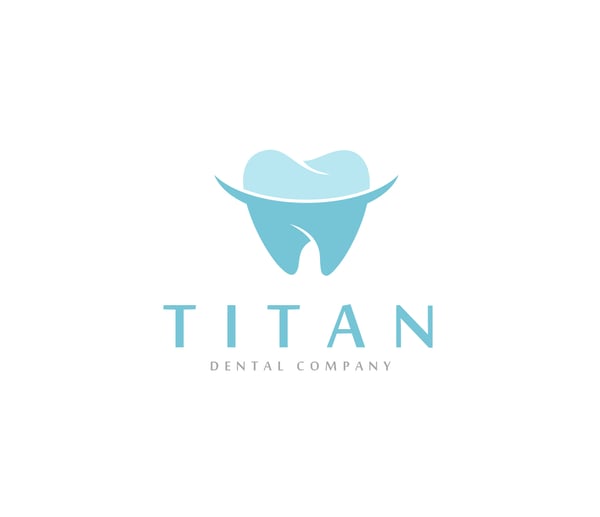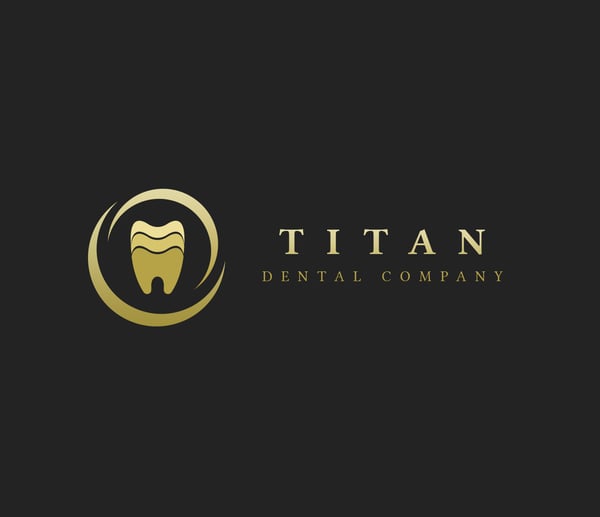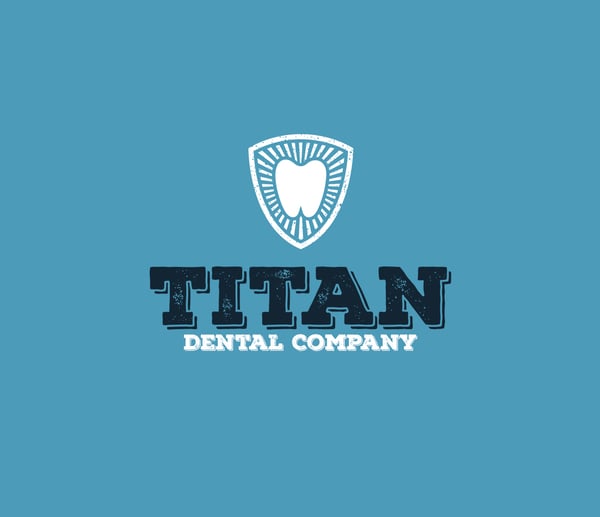 Dental Office Logo Samples (Business Cards & Print)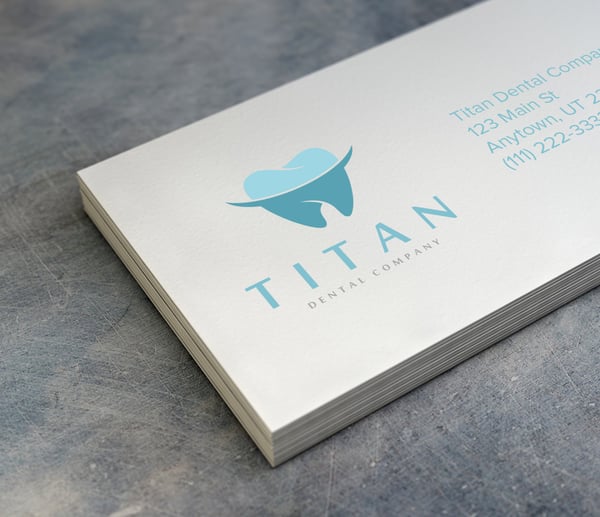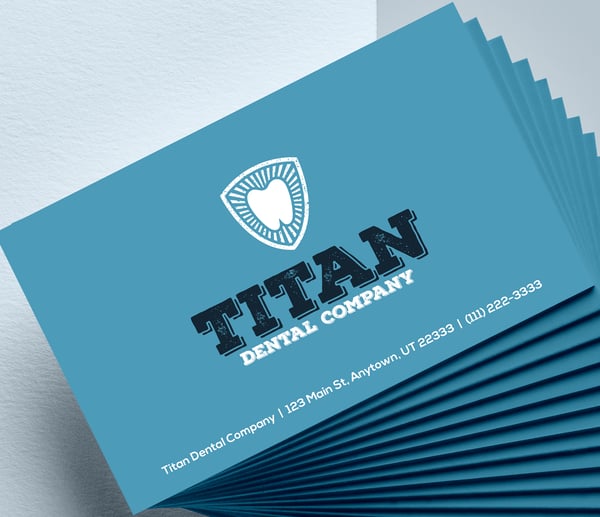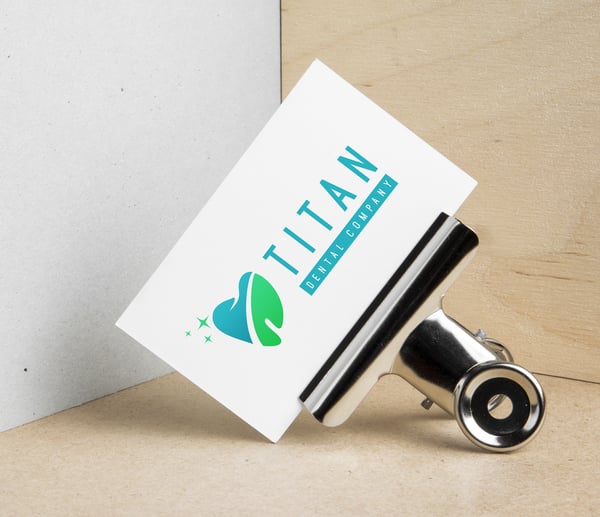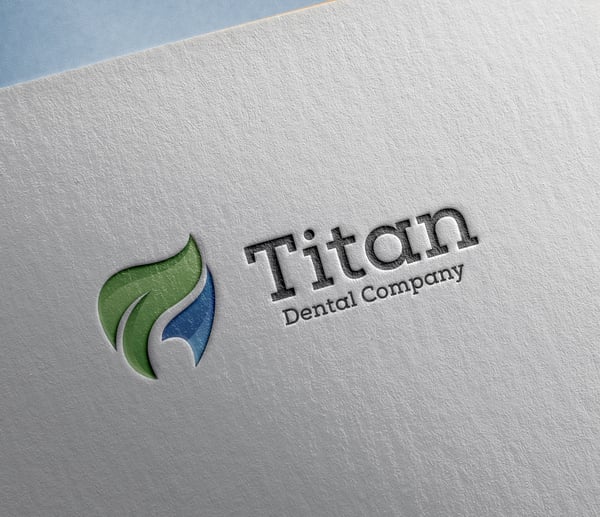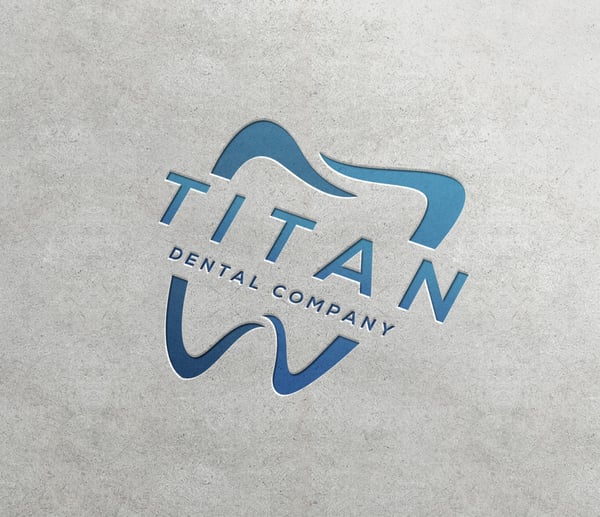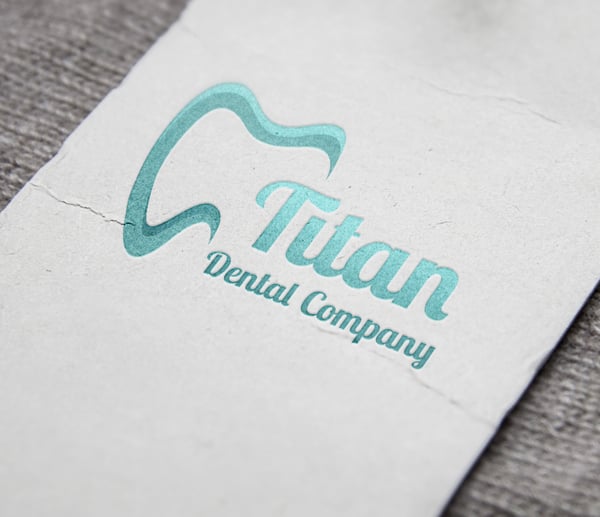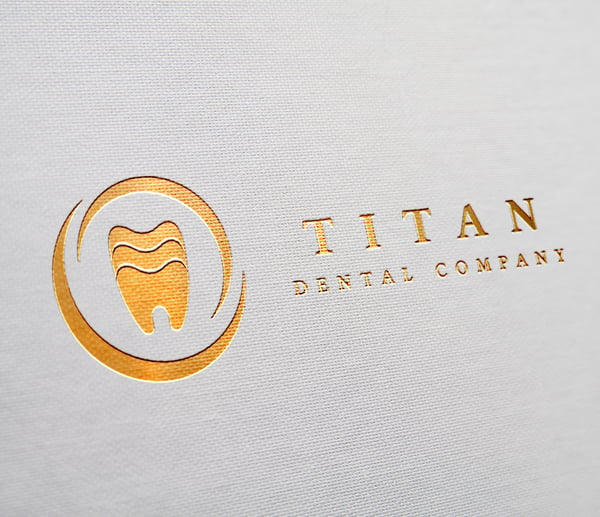 Conclusion
So, should you create your own logo, or hire professional logo designers? That's your call, but consider the fact that you'll likely have 1, maybe 2 logo's over your time. Investing in a professional who is proficient in graphic design, and is able to portray your brand identity in your logo will likely be better in the long run than using logo templates and a DIY program.
Remember, your logo isn't for you! It's great if you like it, but we always recommend settling on a few different dental practice logo's and then using friends, family, social networking, or user testing so you can get a feel for what others think is the best dental logo.
Need advice or help with effective logo design for your dental practice? Contact us today, perhaps we'll be able to bring your dental practice logo ideas to life.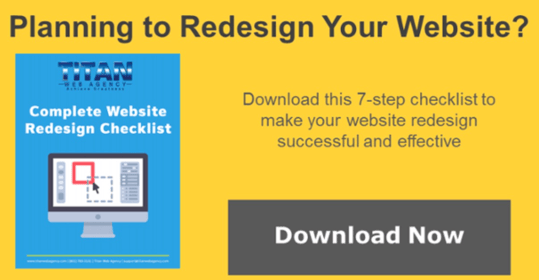 About the Author
Tyson Downs is the founder of Titan Web Agency, a company specializing in marketing for dental professionals. With an impressive track record of working with over 100 dental practices, Tyson has a deep understanding of the unique marketing needs within the dental industry. His expertise has helped numerous dental practices flourish by meeting and surpassing their revenue goals and established him as a thought leader in healthcare marketing. His insights and strategies have been featured in esteemed dental publications, including the American Dental Association and the American Academy of Implant Dentistry. Before dedicating his career to helping dental professionals thrive through effective marketing, Tyson honed his skills in SEO and web design as a freelancer, while also gaining valuable experience in the corporate sector. As an alumnus of Brigham Young University, he brings a strong educational background to his entrepreneurial endeavors. Outside of his professional life, Tyson is a devoted father of five, who cherishes time spent with his family, especially when they're all enjoying America's pastime on the baseball field.