7 Dental Reactivation Strategies to Supercharge Practice Growth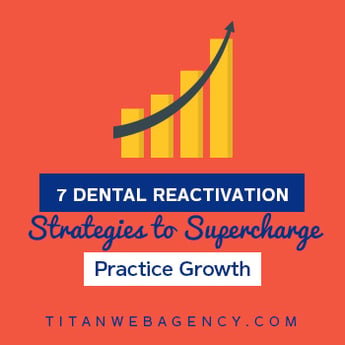 ​​In any dental practice, it's necessary to balance the retention of current patients with the acquisition of new ones. When a patient hasn't seen you in a while, it may be necessary to make a concerted effort to get them back into your office for an exam and cleaning--something that can also spur practice growth and increase your profits.
The trick, of course, is knowing what to do to reactivate those inactive and overdue patients and get them to make an appointment. The good news is that it's not difficult to do--and we're here to help. Here are 7 dental reactivation strategies that you can use starting today.
Active vs Inactive Patients
Before we reveal the strategies you can use to reactivate dormant patients, let's talk about when and how a patient becomes inactive.The American Dental Association defined an active dental patient as an individual who has received a dental care service from your practice in the past 12 months, or as a patient of record who has had a dental care service in the past 24 months but not in the past 12 months.
For any active patient, you must maintain records in a "convenient but secure" part of your office or an electronic equivalent.
ADA policy defines an inactive dental patient as an individual who is a patient of record but has not received services from the dentist in the past 24 months. Inactive patient records must also be kept onsite or in an electronic equivalent, but you may choose to store them in a less accessible area such as a storeroom.
We should note that in most cases, you are legally required to maintain oral health records for minor patients until seven years after the child reaches majority, which is when they turn 28 years old. For further clarification, check your state laws.

You have some leeway in how you change a patient from active to inactive status, but you should check your state and local regulations to ensure that you comply.
What is Dental Patient Reactivation?
Dental patient reactivation occurs when somebody in your inactive patient database makes a dental hygiene appointment or comes to your office for treatment.
It can also be a process where you take measures to encourage patients to reactivate themselves by reaching out to them. Reactivation campaigns focus on connecting with dormant patients and reminding them about your practice and the importance of good oral hygiene.
A patient reactivation campaign doesn't need to take much of your time, nor will you need to spend a lot of money to launch one. The financial benefits are significant, so it makes sense to do your best to reengage patients who haven't seen you in a while.
Common Reasons Why Patients Become Inactive
Here are some of the most common reasons patients may become inactive and end up on your dormant patient list.
They miss an appointment and never reschedule. Many patients who don't reschedule at the time of a cancellation or missed appointment don't make a new appointment.
They lost their insurance, or their insurance changed. A new or lost job can come with a change in insurance. Patients may worry that you won't accept their new insurance or fear they can't afford to pay for dental services without coverage.
They found a new dentist. It's sometimes the case that a patient finds a new dentist. It could be because they moved, they were dissatisfied with your services, or they switched insurance and needed to find an approved provider for their new insurer.
There may be other reasons but these three are the most common.
Priority Targets in Your Dental Reactivation Campaign
Launching a reactivation campaign can help you expand your active patient base and increase your profits. For your campaign to be successful, you should prioritize those patients who have the fewest obstacles to making a return appointment.
According to CareQuest.org, there are 76.5 million Americans who do not have dental insurance. These patients may not be able to afford expensive treatments and may avoid the dentist as a result.
For that reason, we suggest beginning with those patients who don't have significant outstanding treatment needs, specifically those with treatment plans under $5,000. These are the people who will most likely respond to your reactivation efforts.
None of this means you can't try to reactivate patients with more extensive and costly treatment plans. It just means that they may require more personalized outreach, including explanations of potential payment plans and financing options, to reactivate.
Your best bet is to prioritize patients who may decide to make an appointment if they get a friendly reminder from you.
How to Reactivate Inactive Dental Patients
Here are 7 steps to follow to get in touch with patients and convince them to make a dental appointment with you.
1. Develop a List of Patients Overdue for Appointments
The first step is to go through your records and make a list of all patients who are overdue for an appointment. If a patient has been moved from active to inactive status or is approaching inactivity after not being seen in your office, then their name should go on the list.
To make things easier for your staff, the list should include the patient's name, contact information (including a phone number and email address), and the date of their last appointment. You should also note if the patient has opted in to receive text messages.
2. Start with a Phone Call
The easiest way to connect with a patient is by making a quick phone call. Since everybody has a cell phone these days, it's easier to get in touch now than it would have been even 10 years ago.
If an inactive patient sees your caller ID, they may pick up out of curiosity. At that point, your staff can remind them that they haven't been to see you in a while, emphasize the importance of good dental hygiene, and encourage them to make an appointment during the call.
3. Send Emails to Those Not Reached by Phone
After you've called everybody on your list, you should be able to cross some people off, either because they've made an appointment, informed you that they have a new dentist, or have moved out of your service area.
For any remaining names, the next step is to send a friendly email. The text of the email should include an acknowledgement that you tried to reach them by phone and a reminder of the date of their last appointment. You should also include a link to your patient portal to make it simple for the recipient to schedule an appointment with you.
4. Recapture with Direct Mailers
Some patients may not be reachable by phone or email and need something concrete to encourage them to make an appointment.
For these patients, sending a direct mailer to their homes may be the best solution. There's an additional advantage to this step. If an inactive patient has moved, the mailer will go to the new resident at their address and may help you attract a new patient.
5. Send a Text Message
While phone calls and emails can be effective, another option for patients who have opted in to receive text messages is to use that method to contact them. Text messages have an open rate as high as 98% which makes them an effective way to contact patients whose records have languished in your filing cabinets.
Text messaging may be the single most effective way to contact younger adult patients, who may prefer texts to phone calls.
6. Reactivate Patients with Time-Sensitive Promotions
Some patients may need an incentive to schedule an appointment. That's where promotions come in.
Good dental health is undeniably important but adding a little grease to the wheels of your reactivation campaign can increase your reactivation rates. One of the most effective strategies we know is to offer a discounted price on one of the dental treatments you provide. We'll talk more about some incentive ideas later.
7. Involve Your Staff
You won't have time to manage your reactivation campaign yourself, which means it's necessary to get your office staff involved. Everybody in your practice can help make phone calls, send emails and texts, and field incoming calls and appointment requests.
One way to get your staff excited about increasing patient volume is to incentivize everybody from your office managers to your front desk staff to get involved. By offering a reward for patients that they reactivate, you'll get more reactivation's than you would otherwise.
Remember, training your staff on the phones, can be one of the best things you ever invest in. Staff that is properly trained on the phones will book more new patients, and retain more existing patients.
Best Incentives to Offer for Patient Reactivation
We mentioned the idea of incentivizing patients to return to your practice. Incentives can take the form of free services or products, discounts, or attractive amenities that will improve the patient experience at your practice.
Here are four ideas for incentives to offer. Each has the potential to make your reactivation program a success.
In-Office Whitening
For many dental practices, the most popular cosmetic treatment is teeth whitening. Insurance usually won't cover it, so you can incentivize your dormant patients to return by offering them a free or discounted whitening procedure.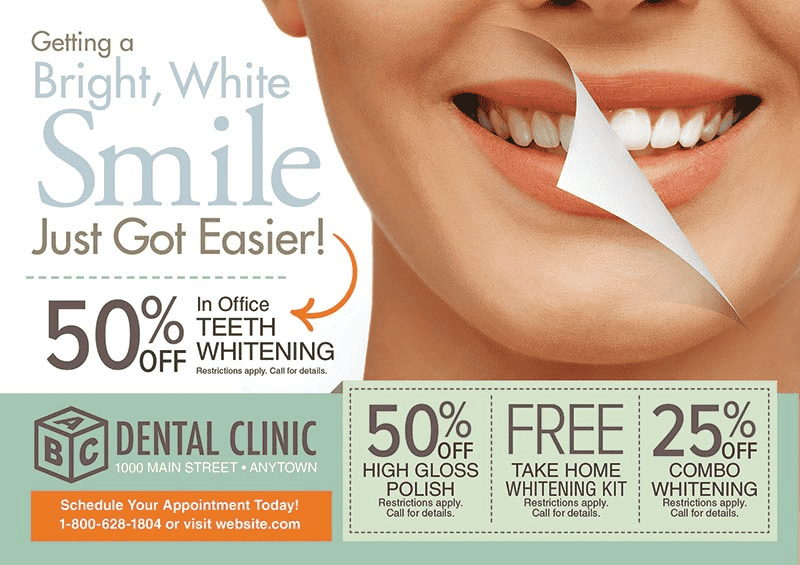 Make sure to state the terms of your offer, including the expiration date and any other requirements. For example, you might require the patient to come in for an exam and cleaning to claim their free whitening procedure.
Dental Product
Another option to consider is offering a free goodie bag of dental products. Most people love a freebie which is why they are a cornerstone of customer service. The products you give away don't need to be expensive to incentivize patients to make an appointment to claim them.
Some examples of free products to give away include toothbrushes, toothpaste, mouthwash, dental floss, and other products related to good oral health. It may be helpful to give an estimated retail value to ensure that the patients who receive the offer know how much it's worth.
Discounted Welcome Back Offer
If you don't want to offer free products or free treatment, you should consider offering a discounted welcome back offer. This strategy may be particularly effective for patients who have no dental insurance or limited coverage because it allows them to save money while taking care of their teeth and gums.
For example, you might offer a 20% discount on dental cleaning for any patient who makes an appointment within one month of the offer. Whether you send the offer in an email, text, or a printed mailer, make sure to include a firm expiration date. You want people to understand the terms to minimize confusion.
Dental Membership Plan & Financing Options
Our final suggestion may appeal to patients across a wide spectrum of income levels. Creating a dental membership plan allows patients to pay each month to cover a year's worth of services that you specify. It may encourage patients with expensive uncompleted treatments to make an appointment.
Dental practices that offer membership plans typically charge a monthly fee. The plans may be tiered with different price levels. At each tier, you will need to specify what the membership plan covers.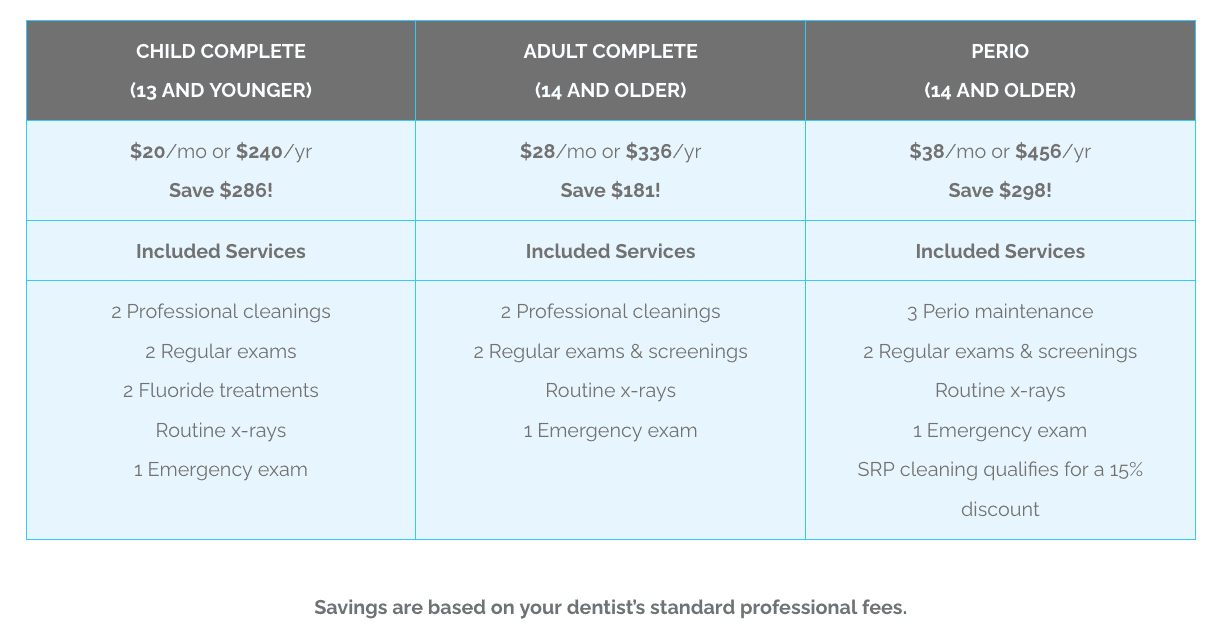 Credit: Kennewick Dental
For example, a basic plan might include two dental exams, two hygiene appointments, and any required X-rays. Some dentists might offer a tooth whitening procedure as well. Including a theoretical emergency treatment can add to the perceived value of your plan without costing you much, since patients who visit the dentist regularly are less likely to have a dental emergency than those who don't.
Dental imaging software is a crucial tool for any modern dental practice. It allows you to capture high-quality images of your patients' teeth and gums, making it easier to diagnose and treat a variety of dental conditions. In this review, we compare the top nine dental imaging software options on the market, so you can choose the best one for your practice.
Be sure to check with your state's Department of Insurance about regulations regarding dental plans before you set one up. You may also want to offer financing options for patients with expensive dental treatment plans.
Reactivating Patients is Less Costly Than Acquiring New Patients
While creating a dental patient reactivation strategy might seem like a lot of work, it is less expensive than acquiring new patients and can help you increase your profits without spending a lot of money.
Do you need help with your dental patient reactivation strategy? Click the button below to schedule a free consultation.
About the Author
Tyson Downs is the founder of Titan Web Agency, a company specializing in marketing for dental professionals. With an impressive track record of working with over 100 dental practices, Tyson has a deep understanding of the unique marketing needs within the dental industry. His expertise has helped numerous dental practices flourish by meeting and surpassing their revenue goals and established him as a thought leader in healthcare marketing. His insights and strategies have been featured in esteemed dental publications, including the American Dental Association and the American Academy of Implant Dentistry. Before dedicating his career to helping dental professionals thrive through effective marketing, Tyson honed his skills in SEO and web design as a freelancer, while also gaining valuable experience in the corporate sector. As an alumnus of Brigham Young University, he brings a strong educational background to his entrepreneurial endeavors. Outside of his professional life, Tyson is a devoted father of five, who cherishes time spent with his family, especially when they're all enjoying America's pastime on the baseball field.