11 Proven Ways to Market Your Dental Practice in a Small Town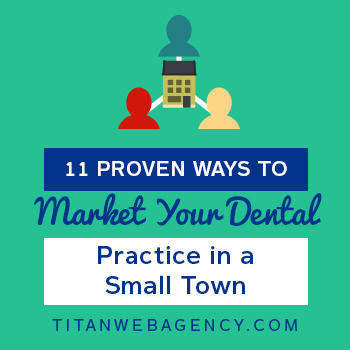 Is your dental practice is in a small town where everybody knows each other? You may think that means you don't have to worry about marketing.
Wrong. Marketing your dental practice is always important. Even if you have little competition, you can still do things to bring in new patients and create a strong brand.
Why? Here are just a few of the reasons:
New competitors might appear in the future
Even if you don't currently have any strong competitors, you may be able to find new patients close to home.
Small towns grow, and marketing will help your practice grow as your town grows.
You might think there aren't many new patients to attract, but you won't know unless you try. That's why we've put together these proven methods you can use to market your dental practice. In this blog post, we will 11 techniques for marketing in small town.

1. Create a Blog
You may think that a small-town dental practice doesn't need a blog. And if that's the case, you're thinking about it the wrong way. It may or may not need one. Don't write a blog off.
A blog is an ideal way to share your knowledge and expertise with others. Even if you're the only dentist in town, people want to know you're an expert. They want to see that you know what you're doing. (Even if they aren't consciously thinking that)
Blog posts don't need to be long, and they don't need to take up much of your time. Writing one short blog post a week or month can be better than not writing one.
If you choose your topics well, your blog can be the place locals go for information when they have a dental problem. In other words, it will help you build authority and trust – two key marketing elements.
2. Write a Column for Your Local Newspaper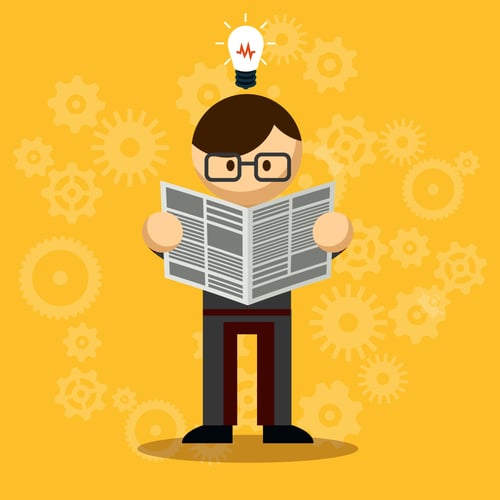 Being a published writer is one of the best ways to gain instant authority. It doesn't matter whether you publish a book or write a magazine article. People tend to trust those who write about their areas of expertise.
If your small town has a newspaper, consider meeting the editor-in-chief and pitching the idea of a newspaper column. You should go in with a few potential topics and perhaps have a Q & A column where readers write their questions and you answer them.
This doesn't have to be time-consuming.
Even doing one a month can raise the visibility of your practice, increase your authority, and remind people of the importance of dental care.
A column is free advertising. You should negotiate to have a byline and a brief biography that appears at the end of your column and includes the name of your practice. Every person who sees the column will be reminded of you and your practice.
3. Host a Free Seminar
There's a cognitive bias known as reciprocity. It says that if you do something for someone, they'll feel obligated to return the favor.
Both blogging and writing a column could trigger reciprocity in your target audience. However, people expect blogs to be free, and they pay for the newspaper. That's why you might consider hosting a free seminar in your town.
The seminar doesn't have to be long. The point is that you're giving something away – your time and knowledge – for free. You might decide to talk about dental hygiene for kids, the proper way to floss, or share information about a new procedure to whiten teeth.
Whatever you talk about, the goal is the same. You want people to attend and for them feel that they're receiving something valuable from you.
Then, you can have a staff member on hand to give out dental brochures and make appointments. The chances are good that at least a few of your attendees might do so.
4. Join the Chamber of Commerce
Does your town have a Chamber of Commerce? If so, you might consider joining if you're not already a member.
You might think of the Chamber of Commerce as being useful only for companies that sell B2B. However, that's not the case. Here are some things that being a Chamber member can do for your small town's newly started dental practice.
It sends a signal that you consider yourself part of the community. For many small-town residents and business owners, supporting the local economy is essential. Your membership in the Chamber shows people that you care about the economic health of your town.
It allows you to connect with other business owners. First and foremost, business owners are people. Therefore, they're potential patients – and they'd probably rather go to a dentist who's part of the Chamber than one who's not.
You might discover some opportunities for cross-marketing and promotions. For example, you might pair up with a local wedding planner and offer discounted teeth whitening for brides-to-be. Or, you could get a candy shop owner to hand your cards out to parents.
As a plus, you might also get discounts you can use at local businesses and a free listing in the Chamber's online directory.
5. Attend Community Events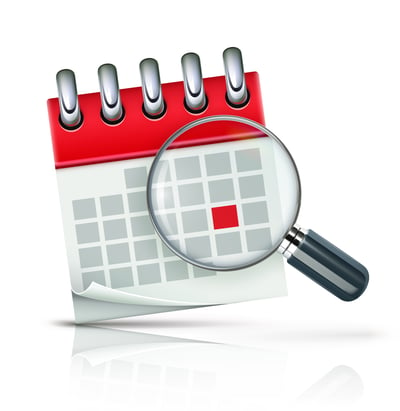 Joining the Chamber of Commerce isn't the only thing you can do to boost your visibility in the community. If your town has public events, like seasonal festivals and street fairs, think about attending and mingling with your fellow citizens.
When you show that you're a part of the community, people will begin to feel connected to you. They'll see you not just as a dentist and service provider but as a neighbor and friend.
At the event, try to participate in activities and support local businesses. People will notice – and they'll be more likely to choose you as their dentist.
6. Sponsor and Participate in Community Events
Attending local events is important – but sponsoring them or being an official part of them is even better.
If you're in the Chamber of Commerce, you'll probably be among the first to learn about upcoming events. And of course, if you already know about an event – such as a local holiday tree lighting, for example – you can contact the organizers and volunteer to be a sponsor.
As a sponsor, you'll most likely have your name listed in the official program or on the event's website. Sponsorship raises your visibility and credibility and shows that you care deeply about the community.
Whether you sponsor an event or not, you should try to be part of it somehow. At a street fair, you might pay for a booth where you can talk to people about dental care, hand out brochures, or give free toothbrushes.
The key here is to do more than show up. When you visibly support the community through sponsorship or active participation in an event, patients will notice.
7. Shop Local
Do you shop locally? If not, think about the businesses and stores in your town to which you can give your business.
Think of it this way. You want the locals to choose your dental practice over others in the area, whether they're in your town or in the next town over.
One of the best ways to help them choose your practice is to show them that you honor and appreciate the community. Instead of shopping elsewhere, frequent your local shops and restaurants. The more you show your face, the more you'll demonstrate that you care about the community and its people.
Does this mean you can't venture afield for a shopping expedition? Of course not. However, shopping locally is a great way to show your support for the people who live in your town.
8. Establish an Online Presence
Sometimes, dental practices in small towns neglect their online presence because they assume that patients in the area will be able to find them.
However, that's not always the case. Even if your town is a very small, you shouldn't assume that people will find you by your storefront alone. Having an online presence will complement your traditional marketing tactics.
And with more people performing mobile searches, you'll want people who are in the area to be able to find your office when they're on the go.
Here are some steps to follow:
Find your online listings and standardize them. We're talking about NAP (name, address, phone number) listings. They should all have the same format. That means that if you say "Avenue" on your website, all your listings should say "Avenue" and not "Ave."
Research long-tail keywords with local terms and optimize your website for them. Using local keywords is key if you want prospective patients to be able to find you. It can be impossible for a small practice to rank for a general keyword like "dentist," but you can much more easily rank for "Greenfield dentist" or "dental services in Greenfield."
Optimize your website using local keywords. Dental search engine optimization can be complex, but if you choose your keywords wisely and use them in prominent spots on your website, you can easily move to the top of Google's rankings.
Get your practice listed in online directories. In addition to the Chamber of Commerce, you might be able to get yourself listed on your town's official website and in dental directories specific to your town, county, or state.
Doing these things can make your practice easy to find online.

9. Use Social Media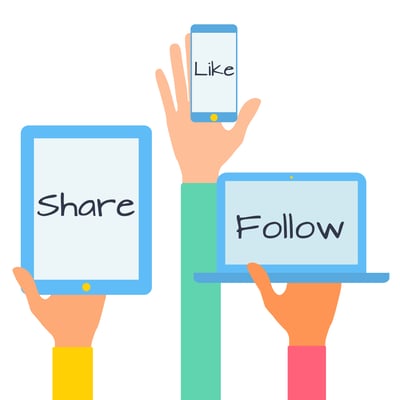 If most of your patients are local, you might think you don't need to worry about connecting with them on Facebook and other social media sites.
However not using social media can prevent you from making local connections. Chances are good that most of your patients use at least one social media site. And if they do, they probably rely – at least sometimes – on recommendations they see there.
Setting up a Facebook page for your practice is quick and easy. If you already have a personal profile, you can link your business page to it.
Here are some tips to keep in mind on Facebook:
Choose "Local Business" as your page type.
Make sure to fill out your profile completely, and include your standard NAP listing and contact information.
Follow dental industry publications and health sites and share relevant information from them with your followers. Make sure to include your personal insights about the content you share.
Create original content that's entertaining, useful, and important to your followers.
No matter which social media sites you use, you should be true to your brand and be consistent with posting. Any page that looks like it's inactive isn't going to help you with marketing.
10. Create a Referral Program
A lot of your patients probably heard about you via word of mouth. It's common for new arrivals in a small town to ask their neighbors about local services. You want your dental practice to be the one that people recommend to newcomers.
One way to do that is to create a referral program. Your referral program might incentivize existing patients if they refer a new patient to you. For example, you might give them a discounted procedure if they send you someone new.
Of course, it's a good idea to have an incentive for new patients, too. You might offer a free consultation or a discounted cleaning to get people in the door.
11. Leave Business Cards Everywhere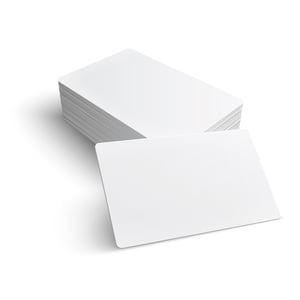 This last tip might seem obvious, but it might be something you've overlooked. You should always have a supply of business cards and hand them out whenever possible.
One way to use business cards to spread the word is to give a few to each patient when they come to see you. You may want to get your receptionist or office staff involved. When patients check out, they can hand them a few cards and say, "We'd appreciate it if you would give one of these to anyone looking for a dentist."
It's also worthwhile to provide business cards to other business owners. Of course, you should take some of theirs in return. Local marketing is often a "one hand washes the other" affair. Why not pair up with other business owners and see if you can help each other out?
Conclusion
Marketing your dental practice in a small town doesn't have to be difficult. People will know who you are when you share your knowledge and make yourself a part of the community. And they'll be eager to make appointments and refer their friends to you.
If you're considering hiring a marketing agency to help, click the button below and pick up our guide.

About the Author
Tyson Downs is the founder of Titan Web Agency, a company specializing in marketing for dental professionals. With an impressive track record of working with over 100 dental practices, Tyson has a deep understanding of the unique marketing needs within the dental industry. His expertise has helped numerous dental practices flourish by meeting and surpassing their revenue goals and established him as a thought leader in healthcare marketing. His insights and strategies have been featured in esteemed dental publications, including the American Dental Association and the American Academy of Implant Dentistry. Before dedicating his career to helping dental professionals thrive through effective marketing, Tyson honed his skills in SEO and web design as a freelancer, while also gaining valuable experience in the corporate sector. As an alumnus of Brigham Young University, he brings a strong educational background to his entrepreneurial endeavors. Outside of his professional life, Tyson is a devoted father of five, who cherishes time spent with his family, especially when they're all enjoying America's pastime on the baseball field.