A Blog for Dentists & Other Healthcare Professionals
Are Dental Membership Programs For You?
*Originally posted April 18, 2016. Updated January 19, 2021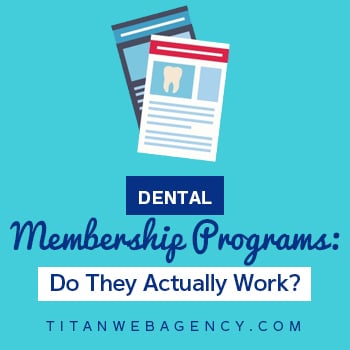 Even though health insurance is now a requirement for all US citizens, dental coverage is still optional. In order to ensure that everyone has access to quality care, many dental practices are now choosing to offer dental membership programs.
What Are Dental Membership Programs?
The exact nature of a dental membership program will vary from one dental practice to the next, but most work as a discount plan for patients without dental insurance.
A membership program will often include preventative wellness care, including basic dental exams, teeth cleaning, and x-rays. For restorative and cosmetic dental procedures, the membership programs typically provide a discount to members.
There are many options for setting up a dental discount plan. You can attempt to set one up on your own, with the help of an online marketing firm, or with the help of an e-provider. Keep in mind that you have complete control over the plan that you develop.
Do dental membership programs actually work? The short answer is yes. But, there are a lot of considerations that go into starting a membership program. Before creating a program for your dental practice, you should make sure that you understand the potential advantages of these programs.

Listen to this blog post:
4 Reasons Why Patients Prefer Dental Membership Programs
First, let's look at the reasons why your patients may find a dental membership program to be an attractive option. The primary purpose of starting a dental practice discount plan is to offer dental care to anyone that needs it.
Here are a few reasons why a patient may prefer a dental membership program over dental insurance:
It provides dental care for the uninsured

They can sign up at any time

They have more control over costs

They have more control over the dentist they choose to see

Less surprises when it comes to billing and what is 'covered'

Membership programs are generally easy to understand

Patients are more likely to schedule regular appointments
1. Dental Care For The Uninsured
Slightly less than half of the population does not currently have dental insurance. Additionally, nearly 90% of patients that purchase new insurance programs choose not to include dental insurance.
Those without dental coverage are less likely to visit a local dentist for regular exams and teeth cleaning. They are also more likely to put off dental appointments for minor dental issues. By the time they choose to seek out the help of a dentist, they could be facing serious dental problems, including gum disease and gingivitis.
It is estimated that in the past decade, about one in four Americans chose not to see a dentist for a dental problem because they could not afford it. This should never be an issue for patients because everyone deserves quality care.
By offering a dental membership program, these individuals have another option available to them. The number one reason that people avoid the dentist is that they do not have dental coverage, and a dental discount plan fills this gap in coverage.
2. Sign Up Available At Any Time
Another advantage for patients is that they can sign up for a dental plan at any time.
By including a signup form on your website, patients can register at their own convenience. If you were to simply tell potential patients to contact your dental office, an overwhelming percentage of these patients would never get around to signing up.
Even though you operate a local business, this does not mean that you can succeed without an online presence. If you decide to set up a dental membership program, make sure that you include options for joining on your website.
You may also want to consider partnering with an e-insurance provider. These providers already have dental membership programs in place which can be adapted to suit the needs of your dental practice. This cuts down on the time and costs associated with setting up a dental plan on your own.
3. Membership Programs Are Easy to Understand
Patients will also enjoy the fact that dental membership programs are easier to understand than a typical dental insurance plan. These programs are usually straightforward and clear, and patients enjoy that they are free of complicated guidelines and restrictions.
The patient usually pays a monthly fee, and then receives specific preventive dental services and a discount on restorative or cosmetic procedures. This works similar to any other membership program that consumers regularly use, and most people are familiar with the concept. Familiarity is always beneficial when attempting to market a product or service.
4. Patients Are More Likely to Schedule Appointments
Patients that join a dental membership program are more likely to schedule their own appointments. With dental insurance, the cost of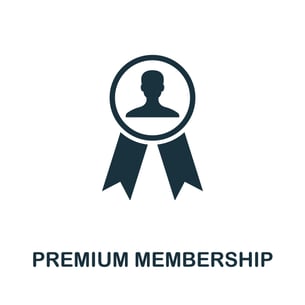 the insurance is often taken directly out of their paycheck. Because they do not see the costs on a regular basis, they may rarely think about trips to the dentist. For this reason, dental practices are often forced to be the one to remind patients about their next checkup or exam.
With a dental membership program, patients are paying a monthly fee. When a person spends money on a service, they are going to take advantage of the benefits the service provides.
Instead of using follow-up phone calls and email reminders, your patients will be more likely to contact your practice for their next exam. They will also be more willing to book an appointment when a dental issue arises, instead of putting it off and allowing the issue to increase in severity.
5 Reasons Why Should You Consider Starting a Dental Membership Plan
Now that you have learned more about the advantages that a patient will enjoy while using a dental membership program, what about the advantages for your dental practice? Your patients are not the only ones that benefit from one of these plans.
Discover some of the top benefits that you can expect from a dental discount plan:
More control over fees and dental charges

Quicker collections

Less cost associated with collecting fee's

Improved quality of care for your patients

Build trust and loyalty with your patients

Create more security for your dental practice
1. More Control Over Fees and Dental Charges
Dental membership programs provide you with more control over fees, membership prices, and the services that you offer.
Insurance companies have increased their fees and costs. As fewer people choose to purchase dental insurance, the insurance companies need to squeeze a few extra dollars wherever possible.
With a dental discount plan, you set the prices and fees. You can decide which service to offer at discounted prices and which services are included as part of preventative dental care. You are in complete control with a dental discount plan.
2. Improved Quality of Care For Your Patients
Being in control of the dental discount plan, you can place an increased focus on the care of your patients. As mentioned, your patients will be more willing to book appointments and show up for their regular teeth cleaning and dental exams. This can help to prevent serious dental problems, cavities, and the spread of gum disease down the road.
A larger percentage of your patients will book appointments for preventative care, which is something that every dentist can be happy about. The goal is to increase the quality of care for your patients as much as possible.
Since you get to decide which services to include in your discount plan, you may include procedures that would not normally be included in a dental insurance plan. The increased level of control you have allows you to develop a plan that suits the needs of your patients and not the insurance companies.
3. Build Trust and Loyalty With Your Patients
With a dental membership program, you help establish trust and loyalty with your patients. Not only will they appreciate having the option to join your dental membership program, but by offering savings and regular preventive dental care, you are showing your patients that you care about their wellness.
Word-of-mouth advertising can go a long way towards boosting patient referrals. When your patients are happy with the service and care you provide, they will let others know about your dental discount plan.
4. Create More Security For Your Dental Practice
All of these benefits add up to more security for your dental practice. By building trust with your patients, you are establishing a secure customer base. If your patients are happy with the service you provide, you can count on them coming back for years to come.
Establishing a loyal customer base will offer security for the future. Your patients will continue to rely on your services. Family members will enroll their children, who may choose to get their own plan when they reach adulthood. This produces an ongoing cycle of new patients and helps you maintain a full schedule of dental appointments.
5. Dental Membership Plans Really Do Work
There's a reason that dental membership programs are so popular – they really do work. You, your dental practice, and your patients all benefit from a membership plan. The only one that misses out is the insurance companies. By offering a rewarding membership plan and quality care, your patients will be less likely to seek dental insurance.
Setting Up Your Dental Membership Program
As discussed, you can set up a dental membership plan with the help of an e-provider. These companies already have plans in place and the marketing to reach patients. By including your practice in one of these dental plans, you can go back to focusing on your daily operations.
Many of these e-providers offer free marketing materials, a simplified dashboard for editing or adjusting your membership plans, and other useful features. This streamlines the process of setting up a dental membership program.
You can also consider working with a dental SEO company with experience helping dental practices. They can help you reach a larger market in your area. You can target your region and set up a membership plan that meets all of your needs. This can require a little more work than partnering with an e-provider. But, it also offers the advantage of improved marketing outreach and a greater return on investment.
When you begin to set up your dental discount plan, there are several factors to consider. You will need to decide on fees, charges, and services. Here is an overview of some of these factors:
Which services to include as preventative care

Which services to offer at a discount

Fees and charges for discounted services

Delivery methods for registering new patients

Marketing your dental membership program
First, consider which services you want to include as preventive care. This will generally consist of teeth cleaning and regular dental exams, but can also choose to include x-rays.
Next, you will need to choose which services to offer at a discount. This could include all of the restorative and cosmetic procedures that you offer. Or, it could include a specific selection of procedures.
Once you have decided which services to offer at a discount, you will have to determine the size of the discount you want to offer. You can offer varying discounts for different dental services or a flat discount across all restorative and cosmetic procedures.
Having an option on your dental website for patients to sign up for the plan is a great way to increase enrollment. When patients have the option to sign up at their own leisure, they'll be more willing to enroll. Remember that you'll need to figure out how to collect data and supply patients with confirmation of their enrollment. This is another area where an online marketing team can help establish your discount plan.
Along with the discounts, you should think about the monthly fee that you will charge patients for signing up. This can vary and should be based on the financial research that you perform. Consider the cost of dental insurance, the discounts you offer, and come up with a figure that you feel is reasonable.

As a final step, try using online marketing to promote your plan. While you can talk to your current patients about the discount plan during their visits, you can also reach out to potential patients through online marketing.
Conclusion
If you are looking for ways to increase the success of your dental practice while continuing to offer exceptional care to your patients, you may want to consider creating a dental membership plan. They are fairly simple to set up and offer great potential for both you and your patients.
About the Author
Tyson Downs, the owner of Titan Web Agency, has years of experience working with small businesses and helping them meet their revenue goals. Prior to starting Titan Web Agency, he freelanced in SEO and Web Design while working in the corporate world. Tyson is a graduate of Brigham Young University, the father of 5, and enjoys spending time with his family. Particularly on the baseball field.