Top 9 Dental Imaging Software [Compared]: Reviews & Rating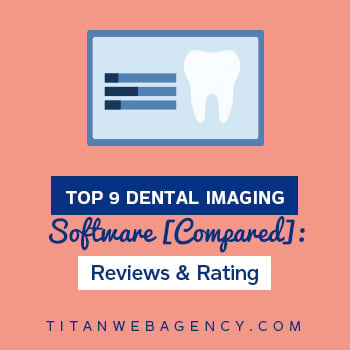 Modern dentistry is a field where science and technology come together to treat patients. While the treatments needed have not changed, the methods for improving patients' oral health have changed dramatically. Lasers have replaced drills in many practices, and technology can be used to provide dentists with high-resolution images of their patient's teeth.
At Titan Web Agency, we work with dental practices every day, providing them with the information and guidance they need to market their services and attract new patients. Since technology can play a key role in both of those things, we've taken the time to review dental imaging software and identify the top 9 options.
Importance of Dental Imaging Software
Why is dental software crucial to the practice of modern dentistry? Here are some of the benefits of using it:
Dental imaging software provides accurate, high-resolution images of each patient's teeth and gums, which facilitates the accurate diagnosis of oral and dental health problems.
Using software makes it easy to annotate images to include in a patient's chart.
Patient images created or stored on cloud-based software may be accessed from anywhere so that dentists can share images with patients using a tablet or computer.
The use of dental imaging software demonstrates your commitment to staying abreast of modern treatments and technology, and that can help you attract new patients.
In many cases, choosing cloud-based imaging software may help you save money over other options.
Digital images can help any dental practitioner improve the overall quality of patient care in their practices.
Using digital images to explain treatment plans, may make it easier for patients to understand why a treatment is necessary and increase treatment acceptance rates.
As you can see, these benefits illustrate why the use of digital imaging software is a necessary component of modern dentistry.
How We Chose the Dental Imaging Software to Compare
Before we reveal the top 9 dental software solutions for imaging, here are the criteria we used to evaluate them.
Price
Price is a top concern for many dental offices that want quality equipment without spending more than they can afford. We've included prices (when available) in our reviews to make it easy to compare options and learn which software provides the features you want at a price you can afford. (We want to note that many companies provide quotes instead of putting prices on their websites. We have provided links to contact them in those cases.)
Image Quality
Image quality is undeniably a crucial element when evaluating dental imaging software. We've taken a close look at each software's images to assess their quality and make sure that we're recommending the best software to our dental clients.
Features
Some of the most common features included with digital imaging software include image filters, annotation, image tagging, accessibility, and more. We've looked at the features of every option on our list to make sure that it provides the advanced features and capabilities that are most important to patient care.
Training
Adopting any new software requires training and in some cases, may involve an extensive learning curve for dentists, hygienists, and staff. We have prioritized companies that offer robust training, whether that means an online manual, videos, online training, or in-person training.
Customer Support
When your software doesn't work as it should, it's essential to know you can get the help you need to get back on track. Companies that offer multiple avenues for clients to get support received extra attention as we reviewed dental imaging software.
Platforms
Many dental imaging software options available are cloud-based, so we've considered these requirements during our evaluation.
Top 9 Dental Imaging Software
Here are the top 9 dental imaging software options for dental practices based on our research and review.
1. DEXIS Imaging Suite Software

4.6/5 (20) (Rating as of 7/24/2023)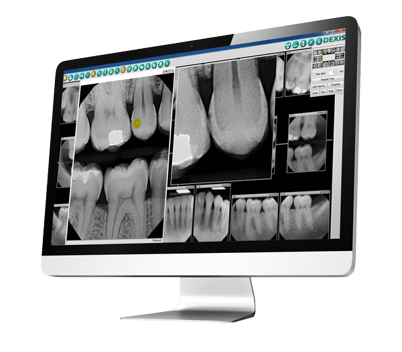 Overview: DEXIS Imaging Suite Software serves as a highly effective aid throughout the diagnosis, treatment, and treatment planning process. You can access images from anywhere to use in patient diagnosis and communication.
Service model: Cloud/SaaS
Hardware/operating system requirements: Full requirements are available here.
Price: Contact the company for specific pricing on each service.
Free demo: Yes
HIPAA compliant: Yes
Support: Email/Phone/Chat plus access to FAQ and additional protection plan
Training: In-depth webinars, hands-on courses, lectures, and other events
Key features:
Client Portal
Appointment scheduling
Payment processing, billing & statements
Coding
EMR/EHR
Employee management
Initial assessments
Centralized Patient Images
PureImage™ Technology
Export/E-mail X-ray
Outstanding Automa
Modern Diagnostic Tools
ClearCapture™
Image Enhancement
Tailored Solutions
The Takeaway
In addition to offering high-quality images, DEXIS Imaging Suite provides an array of practice management tools that can help dental providers treat their patients.
2. Carestream Dental Imaging

3.5/5 (3) (Rating as of 7/24/2023)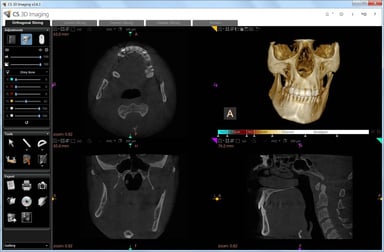 Overview: Carestream Dental Imaging is cloud-based software designed to revolutionize dentistry with state-of-the-art features. In addition to providing high-quality images, it also facilitates communication with dental labs and patients.
Service model: Cloud/SaaS
Hardware/operating system requirements: Dependent upon the individual product. Check here for additional information.
Price: Dependent on model and features, contact sales for information.
Free demo: Yes
HIPAA compliant: Yes
Support: Email, phone, resource library, and demo, depending on the model.
Training: Webinars and customized remote classes
Key features:
CBCT/3D imaging
Cephalometric imaging
Panoramic imaging
CNT Solutions
3D image viewer
Patient charting
Treatment planning
The Takeaway
If you're looking for award-winning technology and customizable features, Carestream Dental Imaging can help you take advantage of the latest imaging features to provide the best possible care for your patients.
3. Dolphin Imaging Plus

4.4/5 (12) (Ratings as of: 7/24/2023)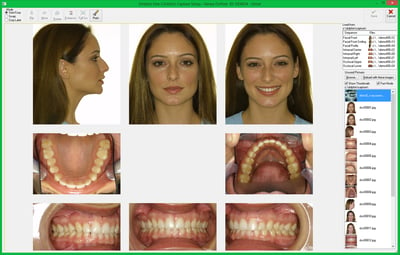 Overview: Dolphin Imaging Plus is part of the Dolphin product suite. You can use it to capture, edit, organize, and present images with its power and user-friendly features. It's easy to create and communicate treatment plans with patients. Dolphin Imaging software is an FDA-cleared Class II medical device.
Service model: Cloud, SaaS, Mobile
Hardware/OS requirements: Full system requirements are available here.
Price: Quotes are available on request.
Free demo: Yes
HIPAA compliant: Yes
Support: Live Chat, Phone, and Email
Training: Webinars, webinar archives, onsite training, FAQ
Key features:
Print any image (such as panoramic x-ray) in 1:1 life-size with simple calibration
Display ceph tracings created by Dolphin Imaging
Integration with Microsoft PowerPoint, Word, and other programs
Side-by-side image comparison
Export to many image file formats, copy images to Windows Clipboard
Email images to referrals
2D DICOM support (optional)
The Takeaway
Dolphin Imaging provides some unique features that you may find useful, including side-by-side image comparisons and display ceph tracings. We appreciate its focus on image quality.
4. VixWin Platinum

3.6/5 (4) (Ratings as of: 7/24/2023)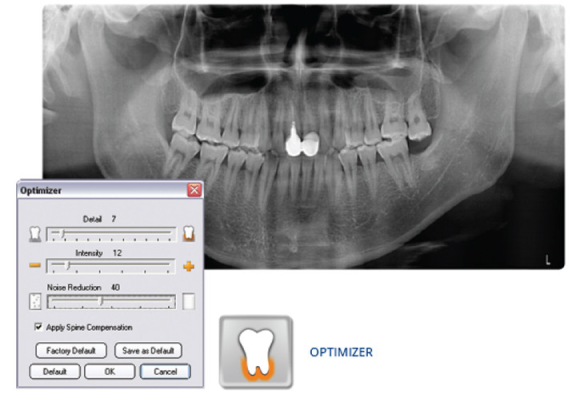 Overview: VixWin Platinum has tools and powerful features that yield detailed images to assist in patient care. Clarity is easy to enhance to improve diagnostics while the user-friendly interface improves productivity.
Service model: Cloud, SaaS
Hardware/OS requirements: Specifications are dependent upon product and software needs.
Price: Contact the company here for a quote.
Free demo: Yes
HIPAA compliant: Yes
Support: Phone, product manual download, FAQs, remote assistance
Training: In-person, webinars, courses, lectures, and other events
Key features:
2D drawing
3D images
X-ray mounting
Data import/export
Integrates with all major practice management programs
Spine Compensation tool improves digital pan quality
Auto-advance and auto-rotation for capturing series
The Takeaway
We like VixWin Platinum for its user-friendly interface. We particularly appreciate the X-ray mounting, which allows you to orient images as you desire before adding them to a patient's chart.
5. Apteryx Imaging

3.7/5 (3) (Ratings as of: 7/24/2023)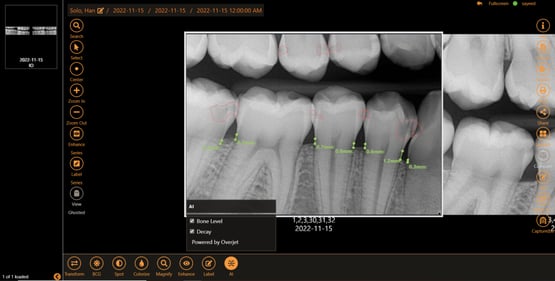 Overview: Apteryx Imaging is a cloud-based dental imaging solution that allows you to store, view, and optimize clinical images for treatment planning that is accessible anytime and from anywhere.
Service model: Cloud, SaaS
Hardware/OS requirements: Consult sales rep for complete specifications
Price: Contact sales at 800-861-5098
Free demo: Yes
HIPAA compliant: Yes
Support: Phone, email, online ticketing
Training: On-demand training, webinars, resource library
Key features:
Full clinical suite, including templates, bitewings & measurement tools
Sensor Integrations
Practice Management Integrations
DICOM Image Formatting
Secure Sharing Portal
Analytics Dashboard Learn More
Available AI Capabilities Learn More
Optional 3D viewer
View and Store STL files
The Takeaway
Apteryx Imaging is unique in that it provides a full suite of clinical tools that include imaging features. It uses AI to assist in patient diagnostics and an optional 3D viewer for the most complete access to a patient's images.
6. DentiMax

4.5/5 (10) (Ratings as of: 7/24/2023)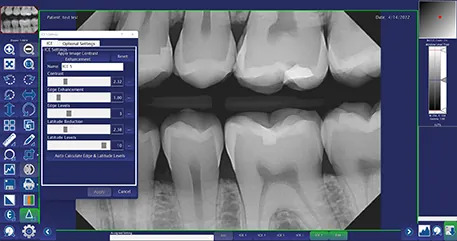 Overview: DentiMax is comprehensive dental imaging software with a user-friendly interface. It will connect with any practice management software and integrates seamlessly with sensors, intraoral cameras, and pan/ceph units.
Service model: Cloud/SaaS or on-site (Windows/Linux)
Hardware/OS requirements: Minimal and optimal requirements are available here.
Price: On-site: $139/month(discount after first year); Ultimate bundle: $298/month; Cloud-based: $229, $479, $599 (monthly)
Free demo: Yes
HIPAA compliant: Yes
Support: Phone support is available from 7 AM to 5 PM Mountain Time. You can also purchase an imaging support package for $699 per year.
Training: FAQs, videos, blog articles
Key features:
Intraoral X-ray sensor capture
Intraoral/extraoral devices capture
Panoramic/cephalometric capture
Twain devices capture
Patient management integrations
Import/export images and documents
Custom layouts
The Takeaway
We like that Dentimax can capture images from intraoral and extraoral devices and integrate them with a wide array of
dental practice management tools
. We also like that it allows for the creation of custom layouts and makes it easy to import and export images and documents.
7. XDR Dental Imaging

4/5 (2) (Ratings as of: 7/24/2023)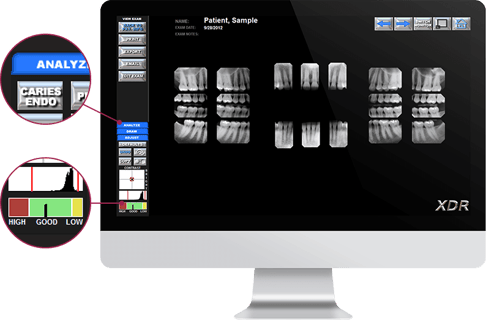 Overview: XDR Dental Imaging is a Windows-based dental imaging solution that provides excellent-quality images that dental professionals can use for diagnosis and treatment planning. Many dental practices may prefer a cloud-based option, but if you already use Windows, then you can't get better-quality images.
Service model: Windows
Hardware/OS requirements: Windows 10 or higher
Price: Pricing is separate for services and hardware. You'll pay a $50 installation fee plus $150 per user license. Additional pricing information is available here.
Free demo: Yes, plus a free 14-day trial.
HIPAA compliant: Yes
Support: Support is available by phone from 6:30 AM to 6:00 PM Pacific Time. If you want ongoing support, you'll need to buy a contract.
Training: In-person training is available and dental practices receive manuals and supporting documentation.
Key features:
Treatment planning
Calibration
Data import/export
Image analysis
X-rays
The Takeaway
If you already use Windows and image quality is your top priority, XDR Imaging may be the best choice for your dental practice.
8. Sensei Imaging

3.5/5 (13) (Ratings as of: 7/24/2023)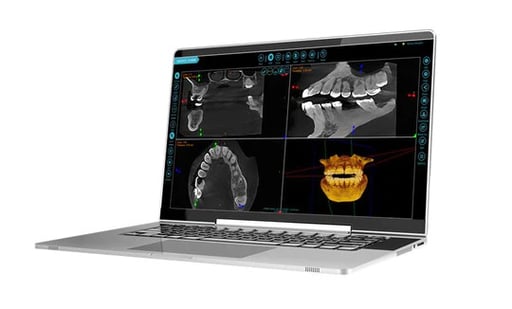 Overview: Sensei Imaging is a cloud-based dental imaging solution that includes some useful practice management features. If you're in the market for something that will allow you to manage appointments, communicate with patients, and access clinical images of your patient's teeth, then Sensei Imaging could be the right choice for you.
Service model: Cloud/SaaS
Hardware/OS requirements: Works with all browsers; latest versions are recommended.
Price: Contact Sensei Imaging for a quote.
Free demo: Yes
HIPAA compliant: Yes
Support: Email and in-app support only
Training: Sensei Imaging provides online training plus a library of resources to help dental practices learn how to use their software.
Key features:
Patient charting
Images and X-rays
Treatment planning
Patient record management
Patient billing
Communication management
The Takeaway
Sensei Imaging doesn't have some of the advanced features of other software solutions, but it does offer solid imaging options combined with dental practice management features. We appreciate their integration of quality images with other features but wish they had more robust support and training options.
9. Planmeca Romexis

4.8/5 (3) (Ratings as of: 7/24/2023)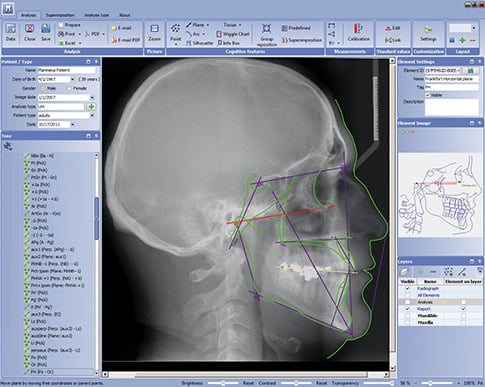 Overview: Planmeca Romexis is imaging software that can bring together any Planmeca technology in your practice, including CAD/CAM technology, 3D X-rays, and more.
Service model: Cloud/SaaS, On-Premises, Mobile
Hardware/OS requirements: Windows 10 and up, Mac OS, 24 GB RAM. Intel i7 desktop or M1 recommended.
Price: Starting from $250 per month.
Free demo: Yes; 30-day free trial.
HIPAA compliant: Yes
Support: Planmeca Romexis provides telephone CAD/CAM support on weekdays from 7:00 AM to 6:00 PM, as well as Contact Imaging support from 7:30 AM to 6:00 PM Central Time. Additionally, online chat support is available.
Training: Planmeca Romexis offers a wide range of resources on its website, including digital manuals and videos. They also provide online training.
Key features:
2D drawing
3D imaging
Treatment planning
Calibration management
Image analysis
The Takeaway
Our takeaway is that Planmeca Romexis is a viable choice for practices that are already using Planmeca technology but not the first choice for practices that aren't. We wish they would add additional imaging features to make their software more robust.
Dental Imaging Software Frequently Asked Questions
Let's look at some of the most important and frequently asked questions about dental imaging software.
What is the typical cost of dental imaging software?
Costs can vary greatly depending on the type of software you choose and how many users you have in your dental practice. Many SaaS and cloud-based imaging software options charge on a per-user basis.
Are there any free dental imaging software options available?
If you want to get imaging software without spending anything, there are a couple of free options available. However, you should keep in mind that these all have limited features and may not allow you to do everything you want to do with imaging.
What are the typical features of dental imaging solutions?
Here are some of the wide range of features most commonly found in dental software solutions that include imaging.
2D drawing
3D images
Digital access to X-rays
X-ray mounting
Image capture from intraoral and extraoral devices
Patient treatment plans
Detailed patient dental records
Progress notes
Secure storage of electronic health records
Mobile access and apps
Accurate and Efficient Diagnosis with Dental Imaging Software
Finding the right dental imaging software can help your practice provide the best patient care with the most accurate images possible. The 9 software options we've reviewed here are the best available and can help you attract more patients and grow your practice.
Are you looking for effective dental marketing ideas and strategies to attract new patients to your practice? Look no further than Titan Web Agency, your go-to partner for all your digital marketing needs. Contact us today to schedule a FREE consultation.
About the Author
Tyson Downs is the founder of Titan Web Agency, a company specializing in marketing for dental professionals. With an impressive track record of working with over 100 dental practices, Tyson has a deep understanding of the unique marketing needs within the dental industry. His expertise has helped numerous dental practices flourish by meeting and surpassing their revenue goals and established him as a thought leader in healthcare marketing. His insights and strategies have been featured in esteemed dental publications, including the American Dental Association and the American Academy of Implant Dentistry. Before dedicating his career to helping dental professionals thrive through effective marketing, Tyson honed his skills in SEO and web design as a freelancer, while also gaining valuable experience in the corporate sector. As an alumnus of Brigham Young University, he brings a strong educational background to his entrepreneurial endeavors. Outside of his professional life, Tyson is a devoted father of five, who cherishes time spent with his family, especially when they're all enjoying America's pastime on the baseball field.