Email Marketing for Dentists: An In-Depth Look at Strategies for Dentists
*This blog post was originally published Oct. 17, 2014, and extensively updated May 11, 2020.
An Introduction to Dental Email Marketing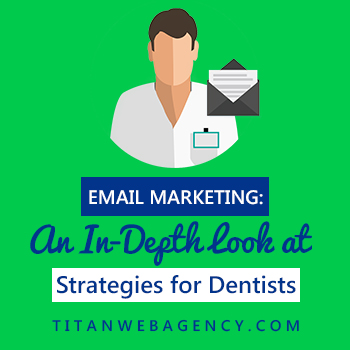 Growing a dental practice isn't an easy feat. While some patients prioritize dental care, others only see a dentist when they need to. To keep your practice profitable, you've got to find ways to attract new patients and keep your existing patients engaged and making appointments.
At Titan Web Agency, one of the most common questions we hear is this:
Is email marketing for dentists a good investment?
The short answer is yes. Email marketing might not be the newest and shiniest tool in your marketing mix, but it's reliable and effective. We've created this guide to introduce you to the benefits of dental email marketing.
We'll go over some email marketing campaign ideas, including follow up emails, cost-effective email marketing platforms, and more.
1. Reasons for Dentists to do Email Marketing
Choosing the right marketing mix is essential if you want to grow your dental practice. Here are some of the reasons that we recommend dental practice email marketing.
a. Dental Email Marketing is Cost-Efficient
Marketing can be expensive, especially if you're bidding on popular and competitive keywords. However, dental email marketing is one of the most affordable methods to keep in touch with your patients and expand your practice.
Research shows that email marketing is easier, less expensive, and more effective than social media marketing. You can send thousands of emails a month and pay only pennies for each, even if you use an email marketing service to run your campaigns.
b. Email Marketing Can Help You Grow Your Practice
Unless you're in an extremely rural area, you're competing with other dentists for the attention and patronage of your patients. Email marketing for dentists provides a way to attract new patients without blowing through your marketing budget.
Emails have an open rate that far outpaces the percentage of followers who will see your posts on Facebook or Twitter – about 21.72% for dental email marketing. That means your emails will be seen by your existing patients and may be forwarded to their friends and family members – providing a way for you to expand your reach and increase your profits.
c. Keep Your Patients Updated with New Services and Promotions
In addition to helping you attract new patients to your practice dental email marketing can help you inform your existing patients of new services you're offering and promotions you're running.
For example, if you've recently added new tooth whitening procedures, you can tell your patients about the service and offer them a coupon or promotion to entice them to try it.
You can also use dental email marketing to build a referral program and encourage your patients to refer their friends and family to you.
d. Help to Build Strong Patient Relationships and Increase Loyalty
Did you know that 80% of marketers rely on email marketing to retain customers customers? And 56% say that email is the best way to increase customer retention and profits.
It's common for dentists to focus on acquiring new patients, but patient retention can make a huge difference in your bottom line. The average lifetime value of a dental patient is between $12,000 and $15,000. When you consider that most new patients will start with a cleaning, it's clear that retaining patients is the best way to ensure the success of your practice.
e. Use Dental Email Marketing to Ask for Reviews
You probably already know that getting your patients to leave online reviews of your dental practice is a must. Research shows that 91% of young people – in other words, the patients with the highest potential lifetime value – trust online reviews.
When you use dental email marketing to build trust with your patients, then it becomes very easy to ask them for reviews, ensuring that new patients who decide to check out your practice will have the social proof they need to feel good about choosing you over your competitors.
Bottom line, email marketing works!
2. Types of Email Marketing for Dentists
Email marketing for dental practices can take many different forms, each with its advantages and disadvantages. You may want to use all of these at times depending upon your marketing goals and your budget.
a. Email Newsletter/Digest
Email newsletters are typically sent once a month and they're the perfect way to keep your subscribers informed about what's happening at your dental practice. Your newsletter may contain original material, links to recent blog posts, videos, and even promotions.
An email digest is easier to assemble than a newsletter. It usually consists of a compilation of links to recent blog posts and social media posts. In other words, it's a way for your subscribers to catch up on any content they might have missed.
Advantages:
Build brand awareness and patient loyalty
Generate additional traffic for content on your dental website and social media pages
Include diverse types of content
Disadvantages:
Newsletters can be time-consuming to design
Diluted call-to-action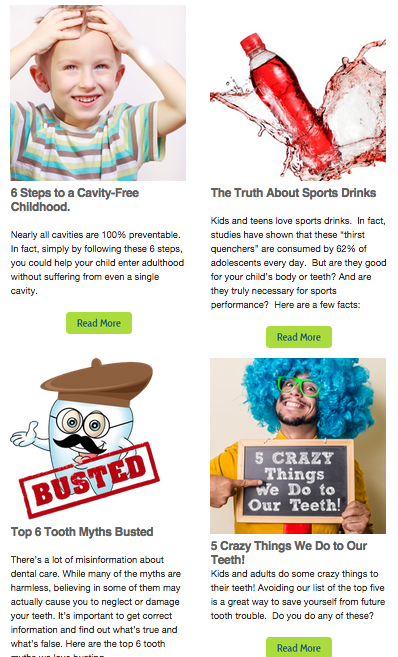 Generating a quality newsletter requires auto email responder software to send it out. Sometimes your practice management system will allow you to do this; if not, you'll want to consider the following options:
b. Appointment Reminder
One of the most popular uses of email marketing for dentists is sending appointment reminders to patients. Reminders can help to reduce cancellations and no-shows, both of which can cost your practice money.
You can choose the intervals at which to send your appointment reminders. A common practice is to send one reminder a week before the scheduled appointment and another 24 hours before the appointment. You can include a "Confirm Appointment" call to action for patients to use.
Hopefully, you're already using this method to remind your patients (or via text message). If your practice management system doesn't have this feature, then be sure to check out our post, The Best Dental Practice Management Software Reviewed.
Advantages:
High click through rate, or CTR
Reduces patient cancellations and no-shows
Disadvantages:
c. Dedicated Email
Dedicated emails are promotional emails where you highlight a single promotion or offer to encourage people to take advantage of the offer and make an appointment. An example of a dedicated dental marketing email would be an offer for a free whitening procedure.
It's not a good idea to inundate the people on your list with dedicated emails but sending them every once in a while is a good way to convince dormant patients to visit you again – or get active patients to try a new service.
Advantages:
Quick to create
Focused call-to-action
Easy to track results
Disadvantages:
May be mistaken for spam
Can only be used sporadically
d. Lead Nurturing
Lead nurturing emails have some things in common with dedicated emails, but they are sent only to prospective patients instead of to existing patients. The goal is to inform readers about your practice and convince them to make their first appointment with you.
Nurturing emails are typically sent in sequences that are carefully timed to convert. They are usually attached to a specific offer – for example, a free cleaning or a free consultation.
Advantages:
Disadvantages:
You'll have a smaller audience than you would if you sent emails to your whole list
Sometimes dental practices "set and forget" automated emails and they may not be tracked as carefully as other emails
e. Sponsorship Email
Sponsorship emails are emails that you pay to send to a new audience. They may be part of a cross-promotion with another local business. Because the payment for sponsorship is in addition to the regular cost of email marketing, some dental practices are reluctant to try it.
Advantages:
Reach out to a new list of highly targeted leads
Easy to calculate the exact ROI of your campaign
Disadvantages:
More expensive than traditional email marketing
Only suitable for attracting new patients
We suggest choosing your email marketing goals first and then selecting the type of email marketing that will do the best job of helping you achieve them.
3. General Email Marketing Statistics
Email marketing is effective, but we don't expect you to take our word for it. Here are some general email marketing statistics to help you understand the potential benefits of dental email marketing.
a. Business and Marketer Trends
Let's start with some numbers that illustrate the most important trends in email marketing across all industries.
67% of all email marketers say that increasing engagement is their top priority.
41% of all emails are opened on mobile devices.
42.3% of all Americans say they subscribe to business email lists to get special deals and promotions.
Consumers spend an average of 2.5 hours per day checking their personal email.

Professional marketers still consider email marketing to be one of the most effective ways to improve brand recognition and grow a business.
Subscriber Stats
82% of people open emails they receive from businesses.
33% of email recipients decide whether to open a marketing email based only on the subject line.
44% of marketing email recipients have made a purchase in the last year as a result of a promotional email.
69.7% of U.S. internet users prefer to communicate with businesses via email (vs. other methods of communication).
44% of marketing email recipients have made a purchase in the last year as a result of a promotional email.
b. CTR and ROI Statistics

You may be wondering how big of a response you can expect to get from your dental email marketing campaigns. Here are some statistics related to click-through rates (CTR) and return on investment (ROI).
Including a call to action in your email can increase click-throughs by 28%.
Emails with video get a 300% higher click-through rate.
Email earns $44 for every $1 spent, which works out to a 4400% ROI.
320% more revenue is earned from automated emails than non-automated emails.
Email is 40 times more effective at attracting new customers than Facebook and Twitter combined.
You can see from these statistics that email marketing is extremely effective and gets a very high ROI, which means you'll be getting an excellent return on the investment you make.
c. Statistics on Email Marketing for Dentists & Orthodontists
We already told you that the average open rate for dental practice emails is 21.72%. Here are some other email marketing statistics for dentists and orthodontists.
Only about 20% of dental practices use email marketing. (37% say they have plans to increase their email marketing.)
55% of dentists and orthodontists who engage in email marketing send emails once a month.
7 out of 10 emails sent by dentists combine information with a promotion.
Most dental email list subscribers are patients – about 68%, which is higher than other industries.
53% of all dental and orthodontic practices have fewer than 500 subscribers on their email list.
76% of dentists do not segment their lists, sending identical emails to every subscriber. (In some cases, segmentation is not appropriate under HIPAA – see below for more information.)
Only 19% of dental clinic owners track the results of their email campaigns.
The takeaway here is that using email marketing can give you an advantage over your competitors. The key is knowing how to use and – and tracking your results to fine-tune your campaigns.
4. Dental Marketing Ideas for Email Campaigns
For some dental practices, the lack of email marketing is due to uncertainty about the best way to use dental email marketing. Here are some dental marketing ideas to help you.
a. Focus on Your Subject Line
Your email subject line is the first thing your subscribers will see – and it may determine whether they open the email. Here are some guidelines to keep in mind.
Your subject line should be an accurate reflection of the email's content. In other words, don't use 'coupon' in the subject if there's no coupon in the email.
Emails with emoji in them have a 56% higher open rate than emails with no emoji.
Avoid using ALL CAPS or unnecessary punctuation, which may annoy your readers.
Try out a variety of subject lines to determine which are the most effective.
b. Temper Your Mailings
One of the most common mistakes dental practices make is overdoing their dental email marketing campaigns. By that, we mean sending too many emails to the point where they become a nuisance.
Nobody wants to hear from their dentist every day. While there may be circumstances (a lead nurturing sequence is one) where you want to send more frequent emails, usually one or two emails per month is enough to engage your patients.
As we noted earlier, you should also keep direct sales and promotional emails to a minimum. If you plan to send two emails a month, only one should be a direct promotion.
c. Concentrate Your Content
Another common email marketing mistake we see from dental practices is sending emails that are too long or lack focus.
Research shows that 41% of all emails are read on mobile devices. In most cases, that means the reader is skimming the content. Nobody wants to get a novel-length email from their dentist.
When you write a marketing email, pare the content down to its most essential information. Then, make sure to include images and plenty of white space to make it easy to read.
d. State Your Case with Specificity
Today's dental patients are savvy, and they know an overblown claim when they read one. One of the best ways to overcome your subscribers' doubts about your claims is to be specific.
For example:
Instead of 'many satisfied patients' say 'over 100 satisfied patients' have tried a new treatment.
Link out to authority sites when necessary. The Journal of the American Dental Association is a good example.
Include first-person patient testimonials as social proof.
When you back your statements up with specific data, your emails will sound authoritative and patients will trust the content you send them.
e. HIPAA Compliant Email Marketing for Dentists
An important consideration for dental practice email marketing is compliance with HIPAA regulations. As you know, HIPAA protects certain patient information and dental practices that fail to comply with regulations may be subject to fines.
Here are some of the most important considerations for HIPAA-compliant email marketing for dentists.
All email sent to existing patients should be encrypted.
Your list may not be segmented in any way that reveals a patients Protected Health Information. That means you should not include the patient's name in a subject line, or segment your list according to treatment types, medications, or any other information that might put a patient's privacy at risk.
Keep your email communications above board. When you ask patients to sign up for your list, make it clear that they'll be getting regular emails from you.
Make it easy to unsubscribe from your list.
Use a HIPAA-compliant email solution. Any reputable dental practice management software is HIPAA compliant and many include email automation. If you choose to partner with an outside company, it's your responsibility to make sure a signed Business Associate Agreement (BAA) is in place.
Protecting your patients' privacy should be your priority whenever you send a marketing email. If you keep that in mind, you won't need to worry about non-compliance.
f. Make CTAs Clear and Concise
Every dental marketing email you send should include a clear and concise call to action. By this, we mean that:
Patients should understand that you want them to click the call to action.
They should understand what will happen when they click.
Here are a few examples. If you want patients to leave a review, the call to action might say "Click Here to Leave a Review" and the link should lead to your page on a reputable review site. If you want patients to book an appointment, the CTA should say "Book an Appointment" or something similar and direct people who click to your booking page.
Your subscribers are far more likely to do what you want them to do if you include a specific, clear call to action.
g. Provide Content That Is Valuable and Sharable
Just as there are goals associated with redesigning your dental website or improving your dental SEO, there are goals for email marketing, too.
One goal that's worth pursuing is getting your subscribers to share your content with their friends and family. You can do that by including content that provides immediate and obvious value to your subscribers.
A dry email about a dental procedure is unlikely to be shared. Instead, try including:
A colorful infographic
An entertaining video
Before and after photos
Visual content is more likely to be shared than plain text. Keeping share-ability in mind will help you expand your reach without increasing your spending.
h. Tie in Social Media
You already know that social media provides a good way to connect with your followers, increase their engagement, and turn them into lifelong and loyal patients. One way to make the most of your dental email marketing is to tie your social media accounts to your email. Here are some suggestions.
Include social media follow buttons in your emails.
If you want subscribers to leave comments or reviews, include a direct link to your Facebook review page or Instagram post.
Use a plugin to allow readers to click to Tweet key points or statistics from your emails.
There's no reason your marketing emails can't also be a way for you to grow your social media following.
i. Optimize Campaigns for Mobile Devices
We already told you that more emails are opened on mobile devices than on computers. That means that optimizing your email marketing campaigns for mobile devices is a must. Here are some pointers.
Keep your subject lines under 35 characters. While people who read on a computer will be able to see up to 60 characters, most mobile devices top out at 35 characters.
Make sure your text is easy to read. In most cases, using a default font and size will suffice. Otherwise, use a 22-point font for the subject line and a 14-point font for the body of the email. Likewise, use only web-safe fonts that will be readable on most devices.
Keep your email content in a single column, so subscribers aren't required to scroll horizontally to read.
Include alt tags for your images.
Make your call to action a button. It will be easy to click where a hyperlink may not be.
It's safe to assume that most of your readers will see your email on a mobile device. That means that mobile optimization is a must.
5. Some Important Dental Email Marketing Metrics to Track
Once you begin to use email marketing for your dental practice, it's important to track your results. That way, you can calculate your ROI and adjust your campaigns as needed. Here are the most important metrics to consider.
a. Bounce Rate
Your bounce rate tells you how many of the emails you send cannot be delivered. There are two types of bounces:
A soft bounce is due to a temporarily issue. Examples include the recipient's server being down or the email inbox being full.
A hard bounce indicates that an email address is invalid.
The best way to avoid soft bounces is to review the most popular email providers and ensure that you're following their best practices.
Any "hard bounce" emails should be deleted from your list. You can have your staff attempt to contact existing patients for an updated email address if you choose but keeping invalid emails on your list will only hurt you. Most automated email providers charge based on the size of your list.
The Bottom Line: As a rule, you should have a bounce rate that's 5% or lower. If it's higher, you may need to implement best practices in your emails to minimize bounce.
b. List Growth Rate
Your list growth rate is an indication of how quickly you are adding new subscribers to your list. You can calculate your list growth rate by subtracting hard bounces and unsubscribes from your total new subscribers. Then, divide that number by your original number of subscribers to figure out your growth rate.
The Bottom Line: Email list "churn" or attrition rates are normally about 25% per year. In other words, if you started the year with 1,000 subscribers and didn't gain any new subscribers, you would finish the year with only 750 subscribers. You should offset attrition by actively campaigning to add new subscribers.
c. CTR
Your CTR, or click-through rate, indicates the number of people who click on a URL in your email. It's a more reliable metric than the open rate if you want to measure the efficacy of your campaigns.
You can calculate your CTR by dividing the number of unique clicks by the total number of emails delivered.
The Bottom Line: CTRs will vary based on the type of email you send. You'll likely see a high CTR for appointment reminder emails and promotional emails, with a lower CTR for newsletters.
d. Conversion Rate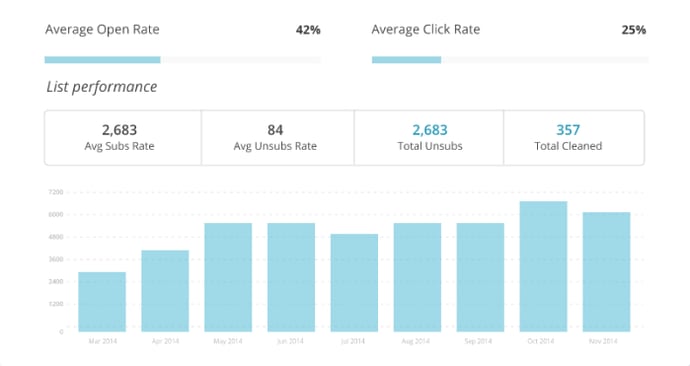 The final metric you should track is your conversion rate, which measures the percentage of people who follow your Call to Action and do what it asks them to do. That means they make an appointment, download an offer, or fill out a form.
We suggest using unique tracking URLs, so you can determine which conversions come from email.
The Bottom Line: Keep in mind that your conversion rate may be affected by other factors, including the quality of your landing page and the value of your offer. For more information on email marketing metrics and analytics, click here.
Conclusion
To maximize your chances of success with your dental practice email marketing, you should maintain a regular presence online.
Once you are sending marketing emails regularly, you can measure and track your results. You should plan on testing various elements of your emails to improve your metrics. You'll also begin to improve brand recognition and loyalty, and that will be reflected in the growth of your practice.
When preparing to launch any marketing campaign, it's helpful to have a simple checklist to ensure your content is accurate and ready.
About the Author
Tyson Downs is the founder of Titan Web Agency, a company specializing in marketing for dental professionals. With an impressive track record of working with over 100 dental practices, Tyson has a deep understanding of the unique marketing needs within the dental industry. His expertise has helped numerous dental practices flourish by meeting and surpassing their revenue goals and established him as a thought leader in healthcare marketing. His insights and strategies have been featured in esteemed dental publications, including the American Dental Association and the American Academy of Implant Dentistry. Before dedicating his career to helping dental professionals thrive through effective marketing, Tyson honed his skills in SEO and web design as a freelancer, while also gaining valuable experience in the corporate sector. As an alumnus of Brigham Young University, he brings a strong educational background to his entrepreneurial endeavors. Outside of his professional life, Tyson is a devoted father of five, who cherishes time spent with his family, especially when they're all enjoying America's pastime on the baseball field.