A Blog for Dentists & Other Healthcare Professionals
Dentists: 10 Amazingly Simple Ways To Increase Case Acceptance Rate
*Originally published December 2, 2016, Updated January 8, 2019.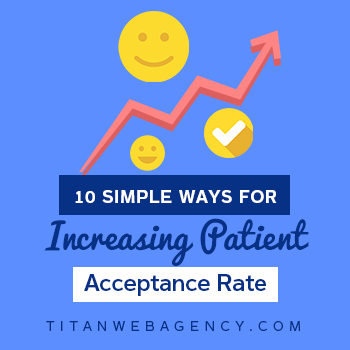 Whether you've just started a new practice or have been in the business for years, low patient acceptance rate is one of the most common issues a dentist faces.
For the most part, the problem has nothing to do with you or your practice -- dental visits have been decreasing nationwide for years.
In 2014, 52.3% of people said they visited the dentist every six months, while more than one in five said they hadn't been to the dentist in the last few years.
That said, there's still plenty you can do within your practice to increase patient treatment plan acceptance rate. Here are 10 easy dental case acceptance tips to help you earn more per patient and improve their dental health in the process.
1. Optimize treatment presentation

Your treatment presentations are the most crucial interaction you have with your patient to improve acceptance rates. There's a lot of value in doing the presentations yourself, but that's not always realistic.
No matter who does your treatment plan presentation - your treatment plan coordinator, your back office assistant or your hygienist - it's your job to make sure they're good at it.
So take the time to monitor them in action. Note their style, wording, and personality. How are patients responding? If it's you giving the presentation, make the same critical analysis of yourself. Or better yet, ask a brave soul on your team to evaluate you.
Dr. Mark Costes recently discussed the importance of improving your treatment presentation in a podcast with the Dental Success Institute. He said:
We have to present them with a multiple thousand dollar treatment plan after them knowing us for, what, less than an hour? So it's very important that we're intentional about building rapport and building trust in a very short period of time. That does not happen by accident.
Dr. Mark Costes

Whenever possible, make use of images, videos, etc. to help patients visualize the impact the treatment will have on their smile. Before and after pictures are very effective:
You might want to create a script for your case presentation. This encourages clarity and ensures your staff covers all the important points, such as:
The procedure details
The benefits of treatment
The length of treatment
The cost of treatment
Payment options
2. Relate to the patient
Even if you follow a script and cover all the important parts of your dental treatment plan presentation, it can still be ineffective if you don't relate to the patient.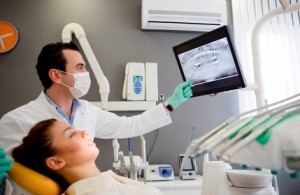 Instead of seeing you as a fancy physician with high-priced tools, your patient should see you as a friend with dental expertise. Turn the presentation into a discussion so you or your team members aren't doing all the talking. Hear out their objections and find a non-patronizing way to address them.
Patients who feel like they're being heard are also more likely to trust you. So make sure your treatment presentation is thorough, but doesn't come off like a sales pitch. Many people are looking for a reason to say no because your fees seem too high or they think you're trying to trick them into unnecessary treatment. Be a friend and a relate to the patient. These issues will at that point, should melt away.
3. Get your team involved
The dynamics of dental offices have changed a lot in recent years. In 2012, there were nearly one million dental personnel in the US -- dentists, dental hygienists, dental assistants, receptionists, office managers, bookkeepers, sterilization assistants, etc.. That's nearly a six-fold increase since 1950.
The personnel from your practice that a patient interacts with during their visit can have a big impact on their treatment acceptance. Your receptionists, dental hygienists, and everyone else in your office need to work together to establish credibility and trust with each new patient.
So instead of focusing only on the staff in charge of treatment presentation, train all of your employees to promote a caring environment where people feel welcome and safe. Make sure all team members, especially those up front, are friendly, personable, and look proud of the work they do.

You might even consider having dental case acceptance training for all of your staff on using effective patient communication scripts. Levin Group took this approach with one of their dental practice clients, and it helped them grow their total production by $776,000 (35%).
4. Schedule the appointment
Many dental practices can get a patient to agree to a procedure after a thorough treatment plan but lose them during scheduling.
The patient decides to book the appointment later, goes home, and thinks about all the reasons they shouldn't move forward. Then you have to call them to follow up, which will never have the same impact as the original treatment presentation did.
Whenever possible, encourage your patients to schedule their appointment the same day they agree to have the procedure. If they insist they need more time to decide, make sure someone at the front desk calls them within 24 hours to follow up.
5. Make your reminders personal
Nearly 80% of cell phone owners use text messaging, and 31% of people prefer texts to phone calls. This is a great service that many dentists are already using for their practices -- offering text message and email appointment notifications in lieu of phone calls.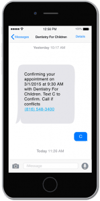 These options are definitely more convenient for patients, but they're also much less personal. Text messages and emails are really easy to ignore, which can reduce appointment attendance and scheduling.
So if increasing patient acceptance rate is your main goal, don't rely too heavily on technology. If a patient checked the box to receive text notifications, then by all means, use them. But don't make text or email the default communication channel for all patients.
6. Help patients value their appointment time
Another tip Dr. Costes offered in his podcast about increasing patient acceptance rate was:
Whether it's the person booking the patient or calling to remind them of an already booked appointment, there's plenty they can say to help the patient value their appointment time as much as you do. For example:
During booking: "We can put you in at lunch time Thursday, but please let us know if you'll be late as the doctor has another appointment right after."
On an appointment reminder call: "If there's any reason you won't be able to make your appointment, please notify us in advance. The doctor has many other patients waiting to schedule treatment who could benefit from that appointment time."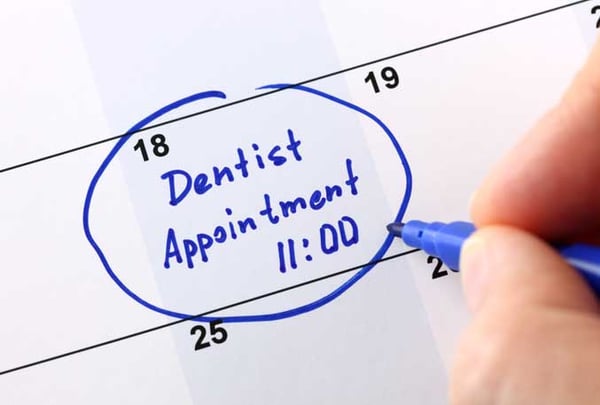 This kind of communication puts it in the patient's head that your dental office isn't waiting on standby for them to show up at their own convenience. This can either make them more serious about keeping their appointment or prompt them to cancel in advance so you can book someone else.
7. Set an end-of-day protocol
Following up with patients who have unscheduled treatment is a great way to increase acceptance rate. Instead of relying on text messages and emails (covered in tip #5), set up an end-of-day protocol for your staff to call these patients.
Your staff probably already has an end-of-day routine, so add on something like "make five phone calls to people who have unscheduled treatment plans."
Then you'll know your staff is doing something every day to close the gap. But keep a record of the dates a patient was called so you don't have multiple staff calling the same patient in the same day.
8. Explain the risks of postponing treatment
The percentage of adults who regularly visit the dentist went up for most of the second half of the 20th century. In 2003, the frequency started to decline. The trend is mostly due to better dental health overall.
Since today's generation has better oral health than previous generations, they're also much less informed about what happens when you let dental problems go untreated. They might not be aware of the serious potential health issues or tooth loss that can come from not scheduling treatment.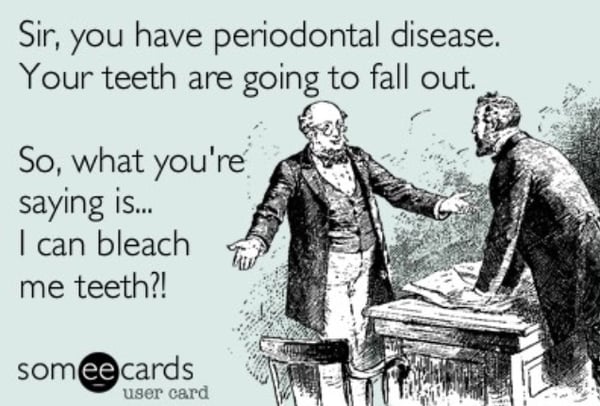 You can actually use this lack of knowledge to your advantage and increase patient acceptance rate at your practice.
When your staff calls up patients with unscheduled treatment, make sure they mention all the potential risks of not getting the work done right away. This includes the risk of needing more dental treatment and spending more money in the future, which really gets the patient's attention.
9. Offer a variety of payment options
In 2014, nearly 23% of people said they were unsure or definitely didn't plan to visit the dentist in the next 12 months. Their number one reason?
Cost.
That's why no matter what kind of patient you're seeing, you should always offer every payment option possible. You don't know what's going on in people's lives, so just because a patient pulls up to your practice in a BMW doesn't mean they don't want to see financing options.
In fact, a study from the Academy of Dental CPAs found that having outside financing available increases dental visits by 62% and case acceptance by 282%!
You can also offer special discounts and payment options to encourage patients to say yes, such as:
A no initial payment option
A discount for advance full payment
Accepting half the balance up front and the remainder after treatment
Accepting major credit cards
Zero percent interest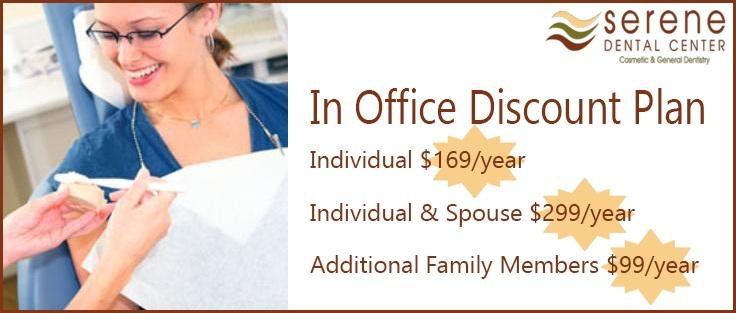 Around 40% of patients don't have dental insurance. So whatever you can do to make the payment process flexible can help your dental case acceptance rate overall.
10. Learn from rejection
No matter what steps you take to improve patient acceptance rate, you can't win them all. There will always be that patient that got away. But don't think of it as a loss. Think of it as a learning opportunity.
Whenever a patient rejects a case, try to learn what caused them to back away. Maybe it was a problem with your script, or payment options, or demeanor. If you feel comfortable with the patient, you may even ask them why they decided not to move forward with the treatment.
Dig into the hard numbers and keep track of any changes in your dental case acceptance rate over time. If you see any major increases (or decreases) in your numbers, then it's probably time to reassess your process to see what you're doing right (or wrong).
Conclusion:
Any experienced dental practitioner can tell you that increasing your patient acceptance rate is a key to success in the business. You should:
Optimize your treatment presentation
Relate to your patient
Get your team involved
Always try to schedule the appointment
Make your reminders personal
Use language that helps patients value their appointment time
Create an end-of-day protocol to follow up
Explain the risks of postponing treatment
Offer a variety of treatment options
Always learn from rejection experiences
It's important that you know your case acceptance rate. It is hard to improve if you don't know where you currently are.
Do you have a dental case acceptance tip? Please share it below.
About the Author
Tyson Downs, the owner of Titan Web Agency, has years of experience working with small businesses and helping them meet their revenue goals. Prior to starting Titan Web Agency, he freelanced in SEO and Web Design while working in the corporate world. Tyson is a graduate of Brigham Young University, the father of 5, and enjoys spending time with his family. Particularly on the baseball field.