Ultimate Guide to a Dental Practice Rebranding [Free Checklist]
(This post was originally published March 24, 2016, and was extensively updated on November 29, 2021)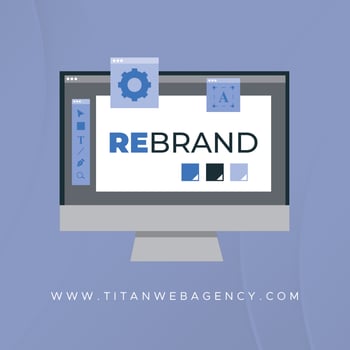 When it comes to marketing strategies, branding gets a lot of discussion. Nearly every dental office brand can benefit from a little improvement, but rebranding your practice is a big decision. It involves taking a step back and reconsidering everything about how your practice is presented to potential patients.
At Titan Web Agency, we help dental practices fine-tune their branding all the time. Without proper branding, the best marketing efforts may be in vain. For that reason, we have created this guide to help you decide if rebranding your practice is right for you and what to do if it is. If you are branding your dental office and trying to build your reputation, there's still much you can learn from this blog post.
What is Dental Practice Rebranding?
Let's start with the basics. What is dental practice rebranding, and what goes into it? Rebranding involves rethinking every aspect of the public presentation of your practice.
Typically, a full rebrand includes a new logo, color scheme, business signage, letterhead, and business cards, and it can also include a new business name. It will also include new digital branding. You will need a new website, profile pictures, cover photos, bios for your social media profiles, a new email newsletter design, and more.

BONUS: Prefer a Printable Checklist? Grab Your FREE Dental Practice Rebranding Checklist Now ---> Checklist.
As you can imagine, this shouldn't be taken lightly.
We have worked with several dentists doing full rebrands when they have purchased the office from another dentist and want to change the dental practice name to include their name or an entirely new name. It is a task that must be undertaken with precision and an understanding of how your new brand will affect your ability to attract prospective patients.

8 Reasons Why You May Need to Rebrand Your Dental Practice
There are many reasons why you might want to rebrand your dental practice. Here are 8 for you to consider.
1. Your Practice Has Expanded
Perhaps when you bought your practice, you had just a couple of chairs and did primarily preventative work. You now have a half dozen chairs, and you do a lot of restorative and cosmetic dentistry in addition to your starting preventative work.
You don't want your old branding to limit the scope of what you have to offer.
The same is true if your practice has expanded beyond your geographical name. If your practice name was specific to a city, but you have expanded to a neighboring city, you will want to consider an updated name and either a full or partial rebrand.
2. A Merger or Acquisition
If you have merged or acquired another dental practice, rebranding will be required. It is common after a merger to create a new brand by combining the two practices' names to help retain the loyalty of existing customers. However, combining the names isn't essential. You have the option of creating a new name and notifying all existing patients of the change.
3. Legal Issues
Legal issues can sneak up on any kind of business and make rebranding a necessity. The most common issue is having a brand name, logo, or slogan too similar to that of a trademarked company. Even if you have been using the logo or name for years, it might not be worthwhile to take the case to court and pay legal fees.
4. Negative Publicity
It is not very likely that your practice has been associated with a corporate collapse or crime, but if your dental practice reputation is not healthy, then you will need to do some repair work. In many cases, it will be possible, and preferable, to repair your brand without rebranding. Simply renaming the company and coming out with a new logo and dental website is a shady way to get out from under negative publicity.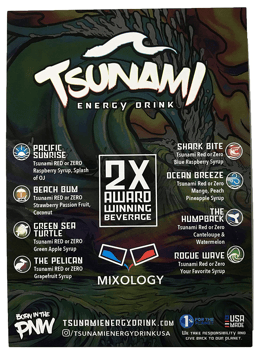 Sometimes your brand can end up being associated with something that you have no control over and had nothing to do with, but it can still bring up negative thoughts and emotions in your customers. A good example of this is the sports drink Tsunami, which had to rebrand in 2005 after a giant tsunami killed hundreds of thousands in Indonesia.
If you have got a publicity problem that is out of your control, then rebranding can be an effective way to reinvent yourself.
5. Out-of-Date Brand Image
If you bought a practice that has been in business for decades or you, yourself, have been in business for a long time, your brand may have become dated over time. The public's response to and expectations of branding have evolved and you may need to update your brand to stay in step with the times.
6. Need for Differentiation
Is your practice getting lost in the crowd? If your practice is in an area where you have a lot of competitors, then rebranding your practice will help to improve your visibility and help potential patients understand why they should choose you as their dentist.
7. Loss of Relevancy
For any brand to be successful, it must be relevant to its target audience. If your branding is not resonating with the people you want to attract as patients, then it may be time to rebrand to make your practice relevant once again.
8. Struggling to Attract New Patients
Stagnating patient lists is one of the most common problems we deal with as dental marketing experts. It is easy to assume that because you provide quality dental care, patients will come, but that is not always the case. New branding can help inspire your current patients to refer their friends and family and attract new patients through creative dental marketing.
Cost of Rebranding a Dental Practice
One of the rebranding questions we hear the most is this:
How much does it cost to rebrand a dental practice?
That is an important question because you cannot undergo the rebranding process if you do not have the budget to support it.
Costs can vary depending on the size of your practice. For example, it will cost more to rebrand a practice with multiple locations than it will to rebrand a stand-alone practice. As a rule of thumb, you should expect to spend between 10% and 20% of your marketing budget on rebranding.
For example, if your marketing budget is $100,000, then your rebranding will likely cost you somewhere between $10,000 and $20,000.
At Titan Web Agency, we can help you with every aspect of rebranding, including:
Creating a new logo, colors, style guide, etc.
New website URL (domain name) suggestions
Creation of a new website or updating an existing site to match the new brand
Updating existing online properties such as Facebook, Google, and more
A press release announcing the change, with distribution to the local newspapers and tv stations.
Titan Web Agency specializes in helping dentists and other healthcare professionals rebrand or build a brand for their practice at an affordable price that the big branding agencies don't offer.
Mistakes to Avoid When Rebranding Your Dental Practice
As you might imagine, the road to rebranding your practice is paved with potential roadblocks and pitfalls. It is important to avoid these if you can.
Changing Your Name for No Good Reason
Rebranding may include a name change but should only do so if necessary. Any negative publicity that is beyond your control or merging with another practice may require a name change. You should keep in mind that changing your practice name frivolously means you will be giving up any name recognition you had acquired. In most cases, rebranding involves keeping the same name and changing the branding around it.
Sacrificing Simplicity to Appear More Interesting
Good branding is simple. It needs to be easily understood, conveying the most essential information and values of your practice as quickly and clearly as possible. Dental rebranding efforts sometimes fail because the new brand sacrifices simplicity. You should focus on how your new brand will be perceived and make it as clean and uncomplicated as you can.
No Concrete Plan and Timeline
There's no denying that rebranding is a big undertaking, and it may be difficult to predict how long it will take. That said, it is essential to make a concrete rebranding plan and create a timeline for each element of it. If you don't, you may end up with unclear messaging that confuses your audience and negatively impacts your practice.
Not Having a Brand Style Guide
A big part of effective branding is consistency. If you don't pay attention to the details, potential patients may not recognize your brand when they see it. That means letting your brand colors, typography, and iconography dictate the design of your website, your printed marketing materials, your social media posts, and even the design of your office. So having a brand style guide will allow you to make the rebranding successful.
How to Rebrand Your Dental Practice: Best Practices
Now that you have decided that rebranding is the right choice for your practice, you are ready to get started. To help you do a good job with the dental branding process, here are some best practices to follow.
Hire a Rebranding Team
The first step is to hire a rebranding team to help you. While you know your brand, most dental professionals are focused on oral health, not marketing. That means you need assistance from a knowledgeable company to help you identify key differentiators between you and your competitors and create branding that will help you achieve your goals.
Understand What it Takes
If you have decided that rebranding is worthwhile for your practice, the next step you should take is considering is how much of an undertaking it really is.
Your company rebranding will take a lot more effort than designing a new logo and updating your stationery. You will need new signage and a website update as well. You can't cut corners on this. Research indicates that 60% of US Millennials expect their experience with brands to show consistency online, in-store, and on the phone.
If you are changing the name of your practice, you will need to purchase a new domain name, and all your social media profiles should be updated with your new graphics and brand name.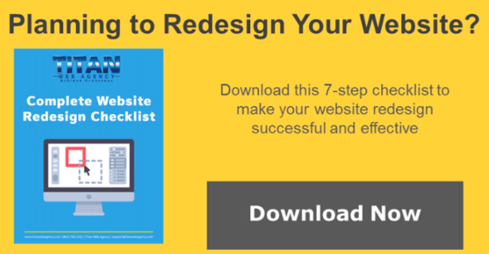 It is also essential to update your local business listings (Yelp, HealthGrades, Google Business Profile, Facebook, etc.) and wherever else your business may appear if you want to remain relevant in Google Local search.
At the same time, rebranding a business comes with certain downsides. We have already mentioned the cost so you know you will need to be prepared to invest some money in rebranding.
After everything's said and done, it may have cost you tens of thousands of dollars- not to mention the value of your time investment.
If your rebranding involves a name change, you will lose any name recognition you had, and you may lose some customers in your push to appeal to new ones. You may also experience a decrease in your organic search results at first. There are some best practices you can follow to minimize the effects.
In short, it's important to understand the scope of rebranding before you dive in.
Have Your Vision in Mind
When developing your branding strategy, it is easy to get caught up in the details such as brand colors and dental logo design. These are important steps, but they are not the first steps to rebranding a company.
Before you start the process, you need to spend time evaluating your practice's current strengths and weaknesses. Rebranding is an effort to solve a problem with your existing messaging. So, what exactly is that problem?
You may want to survey existing patients to find out. If you already know what the problems with your current branding are, then it is essential to focus on what you want your branding to do and keep that idea at the heart of every rebranding decision you make.
Collaborate with Your Team
Any experienced rebranding team will work closely with you to develop your new brand, and everything associated with it, from your logo to appointment reminder cards to signage.
Remember to communicate your priorities and look at the entire process as something collaborative. Keep an open mind and don't be afraid of innovative ideas. Remember, hiring a professional team gives you access to specialized experience and expertise that you don't have.
Talk to People
You probably have some idea of what's wrong with your current brand, but it is more important to know what others think.
Spend some time reaching out to your current patients, employees, or even experts in the healthcare industry to get their opinion about your dental practice's brand and services. A clever way to get your employees excited about rebranding is to allow them to become active participants.
If you can get people to be honest with you and paint a clear picture of what they do and don't like, this valuable information can help you achieve your overall goals.
You should have a good idea of the core messaging that you want to have after you rebrand and have a clear understanding of how it will solve your current branding problem.
Consider Your Competition
The best way to understand where you stand in your local market is by comparing yourself to the competition's marketing strategy. Spend some time researching your direct and indirect competitors in your market. Answer the following questions:
What is their brand message?
What are their overall attributes?
How do they bring value to their customers?
Answering these questions will help you figure out where you are currently positioned in the market, and help you brainstorm ideas that can help you stand out from your competitors during your dental practice rebrand.
Consider Your Own Interests
Rebranding is the perfect opportunity for you to cater to your interests and draw in the kind of patients you want. Of course, you will want to focus on what prospective patients want, but it's also essential to think about what you want.
Which aspect of your job brings you the most joy? For example, you might prefer certain procedures over others, or you might love working with young children.
Use your rebranding as an opportunity to specialize in the type of dental services that you like to provide in the way you like to provide them.
Consider Psychology of Colors
When working on a logo redesign, choosing the right colors is one of the most important branding decisions for any business. Color increases brand recognition by 80% and directly relates to consumer confidence.


For healthcare providers, it is essential to choose colors that convey a message of responsibility and trust for potential patients.
In general, "cooler" colors such as whites, blues, and greens tend to suggest stability, trust, and calm. These are all valuable feelings to convey to your target audience.
Rethink Your Target Customers
Most brands have a very narrow view of who is in their target audience. That may be true for you. It may also be true that the demographics of your audience when you first started your practice are no longer the same. Rebranding is the perfect opportunity to reevaluate your target customers and develop a digital marketing strategy that is appealing to them.
Your audience may be dictated by the specialties of your practice. If your target persona is over the age of 65, then it would be worthwhile to continue catering to the Baby Boomers and Generation X.
According to the Centers for Disease Control, only 65% of Americans between the ages of 20 and 44 visited a dentist in 2019. That incorporates all Millennials -- and attracting their business (and that of Generations Y and Z) can help you to grow your practice.
There is a ton of data out there on how the different demographic groups respond to brand messaging, as well as what they expect from a business. Consider this when developing your branding strategy.
Communicate Clearly and Consistently
Any marketer will tell you that your new brand needs to be publicized. To make the most of your current client base and ensure they stay with you, you need to get creative. That means creating a consistent brand voice and using it across all platforms, from your website to social media to printed marketing materials.
For example, many dentists prefer a tone that is both warm and professional. You want patients to believe that you have the training and confidence needed to provide them with quality dental care together with the compassion to help them feel good about their smile.
Tell a Story
You know why you decided to rebrand your practice, but your patients don't. You need to share your story with them to help them understand and get on board with the changes.
The most important thing is to tell a story that puts the changes in a positive light and reassures your current clients of your continued commitment to meeting their needs. If you don't, they may write their own story about the rebranding which may not be to your benefit.
Get creative in your email marketing by writing a personal message or creating a video to tell the rebranding story. Let your customers know the rebrand is happening ahead of time and keep them up to date on its progress, so they feel involved in the evolution.
Another great dental retention strategy is featuring some of your current patients as case studies or reviews for the rebranded practice's website. This will offer reassurance that you are still the same business.
Consider Client Touch Points
When it comes to drawing in new patients with your rebrand, you need to consider how your practice is perceived at every touch-point. Communication is a touch-point you may want to develop a new strategy for.
Consider these statistics if you are trying to draw in Millennials:
99% aren't influenced by advertising
33% of them read reviews before making a purchase
62% of them want to engage with brands on social networks
75% of them expect brands to give back to society
This is valuable information to know when considering client touchpoints. According to research, pay-per-click advertising doesn't work well with the Millennials demographic, but social media marketing does. Keep in mind, this isn't 100% of the time. You'll want to test out different strategies. It may be that in your area, pay-per-click advertising DOES work for Millennials. Test it.
Set a Realistic Timeline
We talked about being prepared for the realities of rebranding. Part of that is understanding how long it will take and creating a timeline to achieve your rebranding goals.
Rebranding your dental practice may take as little as six months or longer than a year. Your rebranding team can help you manage your expectations and create a timeline with due dates for each deliverable, including your new logo, web design, and business cards.
Track the Success of Your Rebrand Effort
The final element of a successful rebranding is tracking your results. Working with an expert team will minimize the risk that your new brand won't resonate with your audience, but you still may need to do some fine-tuning of your branding package. You will need to monitor your results and tweak them as needed to reap the full benefits of branding.
You should monitor the following things to track your rebranding:
Website analytics
PPC ad results
Organic search
Social media statistics (follows and shares)
Reviews
If you notice that your rebranding is not delivering the results you want, then you can make any changes necessary to keep your branding memorable.
Ready to Start Your Dental Practice Rebrand?
Rebranding your dental practice is an effective way to differentiate yourself from your competitors, attract new patients, and take on your competition. The guidelines we have included here will help you have a successful rebranding that ticks all the boxes.
Are you ready to create a new brand that will attract new patients by assuring them of the high level of care they'll receive at your practice? Titan Web Agency is here to help.
About the Author
Tyson Downs is the founder of Titan Web Agency, a company specializing in marketing for dental professionals. With an impressive track record of working with over 100 dental practices, Tyson has a deep understanding of the unique marketing needs within the dental industry. His expertise has helped numerous dental practices flourish by meeting and surpassing their revenue goals and established him as a thought leader in healthcare marketing. His insights and strategies have been featured in esteemed dental publications, including the American Dental Association and the American Academy of Implant Dentistry. Before dedicating his career to helping dental professionals thrive through effective marketing, Tyson honed his skills in SEO and web design as a freelancer, while also gaining valuable experience in the corporate sector. As an alumnus of Brigham Young University, he brings a strong educational background to his entrepreneurial endeavors. Outside of his professional life, Tyson is a devoted father of five, who cherishes time spent with his family, especially when they're all enjoying America's pastime on the baseball field.