7 Ways to Differentiate Your Dental Practice From the Competition
Dental practices are all the same, right? As you know, this is not correct. But this is the assumption you may find yourself fighting when it comes to differentiating your practice from the competition.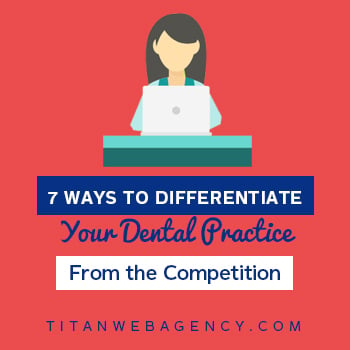 Many potential patients believe that one dentist is as good as another. After all, they can get a cleaning, whitening, filling, or crown from pretty much any dental office.
What they may not know is that the level of service can vary significantly, as can the knowledge and experience of practitioners. Plus, some dental practices put a lot of time and money into attending seminars and purchasing equipment - just so they can offer the latest advances and technologies to patients.
And it's your job to let current patients and prospective clients know what you have to offer. This could mean paying for print, radio, TV, and web marketing for dentists.
Or you might consider ways in which you can wow your current patients. And you should encourage them to become brand ambassadors who take to social media and use word-of-mouth to talk up your newly started dental practice as a trusted source of information.
But before you get ahead of yourself, you first need to figure out what makes you better than your competitors, and you should make any needed changes to improve and offer added value, as well. Here are a few strategies that could help you set your practice apart from the competition.
1. Focus on Customer Service
If you're focus has been on growth mode for your practice, and you are strategizing and thinking of ways attract new patients, be sure to not forget that retaining patients is much cheaper than attracting new ones. Whatever you do, don't let your existing patients feel as if they are simply a number to you.
It's imperative that your patients feel like you've gone the extra mile to offer them personal and compassionate care. It should be your goal to wow every patient that walks through the doors.
But how is that truly done?
By getting to know them. Asking them about their family (and remembering or taking notes so you can remember), and truly caring about them.
Building trust and personalizing the doctor-patient relationship is an essential part of creating loyal patients who value your opinion, and trust that you are 'doing them right'. These patients are the ones that will be much likelier to agree to recommended treatments, and act as your brand ambassador.
When patients are truly impressed by the service you provide, they won't hesitate to refer you to their friends and family, and if asked, to leave you a review online.
2. Get Organized
When your office is running like a well-oiled machine, patients probably won't notice. But if you start dropping the ball and making mistakes, you'd better believe that your patients will grumble about the inconvenience.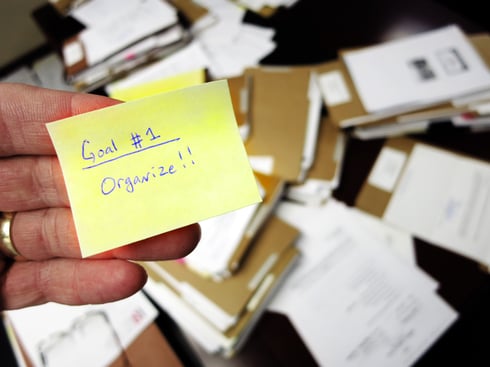 Being organized means reviewing patient history prior to visits so you know what you're dealing with and you can offer personalized service. It also requires your office to schedule appointments as patients are leaving and confirm with them a couple of days before they're due to visit.
It means staying on top of changes in contact information, forms of payment, medical history, and insurance policies (not to mention knowing what is covered before you proceed).
And it means letting your patients know about new services that they'll find beneficial, as well as noting when they want to hold off or if they're not interested.
3. Continue Education
Getting the edge on competitors could mean offering new and improved options that other practices are unable to. And this may require a commitment to ongoing education for your entire staff.
By taking classes concerning new technologies, attending seminars on industry advances, and keeping up with relevant news pertaining to the field of oral healthcare, you can offer your patients a level of expertise that other offices may not be able to match.
And dental websites, blogs, and social media outlets offer you the opportunity to inform consumers about the latest happenings in your industry and at your office, potentially convincing them that your business can offer exactly the services they're seeking.
4. Upgrade the Office
In addition to keeping your knowledge and skills up-to-date, it's also important to spot the technologies that are going to be the most useful in your practice.
It's not enough to have a dentist website; you need dental SEO in order to make sure that your efforts are visible. The same basic principle applies to in-office technology.
Don't just get an automated calling system to remind patients of their upcoming appointments - use a product or service that also has options to send out emails or text messages. Make it easy for patients to choose the method of contact they prefer.
Don't make patients wear temporary crowns after impressions are taken, forcing them to come back days later to finish their appointment - use 3D printing technology to create crowns in-office while they wait.
You probably won't (and shouldn't) adopt every new technology that hits the market. That would be terribly expensive and it would ruin your rate of return. But if you feel there's a strong need for certain technologies in your practice, don't hesitate to upgrade equipment or software to better serve and improve patients satisfaction.
5. Follow-up with Inactive Accounts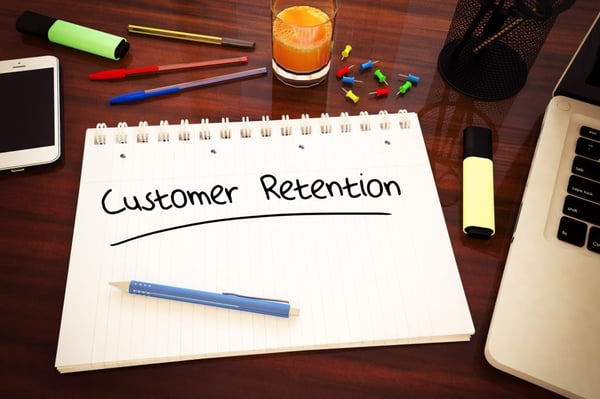 With both the housing and job markets beginning to rebound, we may finally be at the tail-end of the recession. But there are still a lot of people trying to recover, and whether they are newly insured or not, dental visits might not be at the top of the average list of priorities.
That said, some people simply forget to set up dental appointments, what with the hustle and bustle of daily life-dominating every waking moment. So make sure to follow up with inactive patients periodically. If they've simply forgotten or they've gone to another dentist they're not happy with, this could be a good way to win them back.
6. Consider Internal Marketing
Paying for real-world advertising is something of a crapshoot, and unless new patients tell you how they heard about you, chances are you'll have no indication of whether or not your efforts are delivering results.
However, internal marketing efforts are often less expensive and much easier to track. By offering incentives for current customers to try new services or refer you to their family and friends, you'll know exactly how word spread. And all it will cost you is whatever discounts you offer.
7. Increase Your Online Presence
As a dentist, your likely no stranger to competition. How many dentists do you have in your city? A dozen? A couple dozen? The limited pool of patients and the high lifetime value of a patient often make the competition fierce. Let's face it, the internet isn't going anywhere and people are spending more time online than ever before. Consider this, in a recent survey, 18.4% of people looking for a dentist choose the 1st result. And 43.3% of people will choose the dentist with the best reviews.
And dentist websites are only the tip of the iceberg. Your website will act as the hub of your online operation, but from there you can branch out to include a blog, dental social media campaign, local SEO, paid advertising, and more - all of which help you to optimize, expand your online presence, and get found, which helps you reach your ultimate goal of growing your practice.
It might not be very easy to come up with ways to differentiate your dental practice from local competitors. But when you focus on outreach efforts and follow up with stellar service, cutting-edge technologies, and systems designed to increase convenience and improve care, you'll definitely impress clients and stand out from the crowd.
About the Author
Tyson Downs, the owner of Titan Web Agency, has years of experience working with small businesses and helping them meet their revenue goals. Prior to starting Titan Web Agency, he freelanced in SEO and Web Design while working in the corporate world. Tyson is a graduate of Brigham Young University, the father of 5, and enjoys spending time with his family. Particularly on the baseball field.