Dental Practice Financing: Business Loans for Dentists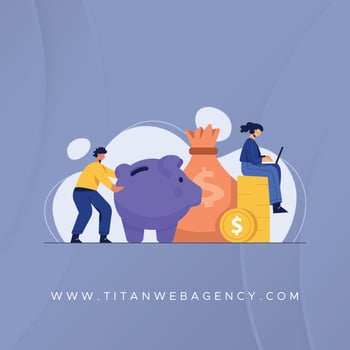 We don't need to tell you, if you're reading this, you KNOW, opening or purchasing a dental practice is an expensive endeavor! Many dentists, whether they have just graduated from dental school or are already established and thriving in their profession, often find themselves lacking the necessary savings to cover all their expenses.In fact, many have high student loan debt to pay and may wonder how they can afford to open a practice.
At Titan Web Agency, we partner with dentists and dental practices daily and often get questions related to dental practice financing. If you're considering opening a practice, you want to expand an existing dental practice, or you plan to buy a practice, you should know that business loans for dentists can provide the money you need to achieve your goals. In this post, we'll explain the ins and outs of financing a dental practice with a business loan.
Understanding Dental Practice Financing
Dental practice financing isn't difficult to understand but can take several forms. Most businesses, including dental practices, need working capital on hand to pay for their expenses. These expenses may include rent, payroll, equipment, supplies, and marketing, as well as the cost of purchasing a practice in some cases.
Financing may be private and come from investors. It may also come in the form of a business loan or line of credit. Business lending may be obtained from banks and credit unions, as well as from online lenders. In most cases, the requirements to borrow money from a bank are the most stringent. Online lenders may have more flexible guidelines, but you should know that these typically come with higher rates than what you would find at a traditional lender.
Debunking Myths About Business Loans for Dentists
Before we dive into the details about small business loans for dentists, here are a few common myths you may have heard.
Myth #1: You Can't Get a Dental Business Loan if You Have Student Loan Debt
One of the most persistent myths about dental practice financing is that you can't qualify if you have student loan debt. That's simply not true. Most dentists have some student loan debt. In fact, the average student loan debt for a dental school graduate is $293,000 as of 2022.
The good news is that you can still get a dental business loan if you have student debt. Business lending is based on the earning potential of the practice, not on your outstanding debt. Keep in mind that it's essential to make your student loan payments on time since paying late will negatively impact your credit score, which can affect your ability to qualify for a loan.
Myth #2: You Shouldn't Talk to a Lender Until You're Ready to Apply for a Loan
Another myth we have heard is that it isn't worthwhile to talk to a lender until you're ready to apply for a loan. That's not true, either.
Talking to a lender early in the process, whether you're purchasing an existing practice or starting a new one, can help you better understand your options and do what you need to prepare for the application process.
Myth #3: You Can Use the Same Loan to Buy Property and Finance Your Dental Practice
If you're buying property for your dental practice, you may have heard that you can use a single loan to buy the property and finance your practice. That's not the case.
Business loans and property loans are structured differently. Real estate loans amortize over a longer period than business loans, typically between 20 and 30 years. Discuss your requirements and see what they can do for you to provide the financing you need when talking to a lender.
Dental Practice Financing Use Cases
There are four use cases when you may want to consider dental practice financing to help you pay for expenses.
Starting a dental practice
Starting a new dental practice is the first use of dental practice financing. It's common for fresh graduates to work for an existing dental practice at first, but opening a new practice is a goal for many. Financing a dental practice can help you pay for necessary expenses including rent, marketing, and payroll.
Buying or expanding a dental practice
Some dentists choose to buy an existing practice or expand a practice to a second location. In either case, dental practice financing can help you get the funds you need to achieve your goal.
Purchasing or upgrading dental equipment
Dental equipment is expensive. It's common for dentists to require financing to purchase new equipment or upgrade existing equipment. Equipment loans are a specific type of dental practice financing that can help you pay to keep your practice up to date with the latest equipment.
Working capital infusion
Even a well-established dental practice may sometimes require an infusion of working capital. Funds may be required to hire new staff, run a marketing campaign to attract new patients, upgrade your waiting area to make it more comfortable for patients, or to increase the amenities & perks your office provides.
If any of these use cases apply to you, then dental practice financing may be precisely what you need to achieve your dental business goals.
Common Types of Business Financing for Dentists
If you need dental business financing, there are several types of loans and options to consider.
Traditional Bank Loans
Traditional loans may be obtained from banks and credit unions. These typically have the strictest requirements, which we'll discuss in the next section. While we're using the word 'bank' here, traditional loans are also available from credit unions, which may have more advantageous interest rates than banks.
Traditional bank loans have loan terms between three and ten years and are typically available in amounts from $250,000 to $1 million.
Business Line of Credit
A business line of credit is a form of revolving credit. Your limit will be the maximum you can withdraw, but you'll have a withdrawal period, during which you can withdraw money at any time. You always have the option of repaying what you withdraw, so you can in theory borrow more than the limit, provided you make repayments during the withdrawal period. When the withdrawal period ends, you'll have a repayment period.
Many lenders cap the limits for business lines of credit at $500,000. Business lines of credit come with a withdrawal period between one and five years, followed by a repayment period of six months to five years. You pay interest only on the money you withdraw.
SBA Loans for Dentists
The Small Business Administration makes loans available to small businesses in the United States, including dental practices. These loans often have less stringent requirements than traditional bank loans. Best of all, SBA loans are available in amounts up to $5 million.
To apply, you'll need to go to the SBA website, and they'll match you with a lender who will process your application and underwrite your loan. Once approved, you'll receive your funds as a lump sum and make monthly payments until you have repaid the loan.
Term Loans
Term loans are the same as traditional bank loans. They are called term loans because they have a fixed term and repayment schedule, differentiating them from lines of credit.
Term loans may be secured (backed by collateral) or unsecured. As a rule, large-term loans require collateral to protect the lender.
Merchant Cash Advance
A merchant cash advance is a short-term loan that a lender advances against your credit card receipts. We're including it here because you may see information about MCAs online.
MCA providers will advance your money and take a percentage of your credit card receipts until the balance is paid. We do not recommend MCAs, since the fees tend to be very high compared to traditional lending.
Online Lenders
Online business lenders are an alternative to traditional lenders. They may have more lenient lending requirements than traditional lenders; for example, they may be willing to loan you money based only on your dental practice receipts and a minimum credit score which may be as low as 500.
The downside of using an online lender is that their interest rates are usually higher than what you would find with a traditional lender, so you'll end up paying more for your loan in the long run than you would if you went to a bank.
Requirements for Business Loans for Dentists
The requirements for business loans may vary depending on where you apply for dental practice financing.
Essential Documentation and Paperwork
While some lenders require less documentation than others, you will likely need to provide the following documents when you apply for a dental practice loan.
Personal information (your name, address, phone number, Social Security Number, etc.)
Your personal and business bank statements
Your business documentation (articles of incorporation/operating agreement, licenses, etc.)
Your Employer Identification Number (EIN)
Your lease agreement
Copies of contracts
Business plan
Proposed purchase agreement (if purchasing a practice)
Inventory of equipment

SBA

loan forms
When discussing dental practice loans with your lender, they will provide you with a clear list of the information they require. If you are purchasing a practice, it may be necessary to collaborate with the current owner to gather some of this information..
Financial Condition and Credit History
When you apply for a loan, your financial condition, credit history, including that of your practice or the practice you're buying, will be considered. If you have an existing business, you'll need to provide financial documents; and if you're purchasing a dental practice, you will need the same reports for the business you're buying.
Up to 12 months of business bank statements
Balance sheet (current and projected)
Profit and loss report (current and projected)
Income statement (current and projected)
Cash flow statement (current and projected)
Current accounts receivable
Schedule of business debts
Three years of business and personal tax returns

Dental practice valuation

(if expanding or buying an existing practice)
Having these reports ready before you begin the application process will help you avoid delays and quickly get the financing you need.
Patient Base and Staff Profile
Before most lenders provide you with business financing, they'll require proof that you will have enough income to repay your loan. They'll want details about the patient base and staff of your practice or the practice you're buying.
If you are buying an existing practice or taking out a loan to expand your practice, you'll need a current patient list and information about your staff, including payroll and their training and qualifications. You should also include a market analysis of your proposed service area.
Credit Score Requirements
Credit score requirements vary but for most business loans, including traditional bank loans and SBA loans, you will need good to excellent personal credit to qualify. In most cases, that translates to a FICO score of 690 or higher. If you use an online lender, you may be able to get a loan with a credit score as low as 500. However, you should expect to pay higher interest rates than you would with a higher score.
If you have an established business, the lender will also look at your business credit score, which ranges from 0 to 100. There's no fixed requirement, but the higher your score is the more likely you are to be approved.
Seeking Professional Assistance
While it's possible to get through the process of applying for dental business financing without assistance, it's worthwhile to seek professional assistance from an experienced dental accountant or lawyer. A professional can help you sort through your financing options and choose the one best suited to your needs.
Working with a lawyer or accountant can also help you prepare to apply for financing by making sure your financial and legal documents are in order. It's a worthwhile expense because it can save you money and stress in the long run.
Final Thoughts on Securing Dental Practice Financing
Dental practice financing is widely available from a variety of sources. Choosing the best financing option for your situation and gathering information to apply can be stressful. Still, the information we've included here can help you get through it easily and with minimal stress.
Do you need assistance marketing your dental practice? Titan Web Agency is here to help! Contact us today to learn more about our services and schedule a free consultation.
About the Author
Tyson Downs, the owner of Titan Web Agency, has years of experience working with small businesses and helping them meet their revenue goals. Prior to starting Titan Web Agency, he freelanced in SEO and Web Design while working in the corporate world. Tyson is a graduate of Brigham Young University, the father of 5, and enjoys spending time with his family. Particularly on the baseball field.