Ten of the Top Dental Inventory Management Software Programs Reviewed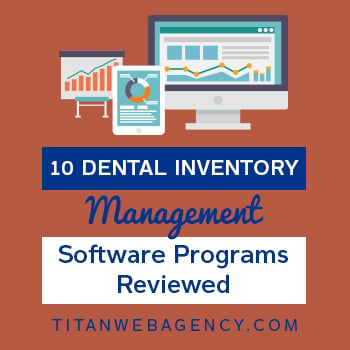 *This post was originally published October 03, 2019 and extensively updated June 04, 2021.

Managing inventory at a dental office can mean the difference between blowing the budget and staying on budget. Waste, expired products, lack of product, or delayed product can all stall the progress of a busy dental clinic. Every dental office needs an inventory control system, and some offices are still upgrading their old paper systems for new electronic inventory systems. If you truly want a productive dental office, mastering your dental inventory management system is a must.
We have rounded up ten of the most popular inventory control systems for dental offices to make your life easier!
Get organized and start saving time and money in your office with an inventory management system.
Ready? Let's go.
If you like this post, you will want to read this one as well:
19 Dental Practice Management Software Systems Reviewed
A Note About Dental Inventory Management Software
While every dental office is different, they all have inventory control needs that have to be set up and managed. When choosing a dental inventory software for your organization, don't go for all the bells and whistles just because 'you want the best.' Take the time to consider what features you need before you opt into any payment plan or service contract.
One suggestion that can help streamline your office is to upgrade your existing systems to an all-in-one system. This way all the information flowing through your office can be found in one place. This makes it easy to control all aspects of the operation and plan for future growth.
1. Sowingo

4.9/5 (43) (Ratings as of: 7/26/2023)
Sowingo is a mobile and web-based dental inventory management platform. This platform specializes in general inventory management, implants, medications, expiration and pre-order alerts, sterilization compliance, and record keeping. Users can instantly access usage reports and purchasing analytics from anywhere because of the convenient cloud-based service model.
According to Sowingo, the average dental practice saves over $8,000/year by reducing the number of wasted supplies, decreasing staff hours spent counting and organizing inventory, and minimizing last-minute orders and shipping fees.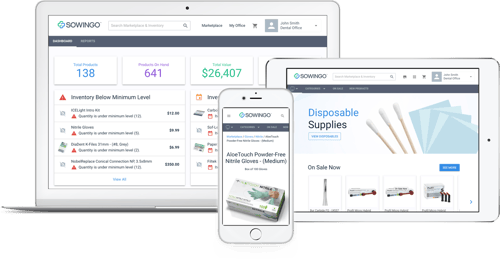 Service model: Cloud-based
Hardware/operating system requirements: Any web browser, optimized for Google Chrome
Price: Subscription-based pricing is offered in different packages: the most popular are Premium ($175) & Premium Plus ($225)
Free demo: Yes
Support: Free technical support 9:00 AM - 5:00 PM EST. Support is extremely responsive and is provided via email, phone, screen sharing, and online chat.
Training: Provided over the internet and the phone (no in-person training), also via online demos and webinars
Key features:
Inventory Management Mobile & Web App
Purchase Orders
Sterilization & Compliance Record-Keeping
Implants
Medications
Certifications
Spend & Usage Reports
Marketplace
Sowingo is one of the leading dental inventory systems in North America. It is hard to beat with its affordable pricing and great features. Although there is a robust support system, it is only available during peak business hours, which might not work if your office is open later than usual. Otherwise, the software package boasts easy-to-use features that go beyond just inventory control.
2. Zensupplies
ZenSupplies allows dental offices to manage inventory and avoid overstocking. This software package allows your office to work with multiple suppliers, manage orders, reduce costs associated with dental supplies, track equipment, support multiple locations, and more. It is marketed to small dental practices, as well as larger healthcare complexes and distributors which helps create a two-sided market that everyone can benefit from. A free version of the product is available without a contract to see if it is right for you and your dental practice.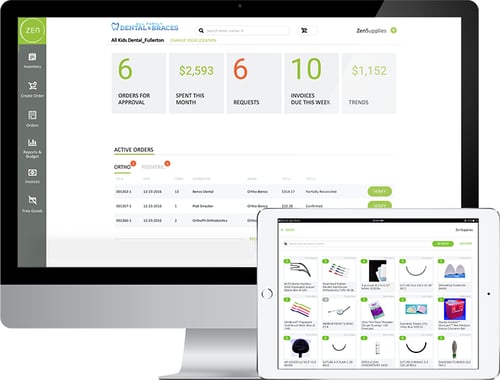 Service Model: Cloud-based
Hardware/ Operating System Requirements: Any web browser, optimized for Google Chrome
Price: ZenSupplies used to offer multiple plans but they have now limited it to one. The price is $199 per month, per location, and there is a one-time $599 set-up fee. They offer onboarding and a 30-day money-back guarantee.
Free Demo: Yes, there is a free demo, as well as a video demonstration of the product on the website.
Support: There is a support section on the website where you can submit a ticket for problems. There is also an FAQ section to help you get started and troubleshoot minor issues. Chat service is also available on the website to get information quickly and easily.
Training: The free demonstration walks you through everything you need to know to get started. The website also lists tutorials as coming soon to the site to help dentists get the most out of their inventory management software package.
Key Features:
Reduce costs and manage inventory with ease
Gain access to major dental distributors and keep all information in one place
Build internal processes around your inventory control system
See and interact with analytics
Real-time inventory tracking from anywhere
Set alerts, reminders, and promotions
Manage inventory for multiple locations
Manage invoices
Get dedicated support
Track orders and deliveries
Access product reviews
And more
If you are looking for a complete inventory package that won't take a long time to learn, ZenSupplies might be the right solution for you. There are numerous features included in both packages, including access to real-time product reviews so you can get up-to-date information on new and emerging products that can improve the function and output of your office. Analytics also makes it easy to see progress, while helping you forecast and plan across your practice. Easy access to tutorials on the website will help your dental team continue to hone their skills in inventory management.
3. ADS Solutions
ADS Solutions provides inventory control, distribution, and ordering for both medical and dental practices throughout the United States and Canada. Dental practices can benefit from a fully functional inventory control system that provides easy access to major distribution chains, as well as real-time tracking and ordering processes. Offices can link products and manage accounting, e-commerce, serial numbers, and more. This software can be set up on-site or in the cloud depending on your needs. A cloud-based inventory management system is great for a dental clinic with multiple locations, while on-site inventory control might work well for single or small offices.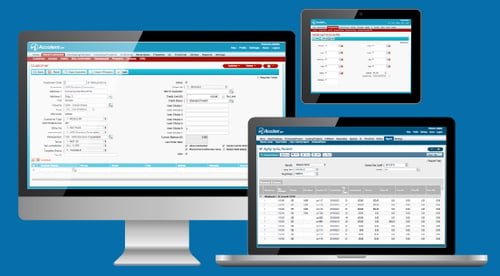 Service Model: On-site and cloud-based
Hardware/ Operating System Requirements: Any web browser, optimized for Google Chrome
Price: Unfortunately, ADS Solutions pricing is not listed on their website and they declined to give us pricing. When asked, they stated they will only give pricing after speaking with a potential customer on the phone.
Free Demo: Yes, the company offers free demos you can schedule through their website.
Support: ADS Solutions offers a full suite of support products to help make adoption and transition to a new inventory control system easy. They offer telephone support, chat, email, on-site support, and a customer zone on their website with FAQ and resources.
Training: Yes, this company offers training upon adoption, as well as access to the customer zone where you can find valuable training videos, tips, and resources for ongoing education and information.
Key Features:
Track inventory throughout each stage of the ordering process, delivery, and use
Isolate product purchases and inventory based on time/place
Use multiple units of measurement to determine inventories
Track serial numbers and lot numbers for accountability and auditing purposes
Create custom kits or product offerings by combining multiple products and track them in the system
Create replacement cost, accounting cost, average cost, and special cost sheets for extensive reference and usability
ADS Solutions offers high-quality customer support across numerous, easy access channels. The customer zone is ideal for dental clinics that want to learn how to improve inventory control and save money in the process. As mentioned above, pricing is only given to potential clients so it may be worth the call to find out how much your clinic can save with this software program.
4. Surgicare Software

5.0/5 (13) (Ratings as of: 7/26/2023)
Surgicare Software is marketed for both medical and specialty dental clinics that have high volumes of inventory control needs. This inventory control software is best suited for surgical offices with high volumes of patient care. Key features include preference-card maintenance, automatic alerts indicating the low volume of products, and a fully customized reporting platform for dental clinics. Dentists can expect to save money by planning for inventory based on reporting. They can save time by reducing the time it takes to manually conduct inventory checks, and the information can be retrieved from anywhere using the cloud-based inventory system, which is great for multiple clinics working together.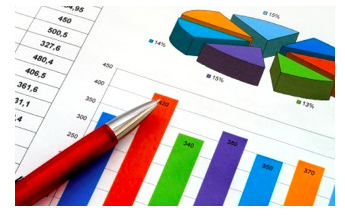 Service Model: Cloud-based
Hardware/ Operating System Requirements: Any web browser, optimized for screens, tablets, and mobile phones
Price: Unfortunately, Surgicare Software does not list their pricing on their website and they declined to give us pricing. When asked, they stated they will only give pricing after speaking with a potential customer on the phone.
Free Demo: A free demo is available. Fill out the form on the website and receive login credentials to use the demo version of Surgicare Software.
Support: Surgicare Software offers telephone and online support. You can also email the company about sales or software questions. Users have positive things to say about their support.
Training: There is a free 20-minute demonstration that walks you through the software program. Additional training is also available upon adoption.
Key Features:
First-in, first-out inventory control
Preference card tracking and maintenance of products
Record expiration dates and set alerts for low inventory
Integrate purchase orders for more control and tracking
Track vendors and serial numbers
Fully customized database for items, status, categories, usage, units, adjustment of inventory, and more
Although this inventory control software package is designed for both medical and dental offices alike, it has a lot of powerful features that can come in handy for your dental office. For example, being able to track expiration dates means that supplies won't go bad, and money isn't wasted. Working with a variety of vendors in different locations can be tricky, but Surgicare Software makes that easy. This software is perfect for maxillofacial dental clinics or dental surgeons who order and maintain high-cost supplies regularly.
5. Grasshopper Mouse
Grasshopper Mouse is the first dental inventory control system that has been created specifically for dental practices by dental professionals. This useful software package doesn't rely on a specific platform to function, which means you can manage and control inventory from wherever you are in the world. It features automatic alerts, ordering processes, and is compatible with any vendor or supplier. Because the system is cloud-based, users are always working with the latest and greatest version of the software. Automatic updates make it easy to stay on top of your inventory needs and planning.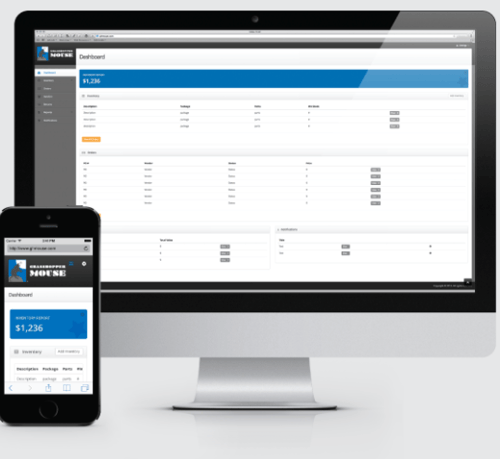 Service Model: Cloud-based
Hardware/ Operating System Requirements: Any web browser on any device
Price: Unfortunately, the pricing for Grasshopper Mouse is not listed on their website and they declined to give us pricing. When asked, they stated they will only give pricing after speaking with a potential customer on the phone.
Free Demo: Yes, Grasshopper Mouse offers a free demonstration by requesting one on their website. You can also call the company or email them directly if you have questions.
Support: Ongoing support via email, telephone, and support tickets. The company provides major data updates once a year, consulting as needed, and guarantees on all their technical equipment used for inventory control.
Training: Initial training is offered at adoption, and ongoing training and consulting are available upon request.
Key Features:
Easy-to-use status tracking on orders
Detailed product information for better control
Automatic alerts for over-ordering, low stock, and more
Reporting by vendor, product, expiry date, and more
Follow minimum and maximum levels of products
Warranties on all scanning equipment
Serial number tracking and pricing comparison
Equipment and warranty tracking
Compatible with any vendor
The package comes with two user logins, scanners, rolls of labels, analysis of product volume to set minimum and maximum status
Grasshopper Mouse offers a full suite of products to run a dental office, not just inventory control. However, the inventory management module associated with this software is efficient and makes running an office easy. What's great about Grasshopper Mouse is that they send you all the equipment you need for scanning and tracking your inventory, and all the equipment is covered under warranty. Everything you need, including training and ongoing support is just a phone call away. Dentists that adopt this software are also able to access consulting services from the parent company to help them streamline processes and procedures to save even more money and time in the office.
6. PurchaseControl by Planergy

4.6/5 (10) (Ratings as of: 7/26/2023)
PurchaseControl focuses on reducing delays associated with inventory ordering and control. It services several industries across North America, but healthcare and dental are two of their top industries. Not only does PurchaseControl help dental offices get a handle on their inventory, but this software includes accounting features that allow dentists and staff to track spending and see gaps in spending. There are customized vendor lists based on location and need, and it provides the ability to have a paperless dental inventory management system.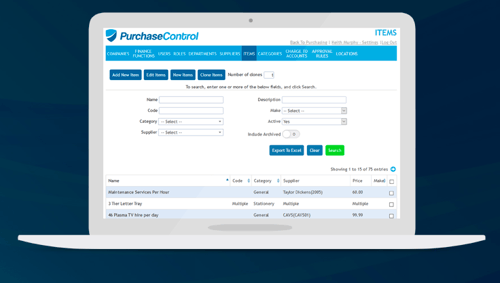 Service Model: Cloud-based
Hardware/ Operating System Requirements: Any web browser, optimized for Google Chrome
Price: Unfortunately, the pricing for PuschaseControl is not listed on their website and they declined to give us pricing. When asked, they stated they will only give pricing after speaking with a potential customer on the phone. Multi-location practices may need their Enterprise option, which comes with free onboarding.
Free Demo: Yes, you can receive a free demo through the website.
Support: Sales and service support is available by calling the company or through their website.
Training: Yes, adoption training is available by phone or email. Ongoing training is available upon request.
Key Features:
Fully customized inventory software solution for dental clinics
Tracking and ordering
Integrates with popular accounting software to help streamline processes and procedures
Reduces paperwork
Improves spending power
Real-time budgeting and reporting
Easy-to-use search function to find products when you need them
Paper trails are automatically aligned across POs, vendor receipts, and more
PurchaseControl has a lot of power to help dental clinics get and stay organized when it comes to their inventory control needs. The software is comprised of modules that allow you to piece together what you need. Although the company focuses on working with a variety of industries, they have checked a number of necessary boxes for the dental industry to be effective in their inventory management. The strengths of this software are found in the customization so that dental offices don't waste money on features they don't need. While other dental inventory software programs are striving to include as much as possible, PurchaseControl understands that paying for only what you need is a good way to do business.
7. Dentsoftware

5.0/5 (1) (Ratings as of: 7/26/2023)
Dentsoftware is one of the only "complete" dental inventory management and organizational management software packages on the market. Many software packages focus on either clinic management (appointments, reminders, files) or inventory management (tracking, ordering, vendor relations), but Dentsoftware does it all. This software breaks down the barriers that many dental clinics face and it makes the job of running a dental office easy. There are many useful features associated with this complete software package including customized databases and inventory templates. It is designed to work with any device or operating system, and you can access important information from anywhere using the cloud-based system. Dentsoftware also includes financial tracking, auditing capabilities, notes, communications between staff, and more.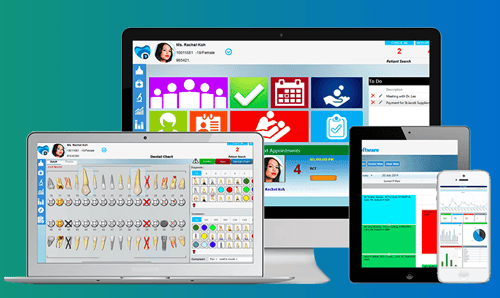 Service Model: Cloud-based
Hardware/ Operating System Requirements: Any web browser on any device
Price: Unfortunately, the pricing for Dentsoftware is not listed on their website and they declined to give us pricing. When asked, they stated they will only give pricing after speaking with a potential customer on the phone. Although, they do offer a free trial so you can test the features before buying.
Free Demo: Yes, there is a demo video available on the website, and you can schedule a free demo.
Support: Ongoing support is available via telephone, chat, and email.
Training: Training is available upon adoption and through the free demo
Key Features:
All-in-one inventory and clinic management system
Easy-to-use and organize information
Available in 18 countries worldwide
Suitable for small and large offices
Control inventory, appointments, reception, communication, and more
Useful for multiple clinics or growing clinics
Add-on modules or take them away if they don't suit your dental clinic needs
While Dentsoftware claims to be one of the only complete dental management software packages around, it is not available in all locations. Their international operation means that support and service are available at different times of the day, and that might make dealing with an inventory emergency or questions difficult. However, the software is packed with options and features that are hard to turn away from. This software is ideal for an established dental clinic looking to streamline processes and have all their information in one place. It is also ideal for new clinics looking to start their business off on the right foot.

8. Sortly

4.4/5 (277) (Ratings as of: 7/26/2023)
Sortly describes itself as the simplest dental inventory management system available. It's an app that you can use on your tablet or mobile device, and it uses a visual inventory system to minimize confusion and optimize the user experience. We like its intuitive interface and unique features. Some helpful capabilities of this system include barcode scanning, the option to create and print custom QR labels, and automated alerts and reminders to help you remember to reorder inventory when you need it. In addition to its useful features, Sortly is one of the most affordable inventory management systems we have found.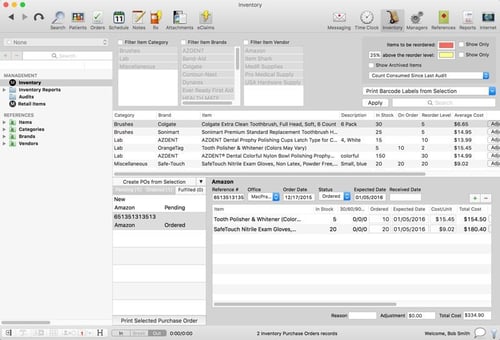 Service Model: Mobile app
Hardware/ Operating System Requirements: iOS and Android operating systems, works on phones or tablets
Price: Sortly has three pricing tiers starting at $39 per month. The Ultra plan costs $99 per month and the Enterprise plan is $199 per month. There is a 20% discount if you pay annually.
Free Demo: No, but there is a 14-day free trial.
Support: Sortly offers various support options on their website, including FAQ, a knowledge database, and live chat. There is in-app support available as well.
Training: There is a full product walk-through available on-demand as well as weekly webinars, plus the support options mentioned above.
Key Features:
Import data via CSV
Group inventory items by category, location, and more
Fully customizable fields for easy tracking
Custom barcodes and QR codes
Easy visual tracking and intuitive interface
Access your inventory via the cloud or offline
View your inventory on any mobile device
Assign employer/customer access and assign permissions
While some dental practice owners prefer a computer-based inventory control system, more and more dentists are turning to mobile solutions to manage their offices. Sortly is the number one inventory management software available. We like its visual inventory controls and customizable features, which make it easy for dental practices of any size to manage inventory, reduce waste, and streamline management. We also love the extensive support and training features on their website.
9. PracticeDent
PracticeDent is another "complete" inventory and clinic management system for dentists. It offers a variety of useful organizational tools to keep dental offices running smoothly. PracticeDent is great for multiple dental clinics and can also reduce waste between offices. The inventory list is fully integrated with the e-shop offered by PracticeDent, which gives you access to leading dental suppliers and vendors in your region. You can set reminders and auto alerts to let you know when it's time to place an order and you can also track expiration dates on products. Integrated with up-to-the-minute business intelligence information, you can run your dental office with real-time information about stock, orders, and depleted items. Combined, these features allow for accurate forecasting and budget planning for a dental clinic.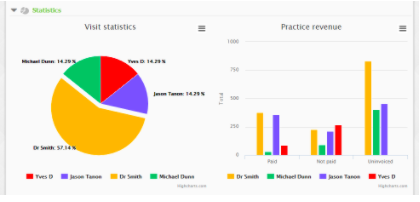 Service Model: Cloud-based
Hardware/ Operating System Requirements: Any web browser, optimized for Google products but works with Apple products as well.
Price: PracticeDent offers a free, one-month trial. After that, the price is €35 per month with additional features you can add on for a premium.
Free Demo: There is no demo available for this software, there is a one-month free trial, so you can try the software for yourself.
Support: Ongoing support and chat is available online
Training: Training information is not available on the website
Key Features:
Customize office management and inventory management with add-on modules and options
A free version of the software is available
Inventory control integrates with other modules to create a full picture of your operation and costs
Plan for budgets and growth
Track expiration dates and waste
Manage inventory without overstocking or worrying about running out of what you need most
Set alerts and reminders for ordering
Set minimum and maximum amounts
PracticeDent is a modern inventory control system that is made specifically for dental offices. It is a module-based system that allows you to create the perfect office management system. Whether you only need inventory control or want to connect all the pieces of the puzzle related to your operation, this is a great software package to do just that. Unfortunately, there isn't training available and PracticeDent's website doesn't indicate if training will be available in the future. You could, however, contact customer support to inquire about ongoing training or help when you are stuck with a module. The free version will help you learn the ropes easily, and then you can decide if you want to invest in a more robust version of the software to include inventory and more.
10. Clixon
Clixon has been around for a while and offers a customized inventory solution for dental offices in North America. This software package includes a custom catalog based on the vendors and suppliers you work with. It also gives insight into the items you regularly order to help you plan and scale your practice. You can set budgets for your supply spending and get alerts when you are nearing those limits. Use the cost center feature to determine where you can save money and how you can plan out your orders to make the most of your space and time. You also get access to reports that help you make decisions about clinic management and organization.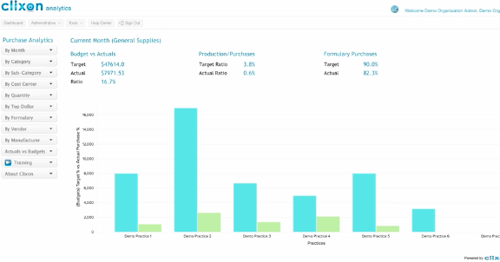 Service Model: Cloud-based
Hardware/ Operating System Requirements: Any web browser on any operating system
Price: Unfortunately, the pricing for Clixon is not listed on their website and they declined to give us pricing. When asked, they stated they will only give pricing after speaking with a potential customer on the phone.
Free Demo: There isn't a free demo available for Clixon.
Support: Basic customer service and support are available by contacting the company.
Training: Training information is not available on the website.
Key Features:
Affordable inventory control software for dental clinics
Great for smaller offices
Customized and localized vendor catalog
Get insight and reports on inventory use and control
Avoid overspending and overstocking
Save time and money
Keep track of where your money is going
Avoid missing expiration dates
See everything at a glance
Clixon is a very affordable inventory control option for dental offices. With a small startup fee of only $250, you can take a chance on getting to know this product to determine if it's right for you. The company does not offer robust customer service, but there is some support available through the website. Unfortunately, there isn't any information about training or whether there is a free demo available, but you can sign up for an account and surely get access to more information. Clixon may be better for smaller clinics that work with regional vendors because the vendor list can be uploaded based on your area and needs. Overall, you can save money by managing your inventory with Clixon.
Final Thoughts About Dental Inventory Management Software
Any (optimized for Chrome)

Premium - $175/Month

Premium Plus - $225/Month

Any (optimized for Chrome)

$199/Month + $599 Setup Fee

Any (optimized for Chrome)

Any (optimized for screens, tablets and mobile phones)

PurchaseControl by Planergy

Any (optimized for Chrome)

Available for iOS and Android

Plans range from $39 per month to $199 per month

Any (optimized for Google products, but works with Apple products as well.)

€35/month with premium features that can be added
It's best to pay attention to regional options when purchasing inventory software for your dental office. Some of these software products are not available in all countries, and it can be difficult to get on-site support depending on where you are located. Make sure to call or email the company to get all your questions answered before committing to an inventory control system. Talk to as many software companies as necessary to find the one that is right for you. Once you are set up, you will notice savings of time and money. A good software company will check in with you periodically to see how the system is working for you, so look for a platform that provides excellent customer service and support. You don't want to find yourself without help when you need it most. Check out each of those dental inventory software packages and start getting your dental office organized and more efficient today.

About the Author
Tyson Downs is the founder of Titan Web Agency, a company specializing in marketing for dental professionals. With an impressive track record of working with over 100 dental practices, Tyson has a deep understanding of the unique marketing needs within the dental industry. His expertise has helped numerous dental practices flourish by meeting and surpassing their revenue goals and established him as a thought leader in healthcare marketing. His insights and strategies have been featured in esteemed dental publications, including the American Dental Association and the American Academy of Implant Dentistry. Before dedicating his career to helping dental professionals thrive through effective marketing, Tyson honed his skills in SEO and web design as a freelancer, while also gaining valuable experience in the corporate sector. As an alumnus of Brigham Young University, he brings a strong educational background to his entrepreneurial endeavors. Outside of his professional life, Tyson is a devoted father of five, who cherishes time spent with his family, especially when they're all enjoying America's pastime on the baseball field.