A Blog for Dentists & Other Healthcare Professionals
Dentists: Learn How To Ask Your Patients For A Review The Right Way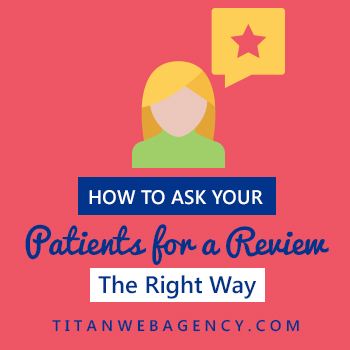 The chances are good that many of the new patients who book an appointment with you have read online reviews of your practice before they called you. In fact, about 60% of all consumers use online reviews to help them choose a healthcare provider.
It's worth noting that consumers tend to trust online reviews from strangers as much as they would a personal recommendation from a friend. In other words, yesterday's word-of-mouth has become today's review on Google or Yelp.
Obviously, getting good reviews for your practice is a must if you want to attract new patients. The tricky part is doing what you can to encourage patients to write reviews without pressuring them. Reviews must be genuine to be useful.
So, how do you ask dental patients for reviews? We'll get there, trust me. First we need to understand why reviews are important.
Why Reviews Matter
Let's start by talking about why good reviews matter to your dental practice. They can help you:
Build authority and credibility, both of which are important to healthcare providers
Raise your visibility online – for example, having good reviews on Google can help (they aren't a silver bullet) you make your way into the coveted three-pack (the short list of businesses that shows up at the top of the search page when a patient types one of your keywords)
Help ease patients' doubts and concerns about trying a new dental provider
Provide a positive link when patients Google your practice
In other words, good online reviews can help improve your dental SEO performance and attract new patients – and if you live in an area where you're in competition with several other practices, that can make a big difference.
Claiming Your Listings on Review Sites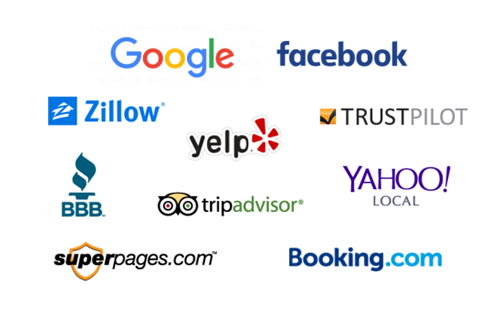 The first step you need to take before you encourage patients to write a dental review or testimonial is to claim your listings on online review sites like Yelp and Google My Business.
Claiming your listings allows you to verify the information about your business, including your address, URL of your website, telephone number, hours, and other key data that patients need to find you.
Here's a quick overview of how to do it:
For Yelp, search for your practice and, when you find it, click the "Claim My Business" button on the page. You'll be prompted to enter your telephone number and you'll get an automated phone call to verify your listing. After that, you'll get an email link that you can use to edit your information. If your practice isn't listed, you'll need to click the "Add a Business" button and follow the instructions.
For Google My Business, you'll start by logging in to Google and searching for your practice. When you find it, you'll have to provide some basic information and wait for Google to mail you a postcard to verify that you are the owner. Once you've verified that, you'll be able to edit your listing and add relevant information.
The process for Bing is very like Google's. You'll need to verify that you own your practice first and then you'll be able to update and edit your listing.
When you're updating your information, make sure to do the following:
Double check your address, phone number and other relevant information – and remember that all your NAP listings (that's name, address, and phone number) online should be identical. If you use Avenue in one listing, don't use Ave in another unless you want to dilute your online presence.
Add business hours, pricing information, a link to your website, and any other information that patients might need.
Include photos of both the interior and exterior of your practice.
Doing these things ensures that your listings are accurate and complete, and that you won't be confused with another dental practice in your area.
It's a good idea to link to your Yelp profile on your website and social media pages. That way, patients will know you've got a presence there and may click through to leave a review.
How to Ask for Dental Reviews
Now that you know how to claim your review listings, let's talk about how to get patients to write reviews. There are four basic techniques you can use depending on your comfort level and budget.
Email
The first method you can try is emailing new and long-term patients to ask for reviews. Email marketing is cost-effective and can help you build trust with your patients.
When a new patient comes to your office, make sure to get their email address when they fill out their preliminary paperwork. That way, you can add them to your mailing list and reach out to ask for a review after you've treated them.
In the email, thank them for coming to see you and ask them to consider leaving a review. You can make it easy by linking out to your listings on Yelp, Google, and Bing.
Face to Face
The next method you can try, if you're comfortable with it, is to ask patients to write a review of your practice when they're in your office for an appointment. You may not want to ask during a cleaning or treatment, but you can ask when you're done or have a receptionist ask for you.
Not everyone is comfortable with this sort of face-to-face interaction, but if you are, then you might want to try it. You can even provide patients with a business card or hand-out that has links to your review sites.
Face to face definitely is one of the most effective ways to get patients to leave reviews.
Social Media
If your practice isn't on social media then it's time to get started. Even having just one profile on Facebook can boost your visibility and make it easy to connect with current and prospective patients.
By sharing relevant and valuable posts on social media, you can remind patients who haven't seen you in a while of the services you provide.
On your Facebook profile page, you can list more than one URL. For example, you can link to your site and to Yelp and Google My Business.
You can even ask patients directly for reviews. For example, you might post something like this:
Did you know that we're one of the top-rated dental practices in Lake Forest? Click here to let us know how we're doing.
Then, you can include a link to Yelp or Google My Business. The chances are good that some of the people who see your post will click through and leave a review.
Direct Mail
Compared to some of the other methods listed here, soliciting reviews via direct mail might seem like an old-fashioned approach. However, it can be effective because a piece of mail is harder to ignore than an email or a Facebook post.
Bulk mailing rates are still quite affordable. For some patients, getting mail from you may feel more personal and compelling than getting an email. The fact that you took the time to send them something might tip them toward wanting to leave a review.
Guiding Patients through the Review Process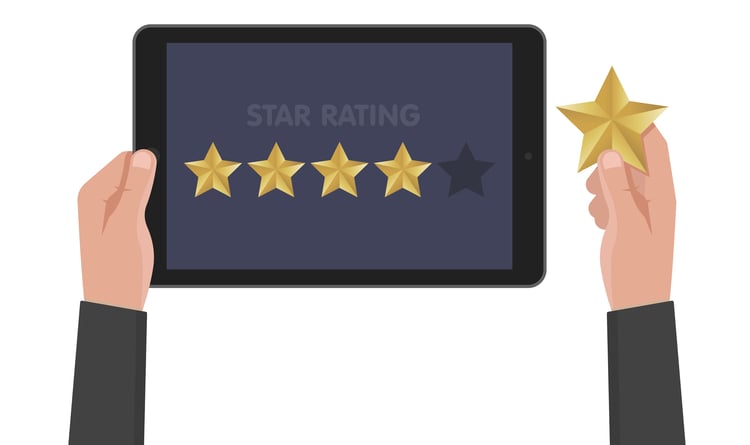 Some patients who you talk to about reviews may be reluctant or nervous about writing one. If that's the case, then you can provide some general guidance about how to proceed.
It's important to note that we're not talking about telling patients what to say about you and your dental practice. Rather, we're talking about giving them some pointers that can help them get started.
Examples of Good Dental Reviews
All of the below can be best accomplished if you have a review funnel in place. Be sure to read our blog post:
The first thing you can do is to provide patients with examples of well-written dental reviews by getting a few reviews on your profiles first. If you've already got an established listing on Yelp, you can simply direct them to your Yelp page and suggest they read other reviews to get ideas.
If you're just getting started and don't have any online reviews, then you may want to find a sample review from another practice (preferably not one of your competitors) and share it with patients.
Dental Review Highlights
Another thing that may be helpful to patients who want to write reviews is providing them with a list of potential topics to address in their reviews. Here are some examples:
Cleanliness/appearance of your practice
Quality of patient services/friendliness of staff
Waiting times
Effectiveness of dental treatments
Technology/equipment
Overall patient experience
By providing them with details to cover in their reviews, you can help them get started.
Patient Interactions
While not directly related to writing reviews, one of the most important ways to encourage patients to review your dental practice and leave the kinds of comments that will help you attract new patients is to focus on your interactions with patients.
The more accommodating and friendly you and your staff are, the more likely it is that patients will be moved to leave a review. The truth is that consumers tend not to leave reviews for middle-of-the-road services. Instead, they review businesses that they love or hate.
Providing excellent patient services can do a great deal to encourage reviews. If patients love coming to your office, they're going to want to help you out by writing a review.
How to Moderate Review Sites
Soliciting reviews of your dental practice is important, but your job doesn't end there. You'll also have to get in the habit of moderating review sites to ensure that your reputation isn't damaged by a negative review.
Nobody likes to get negative reviews, but most businesses must cope with one eventually. How you handle negative reviews can have a huge impact on the way potential patients view your practice.
Here are some tips to keep in mind when monitoring your review pages:
Make sure to check your pages regularly for new reviews. If you waited to claim your business and had old reviews there, it may be too late to respond. However, responding to new reviews – good and bad – can help demonstrate that you care about your patients and what they think.
When you're responding to a negative review, you have two options. One is to respond in place and try to have an interaction with the patient on the review site itself. This may work for minor issues, but if a patient is very upset than it may be better to encourage them to call you so you can work it out privately.
Even if a negative review upsets you, maintain control and keep your cool. Losing your temper will only tarnish your reputation and hurt you with other patients. If you can't respond calmly, give yourself time to process your negative feelings before you write anything.
If you're successful in alleviating a patient's problem, don't be afraid to ask them to consider revisiting their review of your practice. They may not always be willing, but you have nothing to lose by making the request.
Responding to positive reviews isn't necessary, but it's certainly a nice thing to do. Patients who take the time to leave a good dental review deserve to receive some thanks and appreciation for the time it took them to write it.
If you ask an employee to respond to reviews on your behalf, make sure that you specify how you want them to reply to negative reviews. You may want to let them know the appropriate tone to use and what they are empowered to do to try to help the reviewer.
Even if you're not the one monitoring reviews, we recommend checking in periodically to make sure that things are being handled properly. If reviews are not responded to in a timely manner or if they're not handled professionally, it can impact future reviews as well.
In the end, positive reviews of your dental practice can help you solidify your relationships with current patients and attract new ones. Considering how important online reviews are to the average consumer, it's time to start using patient reviews to your advantage.
Don't forget what we discussed:
How to ask for a review.

How you can ask your patient for a review.

Tips you can give them to get started.
About the Author
Tyson Downs, the owner of Titan Web Agency, has years of experience working with small businesses and helping them meet their revenue goals. Prior to starting Titan Web Agency, he freelanced in SEO and Web Design while working in the corporate world. Tyson is a graduate of Brigham Young University, the father of 5, and enjoys spending time with his family. Particularly on the baseball field.