23 Healthcare Marketing Strategies & Ideas to Help Attract More Patients
*Originally published March 12, 2015. It was updated August 5, 2021.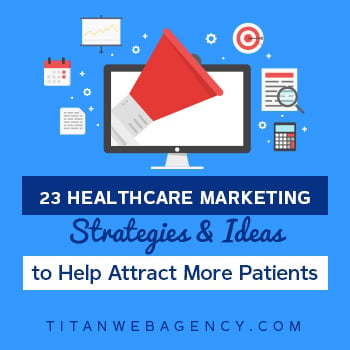 Let's face it, as busy medical professionals, you often find yourself too strapped for time to work out all the details of a successful healthcare marketing strategy. Or, you might read about marketing strategies such as dental SEO or dental social media, but you aren't sure of the best way to get started.
When it comes to health-related queries, the initial interaction is usually a Google search. Along with search results, Google may also display in-depth information on illnesses with symptoms, treatment options, graphs, and related links to medical websites.
Listen to this blog post:
This will essentially make it easier for individuals to self-diagnose with a chance of increased accuracy, as the information will be derived from licensed healthcare providers (like you).
Google takes the work out of scouring the web to find good answers from reliable sources. Google's knowledge base, known as Knowledge Graph, was built to be smarter than your average search results because it connects the query with real-world elements.
Although Google is not a replacement for a doctor, it is an ideal place to start when it comes to collecting useful information related to medical conditions. Healthcare providers need to remember that it's not meant to be perceived as Dr. Google, it's just a platform to help make decisions related to personal healthcare.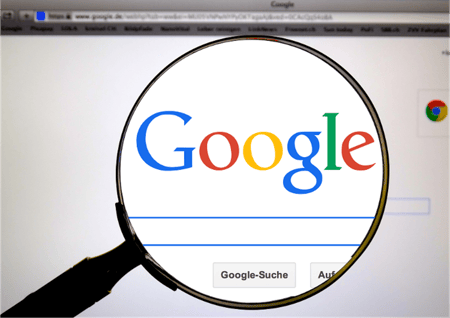 From a patient's perspective, it is important to note that any slight variance in wording or even simple typing errors can give you completely different results.
Bottom line? Google results are not intended to replace healthcare providers.
Search results are just a platform to gather basic information before a patient sets an appointment with a doctor.
Google says they have always focused on providing the best answers to user queries. Over the last couple of years, search results have significantly improved after Google started providing answers in answer boxes and local search results.
From a user's perspective, this has made it easier to get very specific answers with just one search. When you search for medical conditions on this search engine, you will find the following in the results:
At this point, you might be wondering how healthcare marketing services can benefit you, right?
Why Do You Need a Healthcare Marketing Strategy?
The Affordable Health Care Act has significantly increased demand for healthcare industry professionals. As healthcare services have become available to more of the general population, those who never considered a doctor's consultation are now able to do so.
As a result, the marketplace has progressively become more competitive, and this makes it very important for healthcare industry professionals to stand out and accurately market their healthcare services.
To do this, you'll want to make extensive use of your website, social media, and be sure your healthcare marketing strategies that you implement are designed to connect you with potential patients.
By engaging with your target audience/persona, you'll be able to communicate exactly what you offer, along with the benefits of accepting that offer. Sharing accolades, highlighting staff members, and engaging in online advertising campaigns can essentially help to close the deal with an initial consultation.
In this post, I cut to the chase, delivering you 23 essential healthcare marketing strategies and tips you can start using TODAY. So, without further ado, let's get started!
23 Healthcare Marketing Strategies
Why these 23 healthcare marketing strategies?

It's simple.
We want you to have the most effective healthcare marketing strategy that will bring you the most bang for your buck.
Some of these healthcare marketing strategies are more in-depth than others, and take a bit more to get going.
That said, these are the most effective healthcare marketing strategies for doctors and other medical professionals that you'll come across.
1. Use some lead-generating SEO strategies as part of your healthcare marketing plan
SEO is one of the most important aspects of online marketing for healthcare professionals such as doctors, dentists, and other healthcare providers. Simply put, it allows people online to find you — instead of your competitors. But just because more people visit your site doesn't mean they'll turn into viable leads - unless you use targeted landing pages.
Instapage mentioned that over 1,000 landing pages are designed with their software every day which goes to show that marketers are embracing landing pages.
In the same vein, MarketingSherpa reported that 67% of marketers are creating unique landing pages for various healthcare marketing strategy campaigns and brands.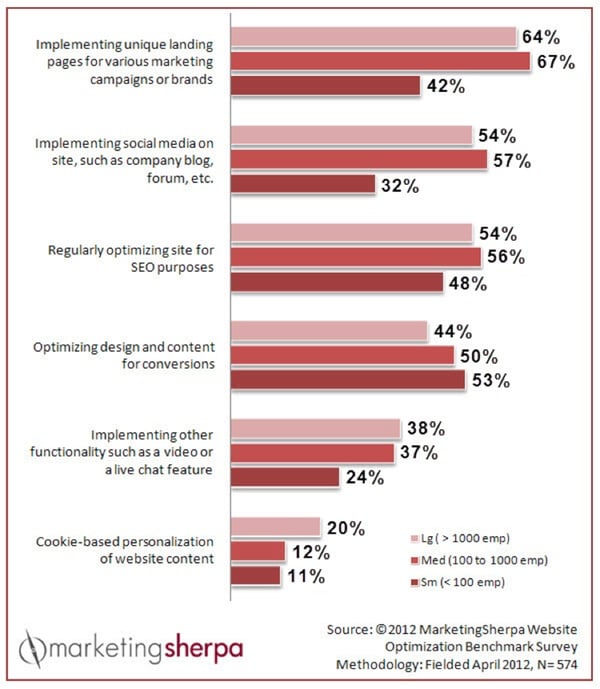 See?
Landing pages are vitally important for capturing leads and should not be ignored.
However, to enjoy the full benefits of landing pages, you have to learn your way through landing page optimization.
As follows are 5 healthcare marketing strategies to generate leads using landing pages:
Host live online events
Hosting online events is an excellent marketing strategy to establish credibility in your industry and expand your network.
Use the right keywords
Spend some time researching relevant keywords related to your audience's search intent, and have your writer follow SEO best practices to incorporate them into the content for your healthcare marketing strategy.
Also, look out for ultra-relevant long-tail keywords to incorporate into your content creation. These will be easier to rank than the really competitive terms.
SEO expert Annie Kuenn of Verticle Measures says: "Research long tail keywords and phrases that are less competitive and that your audience will be searching for."
What is an ultra-relevant long-tail keyword?
Say you are a dentist in Henderson, NV.
What do you think is a more qualified lead, a person searching for:
1. dentist henderson
2. dentist in henderson nv that does sleep dentistry
Of course #2! They are already sold on sleep dentistry, and they are specifically looking for somebody in Henderson that provides this service, so if you can show up for that particular term, then the chances of closing that website visitor are much higher than closing the visitor simply searching for a dentist.
So, what's the quick win you can take from this?
Spend a couple of minutes each day for the next week and come up with some longer phrases that your ideal patients may use, and then have content written for those pages.
By doing this one time now, you'll be able to likely generate fairly quick rankings in the search results, and assuming you are practicing good SEO, then these rankings should stay unless there's a major change with competition in your local market.
Use lead magnets
Back in the day, it was easy for website visitors to give out their details just like that. They liked the idea of receiving information right in their inbox for free.
But these days, information is virtually everywhere and you would need to entice visitors ethically before they share their details with you.
A lead magnet is that ethical bribe, a free offer that healthcare marketers put up on your lead generation page to incentivize prospective patients to give you their email, name, phone number, or whatever detail you ask for.
Here are some ideas to pick from:
This article from Digital Marketer has some good lead magnet ideas and examples you can incorporate into your healthcare marketing strategy.
Develop a clear call to action to use for your web content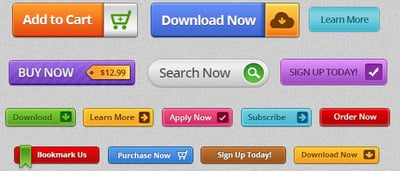 Yes, you may already know that calls-to-action are an important conversion element, but if you want results, you have to go beyond just that 'outsider' knowledge to actually knowing how to kick ass with CTAs (calls to action).
According to SEO expert Mark Kabana, "Content should have a clear call-to-action and/or lead capture form."
But adding just one CTA button to your homepage isn't enough.
You need to include CTAs on every page so that prospective patients can click on them irrespective of where they are on your website.
This doesn't mean you clutter up your website with big, flashy buttons everywhere.
Your CTA needs to be enticing and different from the usual "Sign up here" which has become less effective over the years.
See the above dental website marketing CTA example: Red "Set Appointment" clickable CTA catches the eye immediately.
Once you are experienced with CTA's and you feel comfortable with how they are performing, and how to change them, then consider testing them. You can create a new design, perhaps place it in a different spot, or change colors, and see what performs better.
Check it out: 31 Call-to-Action Examples You Can't Help But Click
A/B test everything
You'll never know what elements of your landing page affect conversions unless you test them. For instance, before Performable was acquired by HubSpot, they A/B tested their CTA button color and found that the red color (being the variation) outperformed the green color (being the original) by 21%.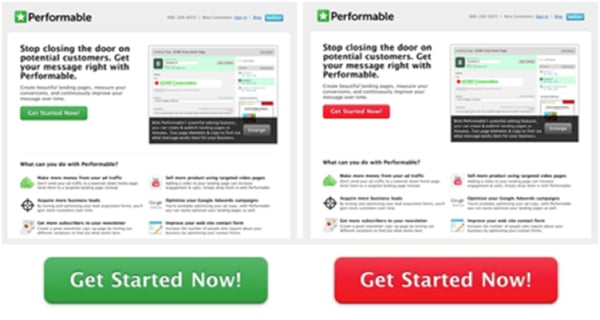 2. Increase the Effectiveness of Your Healthcare Practice Website

The main purpose of your website is what? To sit there and look pretty? Of course not — it's to attract patients. But in order to make sure your site best serves this goal, healthcare marketers need to use marketing strategies that convert your website visitors into patients.
Here are some proven elements of a high-converting healthcare marketing site:
Just as in optimizing your website load time, the idea behind a simple navigation is to make it a breeze for prospective patients to complete actions and find things on your website.
Making it easy for them to find what they're looking for improves user experience and increases your chance of converting them into patients.
With its simple layout, visually appealing graphics, and easy-to-find contact information, the below Catawba Valley Dental website has several key elements of a high-converting website.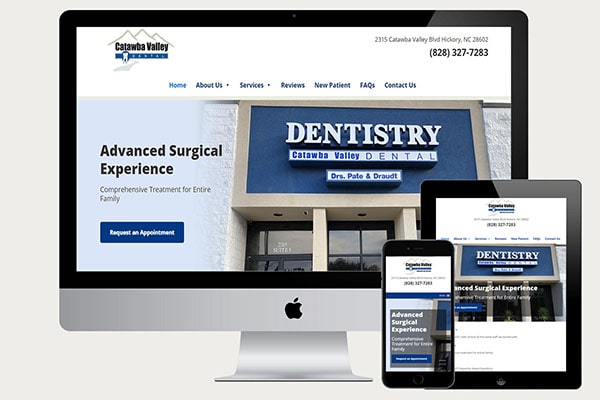 Find more successful website examples in our client portfolio.

3. Improve your healthcare website speed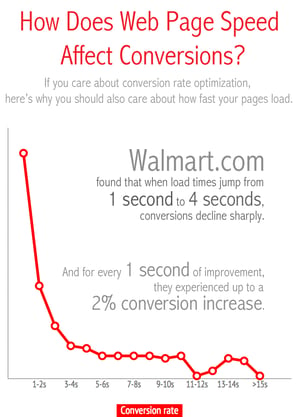 Website speed plays an important role in conversion.
According to Portent analysis, the highest eCommerce conversion rates occur on pages with load times between 0-2 seconds.
Use a tool like Google's Pagespeed Insights speed test to monitor and improve the speed of your healthcare marketing website across all types of devices.
According to studies from Aberdeen Research Group, a 1-second delay in your website speed can result in a 7% reduction in conversions.
Leads are likely to go away if they find that your website takes longer than expected to load.
So, if you're serious about generating leads and converting visitors into patients, you need to ensure you are paying attention to your website's load time, and that you aren't frustrating people because you have a slow website.
4. Update your website content to improve the quality of your site
Your website is only as good as it is fresh — even if it was great when you put it together, the utility of your web content diminishes over time as it becomes dated. Here are the steps to update your healthcare marketing website to improve its quality:
5. Build authority and improve SEO with your blog

In the 2014 HubSpot State of Inbound, it was noted that marketers who have prioritized blogging are 13x more likely to enjoy positive ROI.
Since then, things have changed significantly, and in 2021, it was mentioned that video content continues to be an essential tool marketers leverage to communicate and connect with their audiences and customers.
Though video content is becoming more prominent, that doesn't mean that healthcare marketers should ignore blogging.
As a doctor, you're an expert in your field, and as such, you have valuable information to share with both existing and prospective patients.
Blogging healthcare marketing strategies allow you to do this.
It's a win-win: You add value to their lives through education; they understand better what you're doing and buy into it.
But that's not all that blogging does. It can also bring visitors to your website on a regular basis, even when they may not necessarily need medical help, making it one of the essentials of healthcare marketing initiatives.
That's more leads being nurtured and an optimized opportunity for conversion.
In addition to making your dental website more attractive to visitors, blogging also has the potential to make you more visible in search engines. This helps your website to rank naturally so that leads can find you.
6. Use effective messaging in your healthcare marketing copy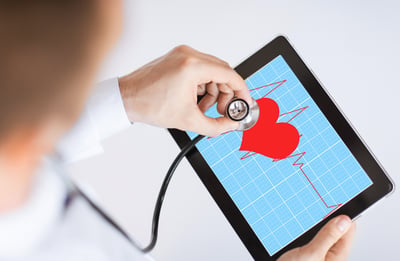 As a healthcare provider, the words you use in your medical marketing strategy copy are incredibly important. This applies to everything from your website to brochures and other printed communications, to your social media channels.
Your messaging — the ideas you communicate in your healthcare marketing — must reflect your brand and promote your healthcare practices and services. If your messaging is ineffective, or your copy is poorly written, thus diluting your message, then your marketing efforts will suffer.
For example, as pointed out in this Physicians Practice article, using wording like "At our practice, we strive to…" will hurt you. Patients don't want you to try; they want you to deliver.
7. Analytics and tracking are keys to healthcare marketing strategy
Web analytics programs allow you to see the behavior of your website visitors, tracking the number of visitors to your site, the length of visits, how people find your site, and what pages they view on your healthcare marketing site.
With digital marketing, you can track and measure almost everything. Healthcare professionals no longer need to wait around for changes to happen and make observations. They can measure changes as they happen. With access to the marketing performance information, healthcare professionals and healthcare organizations can improve their efforts. For instance, the information lets them measure and evaluate the effectiveness of their healthcare marketing strategies.

Here are some things you can do with web analytics:
8. Use on-page SEO to boost your website's visibility
On-page SEO is one of the most overlooked aspects of building your web presence. However, it is a vital tactic to ramp up your site's visibility so that it appears in search results.
According to a shopping and personal finance study carried out by Interconnected World in 2012, 44% of online shoppers begin by using a search engine.

And health-related questions account for as much as 20% of all Google searches!
In 2013, Chitika published a study which stated that the number one spot on Google organic search results gets about 32.5% of the traffic, the second spot gets 18%, and the traffic only degrades from there.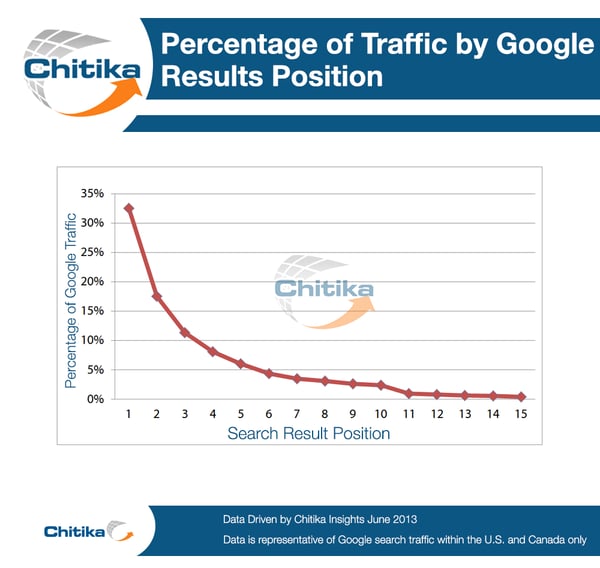 Here are some elements of on-page SEO:
Start by strategically integrating targeted keywords into your web copy to make your website easier for the search engines to read and understand.
But while doing that, be careful not to make your web copy a little too optimized.
Excessive (and unnecessary keywords) can turn readers off and jeopardize your personal brand. Good SEO involves effective keyword research and writing quality content around those keywords. Your doctor website elements, such as meta tags and page titles, are also part of SEO.
9. Keep up on technical SEO
Keywords and other on-page factors are only the first steps in search engine optimization.
You should also take a few minutes to make sure your medical website is search engine friendly by running your own site crawler, such as Screaming Frog.
Programs such as Screaming Frog will show you all your errors, redirects, and all other website components that you may need to fix in order to get the maximum amount of 'juice' or ranking ability out of your website.
How is this helping you save time?
What would you rather do:
Check out the awesome data I'm able to pull within seconds using Wild Shark. I get the URL, the title tag, if it is indexed or not, heading tags, etc. (Wild Shark is no longer available, we recommend using Screaming Frog)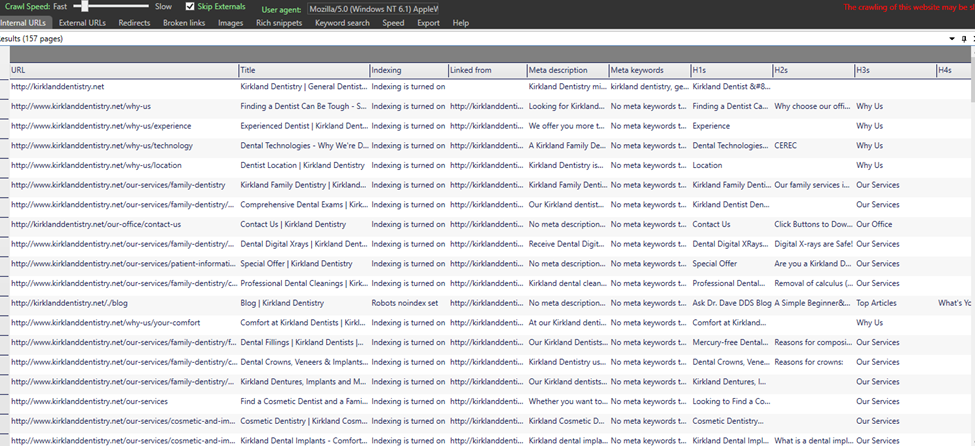 10. Bond with your target market
To create loyal patients, you need to do more than offer outstanding healthcare services. You also need to use healthcare marketing strategies to connect with patients online. And one of the best places to do this is on your blog. The following blogging tips can help you bond with your target market and increase patient satisfaction:
11. Identify your unique selling proposition to compete in a crowded field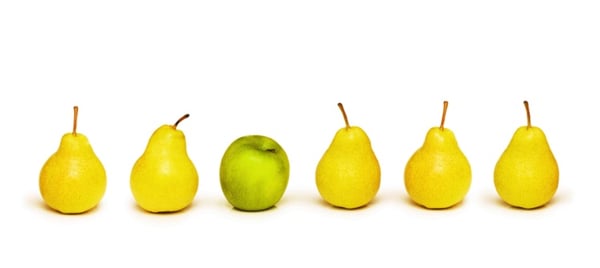 If you don't have a USP or unique selling proposition for your healthcare practice, it's high time you get one. Defining your USP will benefit you in important ways — it will make you more competitive in your field by helping you identify your target market and providing direction for your branding efforts.
Your USP is simply what differentiates your medical practice from other practices, or what makes your business special. You can also think of your USP as your healthcare niche.
It's quite simple: an effective healthcare marketing plan will place emphasis on what makes YOU unique and why people should choose you.
12. Create a strong online presence through location based SEO

All healthcare practices need a strong local presence so that people searching for healthcare services in the specific area you serve will find your business online. For this reason, local SEO is more important than generalized SEO for the healthcare segment.
As a doctor, you also need to make sure that your healthcare marketing strategy includes a strong focus on your local business listings.
This is so important for doctors because you want to show up in the Google local traffic results because that's where the vast majority of people searching will click when Google displays the search results.
Local SEO requires a strategic, holistic approach, with regular testing and tweaking as Google's algorithms change. So, you're not going to win at local SEO in a day. But there are some tools you can start using right away to get started with local SEO.
Some of the best online tools for improving your local SEO include:
Geo-targeting is the practice of determining the location of a visitor and delivering relevant content to them based on their geographic criteria like country, region, state, city, zip code, IP address, etc.
Geo-targeting can be used to target local patients through paid search and organic search.
You can use Google Trends to enhance your geo-targeting campaign.
Google Trends is a tool that shows how frequently a search term and healthcare marketing trends over a period of time and across different locations.
13. Design a powerful social media healthcare marketing strategy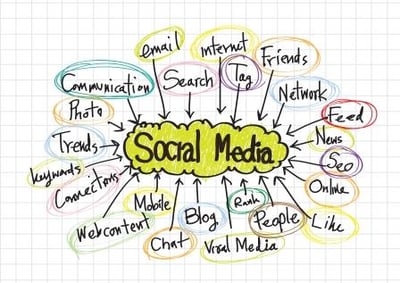 Social media is great for driving traffic to your website and for interacting with people who may be interested in what you do.
A search for doctors on Facebook resulted in 1000s of pages owned by physicians with everyday medical practices.
When we wrote this post, there were over 2.206 billion active social media users (sorry, link has been taken down-see image below instead) as of the third quarter of 2015, a global penetration of 30%. Now, there are 4.9 billion.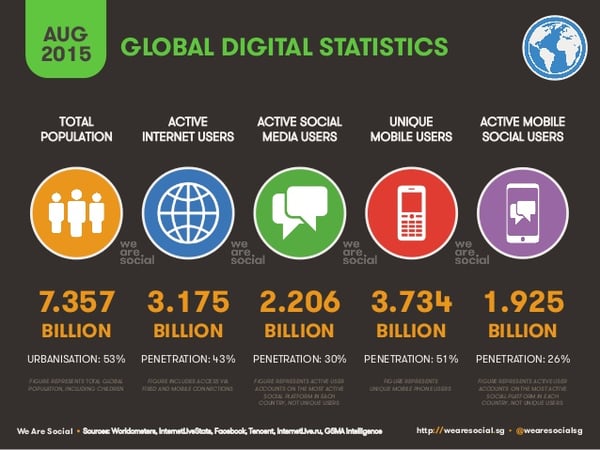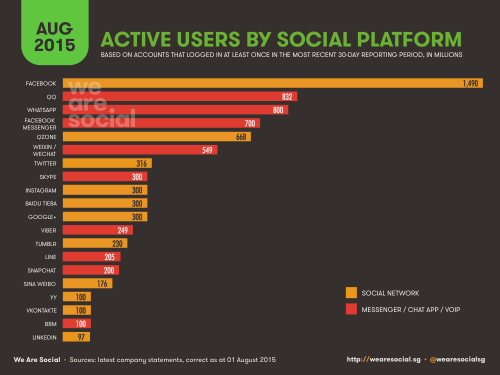 Another study reported that in the US alone, 73% of the American population had a social network profile by the year 2015.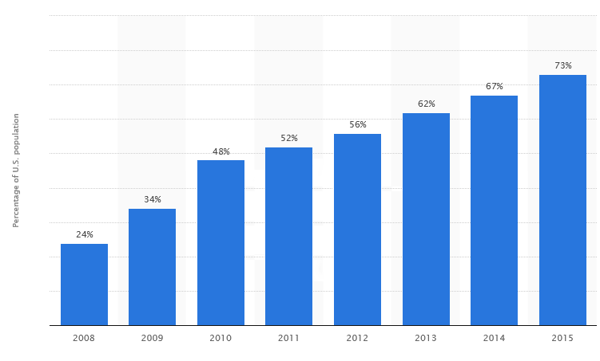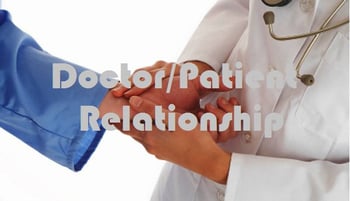 These people are using social media platforms to search for everything from what to eat for lunch to the best-paying jobs and a new dentist. And as a smart service professional, you have to take advantage of this.
Whether you're a dentist, a chiropractor, or a surgeon, social media is a great way to connect with potential patients. Most healthcare professionals have 'a' social media presence, but few of them actually leverage social media presence to maximize its potential for attracting new patients.
Here are just a few things you should be doing on social media on a regular basis:
Social media management can be time-consuming, but it's a lot easier if you use some helpful tools. Hootsuite, Social Oomph, Buffer, and IFTTT are all examples of popular social media automation tools that can save you time.
Each tool has its own unique features, but nearly all of them can help simplify your social media marketing efforts by:
Here's a screenshot of Hootsuite in action. It may look a bit confusing, but it really is pretty straightforward.
It'll allow you to log into one dashboard to view all your social profiles and respond, interact, post, reply, follow, like, etc. It's a great time-saver for your healthcare marketing strategy.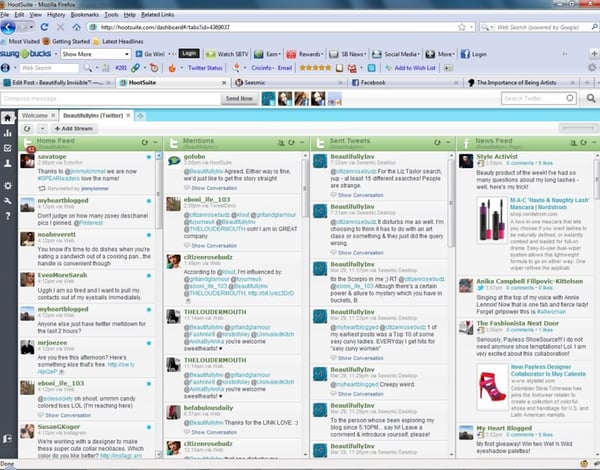 A major mistake that many marketers make is taking advantage of automation tools, setting up posts, and then walking away.
But, guess what?
These tools do make it easier to tweet in your sleep, but they shouldn't replace actually logging into your profiles, engaging with your audience, and expanding your social media reach.

That said, you don't need to spend hours a day on social media in order to be effective. By just logging on for 15 minutes per day, you can focus on posting relevant and organic content (publishing it through your automation platform), responding to engagement you've received on your previous posts, and searching for new opportunities to connect with your audience.
While some doctors don't do enough online marketing, others take it too far in the other direction, going crazy with pushy sales messages via email and social media. Granted, it can be difficult to determine "how much is enough" and when promoting becomes pushing.
In general, a rule of thumb to follow is that it's good to post on Facebook about once a day. Twitter is a little different, as you can post more often without annoying people. Learn more about how doctors and other healthcare professionals can time social media posts for maximum effectiveness.
Do you want help getting started with social media? Pick up our social media templates below.

14. Have a website built with user experience in mind

Your website is your primary salesforce and the face of your practice. Both new and returning patients should get value out of your website. Your website needs certain elements in order to connect with people and thereby enhance your reputation and ultimately grow your healthcare practices.
Here are some tips on how to do it:
Add a Smiling Image of Yourself
Preferably in your scrubs or lab jacket.
37 Signals (now Basecamp) found a 102.5% increase in sign-ups just after adding a photo of a smiling, happy person to the landing page for their Highrise web app.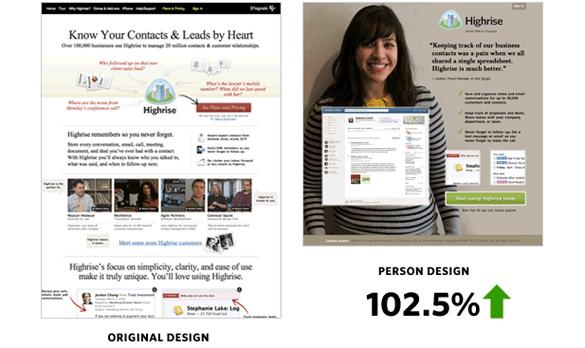 Address Frictions
Some prospects may have concerns, disagreements, or objections with your offering.
These concerns, disagreements, and objections are called frictions. They delay prospects from taking actions.
To get rid of this and turbocharge prospects to book an appointment, you would need to tackle those frictions.
I mean, it wouldn't make sense for a potential patient to come to your office just to ask what type of eye care services you offer, but a FAQ page on your site will give potential patients the needed information that can make them book an appointment with you at the drop of a hat.
Another way to tackle friction is to build trust.
Build trust
However, building trust is more than just tackling frictions. In fact, trust is one of the most essential conversion triggers there is.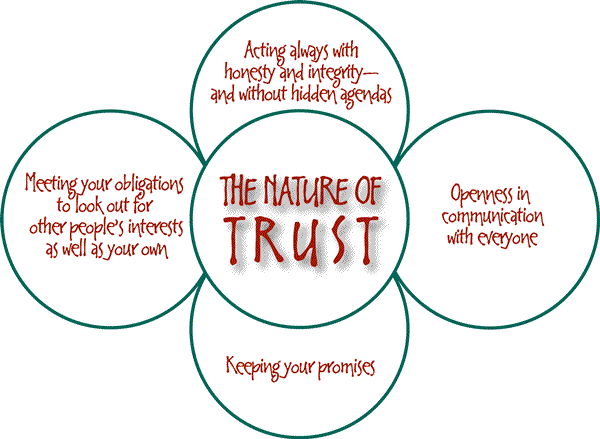 Here are some quick ways to build trust:
Make it easy to contact you
To book an appointment with you, a prospective patient needs to contact you. The easiest way to make them not to contact you, actually, is to make it difficult for them to contact you.
Conversely, offering your potential patients different contact options can make all the difference.

While contact forms are great contact tools, most people hate CAPTCHA and wouldn't bother entering it. So if you use a captcha, make it an effective, yet easy one to use.
Also consider placing your email address above the fold and in a place that prospects can easily see them. Don't make them comb your site in search of it, otherwise, they'll simply go away unconverted.
Provide Appointment-booking Features for Patients
Since you're looking to get people to schedule appointments with you, it'll be best to integrate a calendar into your website to enable potential patients booking when they can visit you.
Does your website offer the ability to book an appointment online? I hope so, these days, you can potentially lose patients because they prefer to do business online as opposed to calling. It's an easy thing to add, in fact, your practice management software may even provide a small snippet of code that you can place on your site, which will add a cool little 'Book Appointment' button on your site.
The bio page for Dr. Eli Thornock of Sound Smiles Dental gives you a good feel for who Dr. Thornock is as a dentist and as a person.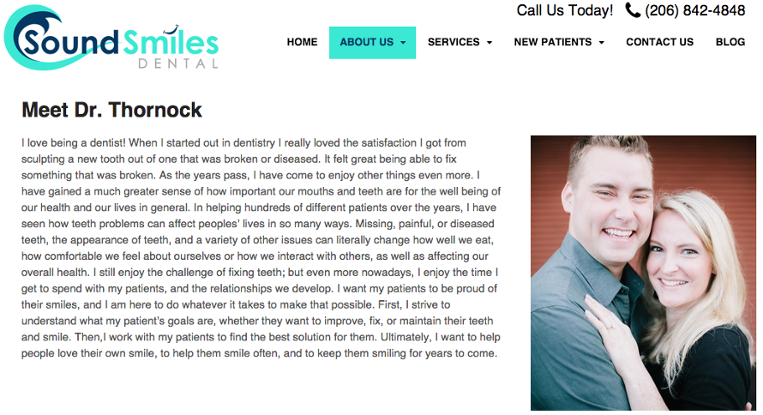 15. Put together an email marketing campaign
Healthcare professionals can greatly benefit by collecting and segmenting an email list of patients and potential patients. To take it a step further, segmenting that list by the patients' interests. You can use your mailing list to send out regular healthcare marketing campaigns newsletters and to update patients and leads on industry advances and happenings within your practice.
Now, I understand, this may seem daunting, but it is well worth it. You may want to get your healthcare marketing agency involved as it can be a bit time consuming.
In order for your email marketing to be successful (i.e., provoke the response you want and not be viewed as "spam"), it needs to demonstrate value and get to the point quickly. Here are several things you can do to make your email marketing campaign work for you:
With email marketing, it's ideal to reach out to patients about once a month. A weekly email will probably cause a lot of people to hit that "unsubscribe" button. Also, be careful with your subject line and content so that your emails don't end up in people's SPAM folders.
Pop-up forms (opt-in forms that pop up just when a visitor is about to leave your site) are great for capturing this sort of leads.
But remember to include privacy assurance in the forms. This reduces risk and shows prospects that you care about their privacy.
If your website is built on WordPress, then take a look at some of the best opt in pop up plugins.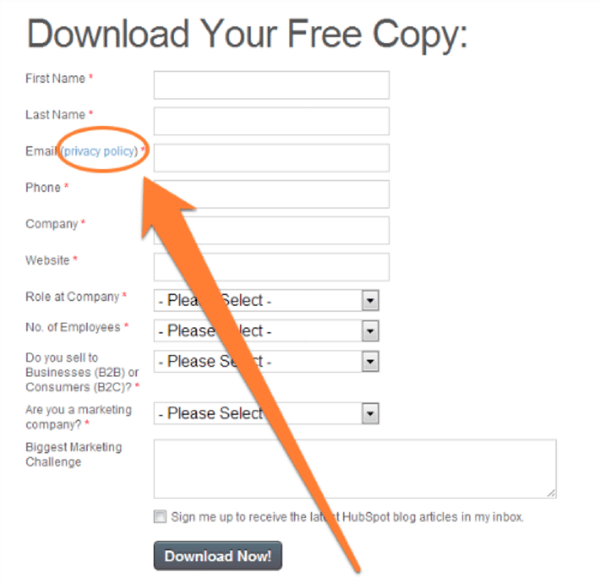 Email marketing is the most fundamental digital marketing tactics healthcare providers use to follow up with leads that have expressed interest in your practice by signing up for a mailing list.
Luckily, there are a ton of great automation tools out there to save you time on this task, such as:
Choose the one that has the best pricing and features for you, and you'll find that you are saving time because of features such as triggered email and campaign analytics.
16. Create a marketing sales funnel
It's not every visitor that lands on your website that will buy right away. Most of them may not immediately need medical care, but that doesn't mean they won't need it in the future.
In fact, almost everyone would need to visit a doctor at some point in their life.
So, the smartest thing to do here is to collect their details as outlined above AND create a sales funnel through which you can nurture leads and drive them through the conversion process until they're ready to visit you.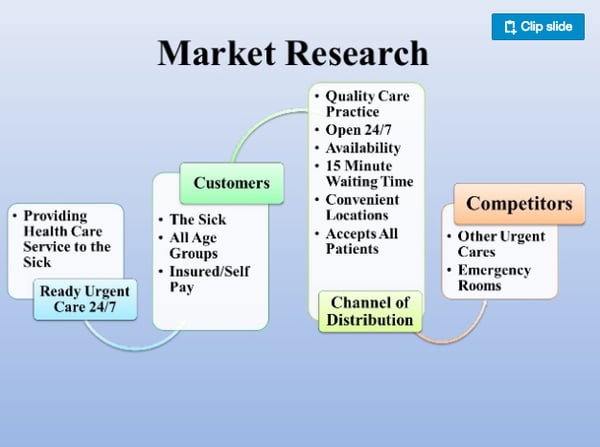 Bonus tip: Browse a sample healthcare marketing plan or two. Browsing a healthcare marketing plan example will help you figure out how to execute your strategy.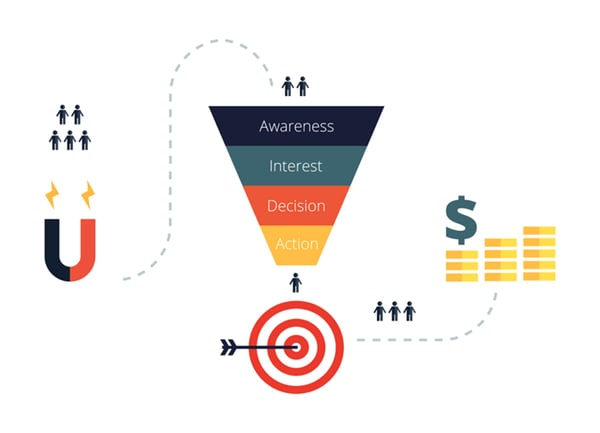 This is where email marketing will come in handy as part of your healthcare digital marketing plan. You don't necessarily need to send them daily or weekly emails. What is far more important is that you are emailing them information that pertains to them, and on a regular basis so that you stay top of mind for when they have a need for your medical services.
17. Create a content marketing strategy to inform and engage patients
There are already authoritative sources for health-related information like WebMD and Google's Answer Boxes. As a result, be sure to make a significant effort to attract patients that are accessing this information. To be successful in this evolving marketplace, medical professionals need to post new and high-quality content that relates to their practice. This can be done via blogs, white paper, and posts on social media.
Think about this in terms of brand image and value. Regardless of whether you're a dentist or surgeon, the rules are the same for every segment in the industry. If you actively maintain your web presence and Google ranking, it will help to drive traffic to your website and improve your chances of getting new patients. Further, staying current and visible online will also help you hold on to your current patients.
Content marketing is a key aspect of online marketing for healthcare professionals that works in tandem with other marketing techniques such as SEO and social media marketing. Like all of the healthcare marketing tips on this list, creating great content helps increase your practice's visibility online.
Here are some easy ways you can create content:
Blog posts, in particular, are an awesome way to post new content on a regular basis. I recommend blogging on popular topics people might be searching for and including photos and links to authoritative resources to increase the value of your content.
Do your patients frequently ask about the process for getting dental implants? Do they ask:
BTW, if this healthcare marketing plan example applies to your particular practice, be sure to read our recently updated blog post 4 Tips to Better Dental Implant Marketing for more tips on dental implant marketing, specifically.
Check out this blog post. It is an example of great content — the post features a popular topic, a photograph, quality links, plus statistics and quotes to add authority.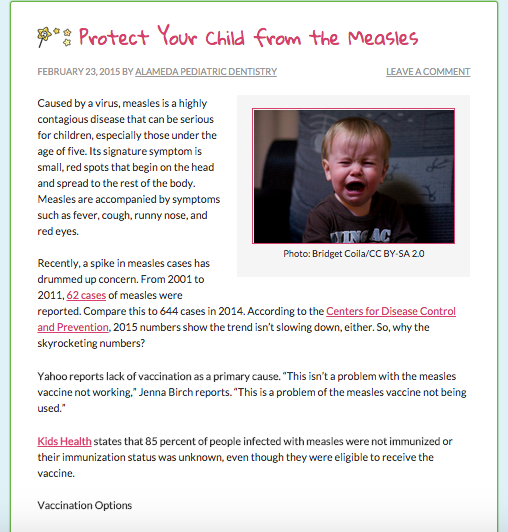 There are, of course, other types of content you can create, such as emails, visual content, video's, case studies, and reports that you can use to draw in new patients. But, here's the deal:
Content creation is arguably the most time-consuming part of any medical practice marketing plan.
In fact, B2B marketers consider it their number one challenge: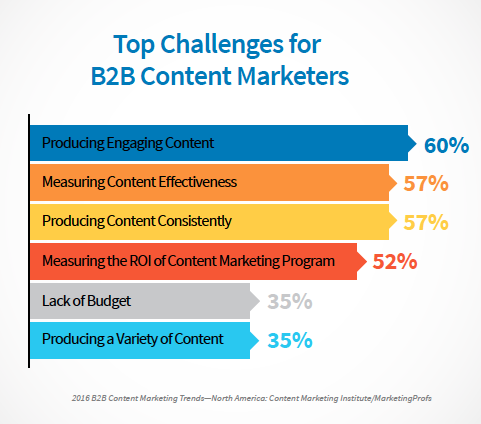 At a basic level, you'll need to keep your blog updated.
This isn't necessarily an additional task you hand over to your medical staff.
You're paying them to do their job, but that job is likely not marketing. To ensure your medical practice has the most effective content possible, consider finding a content creator that specializes in healthcare digital marketing.
18. Obtain high quality and relevant backlinks to your website

Google is all about offering results that are quality and relevant (well, so they say).
One of the big factors that impacts how it perceives and ranks your website is by whether or not other high authority websites are talking about and linking back to your site.
Now:
Building backlinks can be a time-consuming task, but there are a few strategies in the healthcare industry you can utilize to get quality links in a short amount of time.
Reach out and start getting backlinks by:
19. Reputation management — the key to convert new patients

Reputation matters. Social proof (third-party reviews and endorsements) are essential for any medical practice seeking to gain clout and encourage trust with potential clients. Patient testimonials, reviews, and case studies should be a major part of your healthcare marketing plan. Luckily, you don't have to put too much extra effort into gathering them.
You're already taking time every week to look out for negative online feedback.
At the same time, be on the lookout for glowing reviews and positive patient experiences.
One way to truly stand out is by getting positive reviews on Yelp, Google Business Profile, Facebook, and other well-visited and authoritative websites. One in four patients check online reviews before choosing a physician. If you don't have good reviews, or you don't have any reviews at all, the odds are that the patient will choose another practice.
In order to build your online reviews, make it easy for patients to review your practice and encourage them to do so.
You can do this by creating a review portal with an easy to remember URL that you can direct patients to, as well as adding a button on your website that they can do this. Here's an example of my review portal: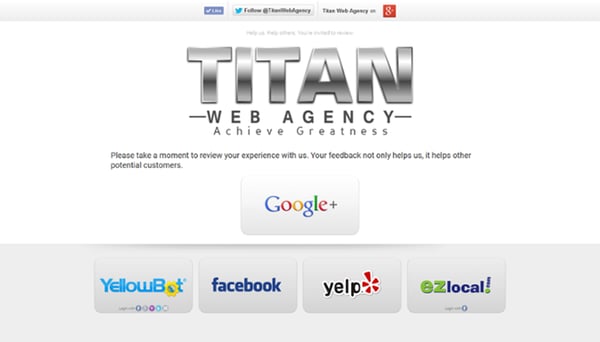 You can display reviews on your website as well to instill confidence and increase conversions.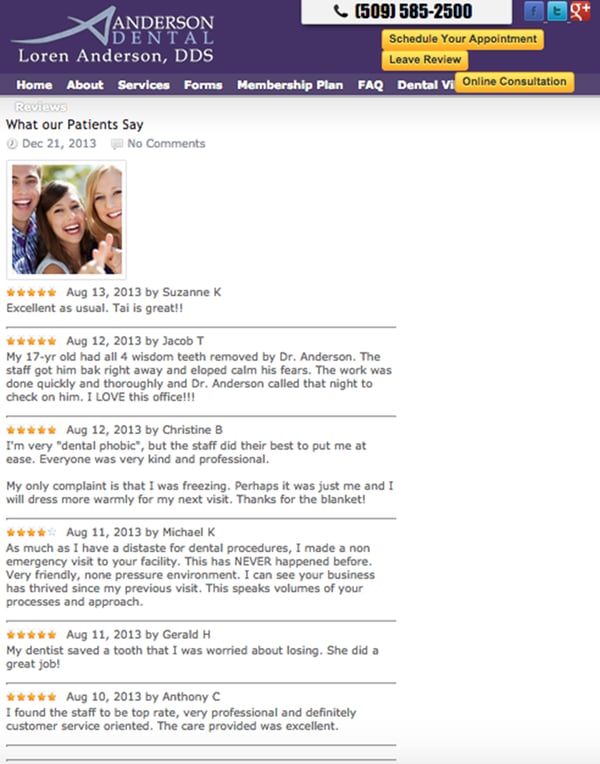 You should also spend some time fielding any negative reviews you might receive.
You can also reach out to individuals and ask them if they'd be willing to come in and speak about their experience for a minute or two on camera.
A video marketing testimonial is 10x more powerful than a text testimonial! If they agree to this, be sure to be respectful of their time and stick to the agreed upon time limit.
You can record this on a phone, but you may want to pick up a little mic for your phone so it picks up the audio.
You may even want to interview them to put together a full-blown case study for your medical or dental practice marketing plan.
You should also spend some time fielding any negative reviews you might receive.
Why?
Well, if your medical practice is signed up for Google Business Profile, then it can appear in Google's local search results like this: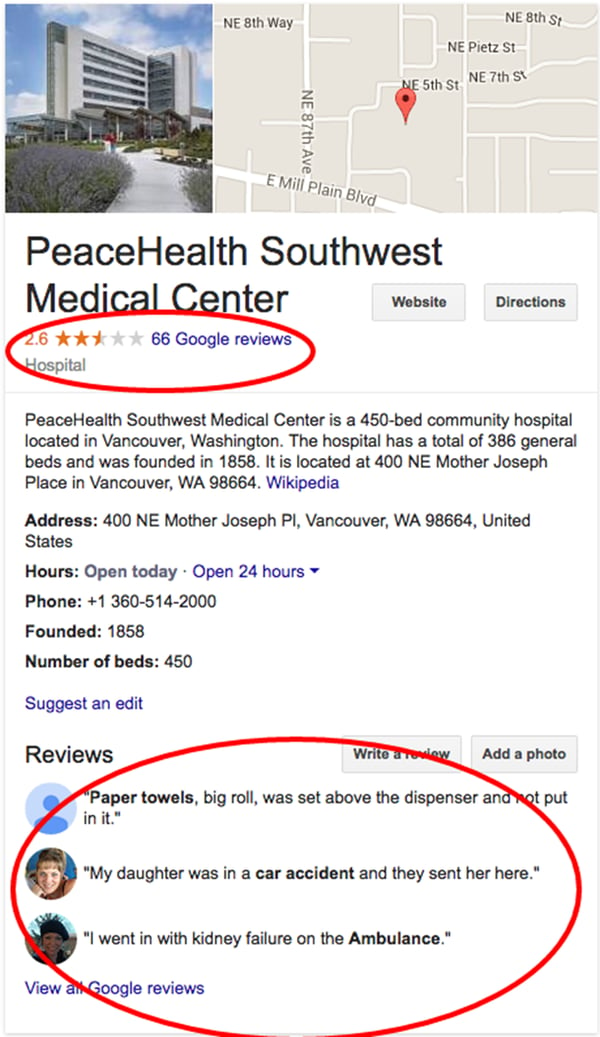 (Even if you aren't signed up for Google Business Profile, you still may have a page that Google created, so be sure to check by going to google.com/places and create or claim your page).
Notice that Google reviews are displayed prominently in the listing featured snippets. This can have a serious impact on your click-through rate, as negative reviews may scare people off, and this can ultimately impact your search ranking.
Every week, take a few minutes to read any new reviews about your business that appear on Google, Yelp, and other third-party platforms.
Don't just read them, respond to them!
Depending on the issue, you may even be able to resolve the problem and turn a negative review into a positive one.
It's probably pretty obvious why having positive reviews online are good for business, but here's the best part:
The more reviews you have, then the more it can help with a potential rise in the search engine rankings.

20. Consider direct mail for cost-effective healthcare marketing

Direct mail can be an easy, cost-effective way to advertise your healthcare practice — and you can complete most of the steps online.
For around $500 or less, you can use a program like Vistaprint or Every Door Direct Mail (EDDM) to send out postcards to a targeted group of prospects.
Are you a dentist? You're going to want to read the blog post A Review of 10 Dental Direct Mail Postcard Services.
21. Make sure your website is mobile responsive

Truth is, websites serve as virtual offices. Now, imagine a patient walking into your office only to find it messy and disorganized.
That's the same way it is when they land on your website only to find that you used 7 different colors that do not match. And chances are, they'll leave almost immediately without taking any action.
If you haven't gotten the point yet, here's a one-liner summary:
You need a clean, professional-looking and responsive site to present your practice and services well to prospective patients, period.
Going for something cheap, or edgy can cost you leads, new patients, and even revenue.
These days, there are a number of platforms with thousands of beautiful themes which you can use to build a website that stands out.
Also, take into consideration the responsiveness of your site. You have to design for your users' screen.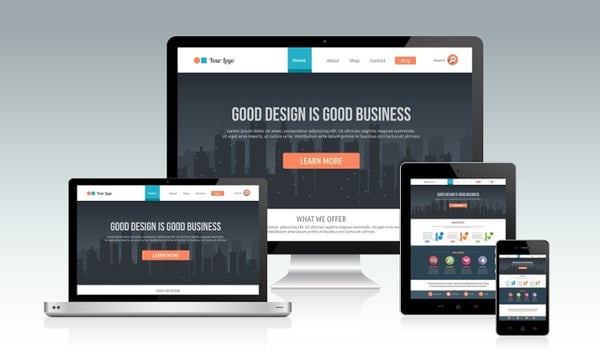 Do you have a mobile-friendly healthcare website? If not, you are missing out on tons of traffic and business. Not only that, but your mobile rankings could take a hit.
Roughly 60 percent of online traffic now comes from mobile devices such as smartphones and tablets. This means that if your healthcare marketing website isn't optimized for mobile, the majority of people who visit your site will quickly leave it.
There are several types of mobile-friendly website configurations, but Google recommends using the responsive design configuration, wherein your site renders the same regardless of the device you use.
If designing a simple but cool website is not your thing, you can hire the services of a professional web design company.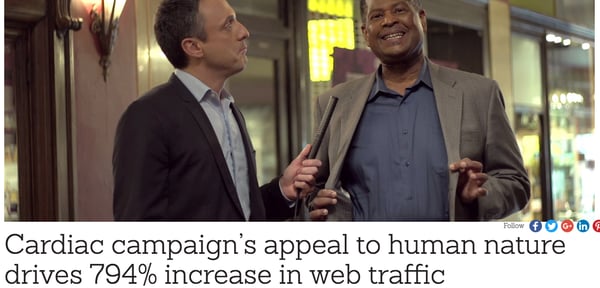 22. Use influencer in your healthcare marketing
If you're looking to get the word out about your healthcare services, you may want to consider working with influencers. These are people who have a huge following on social media and know what types of content resonate well with their followers. Many of your potential patients may be young adults or teenagers whose parents still manage all aspects of their health care decisions - so they would need some convincing too. A data from MuseFind shows 92% of consumers trust information from social media influencers over traditional celebrity endorsement. Another study from Digital Marketing Institute found that 40% of people make a purchase after seeing an influencer use it in social media, which means your next potential patient could be just one tweet away!
23. Take advantage of paid search ads
Search engine optimization is the organic marketing strategy to earn greater visibility in the non-paid search results online. However, even if your site ranks number one for a search term like "dentist in Tulsa" there are still 3-4 paid advertisements above that rank at #1 on Google searches which will show up first before any other results do. While traditional advertising is often created to be flashy and intrusive, pay-per-click (PPC) ads are often a lot more subtle. A Google Search ad will appear first on search engine results pages when the user types in your keywords or phrases that you've specifically selected for targeting purposes. When it comes to paid advertising, there's no need for guesswork: You can tell exactly how much money an individual campaign costs per day/month by setting your maximum daily budget upfront based on what you're willing to spend each month.
Let's Plan Your Healthcare Marketing Strategy
Maybe you are ready to embark on a holistic, comprehensive healthcare marketing strategy that takes your practice to the next level. Or, more likely, maybe you're not too sure yet. After all, you are probably doing some marketing and SEO already and may have even hired a healthcare marketing agency in the past. Still, you probably know that you could do better.
If this sounds like you, if you know that online marketing works and can increase the growth of your practice, then contact us today for a consultation by clicking the image below.
About the Author
Tyson Downs is the founder of Titan Web Agency, a company specializing in marketing for dental professionals. With an impressive track record of working with over 100 dental practices, Tyson has a deep understanding of the unique marketing needs within the dental industry. His expertise has helped numerous dental practices flourish by meeting and surpassing their revenue goals and established him as a thought leader in healthcare marketing. His insights and strategies have been featured in esteemed dental publications, including the American Dental Association and the American Academy of Implant Dentistry. Before dedicating his career to helping dental professionals thrive through effective marketing, Tyson honed his skills in SEO and web design as a freelancer, while also gaining valuable experience in the corporate sector. As an alumnus of Brigham Young University, he brings a strong educational background to his entrepreneurial endeavors. Outside of his professional life, Tyson is a devoted father of five, who cherishes time spent with his family, especially when they're all enjoying America's pastime on the baseball field.