How Doctors Can Automate Their Healthcare Marketing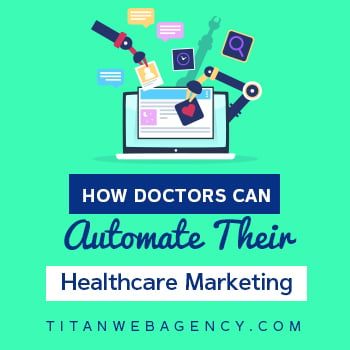 If you're a doctor, you probably already know that traditional online marketing isn't enough to grow your practice. In addition to having a web presence, physicians also need to be proactive and strategic with marketing tools such as social media and email marketing.
At Titan Web Agency, we understand the special challenges you face, and we understand medical marketing for doctors. One of the most common questions we hear from our physician clients is:
Is healthcare marketing automation worth the investment?
We think it is. In fact, marketing automation can help you reach and nurture leads and even target new patient prospects online, without adding much work for you.
Why Automate Your Healthcare Marketing?

Marketing automation may be new to you. If it is, you're probably wondering why you should consider it. Here are the biggest benefits of doctor marketing automation as we see them.
Marketing automation helps to automate certain aspects of your marketing, allowing you to fine-tune your strategy and save money.
It saves time by allowing you to set up marketing campaigns so you can "set it and forget it."
It allows you to gain insights into your target audience, making it easier to allocate your time and resources to the marketing strategies that are most likely to bear fruit. You can learn which methods are the most effective (email, social media, and video marketing are three examples).
You'll get detailed analytics about every aspect of your marketing strategy.
You'll save money because you'll spend less time on marketing and more time on providing the highest level of care to your patients.
The bottom line is that automation can save you time and money, and we believe it's a great solution to make medical marketing for doctors easier, less stressful, and more effective.

What Can You Automate?
At this point, we hope you're wondering about what you can accomplish with healthcare marketing automation. Here are some of the things you can automate:
Patient scheduling and appointment reminders
Email marketing
Social media marketing
Blogging
Search engine advertising
As you can see, marketing automation tools can help you with nearly everything related to marketing your medical practice.
The best Healthcare Marketing Tools to Grow Your Practice
To get started with marketing automation, you'll first need to choose what software you want to use. Fortunately, there are dozens of marketing automation tools to choose from.
Let's start with email marketing. Email marketing tools allow you to:
Collect email addresses automatically using a form on your website
Create welcome emails to greet new subscribers
Set up email sequences to convert subscribers into patients
Track email results and fine-tune your email marketing strategy
Some of the best email marketing automation tools include AWeber, Constant Contact, and Get Response. They all offer useful tools that can help you manage and automate your email marketing.
There are all-in-one platforms as well. Some of the ones we recommend include:
Your software or service should include email marketing functionality and may also include customer relationship management (CRM), such as online appointment scheduling as well as other online marketing features.
Tips for Using Healthcare Marketing Automation
Understanding the benefits of healthcare marketing automation is one thing, but do you know what to do with it once you have it? Here are some pointers to help you out.
Set up an email list and create email sequences designed to help you attract new patients. For example, you might create a long nurturing sequence to tell patients about your experience and show them what's special about your medical practice.
Share important medical information with your followers via email or social media, ensuring that your audience is up-to-date on medical trends.
Create a social media posting schedule and save time by creating content ahead of time and letting the automation help you by posting it at the most optimal times: when your prospective patients are online and waiting to hear from you.
Automatically post your blogs to social media and schedule blog posts to go live when you want them to.
Gather information about keywords and engagement and use what you learn to create new pay-per-click ads on search engines to attract new patients to your practice.
Track detailed analytics for your marketing campaigns and use what you learn to improve your campaigns and increase your conversion rate. One of the best things about healthcare marketing automation is that it gives you access to detailed information to help you get to know your target audience and what they expect from their doctors. That can help you in every area of marketing, including email, social media, search engine marketing, and even print marketing.
If you choose an all-in-one marketing solution, you may also be able to automate patient follow-ups and reminders, which you might not think of as marketing. However, they have a lot to do with the success of your practice.
As you can see, there are lots of things you can do with healthcare marketing automation. It can eliminate most of the day-to-day, repetitive work associated with marketing your medical practice. That means that you and your staff will have time to spend on improving the patient experience and growing your practice.
---
Conclusion
Healthcare marketing automation helps busy doctors build and maintain patient relationships with important outreach and follow-up actions. In fact, we believe it's a necessary component of any successful medical marketing strategy. If you're not taking advantage of automated marketing technologies, you're probably missing out on a lot of business.
Do you need help with your healthcare marketing automation? Titan Web Agency has the experience and know-how to guide you. Contact us and talk about how we can help you grow your medical practice or help you set up marketing automation for your practice.

About the Author
Tyson Downs, the owner of Titan Web Agency, has years of experience working with small businesses and helping them meet their revenue goals. Prior to starting Titan Web Agency, he freelanced in SEO and Web Design while working in the corporate world. Tyson is a graduate of Brigham Young University, the father of 5, and enjoys spending time with his family. Particularly on the baseball field.