A Blog for Dentists & Other Healthcare Professionals
How Improving the Patient Experience in Your Practice Can Increase Your Profits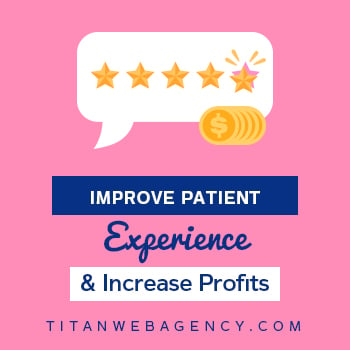 When you think about ways to grow your dental practice, are you focused on attracting new patients? If the answer is "yes," then you may be missing out on an opportunity that can enable you to spend less on marketing.
The opportunity? Creating a wonderful experience for your patients, whether they've been with your practice for years or they've just made their first appointment.
Maybe you believe you're already providing the best possible patient experience. However, the chances are good that there are things you could be doing differently – better – that will lead to an improvement in your dental practice's profitability.
Here's a few things to consider.
Why the Patient Experience Matters
How does the patient experience impact your practice? The short answer is it has a dramatic influence on your practice, in many different areas. Here are some statistics to keep in mind:
What these statistics show is that the experience your existing patients have in your dental clinic has a direct impact on how successful you'll be at attracting new patients. Negative reviews and bad word-of-mouth will not help you grow your practice and can cut into your profits.
Patient Experience Mistakes to Avoid
A significant part of creating a positive patient experience is avoiding some of the most common mistakes that dentists make. Here are the things that will negatively impact your patients' experience and hinder your ability to attract new patients.
Not keeping up with technology. If your practice doesn't have an online patient portal with online paperwork, scheduling, and a way to ask questions, then patients are not going to be happy. In just a few years, these things have become necessary for every dental practice.
Not communicating effectively. Patients are often nervous about their health and it's your job to reassure them – during their appointments as well as after the fact.
Not listening to your patients. Another common complaint about dentists is that they don't always listen to their patients. If a patient doesn't feel that you've heard them, they'll likely walk away frustrated.
Not being compassionate. You may not mean to be cold toward your patients but if you are, they'll notice. People want dentists who care about them.
These mistakes are common – and yet they're also easy to correct.
Are you looking for Patient Care and Office templates? Click the button below to find out more.

Proven Ways to Improve the Patient Experience
Now, let's talk about some concrete things you can do, both now and in the long term, to improve the patient experience at your dental practice.
Revamp Your Business Model to Focus on Patients
Whether you have a written business model for your dental practice or not, it's time to make it a patient-centric document that governs everything you and your staff do.
It's not enough to tell your staff that the patient experience is a priority. You must articulate what that means and how you expect to accomplish it. Your employee handbooks and job descriptions should talk about the patient experience starting with calling your practice or booking an appointment through follow-up care and beyond.

A good way to start is to think about how you want your patients to feel after visiting your practice. Here are some words and phrases that may help:
Safe
Listened to
Confident in your abilities
Valued
Use the words you choose to determine what you will do to make your patients' experience as positive as possible.
Embrace Patient-Centric Technology
Today's patients want to be able to interact with their dentists online, doing everything from completing intake paperwork to looking up dental records. It's your job to make sure they can.
The first step is investing in dental practice management software. At a minimum, your patients should be able to:
Schedule and/or cancel appointments
Complete intake paperwork and medical histories
View their dental records
Submit questions to you and your staff
Your portal must be HIPAA compliant. Just as important as making the portal accessible to your patients is getting your staff on board with the change. Ultimately, a patient portal will make their jobs easier, too.
Make Communication a Priority
You already know that poor communication is a common patient complaint. It stands to reason, then, that improving your communication will also improve the patient experience.
Communication should be a priority at every level of your dental practice, including:
How you answer phones and return patient calls
How you greet patients when they arrive for appointments
How you interact with patients before an appointment – sending appointment reminders or making confirmation calls
How you interact with patients during an appointment – communicating clearly with them about their oral health and potential treatments, including listening and responding to their concerns
How you interact with patients after an appointment, including booking follow-up appointments, sending follow-up emails and texts, and making it clear that you make their health and satisfaction a priority
Communication isn't just about the things you say or write. It's also about how you listen, your tone, and the impression a patient receives of you and your practice.
Create Online Resources for Patients
Since a significant percentage of patients in the United States seek dental information online, it stands to reason that providing them with online resources is a good way to improve their experience. Here are some examples:
Update your dental website to include detailed information about your practice, staff, and services. Make sure to include photographs whenever possible – and make them authentic, not stock photos.
Build a library of resources for your website. For example, you may want to create short explanation videos for common dental procedures, link to authority articles and studies related to your practice and maintain a blog.
Create a list of useful links, including links to professional journals, major periodicals, and even YouTube videos that you think your patients will find useful.
Write a detailed FAQ for your website and make sure to give detailed responses.
The more resources you include, the better your patients' experiences will be. You'll also have a better chance of attracting new patients because they'll be impressed by the overall quality and usefulness of your practice website.
Embrace the Use of Social Media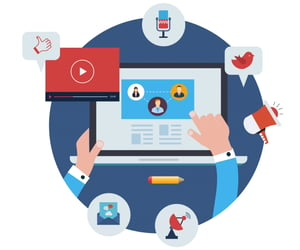 If you're not making the most of yoursocial media accounts, then you're likely missing a chance to improve your patients' experiences with your practice.
You don't need to be on every social media site to be effective. However, if you have an account on Facebook, for example, you should be prepared to post at least once every weekday. Your content should be a mix of original content and curated content.
You should also do what you can to integrate your social media with your patient service. That may mean adding an automated response if patients send you a Facebook message and empowering people on your staff to respond to patient questions and complaints on social media.
Ask Your Patients What They Want
You can and should collect data from your website and social media accounts. It will help you make better decisions about how to allocate your marketing budget and which areas need improvement.
However, there's no substitute for getting direct feedback from your patients. There are a few ways to get the feedback you need:
Create and send patient satisfaction surveys after every appointment.
Send a detailed survey to the people on your mailing list.
Build a feedback form into your patient portal.
Ask patients about their experiences during follow-up phone calls.
Post questions on social media and aggregate the responses.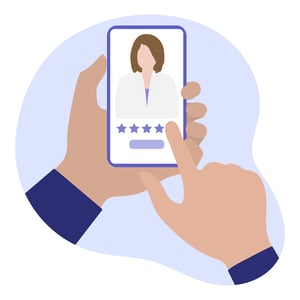 The responses you get should help you pinpoint the areas where your practice can improve the patient experience. For example, if you get a host of responses from patients who are frustrated with their waiting times, you may decide to put a contact system in place where your staff sends text messages to update patients when there's a delay.
A great way to collect this feedback is to use a review system to generate reviews for your dental practice, which will allow you to really listen to what your patients want.
Let Patients Know You Value Them
One of the best ways to improve the patient experience is to let your patients know that you don't take them for granted. Every patient has choices when it comes to choosing dental providers.
Here are some suggestions to show your appreciation:
Keep a database of your patients' birthdays and a supply of signed birthday cards. A week before their birthday, mail a signed card.
Make detailed notes about any life details your patient shares with you. For example, you might note that a patient's child is applying to college and then ask about the application process the next time you see them.
Send a thank you email after each appointment.
Have some basic perks in your office. For example, you might put a beverage station in your waiting area and include toys for your youngest patients to play with while they wait.
None of these things is expensive but they can make a huge difference in how your patients feel about you and your practice.
Conclusion
Improving the patient experience in your dental office could be the key to your practice's success. The tips we've included here will help you create a compassionate practice that your patients will love.
Need a hand fine-tuning your online presence to improve the patient experience? Contact us today to learn how Titan Web Agency can help!
About the Author
Tyson Downs, the owner of Titan Web Agency, has years of experience working with small businesses and helping them meet their revenue goals. Prior to starting Titan Web Agency, he freelanced in SEO and Web Design while working in the corporate world. Tyson is a graduate of Brigham Young University, the father of 5, and enjoys spending time with his family. Particularly on the baseball field.