How Can You Communicate the Value You Bring to Your Patients?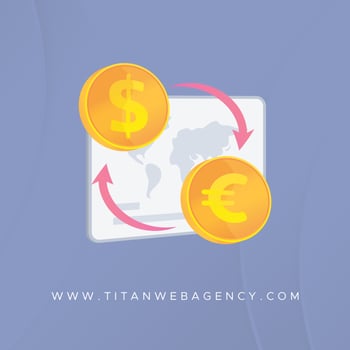 In 2021, doctors & other medical professionals have to do a lot more than put an ad on the Yellow Pages (yes, they're still around) to increase market share and to attract their ideal patients. To keep your practice healthy and moving in the right direction an effective healthcare marketing strategy with a solid USP is required.
Medical and dental marketing strategy have become quite complicated and digital because of fierce competition for patients. As a result, to get your clinic beyond the annual physical or annual checkup, you will need to promote your practice on many fronts, and in various ways to grow your patient base and remain successful.
These days, a medical marketing plan will consist of both online and offline branding initiatives. Yes, you read that right, medical clinics need to do some branding to set them apart and stand out in a very crowded marketplace.
The clinic's reputation and brand image depend a lot on how you sell yourself and the clinic. Health and dental clinics are businesses just like cafés and restaurants. As a result, doctors need to apply the same marketing principles to attract new patients.
Engaging in marketing activities will help you achieve your annual targets and possibly help you identify new opportunities to expand your medical services.
Here are seven marketing ideas for medical clinics to help you get started:
1. Take Advantage of Marketing Collateral in your Waiting Room
A lot of medical offices are engaging in various medical marketing activities (email, social, blogs, etc.) and having some success. But that doesn't mean offline marketing is dead. In fact, offline medical marketing is very much alive.
Take advantage of your waiting room, place some dental brochures that patients can read while they wait. These brochures can highlight the benefits of using the medical services that you offer (that may not be very obvious to most patients).
Further, you can also promote wellness initiatives and provide opportunities for current patients and prospective patients to provide or update their personal details. This can be a form at the end of the brochure (and it's a great tool to quickly acquire information for a patient database).
It will also help to have your clinic's business cards easily available around your clinic. These brochures and business cards should easily highlight your clinic's logo and contact details.
Other benefits that can be emphasized include the following:
Brief history and profile of all the doctors practicing at the clinic
Information about the state-of-the-art equipment used within the practice
Information about common diseases
Disease prevention
New medical innovations that patients might want to know about
The only online aspect of this exercise will be your email and website addresses listed on the collateral and your call to action to visit the clinic's social media pages (not forgetting the patient database).
Displaying brochures facilitates opportunities for (patient – doctor) dialog and will possibly lead to another consultation. So it's a great tool to get patients returning after the annual physical.
2. Engage in Target Marketing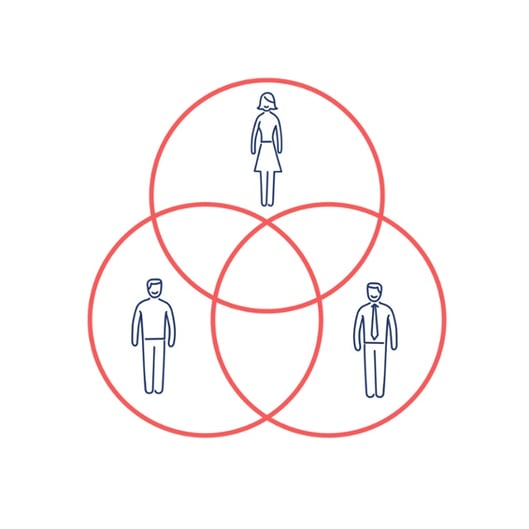 That's where you want to be.
See that image above?
You want to find the sweet spot of your ideal patients.
We call this a persona.
Here's visually what a customer or patient persona could look like, compliments of Xtensio.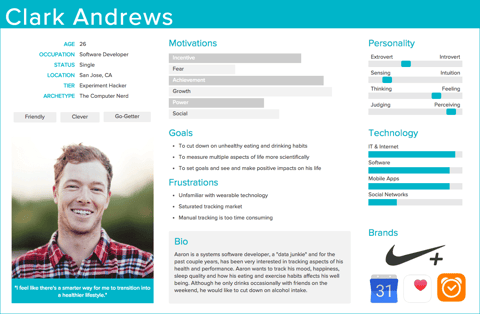 When you truly know your patients and potential patients you know all information mentioned above and more!
Knowing this allows you to go where they are, and to practice targeted marketing.
In the old days, doctors would just place an ad in the yellow pages and maybe invest in a billboard. This sort of mass marketing can deplete your budget and may fail to target specific individuals who would be in need of your services.
Targeted marketing can help you reach your potential patients more efficiently and more effectively. You can segment your audience based on location, age, sex, and income. You can essentially narrow down the population according to any criteria that fit your goals and communicate relevant information.
How much more effective is it to have your advertisements, or your marketing message reach your ideal patient, a 35 year old business owner, making 100k+ per year, living in Henderson, NV, and married with 2 kids, and is a home owner?
WOW!
Think of the possibilities!!!!
Regardless of how big or small your practice is, target marketing both online and offline is the better way to move forward.
A form of target marketing is email marketing which can be highly beneficial if done correctly.
3. Connect via Email Marketing
Maintain a connection with current patients by taking advantage of your in-house email database. Your patient in-take forms should have all the relevant email address to connect with patients who are not due back for another annual check-up (this can be done once a month).
It works, and it's highly cost-effective to keep in touch with patients. It's a crucial part of maintaining patient relationships throughout the year. Further, it can also be a tool that you could use to remind patients of an upcoming appointment and confirmation of that appointment. This has the added benefit of ensuring that your patients show up for their appointment (saving you time and money in the long run).
Email marketing can be in the form of newsletters or brief information blurbs about what's happening in your practice or industry.
Although this is a great digital marketing tool, be sure to get written consent from the patient before making any contact via email. No matter what the marketing campaign may be, always make sure that you and your staff consistently maintain HIPPA compliance.

4. Engage & Market to your Existing Patients
You have a great opportunity here to analyze and promote the medical services that you offer to your patient base. For example, suppose you're running a general practice, but you have some doctors who are also qualified counselors. This is an opportunity to market another service that can be offered by your clinic.
Engaging with your patients can be conducted via postcards (like reminders) and internet marketing for doctors can be conducted by blogging and via social media posts. It's a tool that can keep the dialog between the patient and the clinic going (between annual check-ups) and it can help to build loyalty.
5. Attract referrals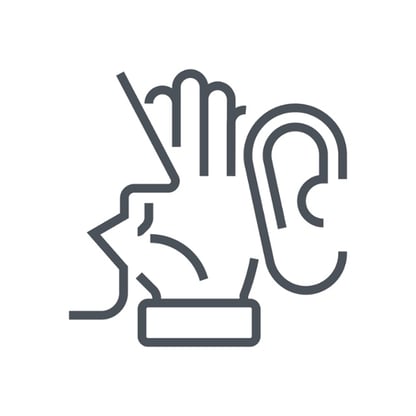 If you're running a specialty practice, you're going to depend heavily on other doctors referring patients to you. Between annual check-ups, you may have a lot of downtime if your patient base is small.
So how do you go about attracting more referrals?
The short answer is to build relationships with doctors who have the potential to refer patients to you. But how does one go about doing this?
The first step is to identify which doctors in your area can refer new patients to you. Then you'll have to develop a marketing strategy to communicate with these medical professionals.
No matter how you look at it, marketing 'yourself' will require you to 'sell yourself' and make sure that the potential referring doctor has a reason to refer you. One way of doing this is by introducing yourself and your practice through a letter with attached literature (about the you & your office).
It's a good way to make an introduction and make the first contact.
But don't leave it at that.
Ways to connect and build a relationship include:
Have face-to-face meetings
Network with colleagues at professional meetings and conferences
Holiday cards and gifts (make it personal)
If you already have a relationship, send them some lunch (to show that you appreciate the referrals)
You can also attract referrals by becoming an authority in your specialized area. You can do this by getting consistently getting published on authority websites (listen to the podcast below for more information on that).
Further, you can also try to become a member in the community that news organizations can contact for expert opinions.
6. Internet Marketing for Doctors
Digital or internet marketing is vital to communicate information about your practice and bring transparency to the clinic. You don't need me to tell you how the Internet has transformed how doctors market their practice, and the potential that it offers.
So if you want to be easily found when a potential patient searches online, you have to have a digital marketing strategy as part of your medical marketing plan.

Your website and social media profiles need to communicate your clinic's brand image clearly and remain consistent throughout every interaction. Further, these media avenues need to list all the services that you offer at your practice, staff bios, payment policies, and insurance plans that are accepted at the clinic.
The website, in particular, should make it easy for all visitors to schedule an appointment. Further, your hours of operation should be communicated clearly (although a flexible schedule is recommended). It's an opportunity to make a good first impression, so invest in designing a professional website that not only looks good but is also highly user-friendly.
You, like most internet users probably click on a results on the first page of an internet search, right?
So, it would be a good idea to work with a search engine optimization (SEO) company that understands your business, your industry, your patients, etc. and has helped medical professionals like you with their online presence and Google rankings.
This isn't something you can take lightly.
Did you know that I still have potential clients contact me on a regular basis that think that SEO is some voodoo type magic?

It isn't.
Make your website easily readable by the search engines.
Get other websites mentioning you in some way shape or form.
That's it in a nutshell.
Further, one marketing idea for you to consider should also address doctor review websites and take ownership of those profiles. By taking ownership of review site profiles, you can address any issues (that may come up) and use it as an effective marketing tool to attract new patients.
7. Maintain a Positive Attitude and Appearance in the Clinic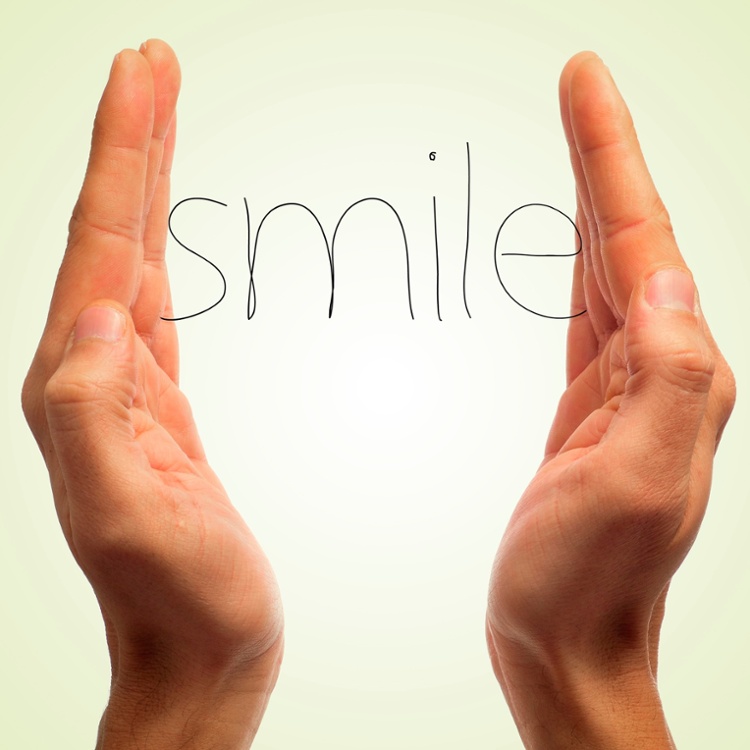 You and your clinic staff need to reflect the clinic's or brand's values when interacting with patients within your medical office. It's a direct reflection of your brand's image as your patient's perception of you, and your practice is formed during an appointment.
So it's crucial to consistently maintain a clean and modern working environment with employees that display a positive attitude. Train your staff to be courteous, to greet patients when they come in, and display a good attitude during every interaction.
A new patient's first contact will be with your reception staff, so it's important that all staff members are on the same page. It's a good idea to create a warm and welcoming reception area and waiting room. Further, have some toys for kids to play with and free WiFi for patients to utilize while they're waiting.
Retaining patients requires a commitment to an excellent patient experiences. If your patients consistently have an awesome time when they come for a visit, your online reviews will be good, and you will be the first person they refer to a friend.
---
Conclusion
Communicating the benefits of your clinic isn't straight forward, it has to be approached from many angles (both online and offline). You can implement these marketing strategies by utilizing office staff or by hiring a marketing consultant or agency.
There are plenty of competitors in the marketplace, so although you're providing an important service to the community, the business aspect of running a clinic requires some investment in a combination of traditional and digital marketing.
This, in turn, will generate more returning patients to your practice, before the next check-up.
What's your experience with marketing for medical clinics? Share your thoughts and experience in the comments section below.

About the Author
Tyson Downs is the founder of Titan Web Agency, a company specializing in marketing for dental professionals. With an impressive track record of working with over 100 dental practices, Tyson has a deep understanding of the unique marketing needs within the dental industry. His expertise has helped numerous dental practices flourish by meeting and surpassing their revenue goals and established him as a thought leader in healthcare marketing. His insights and strategies have been featured in esteemed dental publications, including the American Dental Association and the American Academy of Implant Dentistry. Before dedicating his career to helping dental professionals thrive through effective marketing, Tyson honed his skills in SEO and web design as a freelancer, while also gaining valuable experience in the corporate sector. As an alumnus of Brigham Young University, he brings a strong educational background to his entrepreneurial endeavors. Outside of his professional life, Tyson is a devoted father of five, who cherishes time spent with his family, especially when they're all enjoying America's pastime on the baseball field.