Dental Practice Financials: Tips for Managing & Boosting Revenue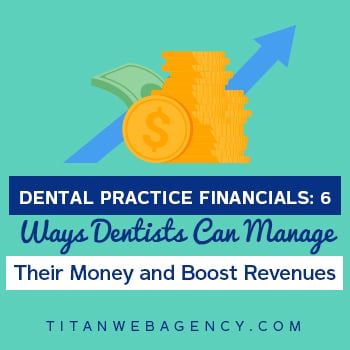 There are a lot of moving parts when it comes to dental practice financials. There's income, overhead, fees, taxes, insurance reimbursements and more. Even if you're the best dentist in town, if you don't manage your money right, you're not going to be able to build and maintain a profitable, financially sustainable practice.
I work with a lot of dentists, particularly with helping them boost their profitability by increasing their online presence. We recently reached out to several dentists to get their feedback on best practices for managing dental practice finances. In this article, we'll explore the essential things dentists must do to optimize their practice's financial status, based on what dentists have told us and what we've learned from working with many dentists as well.
If you'd prefer a summary of the post and to look at some cool pictures, scroll to the bottom where you can view the infographic.

1. Hire an expert to help you
One of the main actions dentists recommend for managing a practice's finances is hiring a financial expert, preferably one with specific dental practice expertise. Most dentists are not financial experts — so how can you be expected to know how to manage your money in the most efficient way possible? Hiring an expert such as a certified public accountant for dentists is especially important come tax time.
Here's what a couple seasoned dentists told us about hiring an expert:
Hire an expert. Use them a lot or a little, but get professional advice. Too many dentists think that because they're smart in one area they're also an expert in finances. Set short-term, medium-term, and long-term goals and stick to them.

Loren Anderson
DDS
You should find a consultant who can sit down with you and make certain that you aren't losing money due to poor management. Most dentists are not great managers of money, but that's why you hire people who are. What affects your profitability the most is that the dentist operates without a full knowledge of where their dollars are going. Working harder won't solve the problem until you diagnose what the problem(s) really is(are).

Daniel Whittaker
DDS
One word of warning here is that the financial expert you hire should not be your buddy, as this can compromise the quality of their advice. One dentist told us, "It took me way too long to realize that I didn't really have a financial adviser, all I had were "friends" selling me insurance."
2. Use dental accounting software
Even if you have an accountant to advise you on financial matters, you still need to give them the hard data they need to assess your practice's finances. Using the right software, you can easily track expenses, revenues, and other financial information to provide your accountant with an accurate view of your income and outcome.
Some dentists use an accounting software like QuickBooks or Xero; there are also dedicated dental practice management software solutions such as Axex or Total Dental. Depending on the dental PM software you use, the software may have its own accounting features, or it may integrate with other accounting software such as QuickBooks.
3. Track your important practice metrics
Stay on top of your day-to-day and month-to-month financials by tracking important business metrics that affect your profits. One of the most crucial pieces of data to pay attention to is your P&L (profit and loss statements). Says Dr. Whittaker of Whittaker Dental:
The trick is to get to a certain amount of production so that key factors fall within certain percentages every month on your P&L. Wages for staff should be around 23-25%, labs 4-6%, supplies 5-8%, etc. Getting an accurate monthly P&L and studying it carefully is ESSENTIAL. It's hard to get an accurate one unless you are fastidious in maintaining your records.
Daniel Whittaker
DDS
Some of the other smaller data pieces that go affect your P&L (and which you should also pay attention to) are as follows:
Fixed expenses — Expenses that do not change month to month (utility bills, rent/mortgage, loan payments, etc.)
Variable expenses —Expenses that may change based on your monthly production (lab bills, supply bills, staff pay, etc.)
Over-the-counter (OTC) collections
Patient stats — Some of these include new patients per month, number of patients seen each day, and cancellation rate
Treatment presented vs. treatment accepted ratio — One dentist told us "Self confidence, not charisma, looks or personality; but self confidence leads to acceptance of treatment recommendations."
Number of new inquiries vs. number of new appointments scheduled
Ratio of perio production vs. overall hygiene production
Doctor and hygiene production per hour
Unscheduled time units
Accounts receivable
According to Dentistry IQ articles by Theodore C. Schumann, CPA, CFP and Dayna Johnson (articles linked below), some good benchmarks for these metrics are as follows:
OTC collections should be 45% to 55% for fee-for-service practices.
Perio/hygiene production should be at least 30% perio services.
Ratio of treatment presented vs. treatment accepted should be 70-90%.
Average practice may lose as much as 10% of its patient base through normal attrition — aim for 15% new patient growth to offset this.
Average dentist production per hour is $375 with about 20% achieving over $500 per hour.
Average hygiene production per hour is about $100.
In a typical practice, an increase of $50 per hour for the doctor represents about a $73,000 increase and additional profit of about $60,000.
4. Be smart about setting fees and salaries
Fees and salaries are some critical factors affecting your dental practice's revenues. Fees are usually calculated by fee averages for the area and based on insurance reimbursement rates for fees. Salaries are based largely on the going rate in your area as well.
Dentists gave us the following advice about setting fees and salaries:
Set fees by obtaining UCR fees and compare. staff salaries — we pretty much know what the ranges are for each employee. We start at the mid range. If the employees perform, we raise the salary accordingly.

Justin Kwon, DDS
greendentalsmiles.net
(In regard to going staff salaries based on area): Washington is ridiculous high and Utah is super-low!

Loren Anderson, DDS
kennewicksmiles.com
Know your target patient population before you set the price. You should know what your patients need, want and are ready to pay for. Don't be shy in asking for more money for high quality work. Don't be unethical [either]. Share a good portion of what you make with your office mates, as they are like your family. They should feel so warm in that office that they don't feel they are serving you, but the patients. That will make them more professional.

Anirudha Agnihotry, DDS
Dentist and Cochrane author
In regard to setting fees, another dentists warned, "Don't be the lowest in your area. You don't want to even enter the 'race to the bottom.'"
A dental consultant can help you set the appropriate fees and salaries; you can also use online tools to find UCR fees based on your zip code.
5. Invest in things that increase your revenue
It really is true that you have to spend money to make money. But when it comes to running a practice, what are the things you need to spend money on in order to maximize revenues?
Ultimately, according to dentists we talked to, these are things that
1) Make patients happy, and
2) Boost your practice's visibility, both online and off
Some specific advice dentists have given us in this area:
Form relationships with repeat patients by offering them discounts on some services. You will get referrals this way.
Give back to society by participating in charity events in the community, volunteering, etc. People will notice you and come to your practice as a result.
Invest in technology and facility improvements.
Invest in quality staff — caring, qualified dentists and staff that truly connect to patients and make them feel respected.
Market your practice online, paying special attention to local SEO so people in your area who are Googling dental services you offer find you.
6. Minimize overhead to save money
It may seem like a no-brainer, but in our spend-crazy society, businesses and individuals alike often neglect to save money. But you never know when you might need to replace an expensive piece of equipment or deal with a rent hike for your practice. Of course, you will also want to save some of your own personal take-home income for your family.
Basically, you manage your money best by saving 10% of every paycheck or draw you take, starting at day one. Those savings can be the best thing for you and your family forever

In addition to setting aside a portion of your earnings, you can save even more money by minimizing overhead costs. This can be a challenge, as costs to run a practice continue to rise, while insurance reimbursements … not so much.

Rick Coker
DDS
Top overhead items, at least for me, are payroll, rent, mortgage. In that order. Those are the things that affect profitability most. Although the fastest way to become more profitable is... more revenue, I know some dentists that run very lean offices. Having a lean office is great. Less stress. And you're working to pay yourself instead of the overhead.

Duc Tang, DDS
promenade-dentist.com
Equipment and staffing are so expensive that if a dentist isn't careful she'll end up broke. Also, insurances have been slowly reducing reimbursements over the past couple decades relative to inflation

Loren Anderson, DDS
kennewicksmiles.com
Talk to your dental practice consultant on ways you can minimize overhead, and be sure to consult your CPA on how to save money on your taxes. This article from Dental Practice Management also has some good tips on reducing your dental supplies overhead.

Conclusion:
Maintaining a profitable dental practice may seem like a complicated topic, but as long as you take the right actions, it is not too difficult to minimize your costs and maximize your profits. To do these things, you'll need to get organized and make smart financial moves. Enlist the help of experts to get you on the right track and maintain excellent records so you know exactly what is going on with your practice's finances. If you need any help in the area of marketing your dental practice, please don't hesitate to contact us.

About the Author
Tyson Downs, the owner of Titan Web Agency, has years of experience working with small businesses and helping them meet their revenue goals. Prior to starting Titan Web Agency, he freelanced in SEO and Web Design while working in the corporate world. Tyson is a graduate of Brigham Young University, the father of 5, and enjoys spending time with his family. Particularly on the baseball field.