The Anatomy Of A Perfect Marketing Email For Doctors
Email is an incredibly effective online marketing medium for doctors, dentists, and other healthcare professionals. Email marketing yields an average ROI of 4,300% — or $44.25 for every dollar spent.
In order to make the most of your healthcare email marketing campaign, follow these best practices. This way, you'll ensure that patients and leads will open your emails and follow through on your call to action.
1. Optimized subject line
Your marketing email subject line needs to be concise and compelling. It also needs to avoid spam trigger words (such as "Free Offer to Help You Stop Snoring!") and should not mislead the reader in any way. Some more email subject line tips:
Avoid repetition
Keep subject line to 50 words or less
Don't use caps or exclamation points
Use actionable language
Include your practice's name when appropriate
Use localization (e.g., city or neighborhood name) when appropriate
Different marketing studies have reached differing conclusions about whether personalized subject lines help or hurt your case, so it's usually best to keep names out of subject lines and personalize the email content instead.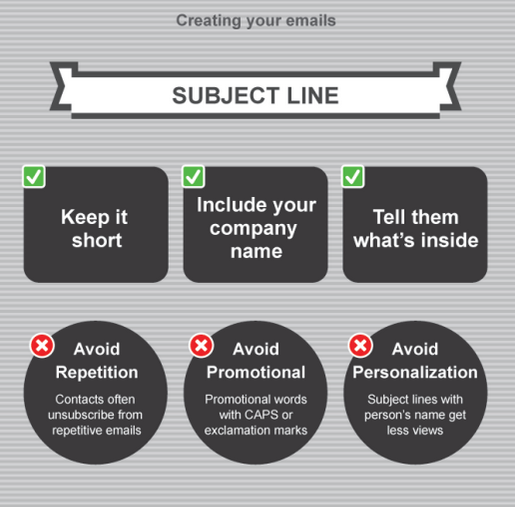 Image source: campayn via Infographic List

2. Doctor's name in "From" field
The first and last name of the doctor/healthcare provider should appear in the "From" field of your email. Hubspot found that emails sent from an actual person have better open rates and CTRs than emails sent from company names. Include your headshot to add even more personalization and authority to your emails.
Keep in mind that when you are sending an email from an actual "person," recipients will sometimes reply. Engagement is a good thing — just make sure you respond (or assign someone else to respond) to these email queries.
3. Practice branding
Include the logo for your healthcare practice in your marketing emails for brand recognition. People will be more inclined to click on an email from a company they recognize. In fact, 70% of people say they always open emails from their favorite companies.
This should be the same logo that appears on your website, signage, and other marketing materials for a consistent brand image. If you don't have a logo for your healthcare practice, have one designed.
4. Relevant content
Make sure your email content is as relevant to the recipient as possible to get more opens and conversions.
Part of relevancy is email personalization, such as including the recipient's name in the greeting.
Another way to increase the relevancy of your marketing emails is with segmentation. This allows you to tailor your emails to the appropriate demographic, patient profile, etc. Research shows that companies that use segmentation have 39% higher open rates and 28% lower unsubscribe rates.
5. Value proposition
Your value proposition briefly states what your offer is and how it can benefit the recipient. Ideally, it should appear in the first sentence of your email content.
According to Nielsen, only 20% of web users read "below the fold" (the fold is everything that appears on your screen before you have to scroll), so you need to tell recipients why they should pay attention to you, right away.
Your healthcare practice itself should also have a value proposition — this is who your company is and why you matter. Your practice's value proposition is typically conveyed in your logo/branding.
For doctors and other healthcare professionals, email marketing remains a terrific way to get repeat patients and even secure new patients. However, if you really want to grow your practice, your marketing emails must contain certain essential elements.
6. Prominent Call to Action
Your email should contain a visually prominent call to action (CTA) that makes it easy for the recipient to follow through with the action you're asking them to complete — such as fill out a form for a drawing or book an appointment. Ideally, the CTA should be a large button that directs to a landing page of your website.
In addition to your main call to action, you should also include a secondary CTA near the bottom of the email. The secondary CTA should complement, but not compete with your primary CTA.
7. Responsive design
Responsive design means your marketing email is mobile-friendly so that it displays well on any device. This is a big one. Here are a few statistics from OutboundEngine that illustrate the importance of mobile-friendly marketing email design:
If an email doesn't display correctly, 71.2% of people will delete it immediately.
91% of consumers check their email on their smartphone at least once a day, making email the most used smartphone functionality.
In Q1 2014, more email was opened on iPhones (38%) than all desktops combined (34%).
Of course, the landing page of your website connected to your email marketing CTA should also be mobile-friendly. Read more about how responsive design affects your website traffic.
8. Relevant image
Adding an attractive, appropriate image to your healthcare marketing emails will capture readers' attention. According to HubSpot, including an image of what patients will receive if they accept your offer will improve your email conversion rate.
While you shouldn't clutter your email with too many images, you should definitely include an image related to the offer (in addition to the picture of yourself — the doctor making the offer). People will pay more attention images than they will text, so choose this image wisely.
9. Social sharing buttons
By integrating social media with your email marketing, you make it easy for your email list to share your offer to their own networks. It will also help expand your social media reach and get more people to engage with your healthcare practice brand online. This means new leads and new patients.
Quite simply, adding social sharing buttons to your emails will increase the effectiveness of your email marketing campaign. According to Nonprofit Hub, social sharing buttons in marketing emails increase click-through rates by 158%.
You can use a free service like AddToAny to add social sharing buttons to your healthcare marketing emails.
10. Privacy policy and unsubscribe links
Be sure your email includes a link to your privacy policy, and also a link allowing people to unsubscribe from your emails. These are requirements of the CAN-SPAM Act, and neglecting them could damage your reputation.
Read up on these and other CAN-SPAM requirements, as well as HIPAA requirements. By making it clear that you follow all legal requirements, you establish trust, which is especially important when it comes to healthcare email marketing.
Want an example of a great email? Here you go: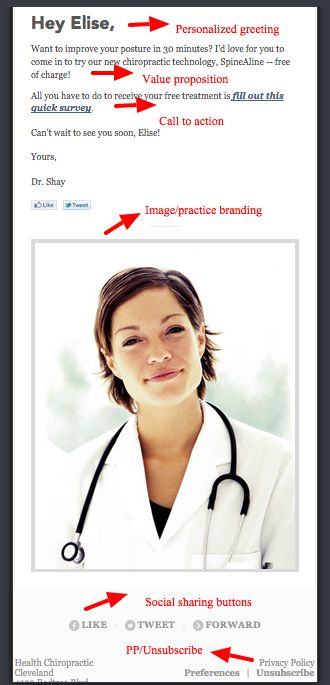 ---
Conclusion
Check back or subscribe to our blog to find out the second set of components that go into a perfect marketing email for doctors.
About the Author
Tyson Downs, the owner of Titan Web Agency, has years of experience working with small businesses and helping them meet their revenue goals. Prior to starting Titan Web Agency, he freelanced in SEO and Web Design while working in the corporate world. Tyson is a graduate of Brigham Young University, the father of 5, and enjoys spending time with his family. Particularly on the baseball field.