How to Make a Dental Landing Page For Google Ads That Converts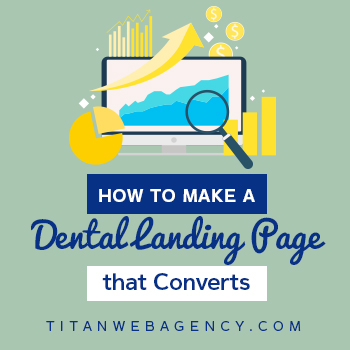 Are you using Google Ads to attract new patients to your dental practice? If you are, then without a well-designed dental landing page to go with your ad you may not be getting the results you want.
One of the biggest mistakes we see with most Google Ads campaigns is having the ad direct people to a home page or a general services page. That isn't gonna cut it.
So, with that in mind, let's talk about why you need a dedicated dental landing page for each of your dental Google Ads campaigns, and how having one can impact your Quality Scores, which impacts how much you pay per click, and what landing page should include.
Why Are Dental Landing Pages Important?
You may be asking yourself, why can't I simply direct my ads to the home page of my website? The short answer is that you won't get the same number of conversions that you would get with a dental landing page that is tailored to the specific dental ad you are running.
Here are some statistics that illustrate the importance of dental landing pages:
Optimizing your dental landing page properly can increase your conversions by up to 300%
Putting multiple offers on your landing page can decrease conversions by nearly the same amount as above: 266%
Having between 10 and 15 landing pages can boost your conversions by up to 55%
Building 10 to 15 landing pages might seem like a chore. We get it, but the numbers don't lie. You'll get better results if you limit yourself to one offer per landing page and create a new landing page for each offer.
Now, I don't necessarily recommend for most dental practices to have 15 landing pages. What I do recommend is having a specific landing page for each offer. If you are running a special for Invisalign, then you need to have a landing page for Invisalign. If you are running ads for veneers, then you need to have a specific landing page that talks about veneers, the benefits, how they can improve ones life, testimonials, etc.
Don't build landing pages just because you think you need a certain amount. Build (or have built) focused, specific landing page for each service you are running ads for.
Statistics only paint part of the picture. The rest is just human nature. We've seen some pages where we had to spend several minutes trying to find the relevant offer on the page. That's not going to help you attract new patients.
How Dental Landing Pages Affect Google Ads Quality Scores
The Google Ads Quality Score is a measurement that Google uses to determine which ads it will display on the search engine results page. This is separate from the quality ranking of keywords, which you will see when you bid on keywords and is rated on a scale of 1 to 10. The Google Ads Quality Score takes multiple factors into consideration, including:
Your Ad Rank
Your ad's CTR (click-through rate) compared to similar ads and sites
The quality of your landing page
As you probably guessed, that last one is what we want to talk about. To earn a high Quality Score, your page must be transparent, relevant to the ad, and easy to navigate. This metric is used for ads with CPC (cost per click) or CPM (cost per thousand impressions) bidding.
Google uses the Google Ad Quality Score because the company has a vested interest in displaying ads that perform well. They rely on advertising revenue to be profitable. Google's goal is to ensure that only ads that are highly appealing and relevant are displayed – and your dental landing page is a key determining factor in whether your ad is chosen or not.
What Dentists Need to Include on Their Landing Pages
As you might expect, there are some guidelines to follow when creating a healthcare landing page. Your Google Ads landing page must fulfill certain requirements. – These requirements are all about the experience that a potential patient has when they click on your Google Ad.
There are a few qualities that your dental landing page must have. It must be:
Targeted at the same audience as your ad
Highly relevant to the search terms used and free of clutter
Feature the same offer that you used in your ad – including the same keywords and prices
If your landing page doesn't represent the same offer as your ad, then you risk losing your audience before they even look at anything else on your page.
Here's an example of a landing page that matches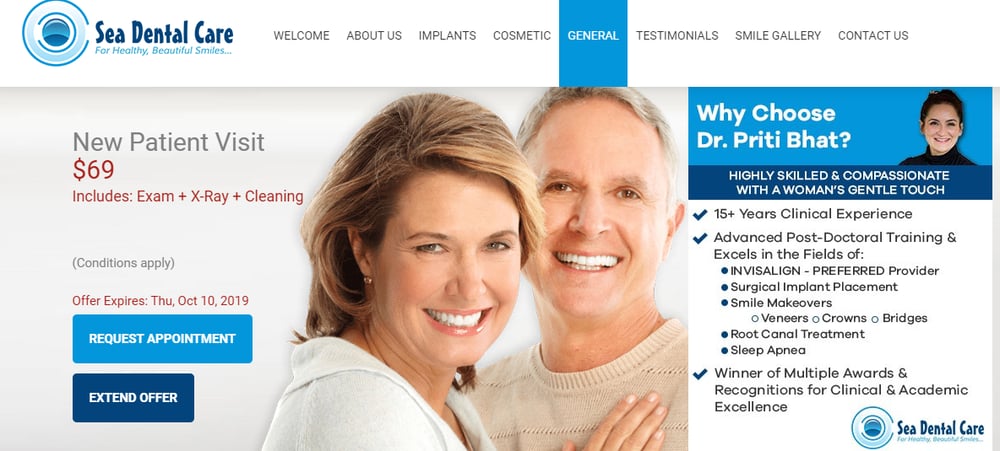 The headline for the ad that led to this page said: $69 New Patient Dentist Visit. You can see that the offer is exactly what was promised and appears at the top of the page. There's a clear call to action to request an appointment.
There's a lot more content below the fold, but it's all targeted to new patients. It includes a detailed description of what patients can expect at their first appointment. They have also added details about the dentist, including her education and awards, and descriptions of the equipment and techniques they use.
Everything on your landing page should be directly relevant to the offer you're promoting and targeted to the same audience as your ad. That's the key to improving your conversion rate.
Important Dental Landing Page Elements
You know that your landing pages must each be targeted and relevant, but what other elements should you include? Here's a breakdown of what you'll need.
A headline that's directly related to the offer in your ad. It shouldn't be difficult to find. In fact, it should be the first thing that a visitor to your landing page sees. The subheading should include details of the offer to ensure that everybody who sees it understands what you're offering.
Your practice's logo should be clearly visible at the top of the page.
A relevant and appealing image. For dental landing pages, the best option is a photo of one or more people – preferably happy, smiling patients like the ones pictured above.
A mobile-optimized design. The ideal design is one that is uncluttered, easy to read, and easy to navigate. Make sure that you've got plenty of white space to make it easy for mobile users to click what they want.
A clear call to action for patients to take advantage of your offer. There's room for debate about where to put the CTA, but we suggest putting it above the fold. For longer landing pages, you may want to include multiple CTAs on the page, but you should always include one at the top. The call to action on your page should be the same as the one in your ad.
An opt-in form that's easy to fill out. The research isn't definitive on how many fields you should include, but it's a good rule of thumb to ask only for information you need and to make it as easy as possible for your targeted audience to fill out your form.
A trust symbol, such as the BBB logo or an award from a dental or civic organization. Trust symbols show your value and let visitors to your landing page know that they can trust you to take good care of their teeth.
Here's an example of a simple opt-in form from the same page we featured above :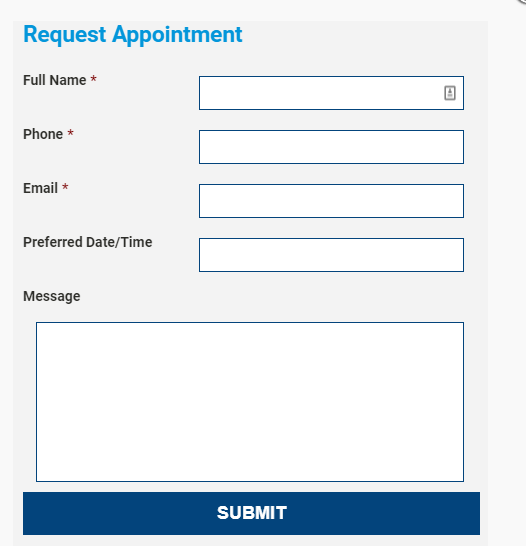 Your landing page should feel like a natural extension of your Google Ad. Anybody who clicks on your ad should feel immediately reassured that they've made a good choice. They'll feel that way when they see a headline that reiterates your offer and some additional details about your offer. You'll see an increase in your conversion rates when you make it easy for them to opt in and either schedule an appointment or fill out a contact form.
Conclusion
Creating optimized dental landing pages to go with your Google Ads is one of the most effective ways to attract new patients and grow your practice.
Do you need assistance in creating a new landing page? Titan Web Agency can help you design landing pages that convert!
About the Author
Tyson Downs, the owner of Titan Web Agency, has years of experience working with small businesses and helping them meet their revenue goals. Prior to starting Titan Web Agency, he freelanced in SEO and Web Design while working in the corporate world. Tyson is a graduate of Brigham Young University, the father of 5, and enjoys spending time with his family. Particularly on the baseball field.