Introduction to Dental Instagram: How to Use Visuals to Attract Patients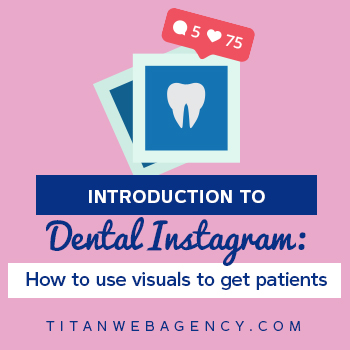 Social media marketing isn't optional. Any dental office that wants to connect with patients online must use social media. The question is, which social media sites are most effective for attracting new patients?
At Titan Web Agency, we work closely with our dental clients to help them maximize their marketing ROI and grow their practices. Lately, we've been focusing on Instagram marketing, which we think is ideal for dental practices.
With that in mind, here's what you need to know about dental Instagram and how to use it, including some of our best dental social media content ideas for Instagram.
Why Should Dentists Use Instagram?
Instagram is the fastest-growing social media site and that makes it ideal for any business to use as a marketing tool. Here are some Instagram statistics from 2019:
1 billion people have Instagram accounts, and of those, 500 million use Instagram every day
71% of Instagram users are 35 years old or younger
28% of all adults and 71% of all teens in the United States use Instagram
60% of all Instagram users find new businesses and products on Instagram
71% of all US businesses have Instagram accounts for marketing
These statistics show that Instagram is an ideal marketing platform for dentists. The fact that the audience on Instagram skews younger means that you have a chance to attract new patients who could stay with your practice for decades to come.
Creating Your Dental Instagram Account
Now that you know why Instagram is an important marketing tool, let's walk through the procedure for setting up a dental Instagram account if you don't already have one. Here's what you'll need to do:
Download the Instagram app. While you can browse Instagram from a laptop or desktop computer, its primary use is as a mobile app.
If you plan to link your Instagram account to your Facebook business account, make sure to use your admin email to do it – or you can simply sign in with Facebook.
Choose your username and password. Make sure that your username contains your dental office name.
Fill out your basic profile information and click Done.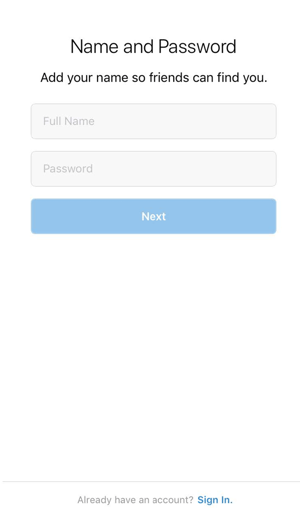 Input your business name and password here
These are the steps to set up a basic Instagram account. From there, you'll need to switch your account to a business account. Here are the steps to follow:
Sign into Instagram using the app.
Click the Profile icon to visit your profile.
Look for the three lines icon and tap it.
Tap "Switch to business profile" and then tap "Continue."
Follow the prompts to connect your Instagram account to your Facebook account. (Not required, but we recommend it.)
Add contact information. For a business account, you must have one of the following: a physical address, an email address, or a phone number. We recommend adding all three.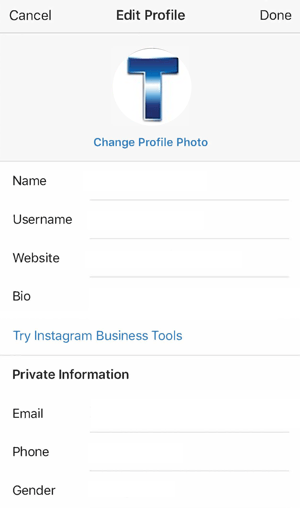 Fill out your business details on this screen. Don't forget to check out Instagram Business Tools by clicking on the blue link on this page
Once you've completed these steps, you'll have your dental Instagram account set up and you'll be ready to get started with Instagram marketing.
What Kind of Content Can You Post on Instagram?
Instagram differs from some other social media sites such as Facebook and Twitter because the focus is exclusively on visual content. It got its start as a site where users could share mobile photography. However, it's undeniably true that many companies share professional photographs too. It's important to include a mix.
There are three basic types of visual content you can share on Instagram. They are:
Photographs. Instagram got its start as a mobile photography site. You should plan on sharing a mix of posed and candid photographs. We'll give you some pointers down below.
Videos. On Instagram, you can share short videos with a maximum length of 60 seconds and a minimum length of 3 seconds.
Boomerangs. Boomerang is a sister app for Instagram. It takes a burst of quick photographs and then, puts them together in a video loop.
You can post any of these types of visual content as stand-alone items on Instagram. You also have the option of combining multiple photos and clips into Instagram Stories. Remember those statistics we shared earlier? 500 million Instagram users access Instagram Stories regularly.
How to Post Photographs of Your Patients
For dental practices, there are few things more powerful than sharing photographs of patients who are smiling and happy with their dentists. However, there are some issues to keep in mind before you share photos of your patients.
The first issue is taking candid shots. You should never take a patient's photograph without their specific consent. There's no circumstance where it wouldn't be considered a violation to photograph a patient without consent – and you have a moral and ethical obligation not to do so.
The same is true when it comes to posting the photos you take on Instagram. It's essential to be sure that the patient understands where the photo will be posted and provides their consent. Patient health information is protected under HIPAA. Here's what the HIPAA Journal has to say about posting patient photos on social media:
PHI (Personal Health Information) can only be included in social media posts if a patient has given their consent, in writing, to allow their PHI to be used and then only for the purpose specifically mentioned in the consent form.
That means you'll need to prepare a consent form for your patient to sign. You'll also need to be careful not to disclose any information about the specific conditions or treatments of the patient. It's important to take consent seriously, maintain good records, and back up those records so you can prove the patient consented if necessary.
How to Use Hashtags Effectively
Like Twitter and Pinterest, Instagram uses hashtags to help users find content that interests them. On your dental Instagram, you should follow these rules for hashtags:
For the best results, use no more than 5 or 6 hashtags per post. Instagram allows you to use up to 30 but using that many may overwhelm your followers. Instead, choose a few highly relevant hashtags.
When it's appropriate, latch on to popular community hashtags or trending hashtags. An example of the former would be #TBT, which is short for Throwback Thursday. You could use that hashtag to post school photos of your staff or a photo of the day you opened your practice. An example of the latter would be a holiday-related hashtag. However, be careful not to use any hashtag that might seem inappropriate. Some brands have been criticized for inappropriate use of 9/11 hashtags, for example.
Create your own hashtags. There's nothing wrong with creating a hashtag that's specific to your practice. You can also use hashtags for events – we'll talk more about that in the next section.
Include your most important keywords in your hashtags. Examples might be #dentalservices, #saltlakecitydentist, or #orthodontics.
The key with hashtags is to be mindful of how they look and what they mean. You don't want your practice to be associated with inappropriate or silly hashtags. It may also be helpful to research your local competitors and see which hashtags they're using.
How to Leverage Your Instagram Following to Attract New Patients
Ultimately, your goal with using Instagram is to grow your practice. That means attracting new patients regularly. The good news is that there are some easy ways to do exactly that. Here are some dental Instagram post ideas:
Add an Instagram follow button to your website and blog.
Send an email to your mailing list about your new Instagram account and ask for followers
Review your audience analytics and run ads targeting the people in your area
Follow the people who follow you. A lot of Instagram users love attracting new followers. Following people back is a good way to inspire loyalty and get people to interact with and share your posts.
Create a unique visual style. You'll attract more followers and keep them if you have a defined aesthetic for your Instagram posts. You might choose certain filters to use on your photographs or pick a distinctive font to use on your videos.
Create and stick to a consistent posting schedule. Research shows that businesses get the best results on Instagram when they post between one and three times per day.
Run social media contests to encourage your existing followers to share your posts with their followers.
Always include a call to action with your Instagram posts. For example, you might ask people to comment, share the post, or click on a link.
Respond to comments and questions promptly and make sure to monitor your practice-specific hashtags for new mentions.
These pointers will help you build your Instagram following and over time, turn those followers into new and loyal patients.
Conclusion
Dental Instagram marketing doesn't need to be complicated. You'll need to put your creativity to work, but if you do, you can use Instagram to attract new patients and grow your dental practice.

About the Author
Tyson Downs, the owner of Titan Web Agency, has years of experience working with small businesses and helping them meet their revenue goals. Prior to starting Titan Web Agency, he freelanced in SEO and Web Design while working in the corporate world. Tyson is a graduate of Brigham Young University, the father of 5, and enjoys spending time with his family. Particularly on the baseball field.