A Blog for Dentists & Other Healthcare Professionals
Why Call Tracking for Dentists Is Essential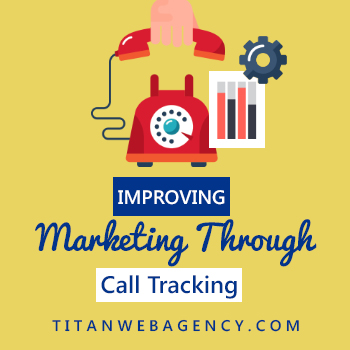 With so many marketing channels these days, how can dentists know which are working and which aren't?
Where should you invest more money to get the highest return on your investment?
The answer to this question is of course by using call tracking for dentists.
With the different options for dentist web marketing, tracking your return on investment with regards to your marketing campaigns was previously quite difficult, that is, until the advent of call tracking.
In this post you'll learn more about:
What call tracking is
How it can be used as a marketing tool
The process and how it works
Why it's so important for dentists and the benefits
A real life case study using call tracking
What to measure when tracking calls

What Is Call Tracking?
Call tracking is a technology that allows you to track the source of each lead (or those that you are tracking) that comes into your practice.
You can know exactly how many people called you from a Google Ad.
Or, you can know exactly how many people called from a postcard you sent out.
This is done by assigning unique phone numbers to that marketing campaign.
Then, when you get a call in from that number, you know that it is a lead from that particular marketing effort.
Most call tracking platforms will provide you with the reporting you need to easily determine quality and quantity of leads, and some allow for recording of phone calls as well.
Why is it important?
Well, there are many ways to market your dental practice. You can use pay-per-click campaigns, Facebook ads, email marketing, SEO, billboards, and print ads.
No matter what it is, be sure you create a well thought out dental marketing strategy that is written down, well researched, and includes your goals, budget, objectives, who you want to reach, and how you will determine your return on investment (among other things).

But how do you know what is actually bringing in new patients if you aren't tracking it?
Being able to attribute leads and new patients by the source, such as from your dental SEO campaign, your paid ads on FB, etc. is crucial to knowing where your money is going and what you are getting in return!
It doesn't matter if you've owned your own practice for twenty years, or you are getting ready to open a dental practice, you'll want to dip your toes into multiple marketing channels until you find the best fit for your business.
Continuing to run various forms of marketing may not be the best thing for your business in the long run.
Unlike larger, (and perhaps more established dental offices), smaller dental practices may not have the luxury of using a half dozen different forms of marketing.
In fact, if you do this, you may end up investing a lot of your financial resources without getting something in return.
Typically, we'd recommend you focus on one or two marketing channels based on what will work best for the business. Prioritizing only one or two channels allows you to dedicate enough time, energy, and resources in your chosen campaigns to maximize the results.
The challenge, therefore, lies in figuring out which marketing strategy will lead to the most number of conversions (new patients).
Call tracking can help you with this. It is a technology used by marketers to track and analyze inbound phone calls that come through in a business.
How Much Does Call Tracking Cost?
Call tracking will cost you between $50-$150 per month depending on the number of phone numbers you purchase, the amount of support, features, integration you require, and the vendor that you choose.
Utilizing The Telephone As A Marketing Tool
Although online marketing seems to be where all the action is, never underestimate the significance of the telephone as a marketing tool, especially for businesses like dentistry. For the vast majority of health care professionals, lead generation comes from telephone inquiries. In fact, local businesses rely on telephone calls more to generate income.
The smartphone has the capability to create a seamless experience—from searching for a local dental office to making a phone call to said office. Because of this premise, call tracking is frequently used in the pay-per-click business model.
However, this technology is not limited to online marketing campaigns. It can also be used to measure the conversion rate of both online and offline advertising. The problem with traditional forms of advertising such as TV, radio, and print is that it is virtually impossible to measure their ROI.
Online tools such as Google Analytics can only measure clicks and site visits while phone-based leads are left unaccounted for (that is, unless you are using a more advanced method of call tracking along with goals and conversions-which we use for our clients.)
There's a need for a tracking solution that works in conjunction with both online and offline campaigns, and call tracking answers this need. With call tracking, you can measure the impact of your marketing efforts —whether traditional or digital—and determine which of them are driving the most calls to your office.
How Does Call Tracking Work?
Call tracking is a cost-effective way of tracking where your leads come from. This is especially useful if your marketing message's primary call to action is a phone call. It is a pretty simple and straightforward process. To avoid the confusion, different phone numbers are assigned to different marketing campaigns instead of using just one phone number for all campaigns.
By using a call tracking software, you can easily manage multiple telephone numbers and assign each to a particular campaign. For example, you can set up a telephone number for a PPC campaign, another number for organic website visitors, another one for your television commercials, and a different one for your print ads.
After a certain period has passed, the call tracking software compiles the numbers from each campaign and reports to you. The report will show you where the largest number of phone calls are coming from. As a result, you will know what campaign is working and what isn't.
Here is a screenshot of an incoming lead from the call tracking solution, What Converts: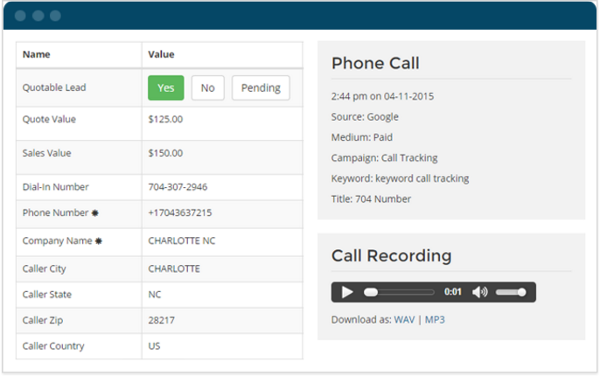 Here is another layout from CallRail which delivers the same type of information: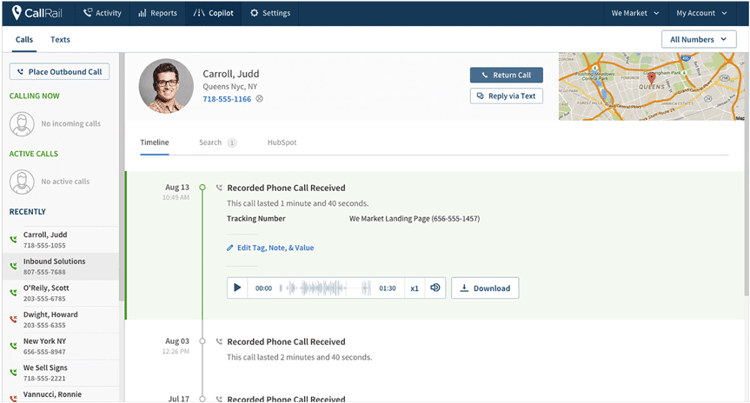 After a specified period has passed, the call tracking software compiles the numbers from each campaign and reports the results.
What Does a Call Tracking Report Cover?
Most call tracking reports will cover:
Source of the call (what marketing method)
Tracking number that was called
Name of caller (if available)
Date/Time of the call
Location of caller's phone number
Number of calls over a certain period
Here's a sample of a call tracking report for one of our clients. (Note-the phone numbers are hidden for client privacy)
And if you set up Google Analytics properly, you can also track these calls in Google Analtyics as seen below.
The report will show you where the largest number of phone calls are coming from.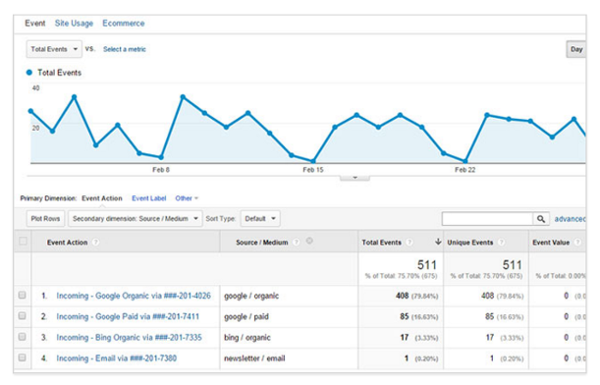 As a result, you will know what campaign is working and what isn't.
Call Tracking for Dentists; The Process
Here are the 6 steps of the call tracking process:
1. Phone number placement. A unique telephone number is assigned to each live marketing campaign you have such as radio ads, print ads, billboards, website, social media, and PPC campaigns. The calls that these telephone numbers will receive will be forwarded to your main business phone line.
Please note, there is some confusion to as if these numbers can or should be used on a website. The best way to use call tracking numbers on a website is to use Dynamic Number Insertion (DNI).
This is a method of changing the phone number that is displayed on the website right when the visitor lands on it based on the source of their website traffic.
If you are tracking your leads from organic visits, then when somebody finds your site through a Google search for example, right when they land on your site, the number changes to one of your tracking numbers. Then when they call, you are able to tell that the lead is from an organic visit.
In the screenshot below, the number in the top right could be a tracking number. It'll look completely natural and your visitor won't suspect anything at all.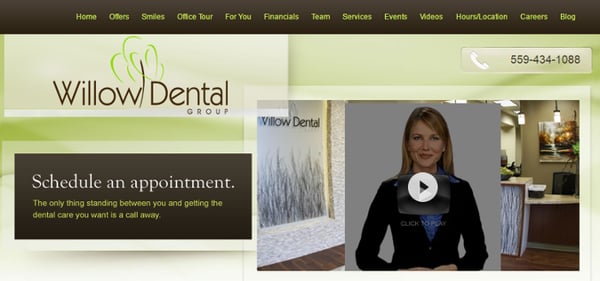 2. Integration. You can integrate the call tracking software with your current CRM and existing marketing tools such as Google Analytics or Salesforce to provide a seamless experience for your internal team.
3. Call receipt. Whenever a prospective customer calls in, the call is recorded and captured by the call tracking software.
4. Analysis. Think of the call tracking software as the Google Analytics equivalent for your phone. You can gather comprehensive and detailed information as to which marketing channel is receiving more calls.
5. Adjustment. You can make minor tweaks or major adjustments in your current marketing strategies. For example, if your call analytics shows that your PPC campaign shows a lot of promise compared to radio ads, then you can reallocate some of your marketing budget from radio ads towards PPC.
6. Implementation and repetition. Using the changes you have planned in #5, make adjustments to your marketing strategy. Repeat the previous steps and observe if there were improvements.

Why Is Call Tracking For Dentists So Important?
If you are a newly-established dental office that is going through some growing pains, you may feel overwhelmed with the different ways to market your practice.
Perhaps you heard that SEO was most effective.
Or maybe email marketing is more effective.
Or that Google Ads is all you need.
Perhaps you've even started advertising, using a random, scattered, unorganized approach, just throwing money at Google Ads, SEO, newspaper ads, TV, Radio, and more.
But you must know-what is your ROI on each of your marketing efforts?
While marketing campaigns are a necessity for your dental business to survive and become sustainable, you must also demand a high ROI from each campaign to keep your business afloat & to meet your goals.
Call tracking allows you to streamline and refine your marketing processes. You get the data on all of the marketing channels, so you know which channel is performing, and which one isn't.
You can then decide which campaign to ramp up, and which to pull back.
For example, if the statistics show that the PPC advertisements have brought in 20 phone call inquiries resulting in 5 new patients in one month, while the newspaper advertisements have only brought in 5 calls and 1 new patient, then you'll have the data that you need to make the proper adjustments.
If you have figured out your cost per lead is significantly less in one particular marketing channel, wouldn't you want to be able to spend more money there, and less money where the cost per lead is much more expensive?
The Benefits Of Call Tracking
Whether you are a newcomer or an established name in the dental industry, your business can benefit from having a call tracking program. Here are a few of the benefits you get:
The in-depth insight of marketing investments. Call tracking gives you a deeper insight into your patients. It gives you the ability to listen in on incoming calls. By listening in on the calls, you can gain a deeper understanding of your customers' wants and needs, and use that information to adjust your current dental service offerings. For example, you listened in on a customer complaining about her first visit to your dental office. You can use this information to improve the on-boarding experience of your new clients.
Improved customer service. You can listen how the phones are being answered by your staff. You can critique their call handling and give suggestions to provide better customer service over the phone. You can also fine-tune call scripts and adjust your message to turn casual inquiries into scheduled bookings. You can uncover and correct customer services issues such as an improper greeting, misinformation, or a discourteous tone. Through call tracking monitoring, you can build relationships with prospective leads to turn them into patients.
Minimized marketing expenses. The data you have gathered from a call tracking experiment is an excellent way to plan your next course of action. You can monitor the number of telephone calls you get from each channel, and you can determine which advertisement has generated the most calls. Call tracking allows you to compute your cost per lead and your ROI for each campaign. It also allows you to track different campaigns at the same time so that you can make a side-by-side comparison. For example, a sponsored post on Facebook gives your dental office an average of 10 inquiries per while a billboard gives you only two over that same timeframe. Once you have enough data to come to a conclusion, you can remove the billboard expense from your marketing budget to save your dental business a substantial amount of money.
Increased lead generation. Every missed call is a missed business opportunity and in the dental business; you can't afford to miss one. With call tracking, missed opportunities to convert are avoided. Since call tracking can record incoming calls, you can follow up on leads that have the potential to convert. Your leads don't fall through the cracks. Instead, they are nurtured until they become customers.
A Call Tracking Case Study
Phillydentistry.com is a dental practice in Philadelphia led by Dr. Ken Circa. The dental practice has turned to call tracking to determine which marketing campaign will drive the most revenues to the business. After a month of tracking and monitoring inbound calls, here's what the data showed:
The 81 calls that came from PPC campaigns were from mostly from smartphones (73), while 8 came from desktop computers.
Each organic lead cost the business $7.60, while a PPC lead cost $106.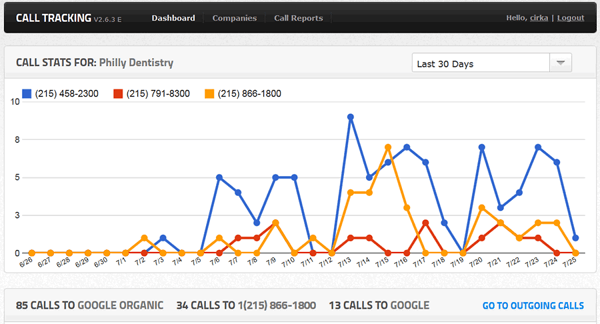 Based on this data, the dental business decided to focus more on organic advertising than PPC because the latter is more efficient at lead generation. The remaining budget for PPC was then allocated to PPC ads that focused more on smartphone users than desktop users.
How Do You Get Started With Call Tracking?
Choosing your call tracking software is the first thing to do.
Call tracking is a service that Titan Web Agency provides, so if you'd prefer we can do all the heavy lifting for you.
If you are going to do it yourself, we'd recommend that you start by checking out What Converts or Call Rail.
After you choose your provider, then you'll determine how many marketing channels you'll track.
PPC?
Organic?
TV?
Whatever it is, you'll want at least 1 phone number for each channel, and possibly more.
Then you put the new numbers on your flyers, brochures, billboards, print ads, online ads, website, etc...
Then you will want to make sure you are set up to receive an email alert informing you of a new lead.
Once this is done, monitor, tweak, and adjust as necessary.
Key Metrics To Measure In Call Tracking
Numbers of calls. Since phone call inquiries and appointments are the lifeblood of your dental business, you need to measure accurately how each campaign is faring based on the number of calls each one receives.
Time of calls. If you receive a large number of calls during a certain time period, say Friday afternoons, why is that? Can you perhaps adjust times that your ads are showing so that you can spread out the calls a bit? Or should you? That's your call.
Location. If you are getting a lot of calls from a certain location, then you can invest money in making your presence more felt in that particular area to attract more customers. (Google Ads is a great service you can use to target a specific area)
Call duration. You can narrow down your leads by taking note of the call length. Those who took a long time to finish their calls in your dental office are probably already interested—so consider them as your hot leads. Make follow up calls to these types of callers as these are the ones most likely to convert into paying customers.
Unanswered calls. You can determine why there is a percentage of abandoned calls. If for example, they happen after business hours, you might want to enlist the help of an answering service.
If you don't know how a caller came across your number, you can overlook a potential moneymaker for your dental office. Take the guesswork out of marketing—with the help of call tracking software.
---
Conclusion Regarding Dental Call Tracking
By utilizing call tracking, you can determine what marketing campaigns to use and make decisions that will improve your bottom-line. Please share in the comments section below your thoughts on call tracking and how you use the telephone as a marketing tool.
About the Author
Tyson Downs, the owner of Titan Web Agency, has years of experience working with small businesses and helping them meet their revenue goals. Prior to starting Titan Web Agency, he freelanced in SEO and Web Design while working in the corporate world. Tyson is a graduate of Brigham Young University, the father of 5, and enjoys spending time with his family. Particularly on the baseball field.