What Type of SEO Company Should You Hire? Large Agency or Small Company?
This post was originally published September 2, 2013 and extensively updated October 13, 2017.
How do you know what is best when hiring somebody to market your business online?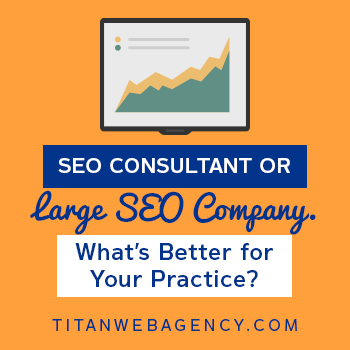 It seems that everyone is an expert in SEO these days, but if you aren't sure what you need or what is available from either a freelancer, a small consulting firm or a large marketing company, it helps to be able to see it at a glance to know what your options are when you purchase online marketing services, including SEO.
Working with a small SEO consulting firm typically means you are getting hands-on, personalized service that provides you with ongoing progress reports, communication, and ideation to keep the ball rolling. You won't get lost in the shuffle, and you can have a hand in creating the perfect SEO campaign for your business or organization.
We know that dental professionals are busy and want to cut to the chase when it comes to working with an SEO consultant, so we wanted to outline your options in an easy-to-see way, so that you can spend less time wondering which company you should work with, and get back to focusing on your dental practice.
| What to Look For in an SEO Company | Smaller SEO Company | Large SEO Company |
| --- | --- | --- |
| You need specific, key demographic information to attract customers | Small SEO companies know the area they serve, so if you want to target the local region, go small. | Small SEO companies know the area they serve, so if you want to target the local region, go small. |
| You want to be hands-on,in the development of your SEO campaign | Small SEO companies have time to sit and talk to you about your campaign ideas and to fit your needs and style. | Large SEO companies have cookie-cutter SEO packages you can choose from, but they might not fit your needs and style. |
| You want access to your SEO company when you need them | Small SEO companies make themselves available to you because they know how important your business is to their own success. | Large SEO companies can get back to you when they have time, but take a number because it might be a while. |
| You have a limited budget for your SEO needs | Small SEO companies can work with your budget to provide you as much bang for your buck as is possible. | Large SEO companies have large minimums they need to maintain and that can put you out of the running before you ever get started. |
| You want a tailored experience that focuses on your business' needs | Small SEO companies work with you to determine your needs and focus on your goals. | Large SEO companies will work with you to build big campaigns and try to find a way to fit your company into that campaign. |
| You want to work with an SEO firm that is well-versed in the dental industry | Small dental SEO companies take the time to get to know your industry and understand that it is unique as you are. | Large SEO companies have a general understanding of some industries, but focus on the heavy marketing and SEO tactics to make up for their lack of knowledge about your industry. |
| You need to know exactly what you are paying forwhen it comes to your SEO services | Small SEO companies provide detailed estimates and invoices so that you know exactly what you are paying for. They only provide you the services you want and you won't get lost in the shuffle of trying to figure out which fees are which. | Large SEO companies often package their SEO campaigns together so you might not see all of the charges and what you are getting for your money. |
| You want to increase your internet reach with tangible results | Small SEO companies work hard to stay ahead of the game when it comes to changing regulations related to SEO. It is their bread and butter after all, and they need to know what is happening in the industry in order to delivery results to you. | Large SEO companies are slow on the uptake of new regulations and large corporations can take time to adopt new changes because of bureaucracy and protocol. |
| You need regular progress reports with full explanations | Small SEO companies provide regular updates with real results and explain what the information means so you can see for yourself how your money is working hard for you. | Large SEO companies provide progress reports but don't always provide tailored walk throughs of the information. Numbers look great on paper, but if you don't know what you are looking at, you might be getting less than you pay for. |
| You are looking for an effective and successful portfolio from your SEO company | Small SEO companies work with the best and brightest up and coming businesses who are serious about making an impact in the online world. | Large SEO companies focus on the big guys who have money. They might have an impressive portfolio, but it could be out of your reach. |
Get the Personalized Service You Need to Succeed
On the surface, it might make sense to go with a large SEO company. Well, in the case of large firms taking on small businesses as clients, the results are often that the small business gets lost in the shuffle of clients.
Further, larger-scaled geo-centric operations—for instance, a National SEO consultant versus a Salt Lake City SEO consultant—can often wind up overlooking important key details about a city's demographic that your competitors are picking up on. Let's look further into the issue.
Choosing the SEO Company for Your Practice
The real heart of the matter rests within the ability for a SEO consultant to match up perfectly with your business. For example, if you are running a multi-million dollar online store that is funded by large corporations, it may make sense to go with a big SEO company.
They can provide you the large scale operations since it is unlikely that you are going to be very hands on with your business's website. Essentially, they will run your operations, you won't ask questions, you won't have too much contact and you will pay through the nose for it. Of course, that's fine for many companies which is the reason these huge SEO firms stay in business.
But for small businesses, it often doesn't make sense to go with a big SEO company. For starters, small business entrepreneurs are often more hands-on with their business.
If you're running a private dental practice in Salt Lake City, you want to know that if you need a change made to your website or want to run a special coupon offer during your off-peak season, you can reach the person in charge of your marketing with a short turn around.
Get the Personalized Service You Need to Succeed
That's because when you own your own business, it's not just your job that's at stake—it's your name, your reputation, your family's well-being and your career. Essentially, it's your life. And the last thing you want is for your livelihood to be in the hands of some unresponsive account handler that is ducking your calls when you need something done immediately.
Are you going to trust your brand, your 'baby' to somebody that gets paid $8 an hour, regardless of if your online visibility or search engine rankings improve or decline?
What you want—what you deserve—is an SEO company that is going to be there when you need to reach them. You want human contact from a person that can take the time to understand your personal and business goals and then find ways to implement actions that get the desired results.
Smaller companies often strive to treat your business as if it was their own, because their livelihood depends on how well they treat their clients!
You want somebody that addresses all issues immediately the first time. You want somebody you can get a hold of via phone, via text, via Skype, via email, etc.
Somebody that doesn't duck and dodge when you when you are calling.
Somebody that takes ownership and helps you build a plan to get your business on the map!
And even more, an SEO company that specializes in the type of SEO marketing you need. Local SEO? Organic SEO? The company you hire should understand the nuances of each of these.
Saving Money & Getting Increased Results with a Smaller SEO Company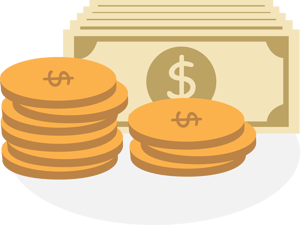 And when you think about it, isn't that the point of increasing your online presence to draw in more business—to make more money? With a smaller SEO company, you can work together to draw up specialized plans that give you the SEO services that you need—nothing more and nothing less.
Why pay exorbitant amounts of money to a large company that is overcharging and under-performing? I've seen these large SEO companies bundle their services so YOU don't know what you are paying for or what you are getting.
You just pay them 'x' amount of dollars per month to do your marketing. Little do you know what is being performed. I've seen this time and time again here in our local market. Small businesse paying ridiculous amounts of money to increase their online exposure, and unfortunately that exposure isn't increasing.
Oftentimes, in the end, the higher monthly payments you'll dish out with a larger SEO company will cancel out any extra business (and in my experience, by and large those large companies aren't bringing extra business for you) you draw in from your website's increase in performance.
That's just bad business all around. As a small business, you work within tight margins that the bigger corporations just don't have to work within themselves. Your staff and family depend on you making smart business decisions that maximize those margins.
That's why it's imperative that you match your business to the right type of marketing company, whether that be a large agency, or a smaller SEO company.
Conclusion
To find out how you can improve your marketing performance, get your online presence analysis from Titan Web Agency.
Don't go another day letting your competitors beat you in the online searches, taking in qualified leads each and every day because THEY can be found, and you can't.
About the Author
Tyson Downs, the owner of Titan Web Agency, has years of experience working with small businesses and helping them meet their revenue goals. Prior to starting Titan Web Agency, he freelanced in SEO and Web Design while working in the corporate world. Tyson is a graduate of Brigham Young University, the father of 5, and enjoys spending time with his family. Particularly on the baseball field.