A Blog for Dentists & Other Healthcare Professionals
The Ultimate Guide to Review Management for Dentists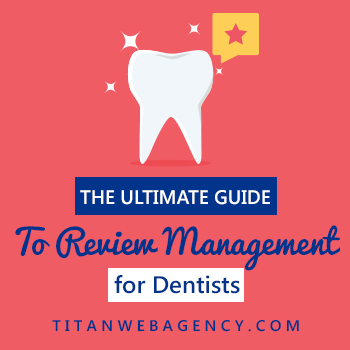 What is Review Management for Dentists?
Before we get started, let's address what review management for dentists is.
If we break it down, it is the managing of reviews for dentists.
How do you manage reviews? By creating a review funnel that allows you to proactively obtain reviews, as well as monitor the reviews that you receive (whether solicited or unsolicited), to respond to these reviews, and use your positive reviews as a way to build your reputation, and increase trust in your practice, which will ultimately result in more new patients.
Let's face it, the internet has changed the way business is done, for better and for worse.
But how so?
One big way is that in the past, people searching for services used to grab the phone book, and scroll through the Yellow Pages or ask family members, friends, colleagues, and neighbors for referrals.
The thought of thumbing through a phone book is almost laughable now, isn't it?
Needless to say, we often rely on the internet to find doctors, dentists, and other professional service providers. According to MedScape, a recent survey of 50,000 patient reviews found that 25% of patients find healthcare professionals online, including from online reviews.
Dentist reputation management is a hot topic, as online reviews increasingly have the power to make or break your business.
For dentists, reviews have a huge effect on the health of your dental practice. Without a strong review profile, you will be hard-pressed to bring in enough new and repeat patients.
And check out these stats from a recent local consumer survey research: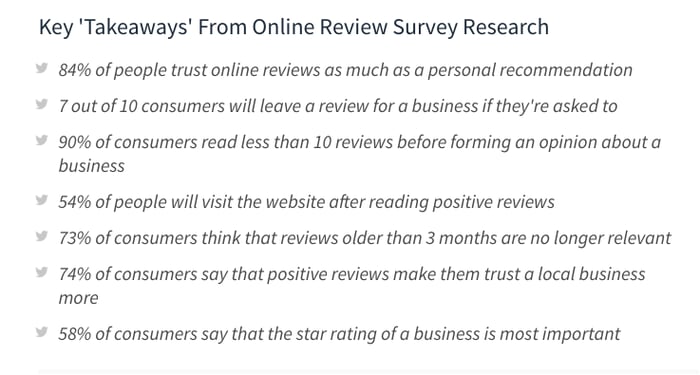 Source: BrightLocal
As you can see, customers value online reviews a whole lot. In fact, it's safe to say that online customer reviews are the most important channel by which small and local businesses reach new customers today.
This is true for healthcare, just as it is with other industries. Except with matters pertaining to health, the stakes are higher; prospects value reviews even more.
What this means for dentists and other healthcare professionals is that a strong online presence is necessary to remain competitive. And these days, websites simply aren't enough.
Even if you set up an on-site blog, have a healthcare marketing strategy in place, and create social media profiles, the content you post can't compete with the abundance of consumer reviews and the weight they carry with prospective patients.
But how can you get dental reviews that bring in new business? Read this in-depth guide to find out.
Part One: First Things First: Consider Starting With Yelp
Yelp is the "go-to" place on the internet for reviews on local businesses. Yelp is major player in many industries, especially healthcare – from dentists to orthodontists to chiropractors and more. Yelp is a fantastic place to research your next doctor.
Part of the reason that Yelp has so many reviews is they make it easy for consumers to leave reviews. So, the question is: how can Yelp help a dentist's review management strategy?
I've talked before about how important positive reviews are for dentists. You're probably similar to many people who search for something online; whether that is a restaurant or a bar, you probably look it up to see the reviews.
If you have positive reviews for your company, you of course have a leg up on the competition. No reviews? Not so good. Bad reviews? These could ruin your business.
Yelp also takes location into account with local searches. They give businesses that have claimed and optimized their local listing preference over those that have not claimed their listing. So, it is very important that when you are doing your local listing optimization, you claim your Yelp listing, and add as much content to it as possible -- images, text, business hours, etc.
I also recommend getting a Yelp sticker for your door and encouraging people to "check-in" when at your location, bringing your business even more exposure. You are much more likely to get a review on Yelp to 'stick' and not get filtered out if the person "checks-in" first. And even better, if the patient "checks-in" first, then Yelp will prompt them to leave a review.
For a dentist, Yelp is one of the most important platforms to be on with positive reviews. So, to get started with online review management for your practice, the first thing you need to do is get on Yelp (claim your listing), fill out your profile, and get a "Yelp" sign for your door.
A little later on, I'll get into specific things you can do to get positive reviews on Yelp. But for now, let's learn about some general things you can do to get positive reviews online.
Part Two: Some Easy Ways To Start Building Online Dental Practice Reviews
Now, let's get into the specifics of how dentists can generate positive online reviews.
Here are nine easy and effective strategies to help you get started.
1. Ask for reviews
Sometimes getting what you want is as simple as asking. It may not even occur to satisfied customers to create an online review of your business unless you make them aware of the possibility.
And whether they are long-term patients or they're visiting you for the first time, they'll probably comply for a number of reasons - perhaps they genuinely want to help you out, or maybe so they won't feel guilty about failing to fulfill your request for a review.
2. Make it easy
Even if your service is spectacular, most patients won't go out of their way to provide positive feedback, so you need to make it easy.
There are a couple of ways to do this. If you want to go old-school, you could provide in-office forms for patients to fill out so that you can post them on your website as testimonials. This is a great way to encourage rave reviews from patients that aren't online or those that will forget as soon as they leave your office.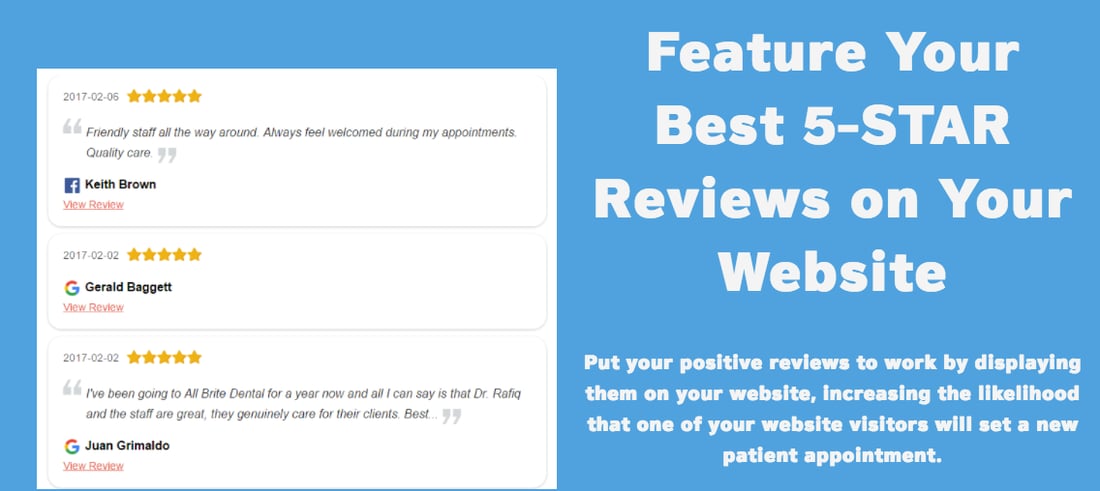 Your best reviews should be featured prominently on your website. Learn more here.
You can also add patients to your email list and then send them review requests that only require them to click a button or a link to get to your review page. Another option is to offer links via your website and social media profiles, as well as sending "call to action" reminders for satisfied patients to post reviews (see example below).

It also helps if you keep the review process short and simple. Your emails or other posts should let patients know that writing a review will only take a few minutes of their time.
Use a short URL and QR code to drive customers to a reviews landing page that is accessible even from their mobile device. Give them choices and guidance to make the task easier by, for example, showing customers exactly how to leave a review on a given site or where they can login with Facebook and leave a review without creating an account.
3. Monitor and moderate
Building up an online portfolio of positive reviews requires you to weed out those that are negative, and this relies on your ability to monitor and moderate comments.
Since you can retain the right not to post comments, this is easily done on your website and any other platforms you control. But for third-party review sites, you may have more trouble.
Your best bet is to monitor for negative reviews so that you can contact dissatisfied customers, find ways to rectify a bad experience and turn them into positive reviews. Furthermore, fraudulent reviews can be reported to third-party monitors, and they can be convinced to remove them.
Don't forget, you can also tip the scales back in your favor by drowning out negative reviews with positive reviews (keep reading to learn how to get those) and dental SEO – for example, keyword-optimized blog posts you post on your website. The most current postings will gain more traction with search bots.
4. Learn to spot fakes
Competitors, disgruntled ex-employees, or anyone seeking to harm your business could post fraudulent reviews. And when you uncover such reviews, it's best to report them to the proper authorities (site moderators) to have them removed.
5. Address concerns
You may not like negative reviews, but they actually provide you with an opportunity to improve your business in some cases. When dissatisfied customers voice issues with your business, you can contact them directly to improve their personal experience (hopefully reversing their negative review and replacing it with a positive one).
But you can also improve your business practices in general, potentially providing better service to current and future patients while also avoiding similar bad reviews in the future.
6. Go the extra mile
Encouraging positive reviews for your practice will only be successful insomuch as you earn them, so getting positive feedback starts with providing excellent service. And while merely adequate service won't likely earn you rave reviews, patients who are impressed might be more willing to go out of their way to post a review.
The way to make this happen is by going the extra mile whenever possible. Be accommodating with your schedule when you can, make sure your staff is always polite, friendly, and helpful, and do whatever you can to make sure patients have a productive and enjoyable visit.
7. Get patients invested
When you personalize your services and your website and engage patients on an emotional level, you're much more likely to encourage positive reviews and discourage negative postings. After all, most consumers are willing to forgive a lot if they have a strong emotional attachment to a business and its staff.
8. Choose ratings sites to endorse
When you ask patients for reviews, it's best to refer them to a site where they can easily post. Take the time to research ratings sites and find the ones that offer reputable services and policies you feel comfortable endorsing. As mentioned, Yelp is an important one to start with.
After you've decided which ratings sites you want to endorse, create a Reviews page on your website (see example below) with links to your profiles on these sites. As I mentioned in my guest post for Grade Us, a review page is a great central place to send customers to rate you on all the sites you endorse.
A review page like this one can dramatically increase your dental practice reviews.
9. Build social profiles
Your website will provide the hub of your online presence, but you need to branch out even further. And while you probably understand the importance of creating profiles on social media sites like Facebook, Twitter, and Pinterest, you might not realize that there are other types of profiles on which you should focus.


Sites like Yelp and WebMD allow you to input information about your practice, including contact information, a link to your website, and photos. All this makes it easier for satisfied patients to find you and leave reviews.
In some cases, you can even provide credentials and other pertinent information. Just make sure to check these profiles periodically to respond to comments.
10. Hire a reputation management service
Anyone running a dental practice is probably more concerned with expending time and effort on behalf of patients than dealing with online reviews. But just like you probably pay for SEO for your dental practice and online marketing for healthcare professionals, you can pay a service provider to monitor and manage your online presence.
A reputation management service will look for negative postings associated with your business and find ways to counteract them, helping you to improve your online image and build up a portfolio of positive online reviews.
However, it's important that the reputation management service you hire is, well, reputable. As the Wall Street Journal reports, many reputation management services use shady, and even illegal practices that can backfire on your business.
Part Three: Perfecting Your Dental Practice's Yelp Presence
Some dentists might wistfully remember a time before Yelp when a few bad online reviews didn't have the power to take down your dentistry practice. But on the other hand, Yelp can be a really useful tool for dentists who want to manage their online reputation and attract new patients.


Yelp is currently the most popular online review site for finding dentists, doctors, and other healthcare professionals. Follow these five simple steps to take control of your Yelp profile today and start getting those positive reviews that will make patients flock to your practice.
1. Claim and start managing your Yelp profile
The first thing you need to do to start getting positive Yelp reviews as a dentist is to claim your Yelp profile. You've probably already done this, but in case you haven't, follow Yelp's instructions to claim your business page.
If your practice has multiple locations, make sure to claim those locations too, as Yelp views different locations as separate businesses. Do this by going into your main Yelp business account and going to Account settings, then click on the Claim Another Business Section and click the Claim another business now link.
Next, you need to start optimizing your Yelp business page. This means that if your profile is not 100% filled out, you need to go in and complete as much information as you can. Be sure to include key information such as:
Business name
Business category
Address
Neighborhood
Phone number
Website
Hours of operation
You'll want to consider the option to book an appointment through Yelp as well.
You will additionally want to add appropriate multimedia, including a high-quality photo of the dentist, photos of your offices, and your practice logo.
Dentists should also take advantage of the opportunity to add video to your Yelp profile. This is a great way to get people comfortable with you and your practice before they ever visit the office or even speak to you over the phone.
Now that your profile is all decked out, it's time to start managing those reviews. Make sure your account is set up so that you receive email notifications as reviews come. This way, you can monitor reviews and respond appropriately (more on responding to reviews a little later).
A good Yelp profile for a dentist has elements such as: hours of operation, high-quality picture of the dentist, your business logo, and business address.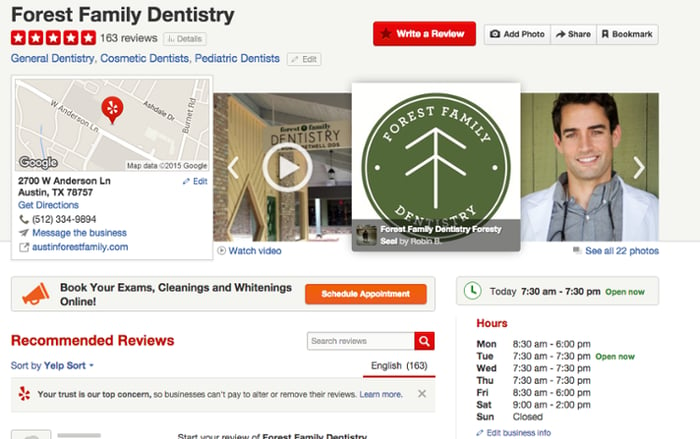 2. Respond appropriately to your reviews
Now that you've begun to monitor your reviews, you can start responding to reviews, both positive and negative.
The main things to keep in mind when responding to Yelp reviews is that your responses should be brief and professional. Thank people for taking the time to review your practice, but never say anything personal about the patient or you'll be in violation of HIPPA rules — and don't offer them a freebie to "thank" them for their review or you'll be in violation of Yelp's rules.
Really, you're walking a pretty thin line when responding to Yelp reviews. But nonetheless, it's still important that you respond to some or even most of your reviews, as this shows patients (and potential patients) that you're paying attention to their feedback.
When it comes to responding to negative reviews, again, keep your public responses short and brief. Do not lose your temper or write a lengthy or personal response with your "side of the story." You can assure them that you will resolve any issues they may have experienced, but if the allegations are very inflammatory, it's probably best not to respond publicly.
Whether someone left a positive or negative review, it's generally good to follow up with a private message to the person who left the review. With a positive review, be sure to thank the reviewer, or you may even give them a call to show how much you care.
Your private response to a negative review can be a little bit more tricky. However, many times, you will be able to get the person who left a negative review to change their rating if you make an effort to resolve their problem.
Here's an example of a bad dentist response to a negative Yelp review — Angry, long-winded, going into personal details … these are all no-nos.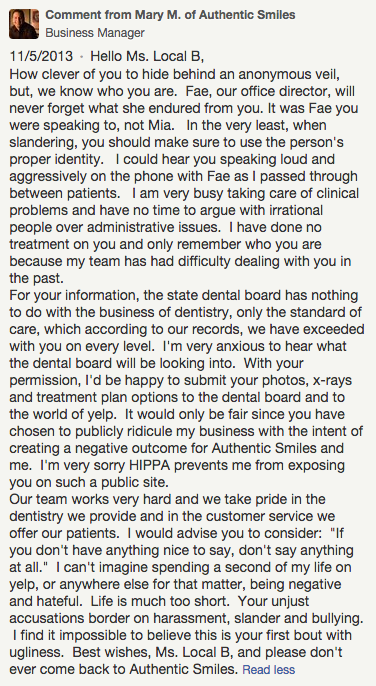 Later on in this post, I'll include some more detailed information about how to respond to online dentist reviews, both positive and negative.
3. Understand Yelp's "Recommended Reviews" system
One thing a dentist needs to keep in mind when monitoring their Yelp reviews is that many reviews are filtered out by Yelp's very strict review filter. Unfortunately, this means that a lot of your positive reviews will end up as "not recommended," i.e., hidden from view.
What makes a review get filtered out? Well, no one knows for sure.
Yelp says its "recommendation software" uses intelligent algorithms to decide if reviews should be recommended or not. Generally, it filters out reviews from people who have posted few or no other business reviews. Yelp says the software also filters out reviews that seem fake and those that have "unhelpful rants or raves."
All in all, Yelp filters out about one quarter of your reviews. It's important for you to know that it's not worth writing to Yelp about why a great review someone just wrote you got filtered out — Yelp says its employees cannot override the software to manually "recommend" a review.
However, that doesn't mean there's nothing you can do to get more of your good reviews through.
One important thing you can do is ask patients if they have a Yelp profile. If the patient says yes, you'll want to do everything you can to make sure they have a positive experience at your dental practice, and also let them know (in a non-pushy way) that your practice is on Yelp. This is because Yelp is more likely to feature a review from someone who already has an established account.
One of these "not recommended" dentist Yelp reviews was filtered out because the user had written no other reviews — but why is the other review not recommended? It's hard to say.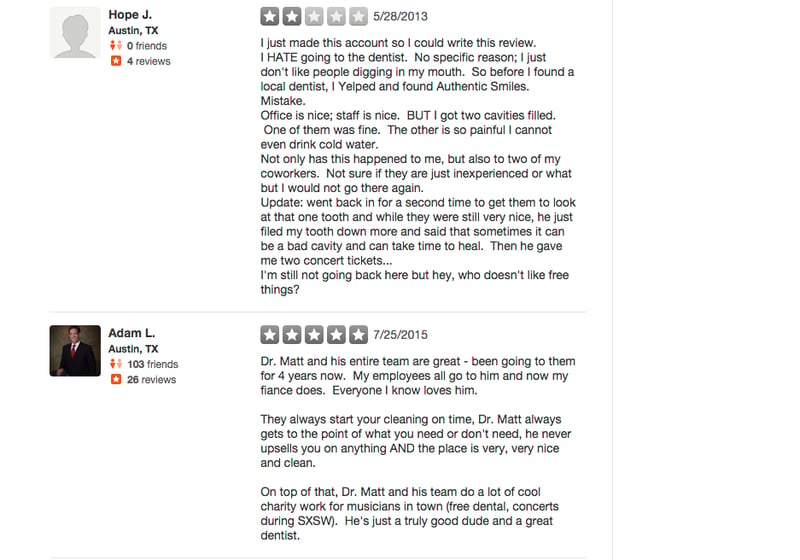 Inevitably, some of your positive reviews will get filtered out, and it will be disappointing. But try not to let it get to you — it happens to the best of us.
4. Encourage patients to review you on Google & Yelp
Yelp has a strict policy regarding review solicitation — you're not allowed to ask customers for reviews. Google is much more lenient, they encourage you to remind your patients to leave reviews.
That said, there are plenty of things you can do to encourage patients to leave you a review on Yelp that are completely within Yelp's guidelines.
Here are some perfectly acceptable things you can do to remind patients to review you on Yelp:
Add Yelp signage at your business location (for example, a "Find us on Yelp" sign)
Share positive Yelp reviews on your social media accounts (with the reviewer's permission)
Add prominent buttons on your website that link to your Yelp profile
All of these things will remind patients with Yelp accounts to review you. You might even get creative and do something like set up iPads in your waiting room with Yelp as the homepage.
Go to http://www.yelp.com/brand to get Yelp-branded materials you can use to remind patients to review you on Yelp.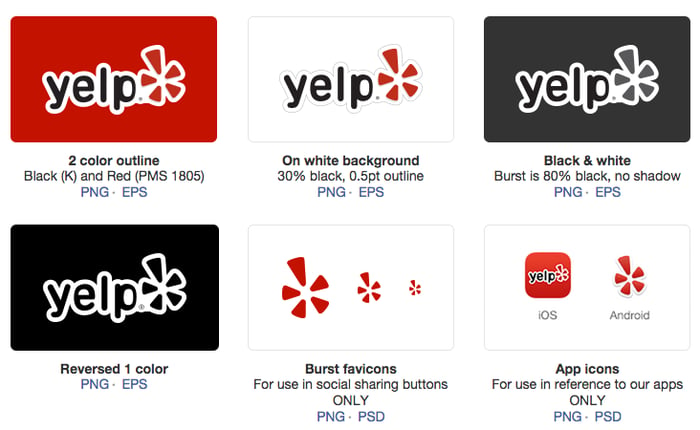 As mentioned, it's especially important to let patients who are active on Yelp know that you're on Yelp too (hint, hint). So, be sure to find out which of your regular patients are on Yelp and then try to work Yelp into the conversation next time they're in for a visit.
Ultimately, your online reputation as a dentist depends on having a great Yelp profile with lots of positive reviews. If you follow the steps on this list, you will be well on your way to building a terrific Yelp presence.
If you need more help perfecting your Yelp profile or trying to minimize the impact of some really damaging Yelp reviews, learn more about our review management for dentists.
Our review management service is designed to help you get more positive reviews on Google, Yelp, Facebook, and any other review service that is important to your business.
To show you the power of reviews, check out the image below. Is there any question who you would immediately be drawn to and inclined to call if you were in need of an orthodontist in Salt Lake City?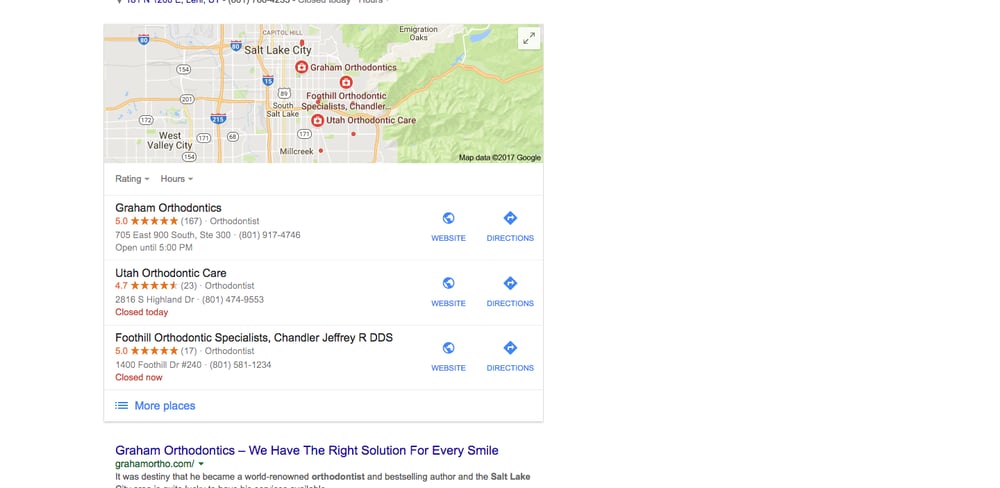 Part Four: Responding to Your Online Dental Reviews
It's vital that dentists know how to manage their reviews to maximize the benefits of good reviews, and minimize the damage incurred by bad reviews.
As mentioned, one way to do this is by responding appropriately to reviews. Let's go over some good ways to do this.
1. Where to monitor your online reviews
The first step to managing your reviews is monitoring your profiles on all of the review websites so you can see when new reviews are posted.
If you've been following my advice so far, you've already claimed your business's Yelp profile. But even if you're encouraging customers to only review you on Yelp, reviews for your practice will inevitably crop up on other platforms as well, including Google and others.
If you haven't already, you need to claim your listings on Google My Business, YP.com, and other business directories, as well as health-specific websites like HealthGrades, ZocDoc, WebMD, and Vitals.
As the below graphic from DentistryIQ shows, Yelp remains the top place patients look at doctor reviews online, though HealthGrades is the most trusted.
Note that while Google My Business is not pictured in this chart, monitoring and responding to your dental practice reviews on Google My Business is extremely important in regards to your online reputation.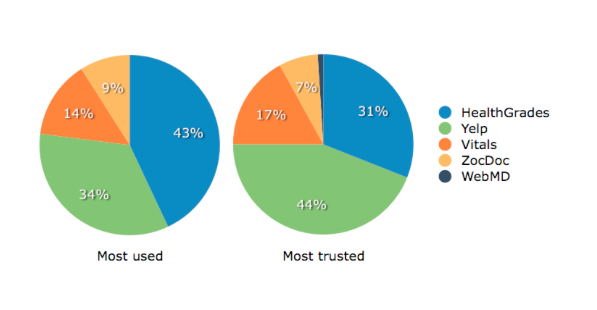 2. How to respond to positive reviews
Now that you're starting to monitor your reviews across the web, your next question is probably, How should I respond to reviews? or Should I respond to my online reviews?
First, let's discuss how you should respond to positive reviews.
To answer the question of whether a dentist should publicly respond to positive reviews, the answer is yes, as long as you follow a few important rules:
Thank the patient

for taking the time to review you and let them know you value their feedback

Keep your response brief

and professional

Don't discuss any personal information

about the patient or the service you provided them

Don't offer any free service

or other benefit as a thank you for the positive review

Don't ask anything of the reviewer

— for example, to "spread the word" about your practice

Don't defend yourself from a minor criticism

contained in the overall positive review (this makes you look petty)
When a dentist takes the time to respond politely to a positive review, it shows people (not just the person you're responding to, but everyone reading your profile) that you care about patient opinions and value their feedback.
Just don't go overboard with a long response or you will come across as overbearing and unprofessional. If you want to engage in a longer conversation with the patient, you can contact them privately.
3. Examples: Good and bad responses to a positive dentist review
Example of a good response to a positive review:
"Thank you for taking the time to review us.123 Dental values all feedback and uses it to improve our services. Have an amazing day!"
The response acknowledges the reviewer but does not violate the HIPAA Privacy Rule, which prohibits you from divulging anything about the patient's health information — including the fact that you treated them.
Example of a bad response to a positive review:
"George, you are one of my favorite patients and I'm glad you liked the crowns I did for you. Though I don't think I was really five minutes late. Still, I'd like to thank you for leaving this review with a free tooth whitening session."
This type of response is not recommended because it provides personal information about the patient (violates HIPPA), and offering a free teeth whitening could be construed as a bribe or payment for the positive review. The dentist also directly disputes a criticism contained in the review, which is another no-no.
Take a look at some great responses by the office of Adrian Vande Merwe, DDS on their Google Profile.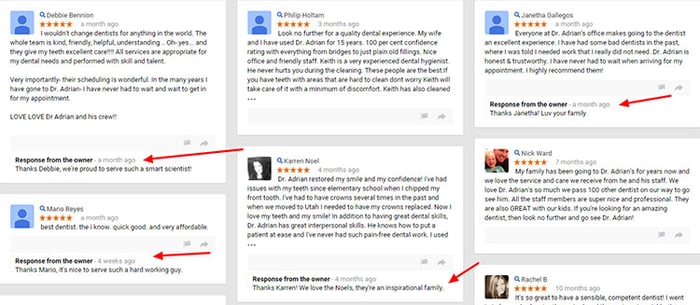 4. How to respond to negative reviews
Responding to negative reviews is a bit more sensitive. You have to be very careful when doing this or you will make the situation worse, and potentially even get yourself in some legal trouble.
That said, dentists should, in most cases, respond to negative reviews, as this gives you the opportunity to show that you care and gives you an opportunity to rectify the situation. But you need make sure you respond sensitively.
As with responding to positive reviews, when responding to a negative review, you should keep your response brief, general (not specific to the patient), and professional. Let them know you value their feedback and that you strive to provide a positive experience, then tell them how they can contact you.
Follow these tips when responding to a negative review of your practice:
Never respond when angry

or in an argumentative manner

Don't discuss anything specific

pertaining to the patient's treatment — this puts you in violation of HIPAA rules

Don't respond at length

or multiple times, as this draws more attention to the negative comment

Don't respond at all to "troll" or spam comments

(people who are not even patients or completely making things up). These comments likely violate the rules of the review site and you should be able to have them removed by contacting the site's admin.
After responding to a negative review, it's good to follow up with a private message or phone call. While you shouldn't directly ask someone to remove a negative review, oftentimes if you go the extra mile to make the situation right, the reviewer will remove their negative review or change the review on their own.
If the review is especially incriminating or makes inflammatory accusations not about your customer service, but about your medical services or qualifications — for example, accusing you of medical malpractice — then you should not respond at all and talk to legal counsel about how to handle such allegations. No matter how false or outlandish a patient review is, remember that a reactionary response will only make things worse.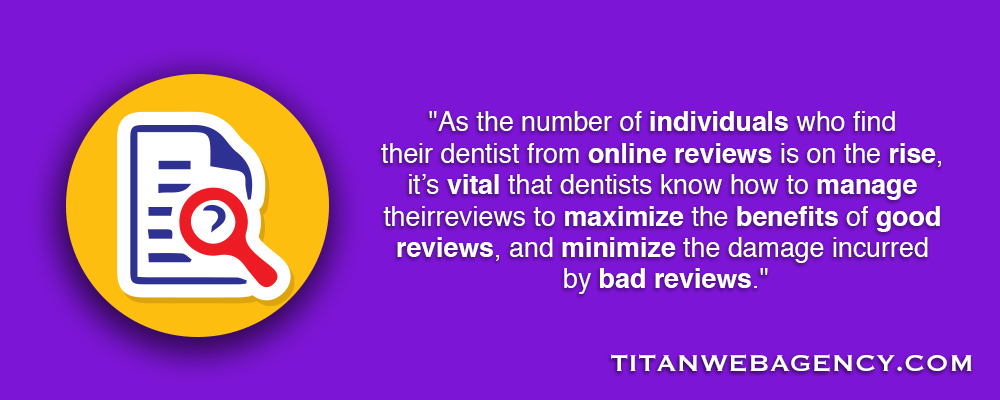 5. Examples: Good and bad responses to a negative dentist review
Here is an example of good response to a negative review:
Thank you for your feedback. Here at 123 Dental, we want every patient to have an exceptional experience, and we take complaints very seriously. Individuals with issues or concerns are advised to contact us immediately at xxx-xxx-xxxx so we can work to resolve the problem.
This response is brief and professional, and while it demonstrates concern, it does not admit any wrongdoing on your part, or even that you treated the patient in question.
Example of a bad response to a negative review:
Amy, you are completely wrong here. You told me you were very satisfied with your dental implants, and if you were unhappy you should have said something. Unbelievable! I am a terrific dentist and have the right to sue people who make such accusations.
This response is bad because it discusses the patient's medical treatments and displays anger. This will draw more attention to the negative review, make you look unprofessional, and potentially even have legal ramifications for violating HIPAA.
Another example below shows precisely what not to do. Don't be like this guy! Instead, take a breath, count to 10, or do whatever you need to so you can respond rationally.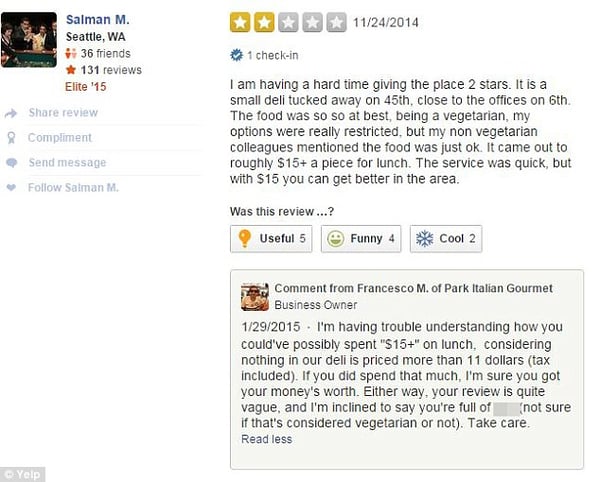 6. What about neutral reviews?
Not all dental practice reviews are purely positive or negative. Some are neutral – not too impressed, but no major complaints. Contrary to what many business owners think, neutral reviews require a response, too.
Why do you need to respond to neutral online reviews of your dental practice? Because these reviewers can be easily won over if you handle them right.
Andrew McDermott, author of Hook: Why Websites Fail to Make Money, recommends that medical professionals spend 60 percent of their time on neutral reviews, doing your best to convert them to positives. According to McDermott, you should spend 30 percent of your remaining time on negative reviews and 10 percent on positive reviews.
With neutral reviews, you should respond to the reviewer as you would with a positive review – thank them for their review and let them know you will use their feedback to improve your practice.
Then, respond privately as you would with a negative review – offer something to convert them to a fan and get them back in the office, whether that's a free teeth whitening, cleaning or something else. Just remember not to make this offer in the public comments.
7. More online review tips for dentists
Here are a few more things to keep in mind in terms of responding to patient reviews and improving your review profile in general.
Use a real photo of yourself (the dentist) in your review profile
Use constructive criticism to improve your practice and services
Try to get patients who leave negative reviews back in the office to show them the issue is fixed
Using a high-quality photo of yourself in your online profiles adds a personal touch to a dentist's review responses.

Let your patients know how they can review you online
Personally thank patients (offline) for leaving positive reviews
Share positive reviews on your website and social media accounts (with the patient's written consent)
Follow the guidelines for responding to reviews, which may vary from site to site (here's Yelp's guidelines for responding to reviews and here are some tips from Google My Business)
One of the great boons for business owners in the digital age is that you more or less know what your customers are saying about your company, and you can participate in the conversation.
Knowing what customers are saying about your business provides regular opportunities to demonstrate your company's level of care and service in how you respond.
Dealing with an unhappy customer in public may be unnerving and uncomfortable, but it forces you to provide top-notch customer service. When done right, a public response from your company puts on display how seriously you take your service and your customers, often allaying fears that new prospects have about using a new company.
Part Five: A Note on Reviews, SEO and PPC
Online reviews are an important aspect of search engine optimization for dentists, which means reviews help attract traffic to your dental website and social profiles. Obviously, Google and other search engines favor businesses that have a lot of positive reviews. In addition to benefiting your SEO, online reviews can even improve the performance of your pay-per-click (PPC) ads.
For your online reviews to maximize your SEO, you want to get your reviews to display in Review Snippets. This increases the visibility of your practice in organic search and benefits your organic click-through-rates (CTR). Review Snippets creates, on the search engine results page, a preview of your review profile, i.e., a rich snippet that includes stars and other information from your reviews.
Learn more from Google's resource on how to get your dental practice featured in Review Snippets.
When it comes to PPC, if you have strong review profile, Google might put your star rating on your ads, using an automatic extension called Google Seller Ratings. See the example below:

Enable Google Seller Ratings to display your star rating on your practice's PPC ads.
Having the star rating from your review profile on your PPC ads can really increase the CTR for your ads. Healthcare businesses, including dentists, have only recently begun harnessing the power of Google Seller Ratings; previously, it was mostly only used for eCommerce and retail. Search Engine Journal has a useful article on how to enable this feature.
Of course, both dental SEO and dental ppc are big jobs, and it's hard to do it all alone, especially when you're integrating online review management as well. Rather than trying to manage all this on your own, you may want to hire a web advertising company that will handle your dental practice's SEO, PPC, and online review management.
---
Conclusion: Dental Review Management Matters
I sometimes talk with business owners who would prefer to "opt out" of customer review sites entirely. You can't do that.
Others want a "silver bullet" solution like buying fake 5-star reviews from shady reputation management and SEO operators. You definitely can't do that! That is, not if you care about customer trust and the future of your business.
As a business owner myself, I certainly understand those impulses to protect and control your online reputation and the business you've put so much effort into building. But they are flawed impulses.
Customers increasingly want to see what other customers say before they trust a business at all. And savvy consumers don't trust glowing, 5-star reviews now that fake and fraudulent reviews are rampant.
So, forget control. Customer opinion is one of those domains that calls for letting go of control and instead embracing the kind of "soft control" that comes with communication as a discipline.
A timely and well-crafted response to a negative review, for example, can not only transform it from a liability into an asset, but even turn your disgruntled customer into an advocate. These situations produce way more value for your business than an unhappy customer you never hear from or interact with again.
Even in small measure, paying attention to customer reviews over time can pay dividends, driving visibility and influence for your business for the long term.
Whether you like it or not, your dental practice will get online reviews. In order to promote positive reviews and minimize the impact of negative reviews, like most business owners, dentists need review management.
If you don't have the time to manage or respond to your online reviews, it's important to hire a reputation management agency to respond to reviews. Review/reputation management can also help your dental practice recover from damaging negative reviews, and perhaps more importantly, help you to build up hundreds of positive online reviews.
Do you need helping getting reviews for your business? There are a lot of different strategies to accomplish it, many of them I recently discussed. The key is to be politely persistent and be consistently looking for opportunities to get a review.
For more help, you can check out our review system for dentists, MyReview. This service helps you easily get many positive reviews for your dental practice through email and text message. Contact me today for more information.
About the Author
Tyson Downs, the owner of Titan Web Agency, has years of experience working with small businesses and helping them meet their revenue goals. Prior to starting Titan Web Agency, he freelanced in SEO and Web Design while working in the corporate world. Tyson is a graduate of Brigham Young University, the father of 5, and enjoys spending time with his family. Particularly on the baseball field.