6 Steps To Creating A Healthy Online Reputation For Doctors
The internet has forever changed the way doctors and patients connect with each other. According to a recent Pew Internet Research study, approximately 80% of Americans use the internet to research health-related information and about 40% of them also use physician review sites.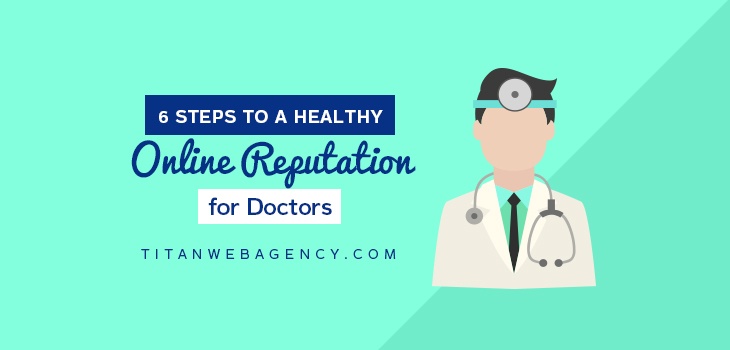 Reading reviews to help with our decision process has become quite common. In fact, you might already be taking advantage of review sites to find the right match for your personal needs. For example, Yelp is the number one resource for finding trusted attorney reviews and home service providers.
So it's no surprise that reviews have become an important part of a medical practice.
With the emergence of online reviews, healthcare has changed directions. The industry now focuses on the patient rather than the treatment.
Further, patients are viewed as consumers and payment models now reward value, not volume.
SoftwareAdvice.com found that 62% of those surveyed used online physician reviews as the first step in the process of finding a new physician. Furthermore, almost half of those surveyed stated that they would leave their own network for a doctor with more favorable reviews.
In reality, reviews are not always going to be positive. The Journal of General Internal Medicine published a study analyzing reviews on RateMDs.com and Yelp (the study covered internal medicine practices in four cities and family practices) and found that 37% of reviews were negative.
It's good to note at this point that visitors to review sites focus more on negative reviews and rarely take the time to write a review themselves. Regardless of how you feel about these reviews, they do play an important role in patient satisfaction.
Further, patient reviews can attract potential patients, so you shouldn't be afraid of online reviews. In fact, you should take advantage this phenomenon.
If you haven't already started, it's time that you take charge and manage your online feedback. This is important to do because 47% of patients surveyed by Vitals.com felt different about their doctor once they viewed the profile.
Patient reviews have become so important that Kaiser Permanente Northwest now publishes online patient ratings for more than 1,300 physicians. It's designed to introduce transparency into the system when members and prospective members search for a physician online. The organization strives to provide patients a detailed picture to help with the decision process- and you should too.
There are several review websites out there, but some of the most popular sites are:
So how do you get started?
A good place to start is by checking out reviews and ratings of your competitors and colleagues. It's a way to find out what's important to patients.
Positive ratings will sometimes reflect comments on bedside manner, listening skills, and the duration of an appointment. If you haven't incorporated these behaviors into your practice, it's time to start.
1. Take Charge & Complete your Profiles on Rating Sites
To take control of your online image, start by Googling your name. The first results generated by the search engine will probably be from physician finder websites like Vitals or ZocDoc. There will also be a listing from some broad-based finders like Yelp.
You will probably find patient reviews about yourself and your practice that have been posted for quite some time. Some might be positive, some might be negative, and some can even be false. You may find something like this:
All of these with the red arrow are websites that patients can leave reviews.
Go ahead and take ownership and update your profile. A complete profile will include your contact details, URL, how long you've been in practice, description, images, and language proficiency.
As website visitors are known to respond more positively to images than just text, upload a photo of yourself. While you're at it, don't forget to add your credentials and academic background as all patients, especially those over the age of 55, find this information important.
Further, don't stop at rating websites. You'll want to be sure you claim all the directories that are recognized as authoritative and relevant in your industry and city.
2. Encourage Patient Feedback
There are different ways to encourage patients to provide valuable feedback. However, it's better to do this subtly without appearing to be pushy (and don't explicitly ask for positive feedback).
You can start out by putting URLs for rating sites on appointment cards, keeping a stack comment cards in the waiting room (filled out while waiting or snail mailed back), and you can even put up a sign encouraging patient feedback in the reception area.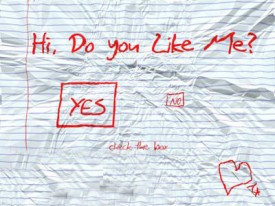 Take it a step further by emailing patients for feedback (as long as you have their consent to make electronic contact). With written consent, you can highlight some patient reviews on your website and social media pages, which can help build real value.
It's the quality of care that patients care about the most- so seek positive comments in this regard.
Additionally, you can also encourage feedback by doing the following:
Put a review site badge on your website
Put up a sticker like "Find us on Yelp"
Include a review site link in your email signature
An effective way to do this is to create a review portal where patients can be directed and easily leave you a review.
3. Project a Friendly Image
Take the time to complete your profile and keep it up to date on rating sites. When it comes to your office and your website, it's important to project a professional and friendly image.
Make an effort to create a warm and caring environment that can be easily recognized by patients. The same ethos also holds for your social media profiles.
You can also take it a step further and post some patient testimonials (with permission) and add links to your practice's or individual awards, along with any other local recognition.
Ideally, you just want to make it as easy as possible for people to leave you a review on their preferred platform. That's exactly what Alpine Recovery Lodge is doing. Just look at all those awesome reviews they've gathered on Facebook.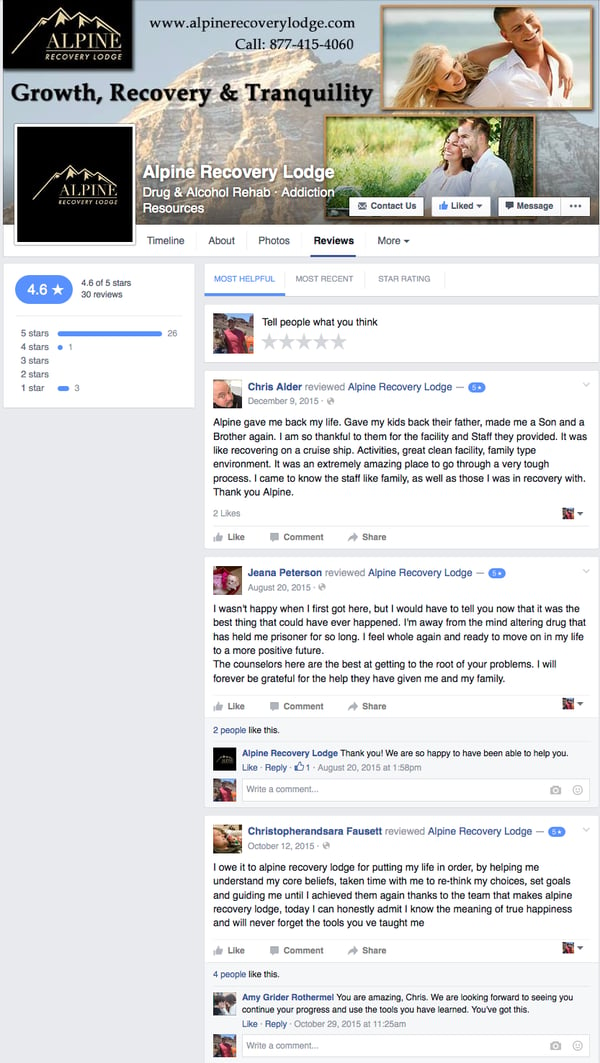 4. Properly Manage Online Reviews
You have to accept that you're not always going to get 5-star reviews. If you delete unfavorable reviews, people won't trust you. So transparently manage all reviews and online activity.
Most review sites also have algorithms to remove suspicious reviews, but this also creates a situation where real reviews can also get deleted. As a result, you have to be proactive when it comes to managing your online presence.
The best way to approach this is by keeping track of what people are saying about you online. When you're confronted with negative reviews, respond positively about how you're going to make changes to address the issues brought up in the review.
If you're able to identify the patient who gave you a negative review, it's a good idea to contact them personally to address the problem. If you do it right, patients are more likely to go back and change their negative review to reflect the steps you have taken to resolve the issue.
People are generally more inclined to giving you a second chance, so take advantage of it.
When responding to reviews on a public platform:
Don't discuss anything specific to the patient (as you can violate HIPAA laws)
Don't be defensive or hostile
Create responses that show your commitment to improvement
Respond in a manner that communicates with everyone and not just the patient who was critical
When it comes to HIPAA compliance, you're not allowed to confirm or deny that an individual is your patient. So take your time when responding to criticism and double check to ensure that you're not violating any privacy laws.
After you respond to negative feedback, leave it at that. As search engines pay attention to the most recent comments (it will be highlighted in the search results), it's best to move on and not draw too much attention to negative reviews (such as by going back and forth with the patient).
At the end of the day, feedback can only help improve your practice, so maintain a positive outlook.
Remember this when responding to reviews: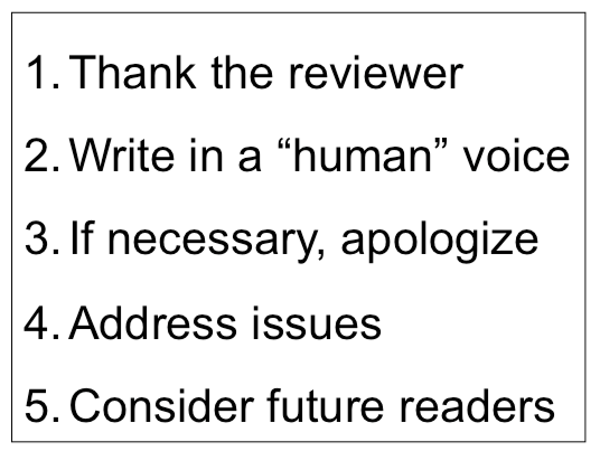 Image compliments of Mark Hayward.
5. Train Office Staff
Most reviews have nothing to do with the competency of the doctor. It's more about the interaction with staff and the overall experience from setting up the appointment to walking out the door.
The initial patient contact will be with your staff and not a medical professional. As your staff will play a major role in providing a positive patient experience, office staff will need to be trained to make a positive first impression. It's a critical period because this staff interaction will impact the initial perception of the practice.
In this scenario, a bit of customer service training can go a long way in improving patient experience and reviews.
Trained staff will know how to make the process of setting up an appointment easy. Further, they won't try to get patients off the phone quickly by rushing through the conversation.
Finally, well-trained staff will also let patients know what they need to bring along with them for the first appointment. These little steps can go a long way in providing a pleasant interaction.
While setting up an appointment, it's a good idea to have a brief discussion about your financial policy and the patient's payment responsibility. Discussing payment responsibility during scheduling (and maintaining consistency) will help patients view payments as a routine part of the visit.
To craft a clear message, front-desk employees can benefit from some customer (patient) service training with scripted calls. If everyone is on the same page, no matter who answers the phone, there will be a consistent service.
To help staff establish standard protocols, craft scripts to greet patients, interact with them in waiting rooms, and hand over a patient over to another staff member. With a little bit of staff training, you can provide a caring experience.
6. In a High-tech World, Provide Old-Fashioned Care
Although social media and online reviews have created a new dimension to healthcare, it's still old-fashioned bedside manner, listening skills, and human contact that dictate a great patient experience. It helps to build real value for your practice as the quality of care is at the top of what patients look for on review sites.
Patients need to feel like they are cared for and respected, so this should be a priority in every interaction with a patient. From the front desk to the back office and with medical practitioners, the same values need to be reflected in every patient interaction (online, phone, and in person).
Don't give your patients any reason to leave negative feedback. It will be hard to please everyone, but it doesn't hurt to strive to make everyone happy.
Even if your patient doesn't do an online review on a third party website, you can bet that they will recommend you via social media when a friend asks for a suggestion.
By managing your online profiles proactively, positive reviews will grow despite the inescapable critical review. In the end, it will be what brings new patients in through the door. So share factual information, improve with feedback, and focus on the positive.
Although the prospect of being reviewed by everyone can be daunting, it's good to note that more than half of the people who post reviews on sites, leave positive feedback.
However, if there is a situation where a libelous review needs to be removed, take the necessary steps to delete it. If it's serious enough to damage your practice, it's worth the effort to get it removed.
---
Conclusion
Most review sites will remove defamatory or false claims, so try to provide evidence that shows that the post is false (again, be aware of HIPAA compliance when providing evidence). If you're not getting anywhere on your own, discuss your legal rights and options with a lawyer. How does your practice handle online reviews? How have you successfully dealt with a negative review? Share your thoughts in the comments section below.
If you need help getting patient reviews, click the yellow button below, and we'll show you how you can get more patient reviews than ever before.
About the Author
Tyson Downs is the founder of Titan Web Agency, a company specializing in marketing for dental professionals. With an impressive track record of working with over 100 dental practices, Tyson has a deep understanding of the unique marketing needs within the dental industry. His expertise has helped numerous dental practices flourish by meeting and surpassing their revenue goals and established him as a thought leader in healthcare marketing. His insights and strategies have been featured in esteemed dental publications, including the American Dental Association and the American Academy of Implant Dentistry. Before dedicating his career to helping dental professionals thrive through effective marketing, Tyson honed his skills in SEO and web design as a freelancer, while also gaining valuable experience in the corporate sector. As an alumnus of Brigham Young University, he brings a strong educational background to his entrepreneurial endeavors. Outside of his professional life, Tyson is a devoted father of five, who cherishes time spent with his family, especially when they're all enjoying America's pastime on the baseball field.