9 Ways To Attract New Dental Patients On LinkedIn
Though it may not be the first name that comes to mind when you think "social media networks," LinkedIn is an incredible tool for social media marketing for dentists to gain new patients. By building their presence on LinkedIn, a dentist can grow their practice and bring in high-value new patients. Read on to learn why LinkedIn is an ideal platform for dental patient acquisition, and find out the specific techniques you can use to get more new dental patients on LinkedIn.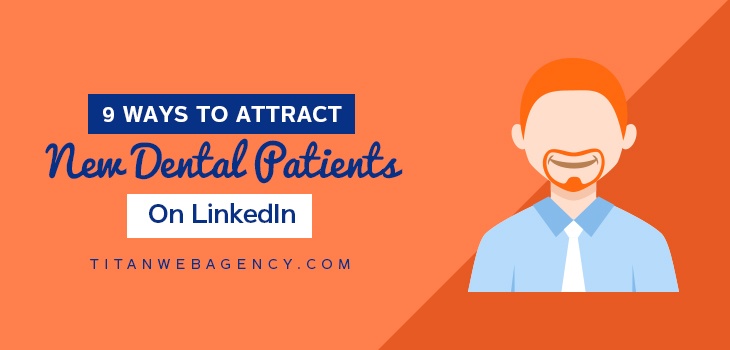 Listen to this blog post:
Why LinkedIn for Dentists?
Here are two important stats about LinkedIn from DentistryIQ that demonstrate LinkedIn's value for bringing in new dental patients, and high-income ones at that:
1. LinkedIn appears at the top of Google search results more often than other social networks.
2. LinkedIn users have a higher average age and income (44, $110K+) than other social networks (18-29, $69K).
So, because LinkedIn has more credibility in search engine results compared to other social networks, it's valuable for bringing in new patients with SEO. Secondly, with its users being older and wealthier than users of other social networks, LinkedIn can bring you higher-yielding dental patients compared to Facebook, Instagram, etc.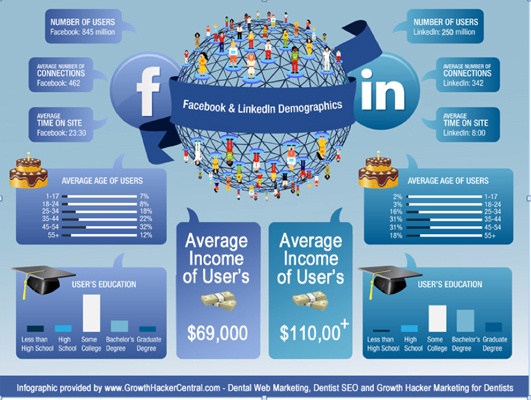 LinkedIn attracts better quality dental patients than Facebook (Image source: DentistryIQ)
9 New Patient Strategies for LinkedIn
Now that you understand why LinkedIn is so significant for garnering new dental patient traffic, let's get into the details of how you can use LinkedIn to get those new patients into your dentist's chair.
1. Optimize your LinkedIn profile
Fill our all sections of your LinkedIn profile, including your degrees, schools attended, and practice website. You can also incorporate relevant keywords for SEO, and include a portfolio with before and after pics. Prospective patients will also see who "recommends" you on your LinkedIn profile.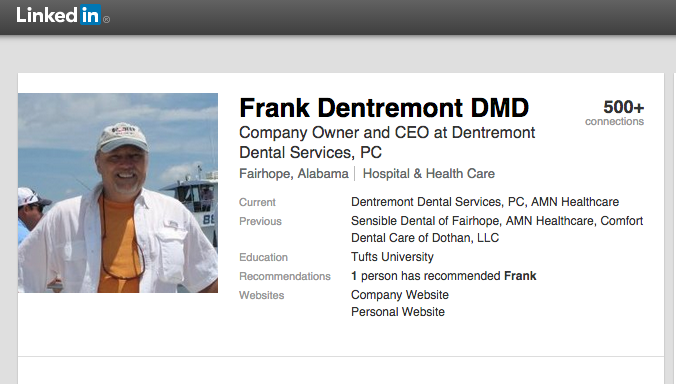 Optimize your personal LinkedIn profile to showcase your dental credentials.
2. Create a company page for your practice
Your company page for your practice is where you can include further information about your dentistry services, along with other elements that attract new patients, such as keywords and photos. When you have great, search engine-friendly content on your company page, you build awareness of your brand online.
3. Add contacts and patients on LinkedIn
The more personal and professional LinkedIn Connections you have, the better. Some of these people are prospective patients, and other LinkedIn users will be more inclined to add you (and become prospects) if they are friends with one of your Connections. You can also add first-time patients on LinkedIn to increase the likelihood they will become repeat patients.
4. Join a professional dental group
In LinkedIn Groups, you can meet even more prospective patients as well as professional industry connections that can help bring you more patients. Some good industry organizations to connect with on LinkedIn include Dental Technology and American Dental Hygienists' Association. You can join up to 50 groups per account.
Join and create LinkedIn Groups in your area of specialty to gain quality connection.
5. Create your own group
You can additionally create your own LinkedIn Group, which is like your own mini social network through which you can distribute content, share messages that drive content back to your website, and more. As with your personal profile and company page, you can optimize your group title and descriptions for SEO.
6. Share content with your network
Share links, photos, videos, and blog posts, and other content with your LinkedIn Groups. This content should represent your practice and also provide value to the person who sees it. It should include a mix of your own content and content from other sources online. You can share this content to your own group as well as other groups of which you're a member.
7. Participate in dentistry discussions
Within LinkedIn Groups, you can join in on dentistry discussions. This demonstrates your value to the group and establishes your online reputation as a highly qualified dental professional. You can also participate by starting your own discussions — for example, by posting a link that you'd like the group to discuss.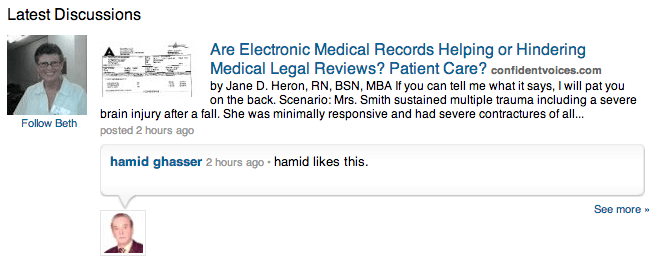 Join LinkedIn discussions to demonstrate your dental expertise (Image source: GetReferralMD)
8. Recommend other dental professionals
On LinkedIn, you can leave one-click "Endorsements" as well as lengthier "Recommendations" to show that you recommend a peer, colleague, past employee, etc. These reviews will appear on that person's profile. When you give someone a Recommendation or Endorsement, there is a good chance they will return the favor, thus making your profile more attractive to potential patients.
9. Run ads on LinkedIn
As with other social networks, you can also place PPC ads on LinkedIn to reach even more potential patients. These ads are highly targeted and affordable, and can include text, images, video and/or links to your website. You also have the option to pay to "boost" a LinkedIn post so that a wider audience will see it.
---
Conclusion
Though it is mainly a B2B network, LinkedIn is still an amazing way to get new dental patients. LinkedIn is the largest professional network in the world and an invaluable resource when it comes to expanding your professional patient base. LinkedIn helps you fulfill your new patient goals by connecting you with professional audiences online, and also through SEO.
For maximum SEO potential, be sure to create a vanity URL for your LinkedIn page (i.e., pay for a customized URL that includes your practice name) and create a profile badge that you can post on your website to promote your LinkedIn profile. If you need help designing any of the SEO, content marketing, or PPC aspects of your LinkedIn presence, please do not hesitate to contact us and schedule a free consultation.
About the Author
Tyson Downs, the owner of Titan Web Agency, has years of experience working with small businesses and helping them meet their revenue goals. Prior to starting Titan Web Agency, he freelanced in SEO and Web Design while working in the corporate world. Tyson is a graduate of Brigham Young University, the father of 5, and enjoys spending time with his family. Particularly on the baseball field.