Marketing for Accountants: 27 Marketing Ideas for Accounting Firms [2023]
*Originally published January 29, 2019, Updated March 23, 2023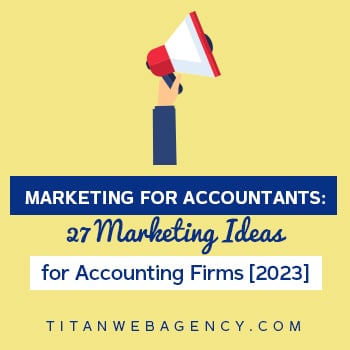 Digital marketing is constantly evolving. Not long ago, marketing was considered a part of traditional advertising, and now it's an industry in and of itself. Online marketing was not even in the picture, and in most cases, buying an ad was the solution to most advertising problems. In this age of digital marketing, everything has changed.
Today, accounting firms must be aware of the virtual loop created through marketing efforts and adopt the practices that help their companies achieve their most important business objectives. Digital marketing takes time and effort. Luckily, Titan Web Agency's SEO for accounting firms has helped accounting firms create lead-generation pipelines for years.
One of the biggest mistakes we see accountants make with their marketing is focusing on keeping up with their competitors. Of course, you want to attract new clients and adopt a marketing strategy that will help you edge out your competitors, but victory in the digital marketplace is not just about beating the competition. It's about serving your audience well, whether via email marketing, social media marketing, or search engine advertising. Your potential clients are out there, and they want to hear from you. Most importantly, they want to know they can trust you.
If you have been struggling to figure out how to market your accounting firm, it's likely you have already discovered that tried and true marketing tactics of yesterday don't work online. It's a whole new ball game. What's amazing about digital marketing for accounting firms is that your reach becomes limitless. Your audience is out there, and your marketing strategy should be designed to lead them directly to your door.
This post focuses on the digital marketing methods you should be using to promote your accounting firm and get your content in front of the people who are most likely to need your services.

What is Digital Marketing for Accounting Firms?
Digital marketing for accountants is the sum of all marketing efforts that are aimed at people accessing information via a device such as a smartphone, tablet, or computer. Digital marketing may include:
Email marketing;
Search engine marketing
Social media marketing
The goal of digital marketing is to make it as easy as possible for potential clients to find your company online. Your marketing plan should include a robust array of digital strategies designed to help you grow your firm and increase your profits.
Why is Marketing Important for Accounting Firms?
The most common way people find businesses or services today is through an internet search. That means you must make it easy for potential clients to find you. Since most searches involve questions, one of the best ways to ensure that people can find you is by answering the questions they're most likely to ask.
A potential client searching for information about taxes might search, "Which tax deductions should I take for my business?" If you answer that question on your website, your chances of appearing high on Google's search results page increase and so does your chances of attracting new leads increases. That's the beauty of content marketing: it helps you connect with your target audience by providing valuable information.
Reasons Why Your CPA Firm Marketing Fails
Before we talk about how to create a marketing plan for your CPA firm, let's review some of the common mistakes that can derail your marketing and explain why it might not deliver the needed results.
Improper Goal Setting
Goal setting is essential for any marketing strategy. A worthwhile goal should be a SMART goal, meaning that it's:
Specific
Measurable
Achievable
Realistic
Time-bound
An example of a SMART goal would be running an ad campaign to get 20 prospective clients to fill out your lead form within 30 days.
Not Tracking Results
One of the reasons that measurability is part of the SMART goal paradigm is that measuring your progress allows you to tweak your marketing if it's not working. If you don't track results, you won't have any way of knowing whether your campaigns are effective.
You can track your results using tools such as Facebook Insights or your Google Dashboard or by hiring a professional marketing firm to help you.
Ignoring Your Competition
Your competitors are your competition for a reason. Your marketing strategy cannot afford to ignore them. You need to know the following things:
Where their audience overlaps with yours
What strategies and tactics they're using to attract clients
How their website rank compares to yours
How their social media marketing works
A big part of marketing is differentiating yourself from your competitors and you can't do that if you haven't researched how they're marketing themselves online.
Relying on a Single Marketing Channel
If your marketing is happening only on Google or Facebook, then you are missing out on a large audience of prospective clients by not diversifying your campaigns across multiple channels.
A lot of accounting firms make this mistake and end up with lackluster results and slow growth. Your marketing plan should include several channels to give you the best possible chance of beating your competition and achieving your company goals.
Not Hiring a Professional
Accounting firms specialize in accounting, not marketing. If you have someone whose primary job is financial or administrative running your marketing campaign, it's a guarantee that your marketing is not delivering impressive results.
The expense of hiring a professional marketing firm to oversee your firm's strategy will be offset by the results; which include more leads, more new clients, and increased profits.
The Role of Artificial Intelligence in Accounting Firm Marketing
One of the most exciting developments in the world of marketing is the increased use of tools powered by Artificial Intelligence, to create content and help audiences find the products and services they need. While we're not yet at the point where AI can replace the human touch, there are some tools that are new in 2023 that have the potential to streamline marketing for accounting firms.
Google Bard
Google announced the release of Google Bard in February of 2023. Google Bard is an AI search tool powered by Google's Language Model for Dialogue Applications (LaMDA). They describe it as a conversational AI service that can be used to pull information from a variety of sources and present it to users in a way that's both useful and easy to understand.
As of this writing, Google Bard is not yet available to the public at large, but we anticipate that after testing, it will become a valuable tool for marketing.
ChatGPT
ChatGPT is an AI tool developed by OpenAI that has received a lot of press since its release. Like Google Bard, ChatGPT is still in its early stages of development. In theory, it can be used to write content and answer complex questions. However, some issues need to be worked on.
In theory, ChatGPT could become a reliable tool to get answers to common questions and even draft content. However, the current version sometimes returns nonsensical responses. OpenAI has been open about these issues and continues to work on them.
How to Create a Marketing Plan for Your Accounting Firm
Creating a marketing plan requires taking a broad view first, then determining the specific tactics and strategies to help you achieve your goals. Here are the steps required to create a marketing plan:
Conduct a Situation Analysis
The first step is to conduct a situation analysis, which involves reviewing the current state of the marketplace and your firm's place in it. That means you'll need to do the following things:
Research and analyze your target market: Who are the people you want as clients? Are you focused on business accounting? Tax preparation? Estate planning? You need to know who is in your target market to create an effective marketing plan.
Research your competition: Who are your primary competitors in your service area? You need to know who they are and what they're doing to attract the people you want to attract. That means analyzing their website, social media, and marketing campaigns.
Identify your business challenges: What are the SMART goals you want to achieve and the steps required to achieve them? How many new clients do you want to attract? What do you want your profit margins to be in the future?
Identify your firm's competitive differentiators: What makes your accounting firm different and better than your competitors? Whatever makes you special should be at the heart of your marketing plan.
Identify Your Accounting Firm Target Audience
The next step is to drill into the specifics of your target audience. That means creating one or more client personas. Even if you specialize in only one area, such as tax preparation, you might need more than one persona. For example:
Persona One: A person in their 50s who wants to maximize their retirement savings.
Persona Two: A solo entrepreneur who needs help minimizing their taxes.
Persona Three: A retiree who wants to minimize taxes for their heirs.
Persona Four: A business owner who needs advice about corporate structure and taxes.
You may need different marketing materials for each of these personas.
Determine Your Accounting Firm SMART Goals
As we mentioned above, SMART goals are necessary for any successful marketing strategy. You should think about what you want for your business and then you can use your desired results to reverse engineer your SMART goals.
Here's an example. You might want to increase your profits by 10% in a year. That's a realistic goal and it's also time-bound, which is essential. To make it SMART, you need to break it down into smaller steps, such as expanding your social media presence, devising new social media ads, and measuring the results.
Conduct a Competitive Analysis
We already mentioned researching your competitors, but the best and most effective marketing plans involve in-depth analysis. Some of the questions you'll need to ask and answer include these:
Who are the competitor's current clients?
Where are they located and which areas do they serve?
Which keywords are they targeting on their website and in Google ads?
How many followers do they have on social media?
What kind of content do they post on their website & social accounts?
This type of analysis can be time-consuming and is best conducted by a professional marketing firm with experience in the accounting industry.
Nail Down Your Budget
Your marketing budget is something that requires careful attention. The United States Small Business Administration (SBA) recommends a marketing budget of between 7% and 8% of a company's revenue for most businesses.
You may need a larger budget if you have neglected your marketing for a while. For example, you might need to build in the cost of a website redesign or user testing, and if you don't have a social media following, then you might need to spend part of your budget on your social advertising to get the followers you need.
Monitor, Measure, and Manage
Finally, your marketing plan needs to include methods to monitor your campaigns, measure your results, and manage your marketing strategy at every level.

Measurement can be accomplished with tools, but it's important to know how to use them and which metrics you should be monitoring to ensure you get the desired results. Hiring a professional marketing company can take this task off your plate because they'll manage it for you.
27 Strategies & Ideas on How to Market an Accounting Firm
There are many potential marketing strategies you can use in 2023 to attract new leads and clients. Here are 27 that we think are worth your attention.
1. Build A Strong Online Presence
The first step to any successful digital marketing strategy is to build a strong brand and online presence. If you don't do that, anything else you do will be a waste of time and money. As a growing CPA firm, you must be patient with the amount of work that goes into creating an online marketing campaign. When you find a local CPA firm with a strong online presence, you can bet it took some time to attain that position. We would love to tell you that building a brand is a quick process, but, unfortunately, it's not. The good news is that we can help.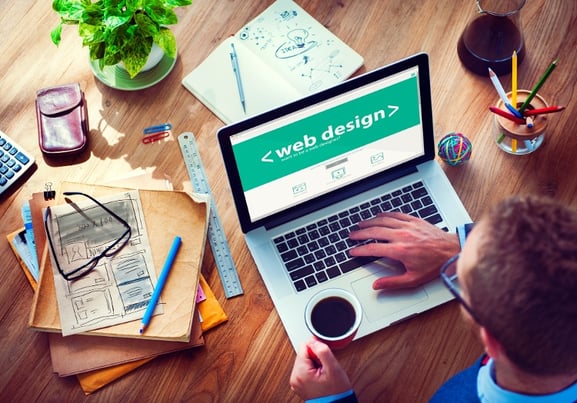 Let's take a minute to talk about why building a presence online is essential. Your potential clients turn to their computers or mobile devices for answers to everything from what they should eat for lunch to how much money they should save for retirement. That means you need to make sure your firm doesn't miss out on the chance to be seen and heard online.
Several elements of a strong online presence include:
An attractive, user-friendly website
Search engine optimization
An active informative blog
Standardized business listings
Social media marketing
Content marketing
Reviews and testimonials
That might seem like a lot, but you can get it done if you focus and understand your goal. Let's face it, there's only one goal that matters: growing your business.
We'll get into more detail on many of these points, so you'll understand how to implement them in your digital marketing strategy.
2. Professionally Design Your Accounting Firm Website
Your website is the home base for everything you do online. Your online presence should help your target audience learn about your services and redirect them to your content and your website. That's the best way to grow your business.
Your website needs to have a few key items to be effective. You need a strong message, a memorable brand, a unique call to action, an invitation for your website visitors to connect with you, and the ability to be found on Google and other search engines.
None of these things should be done without careful thought. You must understand who you're talking to online. We can help you get the results you expect through the following:
A mobile-responsive design
Attractive, easy-to-read fonts
Appealing colors that represent your brand
Relevant, original images
A user-friendly menu and navigation that makes it simple for visitors to find what they need on your website.
Sometimes we'll work with an accounting firm and be able to make an immediate improvement in their lead generation simply by updating the design of their website.
Mobile Friendly
One aspect of web design that you may not be taking seriously enough is mobile friendliness. As of the first quarter of 2023, 60.67% of all web traffic is from mobile devices, and that number is projected to continue to increase.
Your website must have a mobile-friendly design that adapts instantaneously to the device used to access it, whether it's a smartphone, tablet, or computer. It's essential to provide a seamless cross-channel experience for every user.
Think of your website as a road map to your business. If people can't easily find, read, and navigate it, they'll look somewhere else for the accounting services they need.

3. Optimize Your Website for Search Engines
Search engine optimization is a complex specialty in digital marketing. It's easy for accounting firms to fall short in this area because it is not their area of expertise. At Titan Web Agency, it's our specialty, and it plays a key role in helping accounting firms achieve their growth goals.
Let's talk about why SEO matters. As of January 2023, more than 5.16 billion people use the internet. That is a massive audience, and only a tiny fraction of that audience is in the market for accounting services in your area. You need to find a way to define your audience and lead them to your website.
Local SEO
Local SEO is the best way to target people in your area that are using a search engine to find accounting/financial information.
Local SEO starts with individual pages for each service you provide. Each page should be targeted to local keywords such as:
[Your town] accountant
[Your zip code] CPA
[Your neighborhood] tax services
Follow SEO marketing for accounting best practices and include your target keyword in these places:
Your page title
Your page URL
The text on your page
Your image alt text
Your anchor text (hyperlinks)
You also need to set up a Google Business Profile. Without a profile, your firm will not appear in Google's "local pack" search results that appear above organic listings.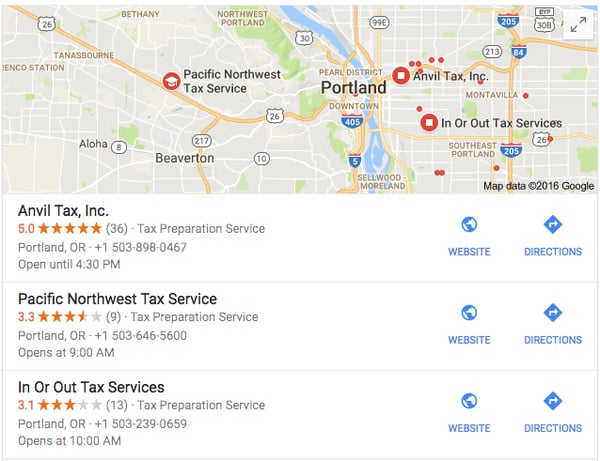 Make sure your Google Business Profile shows:
Accurate office hours
Your address and phone number
Photos of your business
The right business categories
Google uses all this information to return results for location-based services. If someone searches for "tax services near me" and your profile does not have an address, it will not appear in the results.
You should also check how your business listings appear across the web. Are your name, address, and phone number (NAP) consistent on Yelp!, local directories, professional organizations, and review sites? If not, correct them as soon as possible.
It's important to keep your NAP consistent because Google uses this information to determine the legitimacy of your business. If your business appears as "John Smith, CPA" in one place and "Smith Accounting Associates" in another, Google will trust your business less and reduce its rank in search results.
Voice Search
While local SEO is undeniably important, there's another search trend that you need to address as well. Virtual assistants such as Siri, Alexa, and Cortana are extremely popular and becoming more so. In fact, as of 2023, 50% of people in the United States use voice search daily and 71% of users prefer voice search. This means that a sizable portion of your audience is using voice search to find the services they need online.
Optimizing for voice search is a necessary component of marketing for accountants. Voice search keywords tend to be longer than text search keywords. For example, someone looking for an accountant to help them prepare their taxes might search "tax accountant near me" if they were using text to search. A voice search is more likely to look like this:
Siri, where can I find a dental CPA near me?
Including interrogative words such as; who, what, where, why, when, which, and how can help you improve your ranking for voice searches.
Here are some other key components of voice search optimization:
Focus on long-tail keywords that complete questions.
Include filler words to make your questions conversational. In other words, don't leave 'out of', 'and', and other words because doing so will make your content seem lazy and ungrammatical.
As much as possible, focus on questions that the people in your target audience are most likely to ask.
Whatever keywords you use, make sure to include them in important places in your content, including:
In your title tag
In your headings
In your text
In hyperlinks
In alt tags for images
In your meta description
These technical aspects of SEO might seem nitpicky, but they're essential if you want to make sure your potential clients can find you online.
4. Inbound Marketing for Accountants
Inbound marketing is a type of marketing that focuses on providing relevant and valuable content that's in line with the specific needs of your target audience. Its goal is to create lasting relationships built on expertise and trust.
How Does Inbound Marketing Work with an Accounting Firm?
Marketing firms provide valuable services that include tax preparation and estate planning. Many clients may come to your firm for one service and stay with you for additional services. A well-designed inbound marketing strategy can help you connect with your audience, build trust, and convert casual visitors to your website into long-term paying clients.
Inbound marketing for accountants uses content in a variety of forms that may include blog posts, white papers, infographics, webinars, and social media content. The content you create should speak directly to the needs of your target audience and help them learn about what your firm has to offer.
Ideally, your inbound marketing and content marketing strategies should align. Some content may speak to only a portion of your target audience because it relates to one service of the many you offer. Creating and sharing the right content can help you attract more visitors to your site and ultimately, more clients to your firm.
Benefits of Inbound Marketing for Accounting Firms
Here are some of the most important benefits of inbound marketing for accountants:
Inbound marketing can help you establish yourself as a trusted authority.
With the right strategy, you can increase the traffic to your website and increase conversions at the same time.
Your inbound marketing strategy can help you differentiate your firm from others in the area and convince prospective clients to choose your firm for their accounting needs.
Used properly, targeted inbound marketing can help you save money on campaigns and get a higher return on your investment than you earn with other strategies.
Titan Web Agency can help you create an inbound marketing strategy that will attract qualified leads to your accounting firm and increase your profits.
5. Content Marketing for Accounting Firms
Content marketing is an essential component of any digital marketing strategy. 55% of marketers believe that blogging is critical to inbound marketing. There are many reasons for that, but one is that a blog ensures that the content on your site is constantly refreshed.
Of course, blogs aren't the only form of content that can be used for marketing. You may also try:
Articles
Guest posts
eBooks
Podcasts
Webinars
Infographics
Videos
Whitepapers
Case studies
Social media posts
In most cases, content marketing is not about promoting your business directly. Instead, the goal is to answer people's questions about accounting and finance. You position your accounting firm as a trusted authority by providing valuable and applicable content.
Content marketing also helps your business build trust and gain interest from potential clients who have yet to decide if they need an accountant.
For example, you can host a free Q&A session inviting people to ask finance-related questions. People are likely to respond to this because it offers them something of value for free. At the same time, it allows you to demonstrate expertise without directly marketing to your audience.
Content marketing also improves SEO. The more pages you have on your site, the more opportunities you'll have to rank in search engines. Optimize your blog posts for local keywords and market your content in other places around the web. Blog posts are ideal for voice search optimization. You can use common questions as headings to attract more traffic to your site.
How Does Content Marketing Work for Accounting Firms?
Content marketing is essential for marketing firms because it lets prospective clients know that you care about their needs and will provide content that's relevant and useful. Each piece of content you create has the potential to generate qualified leads for your accounting services.
Content marketing for accounting firms must address your prospective client's needs in the following ways:
Answer commonly asked questions
Provide solutions to common problems
Help potential leads learn about your firm and services
Demonstrate your expertise and authority
Content marketing may include email marketing, blogging, video, podcasting, and social media posts. The audience you're targeting will determine which types of content you should create to get the results you want.
Content marketing for accounting firms should always include a compelling call to action that prompts your audience to fill out a contact form, subscribe to your email list, or take some other action that will allow you to stay in contact with them and nurture them until they become paying clients.
Blogging is an Important Part of Your Accounting Firm Marketing
While blogging is not a new marketing strategy, it remains one of the best ways to add fresh content to your website and give potential leads an easy way to find you.
Targeting long-tail and voice keywords can help you increase the visibility of your site and build authority at the same time. When you provide answers to frequent questions, you signal to Google that your site is valuable and should be highlighted over other firms' websites.
The most important thing is to adhere to a regular blogging schedule. You should blog at least twice a month. Long-form blogs can attract more traffic by offering an in-depth look at accounting problems and demonstrating that your firm has the knowledge and expertise that potential clients want.
Types of Content That Work in Accounting Firm Marketing
Here are some suggestions for the types of content that could be effective in attracting qualified leads and helping you get new clients:
Tax Credits & Deductions Guide
Regulatory Tax Update
Case Studies
Fact Sheets
Checklists
You should feel free to get creative. The most important consideration is what your target audience wants and needs. If you provide it, they'll find your website and you can connect with them.
Take a look at the below graphic, it shows the organic (non paid) growth of website traffic for an accounting firm that adopted content marketing broken down by quarter.
Start: Q4 2015: 224 organic visitors
Now: Q4 2022: 15,050 organic visitors
Do you think that impacts incoming leads, and as a result, new clients and revenue?
It absolutely does.

6. Social Media Marketing for Accounting Firms
It can take a long time to build a strong online presence, but one area where you can see a substantial improvement quickly is social media. While we recognize that some accounting firms are reluctant to make social media part of their digital marketing strategy, we recommend it because we know it's one of the best ways to reach your target audience.
Choosing Social Media Sites
The first step is to identify which social media sites your audience uses so you can include them in the digital marketing for your accounting firm. For example, Facebook is the largest social media site and is extremely effective for direct-to-consumer marketing. LinkedIn is best if your firm specializes in business accounting.
For quick messages, insights, advice, or updates about things such as tax regulations, Twitter may be a wonderful choice for connecting with your audience and potential customers. It can also help you maintain contact with current clients and keep them engaged throughout the lifetime of your contract with their business or family.
It's a waste of time to maintain a presence on every site. For marketing accountants, it's unlikely to be worthwhile to build a presence on Instagram or Snapchat. Those sites are visual and don't lend themselves to the information-rich marketing most common for accounting firms.
One of the things we do at Titan Web Agency is to help our accounting clients develop an ideal customer persona representing the customer they most want to serve. When you know who you want to serve in your CPA firm, it becomes easy to find those people online and create content that will appeal to them.
If you only have the time and budget for one social media site, we suggest Facebook or LinkedIn, depending on the audience you want to target. Remember that social media marketing requires constant monitoring, so it's better to have a strong presence on one site than a weak one on several.
Set Up Your Profile
Before you get started, you want to make sure you set up your social media profiles completely. You need a profile image, cover photo, description, link to your website, and basic information about your accounting firm, including your address and hours of operation.
If you do maintain more than one social media account, make sure to use the same profile picture for each one. Consistency will help people find you online and recognize your content when they see it. Many firms choose to use their company logo as their profile picture.
Share the Right Kind of Content
One of the keys to digital marketing for accounting firms is knowing what kind of content to post on social media. Digital content can take many forms, but not all content is suitable for social media.
Best practices indicate that 80% of what you post should be informative or entertaining, while only 20% should include a direct sales pitch. Your accounting firm should be an authoritative presence, a place your clients can turn to for valuable information and answers to their questions. The goal of social media content is to attract your audience to your website, where you can continue the conversation by prompting them to complete your contact form, call you, or subscribe to your email list.
Sharing moments such as volunteering, wins, celebrations, or promoting workshops for tax filing or company events are all straightforward ways to reach your target audience across all social media platforms, not just Facebook or LinkedIn.
An important note: when dealing with sensitive information, such as financial planning, taxes, and regulations, your social media posts need to be compliant with SEC regulations. Titan Web Agency can help you navigate the tricky elements of posting on social media.
Another social media best practice is to curate content from other sources. Articles from the newspaper or financial authorities are a good place to start. To demonstrate your authority, make sure to add your take to any content you post.
Include Visuals
Every piece of content you post on social media should include a visual, whether it's a photograph, an illustration, a chart, or a video. Research shows that people who read a piece of content will remember only 10% of it three days later, but when an image is included, they remember 65% of what they read.
Make sure to track the results of the content you post through Facebook Insights. You will notice which content gets the most attention and you can use the data you collect to refine your digital marketing strategy.
Social Media Post Marketing Ideas for Accounting Firms
The key to effective social media marketing is to create posts that are informative and valuable to your users, particularly if they are also the kind of thing that your followers will want to share with their contacts. Here are some examples:
Tax Law Updates: Any time there is a notable change in the tax code, on the federal or state level, your social media followers will look to you for accurate information and advice. You can link back to a blog post, create an infographic, or share a news article and add your insight.
QuickBooks Tips, Tricks, and Tutorials: QuickBooks is the most popular accounting software for a reason; People who use it are always on the lookout for tips and tricks to help them use it more effectively. As an accounting authority, you can help them in this regard.
Tax Due Date Reminders: As Tax Day approaches, you should be reminding your followers of the deadline and giving them last-minute advice on how to complete and file their tax returns.
Reviews from Satisfied Customers: Sharing reviews and testimonials on social media is an effective way to get people who might be on the fence about hiring your firm to take the next step and book a consultation.
Community and Volunteer Events: A big part of local marketing is community participation. If your firm is active in the community or partners with a charity, then sharing information on social media is essential because it helps people understand your brand's priorities and ethics.
As a reminder, any post you create should have either an image or a video with it, since visual content gets far more engagement than plain text.
7. Maximize Your Accounting Firm's Email Marketing Efforts
Email marketing is an essential part of any digital marketing plan. While it might not get as much attention as other marketing strategies, it's cost-effective, efficient, and a wonderful way to build trust and authority with your audience. It is also an effective way to turn casual subscribers into new clients for your firm because you can use your emails to explain your services and demonstrate why they should choose your accounting firm over others in the area.
Email content can be written or visual. Each email you send should have the following attributes:
A compelling subject line
A personalized greeting
Clear, direct language
Plenty of white space (short paragraphs broken up with images)
A call to action
Your emails can be used for lead nurturing or to promote specific services. You may want to start a monthly newsletter and promote it on social media and your website. An email has an average ROI of 4000%, meaning that when you spend $1 on an email you can expect to earn $40 in return.
8. Get Your Accounting Firm Reviewed Online
It's not possible to overstate the importance of online reviews as a component of digital marketing for accounting firms. The best thing about reviews is that they amount to free advertising. Your job has three parts:
Claim your listing on review sites as part of your digital strategy.
Encourage your clients to leave reviews of your accounting firm.
Respond to positive and negative reviews.
Claiming your listing involves verifying that you're the owner of your firm and then updating your listing with accurate information, including your hours, services, and location. You should look at your review listings as part of your overall digital marketing plan. Make sure to write keyword-rich descriptions of your business, including photos and other relevant information, and keep your listings up to date.
Encouraging reviews is something that we believe is best done offline. While our focus is on digital marketing, there's an offline component you shouldn't overlook. Having your staff ask clients to leave reviews at the right time -- meaning when they're happy and satisfied with your services -- is essential.
The final element is responding to reviews. You should empower a staff member to monitor and respond to reviews and think of negative reviews as an opportunity to demonstrate your authority and compassion.
Handle Bad or Fake Reviews with Care
A survey by Dimensional Research shows that negative reviews have an impact on the purchase decisions of a majority (86%) of respondents, so they matter. What should you do if you get one? It can be disorienting to hear that your services don't meet the expectations of accounting clients.
Remember that people aren't necessarily expecting you to be perfect. What they want is accountability and a professional response if you make a mistake or let them down. Your response -- your ability to keep your cool and rectify the situation -- will determine whether the client who left the review remains with your firm.
If you're worried about malicious or fake reviews, you can also get your reviews third-party verified. For example, an association like TruWeb Verified can check the source of the review and the claims it makes. Once the reviews have been authenticated, they can display the TruWeb Verified logo lending them credibility. Customers trust this kind of source and you can rest easy knowing that your reviews are accurate.
9. Paid Advertising
Marketing has evolved into its own discipline, but paid advertising is still necessary in the world of digital marketing. Both paid search engine advertising and social media advertising can help you connect with potential leads and grow your firm.
Pay-per-click advertising is one of the most effective types of online advertising because it targets keywords, and you pay only when a potential lead clicks your call to action. On average, PPC ads have a 200% ROI and can increase brand recognition by up to 80%.
For an effective PPC ad, you'll need:
An irresistible headline
A compelling image
Informative ad copy
A strong call to action
A landing page that aligns with your ad and collects contact information from visitors
Titan Web Agency has experience in PPC advertising to craft ads that deliver the results you need.
10. Mobile Marketing
You already know that your accounting website must be mobile-friendly, but you need to go beyond that if you want to grow your company. Marketing directly to mobile users is already important and will become increasingly so, as mobile's share of the advertising market increases.
As of the second quarter of 2022, mobile marketing has a conversion rate of 2% for mobile phones and 3% for tablets. Since 2020, tablet conversions have caught up with desktop conversions and we expect that trend to continue since mobile usage is rising daily, and mobile search is already dominating desktop searches.
What does all this mean for you? You should be targeting mobile users directly with your marketing campaigns. For example, running a Facebook ad with the "Call Now" feature will allow mobile users who see your ad to contact your firm with the tap of a finger.
You may also want to allow leads to opt-in for text messaging, which can be highly effective as a means of nurturing leads.
11. Co-Marketing
Co-marketing isn't new but it's something you may not have considered. Co-marketing involves teaming up with another company with the same target audience as yours to generate leads and business.
If you decide to try co-marketing, think about other companies that offer services your clients might use. For example, you might pair up with a law firm that does estate planning and create a piece of content aimed at people who need both an accountant and an estate attorney.
The content you create must serve potential clients by providing actionable information while also selling your services. When a lead completes your form and downloads the content, both you and your co-marketing partner will receive that lead's information. From there, it'll be up to each of you to nurture the lead and turn them into a paying client.
Of course, creating content together is only one form of co-marketing. You might also try co-sponsoring an event or guest blogging on each other's websites.
12. Viral Marketing for Accounting Firms Using Digital PR
Public relations allows you to elevate your company's profile with press releases and by building relationships with others in your industry and community. Digital PR takes the same principle, and applies it to your online marketing, allowing you to improve your website rank and gain visibility with your target audience.
The key to Digital PR is applying a combination of techniques to help people learn about your accounting firm. For example, one technique to try would be to build relationships with bloggers, online journalists, and influencers who might talk about your firm positively.
Digital PR may also include tactics to increase your media exposure. Sometimes, media exposure online may be as simple as a backlink in an industry publication or online newspaper. You might appear on an accounting podcast or an interview with the local news. Anything that raises your online profile can qualify as Digital PR.
13. Sponsor Events
Sponsoring events can help you attract new clients. While in-person events are often used to attract business, the events of 2020 and 2021 have given new importance to online events. Zoom conferences and meetings provide people with a way to gather and exchange ideas online.
The type of event you sponsor may depend upon your goals. For example, if you want to elevate your profile and connect with the community, you could sponsor a local charity event or fundraiser. If you wanted to partner with other businesses, you could host a conference focused on your city and state tax laws and business regulations.
The benefit is that your company name will appear on event invitations and signs. You'll be recognized as a sponsor and that can help to build your brand and increase your authority.
14. Host a Webinar: Offer a FREE Consultation or Tax Advice
Webinars are online classes that offer valuable information to the people in your target audience. Hosting one doesn't need to be time-consuming. Webinars can demonstrate your expertise and authority to the people who attend, increasing the likelihood that they'll use your services.
One way that accounting firms can leverage webinars to their advantage is by tying the webinar to the services they provide. For example, you could offer a free accounting consultation or some free tax advice. When you offer something free, you trigger a cognitive bias called reciprocity, which makes people feel an obligation of gratitude to you.
Webinars may be offered on your website and promoted on Facebook and other sites. Access to the webinar could be granted to people who complete your lead form.
15. Video Marketing for Accounting Firms
There's no denying that video is one of the most effective types of content for online marketing. Research shows that 84% of all consumers say they were convinced to buy a product or use a service after watching a video. Also, video is a favorite of marketers, 83% of whom say it has helped them generate new leads.
To use video content to your advantage, create videos about the topics and questions your audience is already searching for. If you know you're getting a lot of traffic from people wanting to understand tax deductions, then create a video that explains the most common ones and how to apply them.
Looking at your Google Analytics can help you identify the search terms that are being used to find your website. You can also look to your FAQ for inspiration since you'll have addressed the topics of most pressing concern to your clients.
Keep in mind that some video formats lend themselves well to explaining complex topics. For example, a whiteboard video can be useful for conveying complex information quickly.
16. Put Marketing Collateral in Public Places
Even non-digital techniques can help with your digital marketing. For example, placing marketing collateral, such as brochures or flyers, in public places can help people learn about your company and find your website.
Buying space on a billboard and featuring the URL of your website or your social media pages can also help people find you.
17. Join a Local Networking Group
Networking within the community is one of the best ways to get referrals and increase your brand recognition and profile. Local networking groups might include the following:
The local chamber of commerce
Professional associations
Community advisors
Fraternal organizations
Most local networking groups include business owners and professionals. These people can be a source of referrals and they may also be potential co-marketing partners. Keep in mind that both in-person and online groups have their advantages.
18. Support the Community
Accounting firms are local businesses and that means that your community is looking to you for support and leadership. By getting involved in local events and supporting local organizations and charities, you can increase your profile and improve your brand's image.
Community support can take many forms. For example, as mentioned earlier, you could sponsor a fundraiser for a local charity. You could operate a booth at a local event and answer questions for people. You could donate money to local causes or set up a scholarship for local children.
The best community support happens when a company identifies causes that it cares about and that are related to its services. Two examples would be providing financial management advice to new college graduates or retirement advice at the local senior center.
19. Get in the Newspaper
Print newspapers may not have the cache (or the circulation) they once did, but every local newspaper has an online edition. Consider contacting your local paper and volunteering to be a source for quotes on financial and tax matters in your community.
The benefit of this technique is that it allows you to get your name in front of the public and build brand recognition without dipping into your marketing budget. You can also build on the previous technique. When you support the community and get involved in local events, you increase the chances that your firm will be mentioned in the newspaper.
20. Grow Your Accounting Firm by Starting a Podcast
Podcasting is hugely popular. As of 2023, there are 100 million active podcast listeners in the United States, and 69% of listeners say they have learned about a new product or service from podcast ads.
You might wonder whether it makes sense to start a podcast with so much competition, but the truth is that people want information about accounting and podcasting is a straightforward way to give it to them. If you create an informative and entertaining podcast that answers key questions for your target audience, people will listen.
You'll need a good microphone and a quiet place to record, but many podcasters record using regular computers and little in the way of special equipment. The norm for most podcasts is one new episode per week and you can hire someone to write a script for you if that's your preference.
21. Start a Referral Program
Did you know that 92% of consumers trust a referral from someone they know over any other form of marketing? That number should be enough to convince you that starting a referral program is a worthwhile endeavor.
Referrals happen when one of your existing clients (or a business referral partner) directs someone they know to try your services. The key to creating a successful referral program is to incentivize people to refer clients to you and track referrals to see how the program is performing.
For accounting companies, the incentive might be a discounted fee or a free service such as a tax consultation. You'll need to instruct your staff to inform clients about the referral program. You may also decide to inform clients via an email campaign and provide them with a link to your online referral form.
22. Set Up an Online Learning Platform
Accounting services are necessary because people don't always know how to manage and make good decisions about their money. One of the best ways to provide immediate value to potential accounting clients is by setting up an online learning platform.
Online learning is more popular than ever. Busy professionals need an easy and convenient way to learn what they need to know about topics such as:
Filing taxes
Managing business finances
Estate planning
College savings
By creating a place where they can go to learn about topics like these, you demonstrate your value and expertise to the people who are most likely to become your clients. Even people who might not be in the market for an accountant when they use your online learning platform may remember that you provided them with valuable information and engage your services down the line.
23. Participate in Trade Exhibitions and Conferences
Many accounting firms specialize in helping businesses in chosen industries. When that is the case, it can be useful to attend and participate in trade exhibitions and conferences in those industries, especially when they happen locally.
For example, an accounting firm that works with farming businesses might participate in agricultural conferences. Attending and sponsoring a booth can help you learn about the concerns of people in the industry and introduce them to your services.
24. Create a Resources Page
Many times, when potential clients look for an accounting firm, they're looking for resources to help them manage their money. You can provide a lot of value by giving them what they need.
Resources may include:
Links to news articles
Links to government resources (IRS, state taxing agencies, etc.)
Links to blog posts
Downloadable resources (eBooks, whitepapers, etc.)
Calculators
Videos
Webinars
You can create a general resource page, but you also want to consider creating specialized pages. For example, in 2020, many accounting firms created resource pages to help their clients find information about COVID-19 tax and financial resources.
25. Giveaway Marketing
Giveaway marketing takes the simple idea that people love getting things for free and turns it into a way to generate leads. Running a social media contest or an email giveaway can help take someone hesitant about engaging your services and turn them into a paying client.
Some giveaways that might work for accountants include:
A free tax consultation or a review of a recent tax return
A free business consultation
A free estate planning consultation
A free college planning meeting
The giveaway should align with your marketing goals. For example, if your firm is targeting older clientele with high income, estate planning might be a good focus for your efforts.
26. Offer Free Tools and Templates
In the same vein of giving something away for free as a way of attracting leads, accounting firms should consider creating a collection of free tools and templates for potential clients to use. Free tools might include:
An income tax calculator
A tax return & refund estimator
A tax withholding estimator
These tools can be created quickly and easily, but the value they offer clients is far beyond what they cost you to create.
Templates can fill the same function. Some examples that you might offer if you're looking for more business clients include:
A sales invoice template
A timesheet template
A payslip template
Again, the templates will not take long to create, but by creating them, you're providing potential clients with a valuable resource they can use repeatedly, in addition to a reason to engage your services.
27. Direct Mail Marketing
Our focus here has mostly been on digital marketing, but that doesn't mean that you should eliminate offline marketing. Direct mail marketing can be extremely useful for accounting firms, particularly those who may be targeting older clients whose web use may be limited.
73% of American consumers say they prefer to receive marketing materials via direct mail because they can review any time. Direct mail marketing has a 29% ROI, which means you'll earn $1.29 for each $1 you spend.
You might choose to purchase a list of names and addresses in your service area and mail them a postcard or brochure highlighting your services and offering a free consultation. Once a lead has contacted you, you'll be able to meet with them and do the work necessary to convert them into paying clients.
Struggling with Account Firm Marketing? Let Us Help!
Digital marketing for accounting firms is essential to growing your business and attracting new clients. While digital marketing can be a complicated affair, remember that you can always hire a company that provides marketing services to help you.
When creating an internet marketing campaign that matters, you want somebody you can trust -- somebody who will only recommend what they believe will work and that is in your best interests. Working with a reputable marketing agency that specializes in internet marketing for accountants can make all the difference in your efforts and bottom line. While not everyone is going to be your client, Titan Web Agency can help you accomplish your marketing goals by working side by side with you to develop, plan, and implement your digital marketing strategy.
Start working with us today! Click here to schedule your free consultation.

About the Author
Tyson Downs, the owner of Titan Web Agency, has years of experience working with small businesses and helping them meet their revenue goals. Prior to starting Titan Web Agency, he freelanced in SEO and Web Design while working in the corporate world. Tyson is a graduate of Brigham Young University, the father of 5, and enjoys spending time with his family. Particularly on the baseball field.