5 Online Marketing Tips For Plastic Surgeons to Get More Patients
Doctors and especially plastic surgeons need online marketing to get new patients. Online marketing for plastic surgeons encompasses strategies such as social media, local SEO, and content marketing. While you probably already use some of these techniques, it's important for plastic surgeons to build out a full-fledged online marketing strategy in order to create a successful practice. Read on to learn 5 marketing ideas for plastic surgeons that, if followed, will allow you to increase your market-share and get more new patients through internet searches.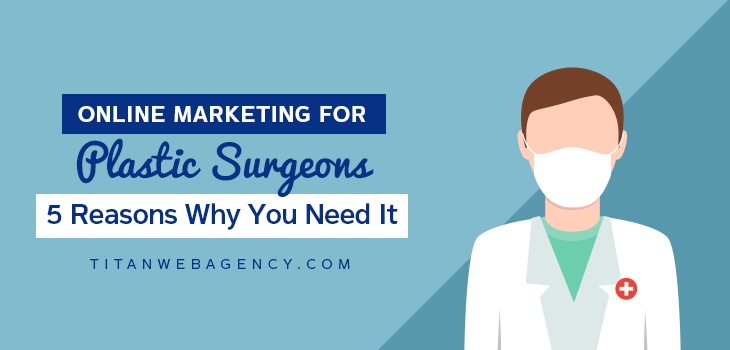 ---
Listen to this blog post:
1. Plastic surgery patients are searching for treatments online
Potential new patients are searching for plastic surgery treatments online, and you can capture their business if your practice is highly visible on search engines. Here are a few important statistics:
72% of adults have looked online for health information in the past year, and 77% of patients who book appointments used a search engine before booking the appointment. (source: HealthWorksCollective)
8 out of 10 online health queries start on a search engine like Google. (source: PewResearchCenter)
57% of plastic surgery patients look up plastic surgery information online (source: ModernAesthetics)
What is the Goal of Your Plastic Surgery Marketing Strategy?
It should be to develop a digital marketing plan that puts your practice in a prominent position in search engines, allowing interested patients to find you and book an appointment. For some plastic surgeon marketing ideas, check out this blog post: 23 Healthcare Marketing Strategies & Ideas to Help Attract More Patients.
2. The cosmetic surgery business is not so much referral-driven, but review-driven
Unlike some other industries, plastic surgery patients are less likely to find you as a result of referrals, and will instead probably find you as a result of independent research. With more people finding doctors online rather than from the recommendations of friends and family, your online reputation is more important than ever.
30% of internet users have referred to online reviews/rankings of healthcare providers and treatments (source: PewResearchCenter)
Among patients who book appointments, 26% use consumer-generated reviews to make their decision (source: HealthWorksCollective)
89% of people trust online reviews (source: ModernAesthetics)
Online reputation management is important because plastic surgery patients trust the reviews and experiences of other people online. (source: PewResearchCenter)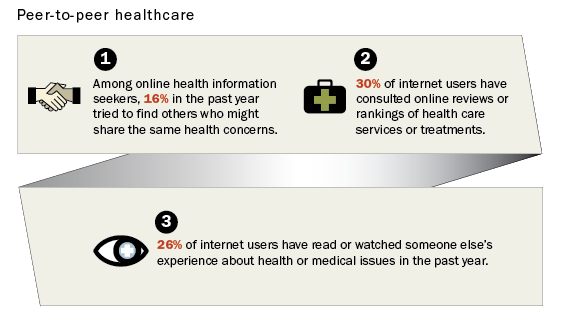 3. Plastic surgery patients want detailed information
Internet marketing allows you as a plastic surgeon to provide the detailed information potential patents are looking for. Deciding to get plastic surgery is a huge decision and most patients want to read detailed treatment descriptions and watch informational videos before pulling the trigger. By being a reputable source of online information on plastic surgery treatments, you can build the trust needed to book those appointments.
Marketing Tip for Plastic Surgeons:
Blog posts, photos, videos, and eBooks are all good ways to promote and share detailed information about your cosmetic surgery services. One study found that simply sharing photos on social media led to a 31% increase in requests for surgery.
4. Online marketing is important for branding
You can use online marketing to instill patient trust by communicating essential information about your healthcare brand. Keep in mind the following essentials to communicate on your website, as these are the top things that make patients trust your brand (source):
Has a good reputation (matters to 94% of patients)
Accepts the patient's healthcare plan (90%)
Recommended by another physician (86%)
Uses the latest technology (85%)
Marketing Tip for Plastic Surgeons:
Be sure to include patient testimonials and information about payments/the forms of insurance on your plastic surgery practice website to get patients comfortable with your brand. You should also have a professional healthcare logo designed so patients have a visual symbol to associate with your brand.
5. Plastic surgery online marketing reaches high-converting mobile patients
Marketing your plastic surgery practice online allows you to reach the high-converting mobile audience. Here are some important mobile statistics:
58% of U.S. adults own a smartphone (PewResearchCenter Health Fact Sheet)
44% of patients who researched hospitals online booked appointments (source: Google Think)
1 in 3 patients looking for health treatments online used their mobile devices daily to research treatments and book appointments (source: HealthWorksCollective)
Marketing Tip for Plastic Surgeons:
As plastic surgery patients are more likely to book an appointment with you if they find you on their mobile device, it's extremely important that your website renders well on multiple mobile devices. Learn more about the benefits of mobile-friendly website design.
---
Conclusion
Digital marketing is the best way plastic surgeons can drive traffic to their website and get more patients. If you need a plastic surgery marketing consultant, don't hesitate to contact us for a free, no-pressure assessment to see how your current marketing strategy stacks up with your competitors' and identify areas where you might want to make some improvements.

About the Author
Tyson Downs, the owner of Titan Web Agency, has years of experience working with small businesses and helping them meet their revenue goals. Prior to starting Titan Web Agency, he freelanced in SEO and Web Design while working in the corporate world. Tyson is a graduate of Brigham Young University, the father of 5, and enjoys spending time with his family. Particularly on the baseball field.