21 Questions to Ask Accounting & Bookkeeping Clients + Onboarding Checklist & Template
This post was originally published July 10, 2016 and extensively updated October 16, 2020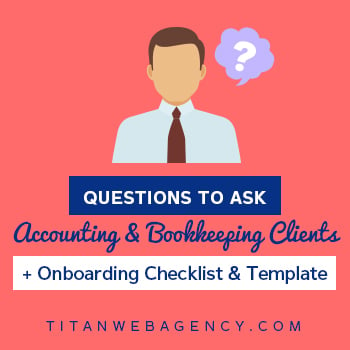 Attracting new clients and onboarding them properly is essential to the success of any accounting or bookkeeping firm. To increase profits, it's necessary to demonstrate your expertise and provide value to your clients.
One common problem with both lead nurturing and on-boarding is that there's too much talking and not enough listening. With the right questions, it's possible to collect the information you need to close the deal with prospective clients and demonstrate your value to new clients.
The better option is to ask some key accounting client questions and let the client do the talking. This method:
Helps you learn about their business and financial situation
Helps you identify ways you can help their business
Helps you demonstrate your knowledge and expertise
Most people enjoy talking about themselves. Asking open-ended questions can get potential clients thinking about the challenges and opportunities they face.
With that in mind, we have created this new accounting client questionnaire with 21 key questions to ask new accounting and bookkeeping clients.
Cover The Basic Accounting Client Questions
Your accounting firm's new client checklist should start by covering basic questions about your client and their business. The responses you get will help you understand what kind of relationship the potential client needs and wants with you.
1. What can you tell us about your business?
Before discussing anything else, you need to have an idea of what kind of business your prospective client has. Your new accounting client checklist should start with this open-ended question.
Allow the client to offer information without interruption. Then, move on to other fundamental questions that help you understand the essential elements of their business structure.
2. What is your business entity?
A client's business structure will affect every aspect of accounting and bookkeeping. Whether they're a Sole Proprietor, an LLC, an S-Corp, or a C-Corp, it's important to know. Their answer may suggest other questions that should be included in your accounting client on-boarding checklist template.
3. Do you have payroll?
Payroll challenges and mistakes are a common problem for businesses so your bookkeeper checklist for new clients must help you understand their payroll needs.
As their bookkeeper or accountant, you'll have to work with their accounting software, payroll schedule, and filing system. If they work with a third-party service, you'll need to work with their system.

This question shows your ability to adapt to the potential client's needs and demonstrates your experience with different accounting systems.
4. Do you have inventory?
Inventory management and accounting must be included in your new client questionnaire. Accounting for inventory requires special expertise. Follow-up questions may include:
How much inventory do you have?
Is inventory listed on your balance sheet?
Are you counting inventory as an expense or an asset?
Asking about inventory during your client onboarding process also reminds you to speak to them about their inventory management needs again down the road.
5. How many accounts do you have?
This client question helps you understand what workload you will undertake as their new dental accountant. It also demonstrates to your potential client that you're thorough and professional when assessing your prospects.
The client will probably tell you about their business checking and savings accounts, and maybe a few credit card accounts. More likely than not, they also have a PayPal account, bank loans, equipment leases, and other accounts that will need to be reconciled. You'll need to have a handle on their accounts payable and receivable, so you can work with their account and bank statements to ultimately help their small business flourish.
6. Are your tax returns current?
You should probably ask for a sizeable retainer before taking on a client who is years behind on their taxes. But regardless of the retainer, knowing the answer to this accounting prospect question can help you offer value. As an accountant, you know the steps to determine exactly what they owe and how to avoid problems in the future.
7. Do you report sales tax?
Sales tax reporting is another major undertaking that an accountant can help with. Dig into the question to learn more about how you can meet their needs:
Do they file monthly, quarterly, or annually?
Are their filings up to date?
Have they ever had a sales tax audit?
In addition to their financial statements, you can help them keep track of their capital asset activity, vehicle log, and other important documents for reporting sales tax. Also, make them aware of certain deductions they might qualify for, such as mortgage interest and home office expenses.
8. Do you have any plans to expand or scale back operations?
When it comes to financial services, 'financial advisor' receives a whopping 1 million annual searches. So, it's great news if your potential client realizes your value as both an accountant and a financial advisor.

Image via InvestmentPal
If your potential client has plans to expand or scale back operations, you can put yourself in a position to help by:
Providing key financial reports for decision making
Performing gain and loss forecasts for future projects
Offering suggestions based on your experience working with similar businesses
Use their answer to determine unique ways you can help their business grow.

Dig Into Their Challenges
Once the basic business accounting client questions are out of the way, let things become more personal to engage them even further. Digging into their business challenges -- the problems that keep them up at night -- will help you build rapport and find more ways to provide value and deliver the results they want.
9. How do you define success?
This question can be a great ice-breaker that leads to a more informal discussion of their goals, ideals, and challenges. It also shows your potential client that you care about them and won't see them as a series of numbers.
Adding this question to your accounting and bookkeeping checklist will help you build a personal connection and make you more memorable than other accountants who just stick to the basics.
10. What's one thing about your business you're most proud of?
An accounting prospect question like this can launch your potential client into a story that they think fondly of, which helps build rapport during the client onboarding process.
At the same time, the answer can lead to more constructive questions about their workforce, operations, or legacy planning. Focus on their strengths and how you can help their business capitalize on them with your services.
11. If you could solve one challenge, what would it be?
According to Robert Half's Finance & Accounting survey, there is nothing accountants love more about their jobs than solving problems. It would be a mistake to complete your accountants' checklist for new clients without asking about problem-solving.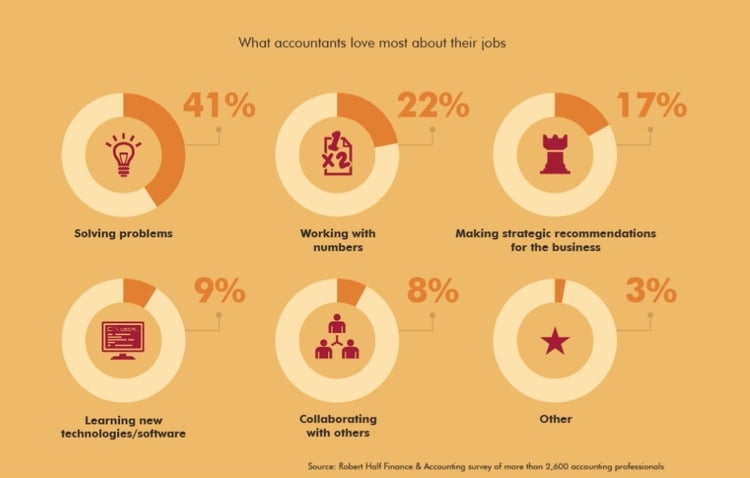 Image via Robert Half
Learning what challenge is the most troubling for them can help you brainstorm actionable ways to work towards a solution through your role as an accountant.
Your prospective client might be surprised by what resources, services, and tools you have available to help them with a wide variety of business issues.
12. How is your workforce performing?
In your accounting questionnaire for clients, it's essential to ask if their business is suffering from any wage or benefits issues. Examples might include union negotiations, labor disputes, or potential minimum wage increases.
This accounting client question is necessary when building an understanding of their business landscape. Also, it allows you to offer suggestions (e.g. workforce development programs, low-cost training) for challenges they are facing with their workforce.
13. Are you having any regulatory challenges?
It's more than likely your potential client faces some regulatory challenges at the city, county, or state level. Your firm could have resources or contacts that can aid in solving these issues and including this question in your checklist can help determine your client's needs.
14. What is your debt-to-equity situation?
Few people realize that a good accountant can help them manage debt as well. If your potential client has debt, let them know you can help them negotiate with creditors and develop a plan to reduce it.
You can help them:
Find more attractive bank terms
Identify excess business cash to pay down debt
Identify changes the company can make to qualify for tax benefits
Including this question on your new bookkeeping client checklist can help you understand their debt situation and provide the guidance they need to improve it.
15. How have your investment and retirement portfolios performed relative to the market?
Investment and retirement portfolio performance is another issue that should be on your client onboarding checklist. Based on the client's answer, explain how you can:
Monitor investment performance against relevant benchmarks
Make suggestions for investment in qualified and non-qualified plans
Help them understand the impact of taxation on portfolio value
Investment guidance may not be something your prospects and new clients think you can offer, so they may be pleasantly surprised to find that this is another area where you can help them and their employees.
Set Yourself Apart
These last few additions to your new accounting client questionnaire are questions a bookkeeper should ask a client, too. They present an opportunity to set yourself apart from other accounting or bookkeeping firms the client may be considering, as well as from other firms they may have previously worked with.
16. Are you up-to-date on changes in local tax laws?
Tax laws change frequently and few business owners can keep up with it all. So based on that, this question should be on your new client questionnaire. Bookkeeping firms need to be aware of how their clients handle their taxes since they can impact every aspect of bookkeeping.
If you know of any recent changes in tax legislation that could affect your potential client, ask them about it. Pointing out their lack of knowledge can ultimately serve to make your firm even more valuable.
17. How do you think we can add value to your company?
According to an Accountemps survey, two of the most common misconceptions about accountants is that they only do taxes and only focus on crunching numbers.
Image via Robert Half
Asking your potential client how they think you can add value to their company will help you understand which misconceptions they might have about your role.
If their response is related to crunching numbers and doing taxes, then you have work to do explaining the pivotal role you can play in the growth and success of their business.
18. Are you interested in cross-referral opportunities?
Add this to your accounting or bookkeeping onboarding checklist to create an environment of mutual success and assistance.
Any small business may be a referral source. You may have contacts that can help them grow their business and help them network for selling, buying, potential business partnerships, and more.
19. Why are you changing firms?
Knowing your potential client's motivating factors behind changing accountants could be the most important piece of information you need to ensure your firm meets the client's expectations. The client onboarding template is the perfect place to find out what you need to know.
Maybe the incumbent firm had limitations in their services (e.g. handling international locations) or maybe it was a service-level issue (e.g. they were unresponsive or didn't do a good job with financial statements or helping them improve cash flow).
Get to the bottom of the problem to know how your firm can help. This will also show that you care about their happiness and satisfaction and that you intend to deliver top-notch service.
20. Can you name a few strengths your previous firm has?
Dig deeper into your potential client's relationship with their previous firm. By adding this question to your bookkeeping checklist, you'll demonstrate your determination to deliver the best service possible by learning what the client liked about their old bookkeeper accountant.
Maybe they created helpful visual data presentations to help them understand their portfolio value or financial reports. You can pick up on these strengths in your work as well.
21. How could your former firm have improved their service?
For many, finances are the driving force behind seeking a new bookkeeper or accountant. If that's the case, you can get more information about how to meet their needs by digging into the nuances of the client's
If this accounting client question doesn't draw a strong criticism out of your potential client, then follow it up with this one: Was there anything your previous firm did that bothered you?
The Takeaway
If you want to show your value to a prospective client, your accounting or bookkeeping checklist for clients should involve breaking down preconceived notions about your role and demonstrating all the different ways you can help them and their business.
Having an engaged conversation with a prospect or new client is always going to be preferable when you want to educate them about your bookkeeping services and give them information about what you can do to facilitate their company's growth and success.
---
Conclusion
Use these 21 questions as an accounting bookkeeping checklist template to start productive conversations and get more clients. If you're an accounting firm looking to enhance your client acquisition, Titan Web Agency offers specialized marketing for accounting firms to help you stand out from the competition.
Know of any other accounting or bookkeeping client questions that can help firms show their value to prospective clients? Comment below.
Get More Clients
6 Part Video Course Shows You How to Get More New Clients for Your CPA Firm
About the Author
Tyson Downs is the founder of Titan Web Agency, a company specializing in marketing for dental professionals. With an impressive track record of working with over 100 dental practices, Tyson has a deep understanding of the unique marketing needs within the dental industry. His expertise has helped numerous dental practices flourish by meeting and surpassing their revenue goals and established him as a thought leader in healthcare marketing. His insights and strategies have been featured in esteemed dental publications, including the American Dental Association and the American Academy of Implant Dentistry. Before dedicating his career to helping dental professionals thrive through effective marketing, Tyson honed his skills in SEO and web design as a freelancer, while also gaining valuable experience in the corporate sector. As an alumnus of Brigham Young University, he brings a strong educational background to his entrepreneurial endeavors. Outside of his professional life, Tyson is a devoted father of five, who cherishes time spent with his family, especially when they're all enjoying America's pastime on the baseball field.