4 Reasons You Need to Migrate Your Site to SSL (and Need to Do It Now)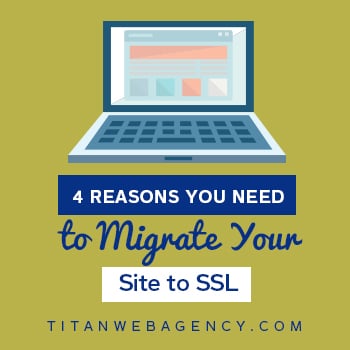 Your dental practice's brand and reputation depend on having a strong and credible web presence. Your website is the hub. It's where most people will find you online.
A lot of what we do at Titan Web Agency relates to making our clients' websites as informative, user-friendly, and trustworthy as possible. Part of that involves making their sites secure using SSL technology.
What is SSL? Why do you need to migrate your site to SSL – and why is there such a rush? In this post, we'll answer these questions and explain the X reasons for migrating your site to SSL now.
What is SSL?
Secure Sockets Layer, or SSL, is the most commonly-used security technology for web encryption. It works by establishing an encrypted link between your website (or technically, the web server hosting your site) and a browser.
The reason you need an encrypted link is that having one ensures that any data that passes between your server and an internet browser is private. Any data that's not encrypted is vulnerable to an attack or theft.
SSL technology is not new. For years, websites that collect personal data – including credit card numbers and medical information – have used it to protect themselves and their clients' data.
While SSL is the best-known version of encryption technology, you may also read about something called TLS. It's a newer version of encryption technology. But, because people are more familiar with SSL, many people still refer to any encryption certificate as an SSL certificate.
SSL and TLS use different encryption technology, but they both serve the same purpose. Their job is to protect your data.
Types of SSL Certificates
Establishing an SSL connection is easy. To do it, you need an SSL certificate. Certificates are widely available and come in three different types. Here they are:
Domain validated SSL certificates are the simplest form of SSL. This certificate verifies that your domain is registered. It also proves that an administrator controls your URL.
Organization validated SSL certificates verify the same things as the domain validated SSL certificate. But, they also verify that you own your organization in a particular state, city, and county.
Extended validation SSL certificates verify everything that domain validated and organization validated certificates do. However, they also add verification that your practice is registered as a business.
Each of the three types of SSL certificate we've listed here is available on two different levels. They are:
Single name and wildcard SSLs provided limited security. A single name SSL will protect only one subdomain of your URL. Wildcard SSLs can protect multiple subdomains as well as your primary domain.
Multi-domain SSL certificates provide encryption to multiple domain names.
If you only have a single domain name, as is common for dental practices, then you won't need to worry about buying a multi-domain SSL.
The security level you choose will depend on several factors. If you collect patient data or allow patients to log in to view their records, you should have the most robust encryption possible. The same is true if patients can pay for dental services on your website.
In other words, if you collect any kind of sensitive information on behalf of your patients or make that information available to them via your website, then you'll need to protect your site as rigorously as possible.
Why Should You Get an SSL Certificate for Your Website?
Now, let's talk about some of the reasons that you need to get an SSL certificate for your dental practice's website.
1. Build Trust with Your Patients
The first reason that you should migrate your site to SSL is that it will build trust with your patients. If you expect patients to share their data with you and hand over their credit card information, you need to reassure them that you'll safeguard their information.
In the aftermath of significant security breaches like the one that occurred at Equifax, it's easy to see why protecting your patients' data should be a priority.
New patients may check to ensure that you've protected your website with encryption. If they see that you haven't, they might decide to visit another practice that does.
2. Data Breaches Are Costly
Secure encryption via an SSL certification will reassure your patients, but it can also have a direct impact on your bottom line.
The 2017 Cost of Data Breach Study revealed that, on average, data breaches cost companies $141 per record stolen.
That means that if your practice has 200 patients, a single breach of your website could cost you more than $28,000 dollars. It might cost more than that in the long run if it causes your patients to mistrust you.
From a financial standpoint, it's clearly preferable to spend a few dollars to migrate your site to SSL than to pay thousands of dollars to recover after a breach.
3. Google Prioritizes Sites with SSL Encryption
Failing to migrate your site to SSL can hurt your standing with Google. In fact, if most dental practices in your area use SSL and you don't, you might drop to the bottom of your local search results page.
As of 2014, Google announced that security was a ranking factor. Google keeps the details of its ranking algorithm close to the vest. They announce factors and changes only when they are very important.
Their announcement about security read, in part:
Security is a top priority for Google. We invest a lot in making sure that our services use industry-leading security, like strong HTTPS encryption by default. That means that people using Search, Gmail and Google Drive, for example, automatically have a secure connection to Google.
That was four years ago. In the time since, Google's commitment to SSL and security has increased. Your site will be less visible, and your ads less effective, if you don't have an SSL certificate for your website.
4. Google Chrome Flags Sites That Don't Use SSL as Not Secure
Google followed up on their 2014 announcement about security in 2016. They released a statement saying that, starting in July of 2018, they would flag unencrypted sites by displaying the words "Not Secure" in the navigation bar.
By contrast, sites that use encryption are marked with a lock icon. The icon is something that sends a signal to users that the site is safe. They can share personal and financial information with confidence because they know that the owner of the site is taking precautions to protect it.
In practical terms, this means that a new visitor to your site might look at the navigation bar, notice that your site is not secure, and hit the back button to find a dentist in the area who's more concerned about web security than you are.
If you're not sure whether your site uses SSL, you can check by opening Google Chrome and typing in your URL. If you see the words "Not Secure" next to your URL, you have not yet installed an SSL certificate on your site.
Why You Need to Migrate to SSL Now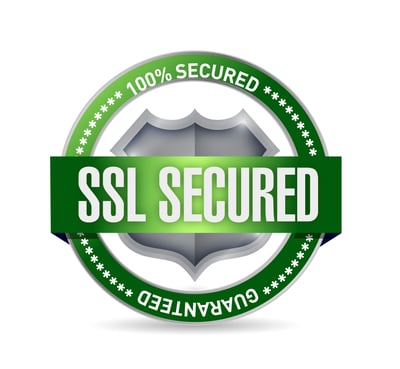 Perhaps you don't allow patients to pay online or access their records. Or, maybe you do but you still aren't sure that installing an SSL certificate needs to be a priority for you. Here are some reasons that it does.
First, your site is already being affected by Google's use of security as a ranking factor. That means that you could potentially be losing out on opportunities to acquire new patients because your practice's website is not appearing near the top of Google's list of search results when they search for a local dentist.
Second, even if patients do find your site, you may still lose them when they notice that your site is not secure. After all, nobody wants to provide personal data to a company that fails to protect its website with encryption.
Third, and in many ways most importantly, if your site is unprotected, it is vulnerable to data breaches. That means that you and your patients could be targeted at any time. If your data isn't properly encrypted, then your data could be stolen and used to steal from you or your patients.
For these reasons, it's essential that you take the steps necessary to migrate your site to SSL now. It's a simple procedure. By doing it, you'll be sending a clear signal to your current and potential patients that you value their privacy and will work to protect it.
As a bonus, you'll also increase the chances that you'll be able to grow your practice and attract new patients.
Conclusion
Migrating your current website to SSL is an essential step to take – and it's a step you should take as soon as possible. The process of migration is a relatively simple one and when it's done, all you'll need to do is update your SSL certificate regularly to keep it active.
Need help migrating your site to SSL? Click here to learn about Titan Web Agency's web design services for dentists, which include SSL encryption and security.
About the Author
Tyson Downs, the owner of Titan Web Agency, has years of experience working with small businesses and helping them meet their revenue goals. Prior to starting Titan Web Agency, he freelanced in SEO and Web Design while working in the corporate world. Tyson is a graduate of Brigham Young University, the father of 5, and enjoys spending time with his family. Particularly on the baseball field.