SEO Versus Content Marketing For Doctors: Which Is Better?
Over the last few years, there has been a lot of confusion over content marketing and local SEO.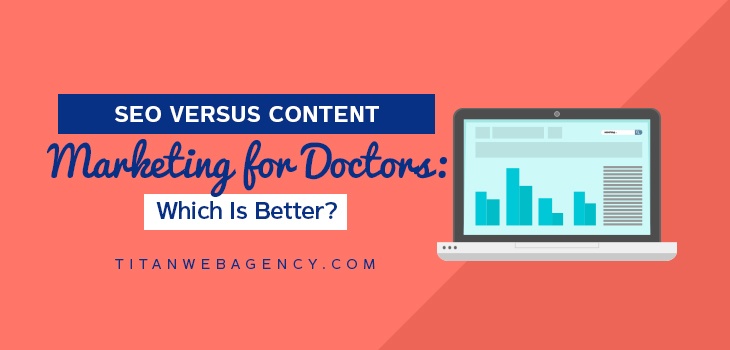 What is More Effective? Content Marketing or SEO?
People often want to know which of these marketing methods are better.
Some of the comment questions we get include:
Should you focus on one or both?
Is there a way to integrate their functions?
How do SEO and content marking work together?
Most people assume that content marketing and SEO are two different ways of marketing online and that you must focus on one or the other. But, that's not necessarily correct. You can integrate both strategies into your long-term marking plan. Read on to find out how.
What is the difference between SEO & Content Marketing for Doctors?

SEO and content marketing fit together well, and combining them will exponentially improve your marketing efforts.
Yes, there are differences. SEO and content marketing are two different strategies.
SEO for doctors is more technical and has a narrow focus
Content marketing is more holistic and has a broad focus
Though they are different, they both work towards the same purpose. By combining SEO and content marketing, you can boost the impact of your online marketing.

Consider using aspects of both techniques in your marketing strategy. You may want to apply SEO in a broad manner to channel its technical abilities to fit your content marketing plan or boost your content marketing efforts by applying more narrow-focused SEO techniques.
Just remember, both techniques work towards attracting traffic to your website. SEO does this by trying to increase organic search traffic using keywords. Content marketing drives traffic by creating and spreading your content across the Internet, and when done effectively, it increases rankings of specific keywords as well.
Here are some ways in which content marketing and SEO overlap in their marketing efforts.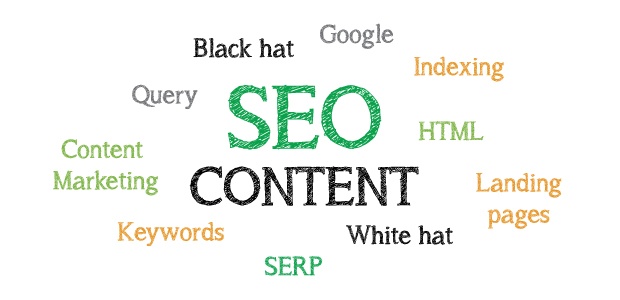 1. Content is a Fundamental Requirement
Content is the basic foundation for your online marketing strategy. There is no SEO without content. You need to use keywords and these need to be used in articles or in website copy.
In the past, businesses could simply create average 500-word articles and use target keywords. Nowadays, Google has gotten smarter, more complex, and more intuitive. Now, more than ever, the focus is on quality content as opposed to quantity.
2. Keywords Matter
SEO, typically has a greater focus on keywords. Content marketing (writing) uses keywords.
Everyone remembers how important keywords were in past marketing strategies. You could get away with throwing them all over website: under images, behind images, in copy, in the meta description, etc.
Everything changed when search engines got smarter about keyword spamming, leading many to question the use of keywords at all.
But don't fall victim to the the latest "keywords don't matter" garbage.
They do!
The only way to attract and rank organic search traffic to your website is by researching and utilizing the relevant keywords for your niche. Just remember that you can no longer get away with shortcuts such as keyword stuffing.
So, what is the solution?
Content marketing.
The only way to use your keywords strategically is by creating top-notch content that is valuable and written specifically for your readers. Focus on creating great content integrating the keywords you've highlighted.
3.Don't Forget the Backlinks
Keep in mind that you need good-quality backlinks to improve your search engine ranking. Previously, you'd buy spam backlinks from low-quality websites, but this is no longer possible. Search engines will penalize you for buying or even creating links through spam forums or comment sections.
To keep your search engine ranking high, create awesome content that people want to link to. Natural, organic links that come from reputable websites will help boost your site.
SEO and content marketing work hand-in-hand because the only way to get these valuable backlinks is by improving the quality of your content.
How to Combine your SEO and Content Marketing Efforts
Now that we've covered that SEO and content marketing needs to be used in conjunction with each other, let's explore how you can do this for your own business.
1. Don't Compromise on Your Content Quality

We've discussed this before, but it's a point that is often ignored. Gone are the days when you could rewrite content using spinners and link these articles to blogs and other blog directories.
Google wants to focus on providing valuable content to search engine users. This means you need to be providing valuable content on your website if you want to get ranked higher than your competitors.
What is valuable content?
When someone searches for "what are symptoms of XYZ disease", and then end up on your website, they want their question to be answered by the content that you provide.
Here are some traits that your content should have to be deemed valuable:
It has to address the question in full. You may want to explain a specific disease, how it spreads and what the symptoms are.
Readers want to see that the content is backed by facts. Use research and statistics in your long-form content to back up the claims you make.
Include images or videos that explain the answer properly.
Basically, you want the reader to get all the information they need through the content you create. This builds trust and increases the likelihood of future contact.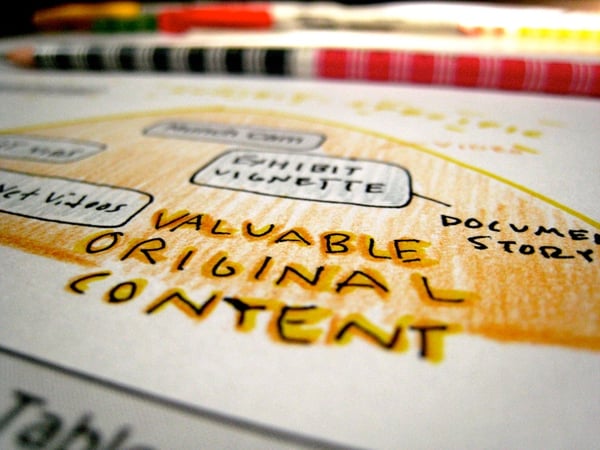 2. Don't Forget to Research Keywords
If we haven't gotten this through to you yet, content marketing and SEO work together. This means you still need to consider keywords when creating your content.
You can create good content without focusing on keywords, but it will not rank very well on search engines. Your content needs to match the terms people are using to search online.
Remember that potential patients will not be searching using highly technical terms. In fact, they'll be using the simplest form of language and will sometimes be confused about what they are looking for. Focus on long-tail keywords that address concerns and can help you create content that provides answers to their questions.
3. Use Internal Linking
We've talked about building backlinks, and if you're creating valuable content these should come about naturally over time. However, you should also be focused on creating internal links.
Internal links connect the reader to another page on your website that features content. These interconnections create an internal link.
As an example, consider a blog post about ways to stay healthy during the holidays. You may want to link this blog post to pages that explain potential medical issues that can come up, or previous blog posts you have written that may help the reader better understand the topic.
Internal linking helps your readers get more information on the topic they are interested in. It can also potentially help your Google search engine ranking because it shows the search engines that specific pages are related to each other, organizing your site a bit, and making it easier for the search engines to 'crawl'.
4. Track the Right Analytics
Many businesses make the mistake of putting a lot of effort into online marketing, but they don't track their return on investment. What is the point of investing time and money into a marketing initiative without tracking the return you are getting from that investment?
Be sure to track your search engine rankings regularly. While you won't see an improvement overnight, you will see an upward trend if you're approaching the combination of SEO and content marketing properly.
Look at bounce rates for your website. These show you how quickly someone navigates away from your website. While the reason for this can also be slow loading times and poor website design, the biggest culprit is usually content that provides no value.
A potential patient who lands on your page and instantly sees a short post that offers no value will move on to another website that does provide them with the information they need.
5. Focus on Great Headlines
Headlines are one place you can focus on your keywords, but at the same time, the headline needs to be written for people so they'll want to read the article and share it.
Headlines should be descriptive, enticing, and shareable. Avoid click-bait: headlines that promise something but the content that fails to deliver.
For example, "Here's how you can lose 20 pounds in 10 days" is definitely going to tempt people to click for more information. But, what content are you going to provide to back it up? Don't forget the bounce rate we mentioned. If people keep coming to your website and instantly navigating away, this can potentially impact your rankings.
An awesome tool that we like to use at Titan Web Agency is Co Schedule's Headline Analyzer.
We ran this blog post headline through their analyzer, and below is what it spit out.

---
Conclusion
For doctors or any other healthcare professional, combining your SEO and content marketing efforts can pack a one-two punch to keep your business competitive in a challenging market. Focus on providing value to your potential patients through your content and your website, and you'll reap the rewards that a solid online marketing plan can bring.
There is an increased time investment in this strategy, so consider outsourcing part or all of your online marketing efforts so you can focus on what's important – your patients.
About the Author
Tyson Downs, the owner of Titan Web Agency, has years of experience working with small businesses and helping them meet their revenue goals. Prior to starting Titan Web Agency, he freelanced in SEO and Web Design while working in the corporate world. Tyson is a graduate of Brigham Young University, the father of 5, and enjoys spending time with his family. Particularly on the baseball field.