A Blog for Dentists & Other Healthcare Professionals
How Can I Find A Dental SEO Company I Can Trust?
Are you wondering how you can hire the right dental SEO company that you can trust? In this blog post we'll discuss what you need to look for when hiring an internet marketing company for your dental practice.
Dentistry is a highly competitive business, (as I'm sure you know!) and in order for your practice to thrive, you need to market your practice online. SEO (search engine optimization) is a big part of online dental advertising, and one you can't neglect as a dentist in today's industry. However, it can be difficult to find a reputable dental digital marketing company, as there are a lot of shady SEO and web design agencies out there looking to make a quick buck from unsuspecting dentists.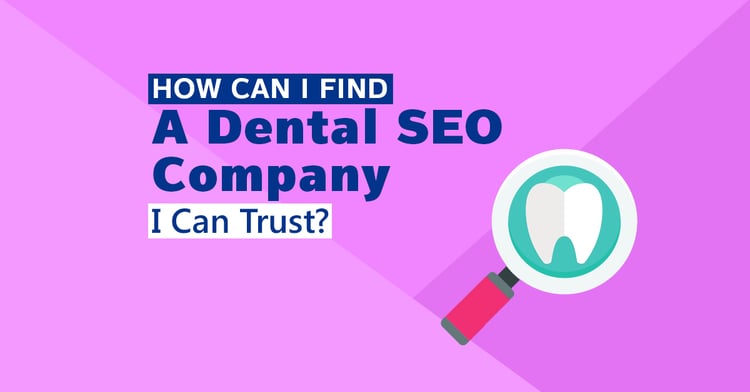 Fortunately, it's possible to avoid untrustworthy & just plain bad SEO agencies if you educate yourself and take the right precautions, and our dental SEO company has written a lot of useful resources to help you protect yourself from bad SEO companies and SEO scams. In this article, I'll give an overview of the 3 main things you need to do to find the top dental SEO company, one that you can trust, and also refer you to additional resources for further reference.
1. Ask The Right Questions
When interviewing a prospective company, you'll want to ask them certain questions to help make sure they are reputable and qualified. Here are some important things to ask a dental SEO agency you're considering hiring.
If you ask the right questions, you can cut through the disguises of disgustingly bad dental SEO companies.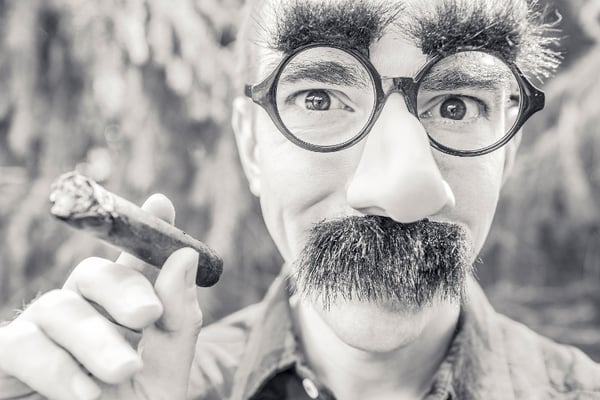 1. Can they guarantee rankings on the first page of search engine results?
The answer to this question should actually be NO. There is no way to ethically guarantee first-page rankings, and agencies that claim they can do so are either lying or using shady means of achieving these rankings.
2. How do they stay on top of search engine algorithm changes?
SEO is a fast-changing field and a good Internet marketing agency will be able to tell you exactly how they stay on top of important industry changes and best practices.
3. How often will they send you reports?
An experienced company will send you frequent reports detailing what they're doing for you and how your search engine results are improving as a result. They should send you reports at least once a month.
4. What SEO tools do they use?
The company you hire should be upfront about how they will expand your online footprint. Will they use content marketing? Social media? What about web analytics and local SEO tools like Ahrefs and Bright Local? The agency should explain what they do thoroughly and in language you can understand.
5. How have your SEO strategies changed over the years?

You can learn more questions you should ask a prospective SEO agency in our above-mentioned article, and also brush up on some basic online marketing definitions to gain a better understanding of the techniques they would use to market your practice.
2. Look Out for These Red Flags of Bad Dental SEO
In addition to guaranteeing first-page rankings, there are several other warning signs of a bad SEO company. Here are some more red flags to look out for when considering a prospective provider.
Focusing on quantity (number of backlinks, articles, etc.) rather than quality
Using only one or two SEO strategies (e.g., just PPC and blogging)
Not being able to answer your questions
Not wanting to provide any details about their methods
Offering "keyword packages" (promising rankings on X number of keywords for X amount of money)
Claims or prices that sound too good to be true
Difficult to get ahold of or bad customer service in general
They don't run an audit of your current online presence/SEO efforts to identify the strengths and weaknesses
They don't

ask you about your goals

(which might be to increase traffic to your website, improve SERP visibility, minimize the effects of bad reviews, etc.)

They can't provide

testimonials or a portfolio of their work or case studies (portfolios are especially important if you're also buying web design services)
A good dental SEO/dental web design company will be able to show you a portfolio with examples of their good work.
Perhaps by showing some dental websites properly optimized for search: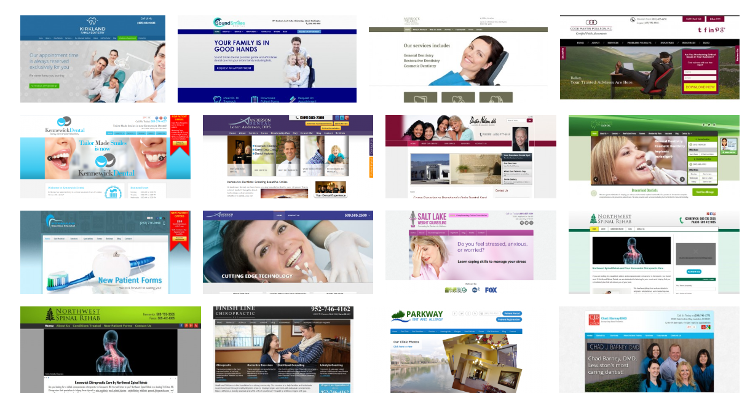 Or perhaps they will show you some of the SEO results they are capable of obtaining: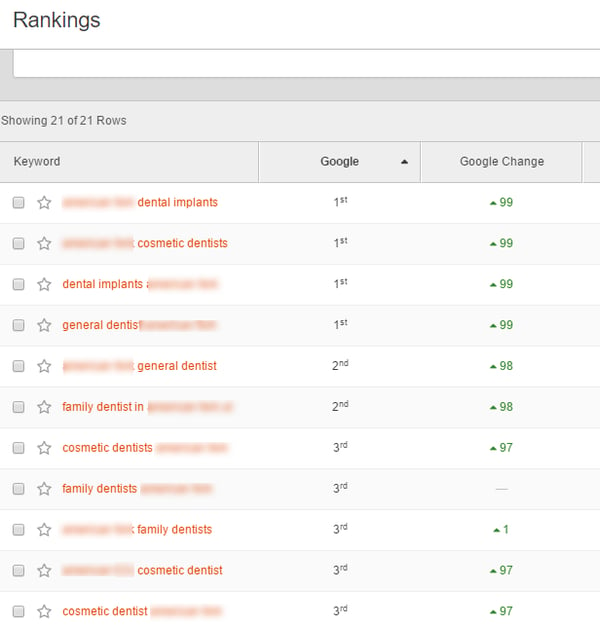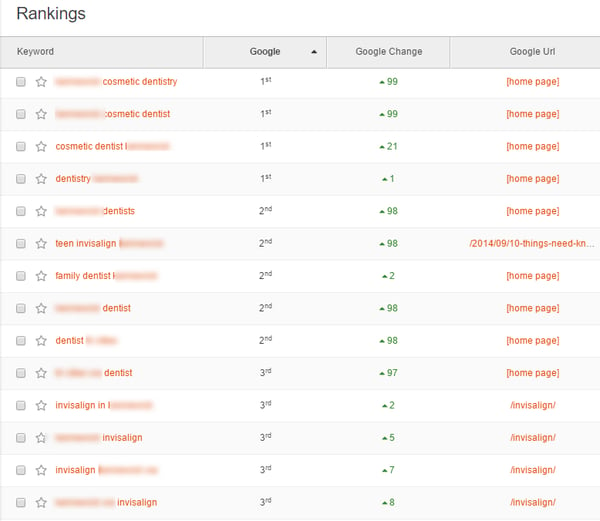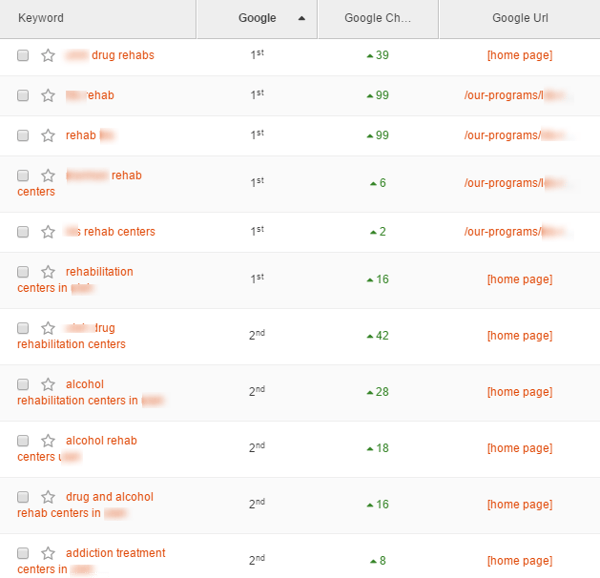 Companies that have these red flags likely use shady SEO strategies (keyword stuffing, spinning or plagiarizing content), which will cause Google to penalize your website, making your SEO rankings even worse than before you started paying for SEO!
3. Know What You Should Pay for Dental SEO
The exact amount you should pay for SEO for a dentist office will range depending on your area and the exact services you need to meet your goals — for example, do you need only SEO services or web design services as well? Though there's no one-size-fits-all number that everyone should pay, it's important that you have a rough idea of what is an appropriate range. This helps you weed out companies whose pricing is suspiciously cheap or way overpriced.
Before hiring, you will want to set a budget based on your goals and interview multiple SEO companies in your area so that you get a range of the going rate in your area.
To give you a quick-and-dirty range of how much of your hard-earned money you should invest in dental marketing, you might expect to spend from somewhere around $1,000 to $3,000/month for ongoing SEO services. For more a more detailed look at this subject, check out our article How Much Should a Dentist Spend on Marketing?
---
Conclusion
To hire a dental SEO company you can trust, you need to do your due diligence. You need to ask the prospective agency the right questions and be on the look out for red flags of shady companies that just want your money. You also need to make sure you don't agree to pay too much — or too little — for what you're getting. You can also pick up the free guide we've put together by clicking on the button below.

About the Author
Tyson Downs, the owner of Titan Web Agency, has years of experience working with small businesses and helping them meet their revenue goals. Prior to starting Titan Web Agency, he freelanced in SEO and Web Design while working in the corporate world. Tyson is a graduate of Brigham Young University, the father of 5, and enjoys spending time with his family. Particularly on the baseball field.