A Blog for Dentists & Other Healthcare Professionals
9 Dental Marketing Strategies You Need to Be Using
What is the most effective way to market your newly started dental practice? How can you reach the most potential patients?
---
Listen to this blog post: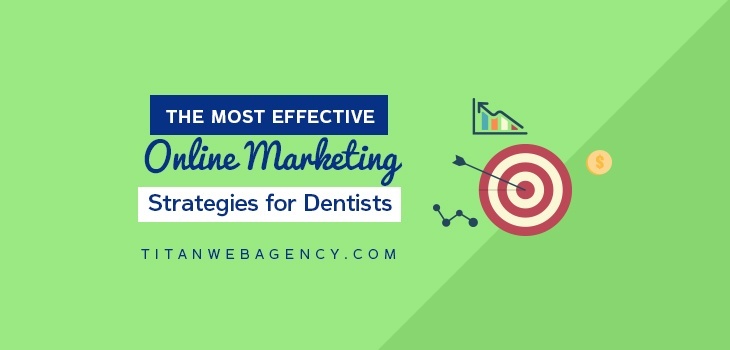 The answers to these questions are not simple.
In fact, you need to develop a diversified marketing strategy that includes multiple solutions. Balancing these solutions allows you to make the most of your marketing budget.

Developing a successful online marketing strategy isn't easy, and there are a lot of different factors to consider. If you are trying to build your dental practice, then you'll want to get started with the most effective online marketing strategies for dentists.
Read on, and let us know in the comments what methods have been most effective for you.

1. Social Media Marketing
Social media marketing can be a great way to market, BUT, it can also be a very dangerous way to market as well.
Why?
You have to know what you are doing.
If done incorrectly, you will spend thousands of dollars and get absolutely nothing in return.
That said, local businesses, including dental practices, have found that advertising on social media and increasing social media activity can help attract new customers.
There are two main aspects of social media marketing, including social media advertising and the curation of content.
Did you know that Facebook is the third most visited site on the internet? This makes it a great spot for advertising your dental practice. Facebook has their own advertising network, which works similarly to other PPC (pay-per-click) networks.
You can advertise your page to get more 'Likes' and get in front of more potential visitors, or you can advertise a special or promo on Facebook to drive calls into your practice. You can also 'boost' a blog post or any other post to drive traffic to your website.
Boosting a post gets it seen by more people (which you pretty much need these day's because Facebook doesn't show your posts to very many people that actually 'Like' your practice's business page).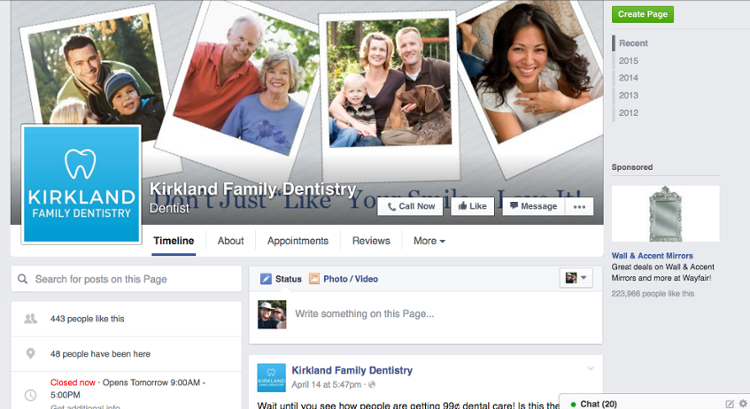 Along with advertising on social media, you also have the option to curate content. Instead of simply sharing updates about your dental practice, the addition of new staff, and other inter-office news, you can share beneficial information that pertains directly to your patient.
For example, you can share links to information that your patients may find useful. This could include links to blog posts on your website or from other sites.
We recommend that your social media marketing campaign should include a combination of posts related to your own content and content from other sources.
The goal is to be seen as helpful, and a 'go-to' source for information.
Not as somebody who is constantly pitching their services.
2. Search Engine Optimization
Search engine optimization for dentists (SEO) is a form of online marketing that is intended to increase the rankings of your web pages in search engine results.
For local businesses, such as dental practices, the local search results are the primary method of attracting new customers.
The majority of internet users rely on search engines for finding local businesses.
When a person has a toothache or a dental emergency and needs to locate a dentist, they will most likely perform a search on Google or another popular search engine. 33% of search engine traffic goes to the top result and 18% goes to the second result.
This means that about half of all search engine traffic goes to the top two results!
Depending on the level of competition that you face, it may take a while to reach the top two positions for your target keywords.
It's important to understand that SEO is a 'long term play'.
Sure, you may get some quick results, but it usually doesn't happen like that.
It takes the search engines a bit to notice what you are doing, and to take it into account and have it influence the rankings in the search results.
3. Email Marketing
Email marketing is often overlooked by small businesses that are unfamiliar with online marketing. Yet, it is one of the most effective ways to build customer loyalty. For a dental practice, email marketing may not help you attract a lot of new patients, but it can help you keep your existing patients coming back.
As part of your email marketing campaign, you could send out monthly newsletters or inform your patients about new offers or promotions. You can have an employee spotlight in each newsletter so that your patients can get to know your staff. And of course, you can use email marketing as part of your review funnel to get more patient reviews.
4. Blogging
Blogging can be incredibly helpful for your dental practice. As mentioned, sharing useful information with your patients on social media helps to build customer loyalty. This can start with the creation of helpful blog posts.
What type of information should your blog posts contain?
Answer questions that your patients are asking when they come into the office.
Answer questions that people ask when they call in.
Create videos and add them to your blog.
As an example:
You can blog about how to identify a cavity, how often should you visit your doctor, and other information that actually benefits for your patients.
You can either write these blog posts yourself and post them to your website or outsource the creation of content. If you are working with a marketing firm, they should offer blogging services.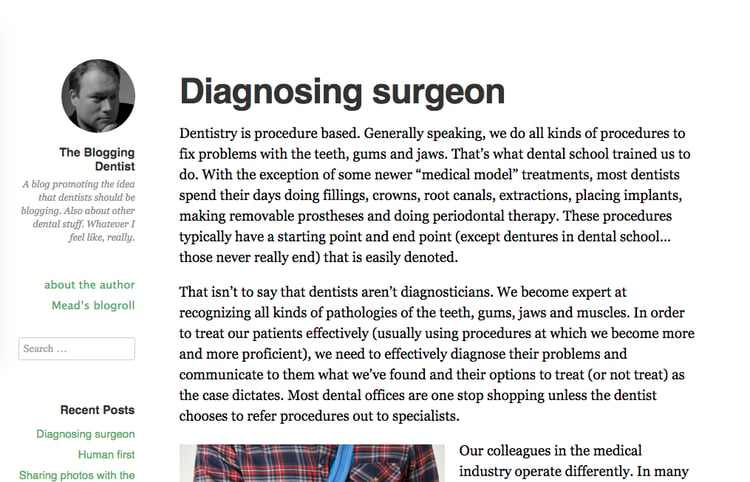 Blogging can help to improve your SEO, in addition to giving you something to share on social media.
Blogging is a great way to be seen as 'the dentist that does xyz', as you can become a recognized authority through blogging.
5. Video Marketing
What is video marketing?
Video marketing is creating videos, and then using these videos to market your practice.
These videos can be added to your website, shared on social media, or posted to YouTube – or a combination of all three.
Video marketing has many uses as part of a dental marketing campaign, and there is more to video marketing than an online commercials.
In fact, you shouldn't think of video marketing in the traditional sense of commercial advertising. You can use videos to showcase the benefits of choosing your dental practice, such as with customer testimonials.
How can you use a video customer testimonial? Interview one or more patients and then splice the content into a one to two-minute video presentation can give potential patients an idea of why they should choose your dental practice over another one.
In addition to customer testimonials, you can create a video introduction to your dental practice. Introduce yourself and your staff in a friendly manner and embed the video on your website; perhaps on the homepage or on the about page.
6. Mobile Application Development
You may not initially think that mobile app development could benefit a dental practice, but it can offer numerous advantages. You can develop a mobile app that integrates some of the features of your website.
For example, creating a dental app that gives your patients a way to set reminders for upcoming appointments or even schedule appointments helps to simplify your interaction with your patients.
It is estimated that about 52.7 percent of internet users access the internet on a mobile device. By 2017, this is expected to increase to more than 63.4%!
In the near future, we may even see the end of desktop computers. This means that you need to include some form of mobile marketing in your overall marketing strategy.
Mobile app development is not the only part of mobile marketing. You also need to ensure you have a mobile-friendly website. Over 90% of internet users will leave a website mobile website immediately if they find it difficult to navigate.
If you want a mobile-friendly site, you should use a responsive web design for your website. A responsive web design ensures that your website is viewable on any device – from desktop to smartphone.
7. Paid Advertising
You might also want to include paid advertising in your online marketing strategies. This may include PPC (pay-per-click) advertising through search engines, such as Google Ads or other PPC networks. About 39% of all online marketing spending is spent on PPC advertising.
Even though the majority of internet users will ignore advertisements that appear in search engine listings, the users that do click on these ads are more likely to follow through with an action on the website that they visit. This means the traffic you receive from paid ads should result in a higher conversion rate than the traffic you get through organic search results.
Remember that you only pay for the number of people that click on your ads. If your ads are targeted correctly, this can be a big help for your dental practice. Through the use of proper keyword research, a PPC ad campaign can help you target local people in need of dental services.

8. Paid or Sponsored Listings
Paid listing should not be overlooked as an effective form of dental marketing, and there are a lot of websites that you can advertise on, including Yelp, which can be a great lead generator or dental reputation management for dentists of all specialties.
Take a look at the image below of a Yelp search result, the top two listings are ads.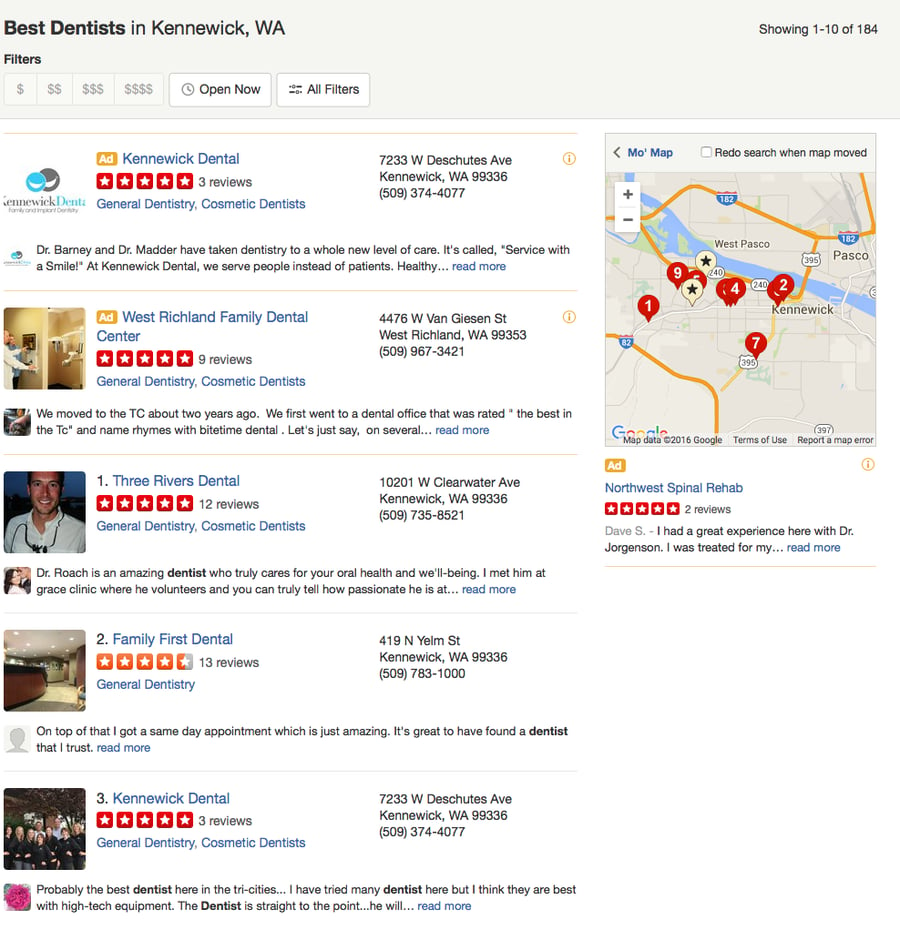 There was a time when every household relied on the Yellow Pages or their own local phone book to find local businesses.
Now that phone books are basically obsolete, the Yellow Pages have moved to the Internet.
In addition to Yelp, other websites you may want to advertise on include: Facebook, Yellow Pages, Healthgrades, and your local newspaper website.
9. Dental Membership Programs
Dental membership programs can be a great way to get in new patients.
Though not often thought of as a marketing, dental membership programs can be a more unique way you can market your practice.
This option will require more work than some of the other strategies discussed. However, it can also have a greater impact on your dental practice.
A dental membership program is a discount dental program for those without dental insurance. About half of the population does not have dental insurance and the majority of the uninsured skip regular checkups and exams.
A dental membership program will typically require customers to pay a monthly fee. For this monthly charge, customers generally receive a free regular checkup once or twice per year and discounts on various dental procedures. This is a great option for those without insurance and shows your customers that you care about their well-being.
By offering a dental membership program, you can help establish customer loyalty. You can include details about your program on your website and market it through social media. Customers that enjoy your program are likely to recommend the program to their friends and family.
You are able to get listed in your local community websites, perhaps including the health department as a dentist that accepts patients without insurance, and works with those on the price.
While this strategy isn't for everyone, it's one that should at the very least be looked at.
Overall, providing a dental membership program is one of the most cost-effective forms of dental marketing.
Next Step:
Develop Your Dental Marketing Strategy
Use the suggestions and tips provided above to begin developing your own dental marketing program.
Here is a recap of some of the top forms of online marketing for dentists:
Social media marketing
SEO
Email marketing
Blogging
Video marketing
Mobile application development
Paid or Sponsored listings
Dental membership programs
Of course, these aren't the only options available, and if you need more ideas for marketing, be sure to check out the 77 Dental Marketing Ideas & Strategies post, but these are some of the most effective forms you can use to market you practice online.
In addition to these methods, here is one more suggestion to add to your list of marketing strategies:
Claim your listing on Google Business Profile.
This can help with your local business listings in Google search results and help your patients locate your dental practice. You will need to verify your listing, and afterward, you can use your Google Business Profile page to share information on Google Plus and YouTube.
Before you develop your marketing strategy, you should set your marketing budget. Determine how much you can spend on marketing each month. If you don't know where to start, then base this on your average revenue per month. If your dental practice is just starting out and you are trying to gain new patients quickly, you will need to spend more on marketing than a well-established dental practiced in the same area.
The average local business spends anywhere between 2 and 20 percent of their net revenue after all operating expenses have been deducted. For an established dental practice, 2 to 5% would be the norm. For a new practice, 10 to 20% can help increase online exposure at a faster rate.
Keep in mind that these figures are just examples. You will need to look at your own needs, expectations, and available finances in order to make the right decision for your practice.
After determining your budget, consider how you want to allocate your spending.
Think about the various marketing strategies outlined above and decide which of these forms of marketing you would like to include your campaign.
Make sure that you give each method a try and allow time for results.
Above all else, be sure you track your results!

Conclusion
Gaining more patients through online marketing can take time and energy. You need to decide your primary goals early on. Use the strategies and tips provided to get started on your own marketing campaign.
It will require hard work but the payoff could be the difference between success and failure for your dental practice.
About the Author
Tyson Downs, the owner of Titan Web Agency, has years of experience working with small businesses and helping them meet their revenue goals. Prior to starting Titan Web Agency, he freelanced in SEO and Web Design while working in the corporate world. Tyson is a graduate of Brigham Young University, the father of 5, and enjoys spending time with his family. Particularly on the baseball field.