A Blog for Dentists & Other Healthcare Professionals
8 Tips for Improving Your Dental Website's SEO
Originally Published March 21, 2017. Updated May 20, 2020.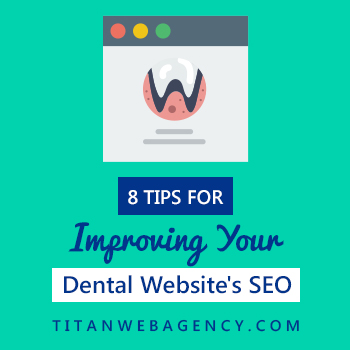 If you have an existing website that is not showing up on the first page of a Google, Yahoo, or Bing search, you will want to review this quick dental SEO strategy to why people aren't finding your business when searching for your services.
Search engines crawl thousands of websites to find and rank them based on a number of factors.
If you don't have a reputable marketing company that specializes in SEO for dentists, and you don't feel comfortable doing it yourself, well, you're in luck. We are going to discuss some of the most important things that you can do to ensure that your website is optimized properly so that you can get more new patients.
At one point, an SEO campaign may have consisted of a bunch of keyword stuffing (adding your target keywords as much as possible on your website), and then as many spam backlinks as you could get pointing to your site.
No more.
You've likely heard it phrased many different ways:
SEO
SEO dentists
SEO dental
Dentist SEO
Dental SEO
SEO for Dentists
Whatever it may be called, it's the same, and the goal is to make sure you are meeting your practice growth goals, typically by the way of increasing new patient flow, and doing more of the services you truly enjoy.
SEO isn't as easy or as simple as it used to be.
Below are a few factors that affect search engine rankings:
website user experience
on-page optimization of your website
domain age
geographic location
competition
qualify of your website content and the value it provides to visitors
number and recency of reviews
people linking to your site
number of times your business information is listed online and where it is listed
what visitors do when they find your site
how well do the search engines understand what your site is about, where you do it, and who your customers are
It's a complicated and technical task to optimize a website to gain the first few positions on search engines, especially in competitive markets.
With Google continually changing algorithms and re-evaluating search results, it's more important than ever that your digital marketing strategy includes SEO as part of it. It'll be very unlikely that you can reach your new patient goals, particularly if you are in a competitive market unless your digital marketing is on point.
In this post, I'll give you several SEO tips on how to adjust your website for better search results so that you can get more new patients. However, be aware, that these changes will not advance your ranking overnight.
It can take months for you to see your website move up in the Google results, so if you have a more aggressive online marketing plan for your dental practice, consider implementing a professionally managed search engine optimization strategy.
1. Understand SEO Keywords
The first reason why your website may not be showing up on the first page in search engine results is that it has not been set up properly to be found and indexed by search engines.
Typically, your main keywords will be dentist + (location) or dental services + (location) etc. Here are a few examples of dental keywords that you'll likely want to optimize your website for.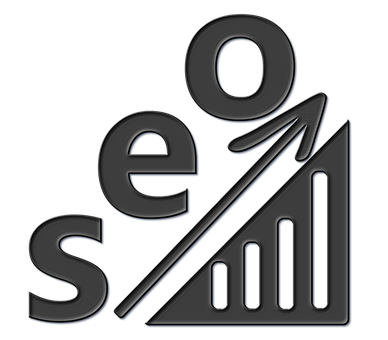 dentist (+ your location)
dental care (+ your location)
dentists (+ your location)
family dentist (+ your location)
pediatric dentist (+ your location)
cosmetic dentist (+ your location)
dental crowns (+ your location)
dental implants (+ your location)
dental veneers (+ your location)
preventative dentistry (+ your location)
restorative dentistry (+ your location)
cosmetic dentistry (+ your location)
The keywords that are most applicable to your practice, as well as your location, should be sprinkled throughout your web content, and used in the page titles and meta tags for each page of your website.
However, you will want to use keywords for each page that correlate to the content of the page.
The goal typically for a dentist is to show up well in the map pack, or the local results. Showing up in the local results of Google will result in more leads coming into your practice. And yep, if you have a great front office team, more leads will result in more new patients. Below is a look at the local search results: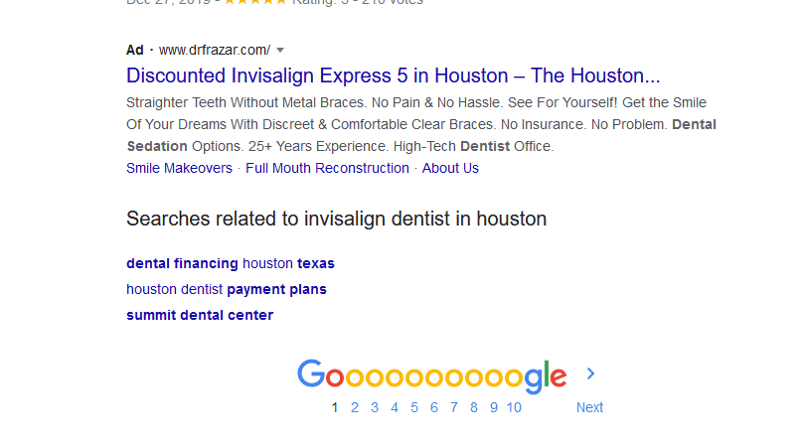 You'll want to make sure that you have an individual service page for each one of the services that you would like to show up for.
Example: One of the dental services that you want to show up well for is 'Invisalign in Cityname'.
Then, what do you need to rank well for 'Invisalign in Cityname'?
You'll need to do some keyword research, now trust me, this will be easy.
If you have a marketing agency, remember, they should be doing all this stuff as part of their local SEO services for you, so you won't need to do this.
But if you are doing it on your own, then you can do a quick analysis by doing a dental search in Google for 'Invisalign in Cityname'.
Enter the keyword into a Google search.
What you are looking for is somewhere on the page that says:
'People also ask' or 'People also search'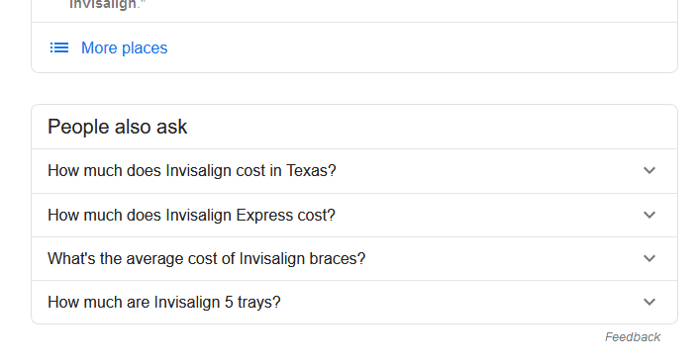 These phrases tell us what else people are looking for when they do a search for that phrase.
So, you'll create your quality content, which is custom, unique content for your site. While doing so, remember those related inquiries that showed up. You will want to use those phrases and queries in your content.
(Need help writing your content? With all of our web marketing for dentists campaigns, we'll write content that may include: service pages, home pages, and more. (Contact us today if you need help with your content).
2. Check and Update Your Meta Tags
The next step in ensuring your website is optimized for search engines is to check the meta tags for each page.
Meta tags are snippets of text that describe a page's content. They don't appear on the page itself, rather in the page's HTML code.
Have you set up your meta page titles and meta page descriptions using the top searched keywords that are most applicable to your dental practice?
Meta titles, descriptions, and keywords are crucial to your search engine results, so be sure that the back end of your website, which is what search engines crawl and see, are set up properly.
The front of the website is what internet users see: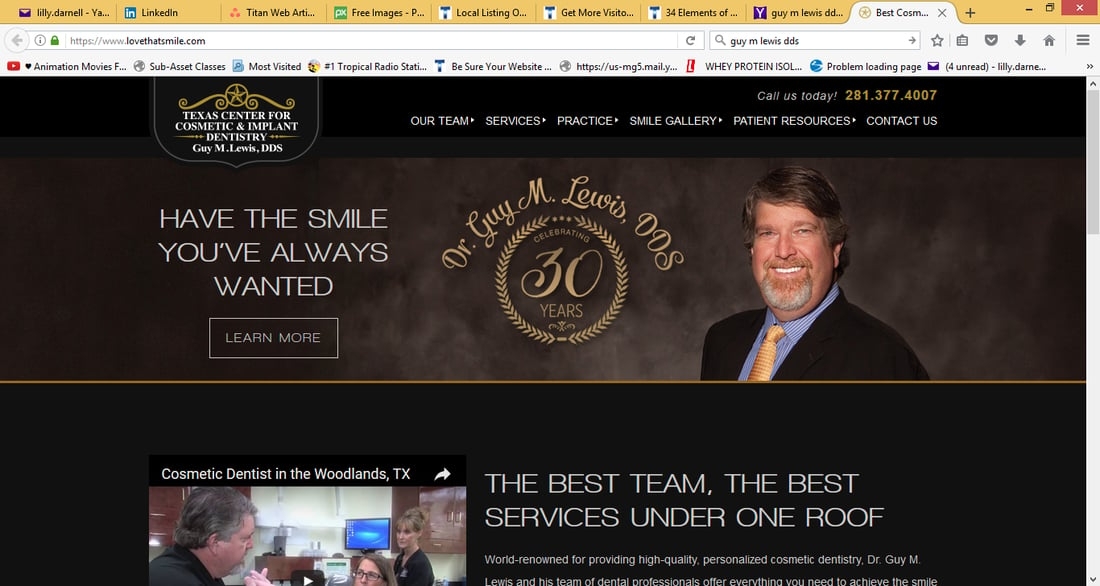 The backend of the website is what search engines see: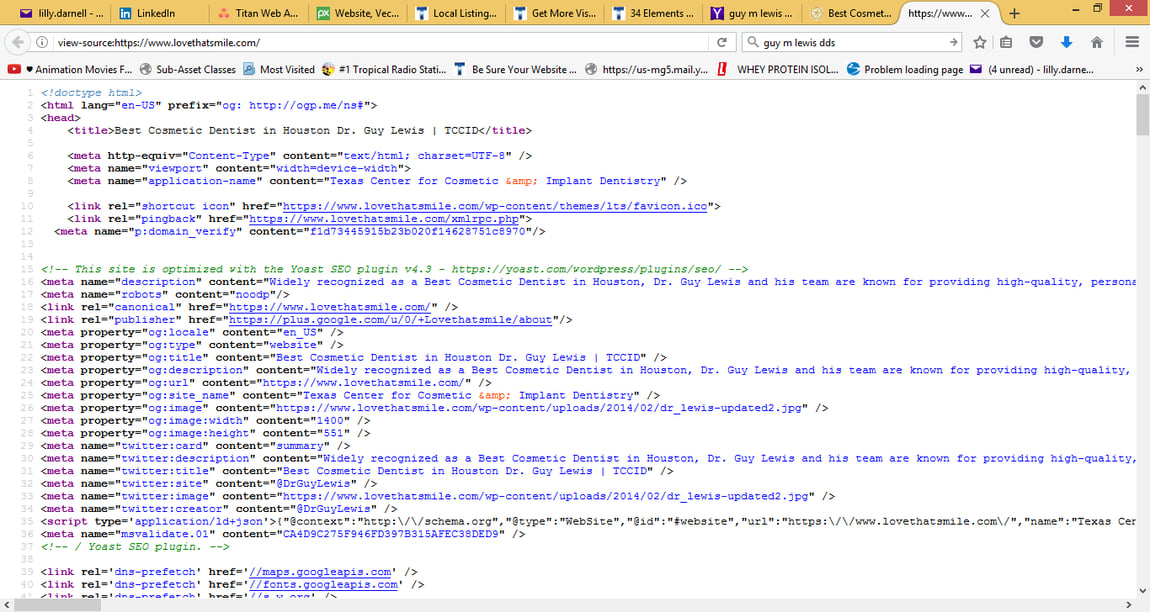 The page title in this example is "Best Cosmetic Dentist in Houston Dr. Guy Lewis." Note he uses the keywords 'best cosmetic dentist' and his location in the page title.


The meta page description is "Widely recognized as a Best Cosmetic Dentist in Houston, Dr. Guy Lewis and his team are known for providing high-quality…"


Again, he uses the keywords 'best cosmetic dentist in Houston.' This helps search engines give more weight to these keywords because it is in both the page title and the page description.


Those same keywords also need to appear in the page text for search engines to give the website more credibility and a better rank.


To follow SEO marketing practices for dentists, be sure to include your targeted keywords in:


page titles
page URLs
page text
image alt text (the image file name)
anchor text (primarily internal links you are pointing to pages on your website)
3. Use Free Google Tools to Your Advantage
Google has a number of completely free tools that you can use to get more insights into your website and better understand where your website traffic is coming from, what keywords people use to find you, the behavior of visitors on your page, and more.


This lets the search engines know about updates to your site and allows them to crawl and rank it again.


To do this on Google, sign in to your Google account or go to https://www.google.com/webmasters/tools/submit-url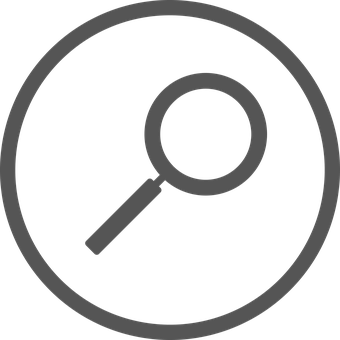 Since 2010, Yahoo search has been powered by Microsoft's Bing search engine. When you submit your website to Bing, you will also show up in Yahoo's search results.


Bing allows you to submit your URL, just like Google, but it's a little more complicated. You will first need to have a Bing login, then go to Bing's Webmaster Tools page.


Once logged in, simply type in the URL of your homepage and press "submit." You will also want to have the URL for the .xml version of your sitemap readily available, as it will ask for this in the first step of submitting your domain.


After submitting, you will have to verify ownership of the domain. This can be a little tricky if you are not savvy with HTML, as you will need to add a small snippet of code to the header of your site to pass this verification process.


Once this is verified, you have successfully submitted your website to Bing.


You will also want to use Google Analytics (another free, high-quality tool from Google).


Google Analytics is software that typically your SEO marketing team will install on your site (you can do it yourself as well). It allows you to see how many website visitors you are getting, where they come from, how long they stay on your site, where they are physically located, and more. Even if you aren't going to dive into it initially, it'll be good for your practice to have Google Analytics installed on your site so you can begin collecting data for whenever you are ready to dive into it.
The most important free Google tool? Well that's next...


4. Set up a Google Business Profile for Local Searches
Without a Google Business Profile page, your dental practice won't appear in Google's local search results that appear above the organic listings.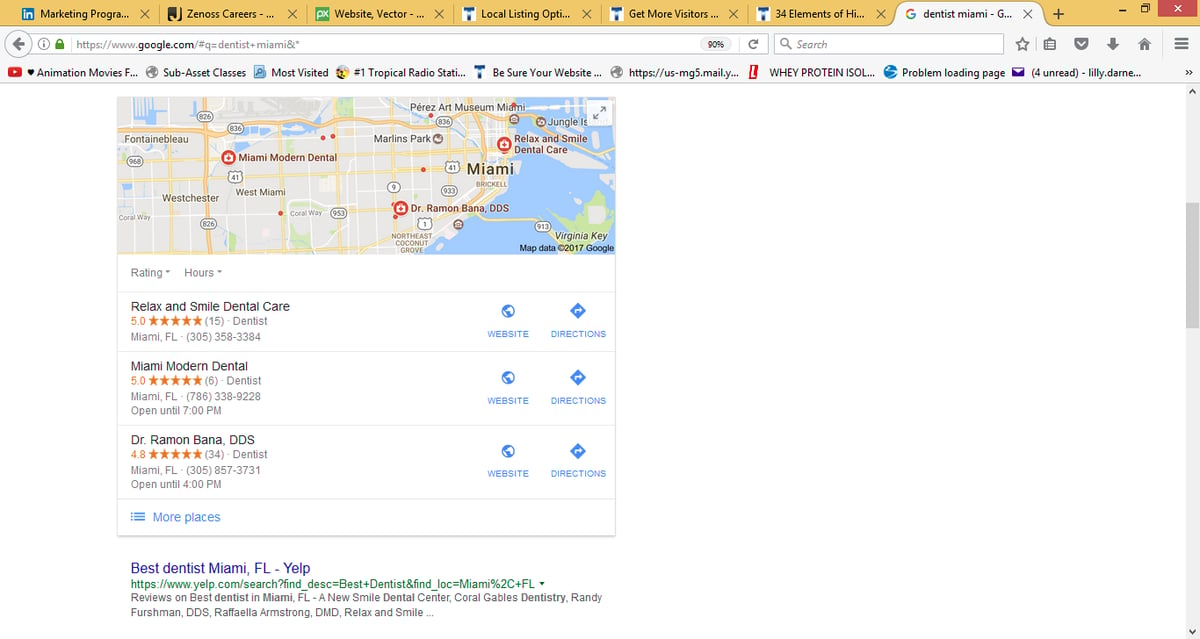 If you haven't already done so, be sure to set up your free business listing on Google Business Profile to start building visibility in Google Maps and Google Search in your local community.
Include this information for your practice:


Office hours
Address and phone number
Photos of your dental practice (outside and inside)
Photos of yourself, other dentists, and staff
Description of your practice and specialties
Google uses this information to return results for location-based services. If someone searches for "dentists near me" or "dentist in ______ (your city)" and your profile doesn't include an address, it won't appear in the local results.


You should also check how your name, address, and phone number (NAP) appears across the web. Is it consistent on Yelp!, local yellow page directories, and other places?


Be sure to keep your business listings consistent because Google uses this information to determine the legitimacy of your business. If your business appears as "Dr. Lewis DDS" one place and "Texas Center for Cosmetic Dentistry" in another, Google will have a bit less confidence in showing you up in the search results, and you may show up lower than you'd like.


What happens then? Less leads for your practice.
Less new patients.
Less revenue.
Less growth.


You can see why it is so important that your SEO to work.
And that brings us to the next topic in my quick guide for SEO…
5. Build Authority for Your Website
Another way to increase your ranking in the search engines is get links to your website. This is called link building.


This could include websites that have information about dental hygiene and dental procedures that your practice performs, such as placing implants, crowns, and bridges.


Authoritative sites that you could link to for more information about dental topics are:


American Dental Association
WebMD
Colgate
Oral B
Waterpik
Your Dentistry Guide
When it comes to a link building strategy, building offline relationships plays an important part.


For example, if you are a specialist and have patient referrals from other local dentists, ask them if they can add a link from their website to yours.


Be sure to nurture those relationships that help your practice gain new patients, and offer a link to their site for routine dental check-ups.


Join your local chamber of commerce and ask if they can link to your website. This helps show search engines that your website is relevant in your geographic area.


Find other local businesses in your city that could link to your site. This is very helpful for SEO since dental marketing is hyper-local.
6. Consistently Add Content to Your Website or Blog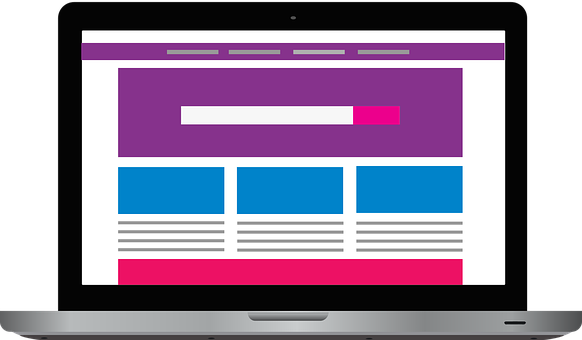 If your website is set up using targeted keywords for your dental practice and your metadata is optimized, another way to boost your search engine rankings is by adding more content or optimizing the content that you have.


Content is king when it comes to search results, and search engines reward businesses that publish quality, consistent content.


This can be done by beefing up the content to your existing web pages, by adding more pages to your website, or by creating new content consistently such as a weekly or bi-weekly blog post.


By publishing content on a consistent basis, you have the opportunity to use your targeted keywords more frequently, and this adds relevancy and authority to your website to improve your search engine results.


Maintaining a blog and consistently publishing content is also part of a content marketing strategy.
The Content Marketing Institute defines content marketing as:


"…a strategic marketing approach focused on creating and distributing valuable, relevant, and consistent content to attract and retain a clearly-defined audience — and, ultimately, to drive profitable customer action."


The key points are that the content is relevant and valuable to your audience. That means you give your patients and potential patients information about dental care or dental hygiene for their benefit.


That does not mean you go on and on about the latest technology that your dental practice has or how great your team is. Remember, the focus of your content needs to be about serving and educating your patients and potential patients.


It is much less about the volume of words on the page, and more about you answering the query of the person searching. Put yourself in the 'searchers' shoes. If you landed on the page and you were a prospective dental patient, what information would you be looking for?
7. Share Your Blog Content to Your Social Media Accounts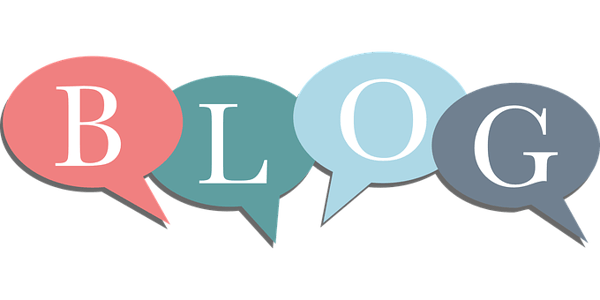 I've covered how content marketing helps improve your search engine results, but to take that one step further, be sure to share all of your blog posts to your dental practice social media accounts.


Not only does this help enhance your SEO rankings, but it also increases your social presence and the pool potential of patients.


To provide useful and shareable content, consider offering FAQS and how-to's that deliver valuable information to your patients.


To help you get started, here are a few ideas for blog posts:


3 Quick Tips for Improving Your Dental Routine
5 Signs That Mean You Need to See Your Dentist
10 Ways to Improve Your Smile
A Quick Guide to Teeth Whitening
What's the Difference Between Bonding and Veneers?
Why You Should See Your Dentist Twice a Year
How Smoking Affects Your Smile
If you have yet to start a blog, or haven't been posting regularly or consistently, be sure to add this activity to your dental marketing strategy and see what results it brings.
8. Use Data From Pay Per Click Advertising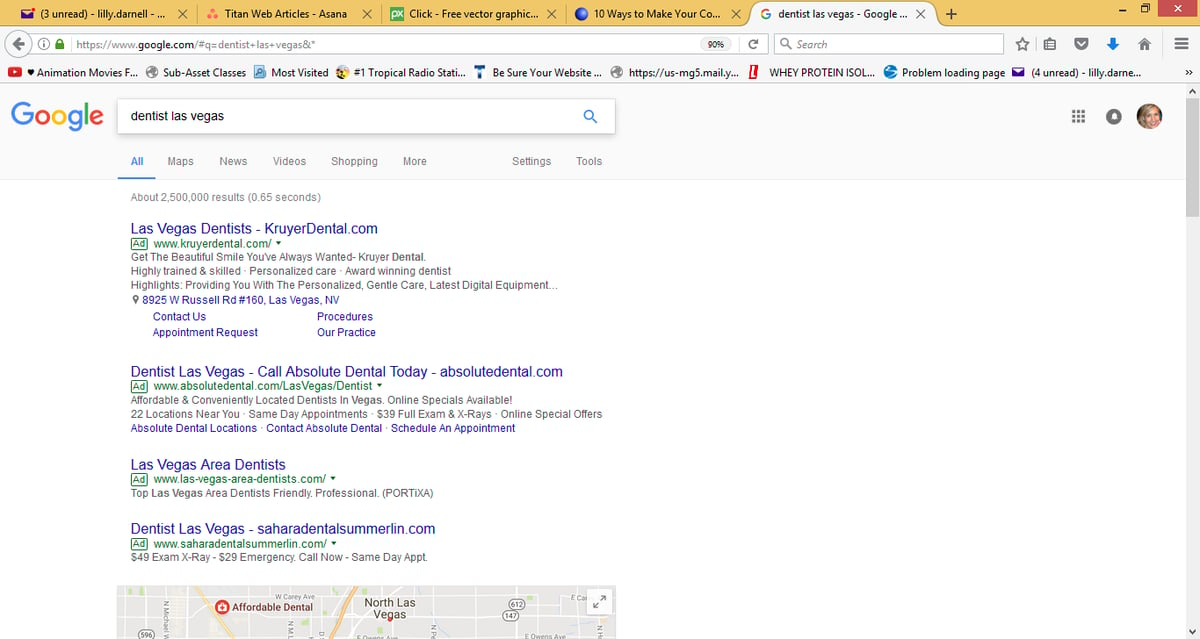 Sometimes it's not enough to tweak and optimize your website and make it to the top of the Google search because competition for the same keywords can be fierce.
Implementing pay-per-click campaigns on Google is a way to get top search engine results fast.
Plus, you can use the PPC data that you obtain, including the keywords that are converting, and implement that within your SEO campaign.
However, you will need to monitor your campaign targets and ROI very closely and regularly to ensure you are reaching the right audience and getting a reasonable cost per new patient rate.
You may find this is a good way to cover yourself until your organic search engine optimization results improve through the other strategies of blogging, social sharing, and link-building (or as it is also called online networking).
It's often thought that SEO is best to focus on, or perhaps PPC is best to focus on. You'll want to check out the article below about how to get the most out of your PPC efforts.
How to Increase the ROI of Your Dental PPC Spend
Summary
SEO plays a vital part as to why people aren't finding your dental website in search engine results.
If you're focusing on a small group of generic keywords that every other dentist in your area is using, you're probably not being found by many people who are searching.
Consistency is important when it comes to SEO. Develop a content marketing plan around your targeted keywords and build your social profiles to improve your SEO. Then stick with it.
With consistency and commitment, you can get the search engine results you want.
If you have further questions on SEO, grab a free SEO audit. This audit helps you understand where you are, and how you can improve the performance of your online marketing, as well as how you compare to some of the competition in your area.
About the Author
Tyson Downs, the owner of Titan Web Agency, has years of experience working with small businesses and helping them meet their revenue goals. Prior to starting Titan Web Agency, he freelanced in SEO and Web Design while working in the corporate world. Tyson is a graduate of Brigham Young University, the father of 5, and enjoys spending time with his family. Particularly on the baseball field.